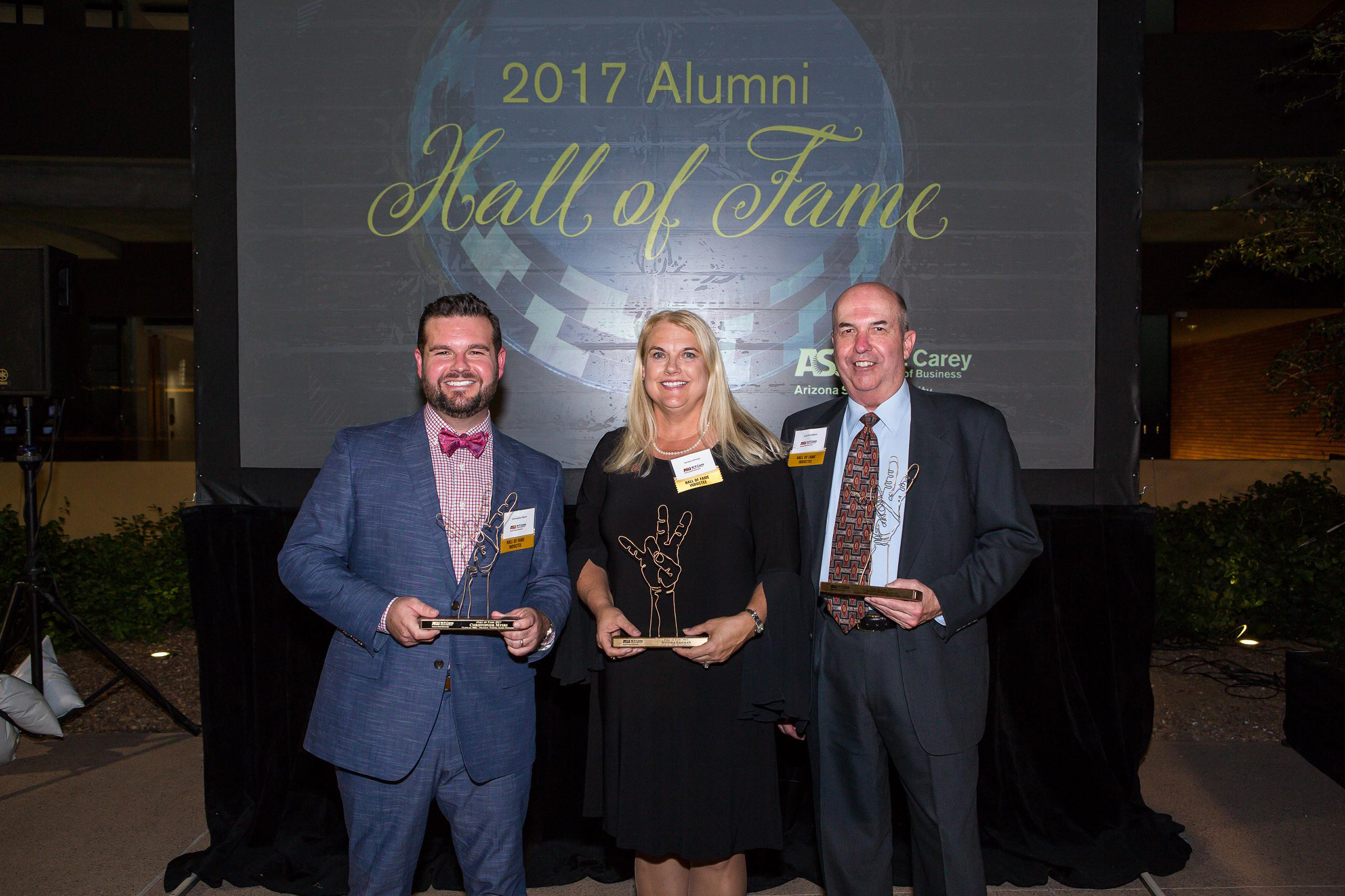 Measures of success
2017 Alumni Hall of Fame inductees share their secrets and strategies.
By Laurie Davies
W. P. Carey magazine recently asked the 2017 Alumni Hall of Fame inductees to share their secret sauce for a trait they each know a thing or two about: strategy
Sondra Lehman
(BS Accountancy '88)
From a place of humility and simplicity, Sondra Lehman used to answer polite cocktail party "what do you do" chit-chat with a vastly understated, "I run a catering company." The follow-up question was as laughable as it was predictable: "Oh, do you do weddings?"
Not exactly.
Figuratively of course, Lehman "catered" the flights that transported out-of-town wedding guests, the on-the-go lunches they grabbed while buying registry gifts, and entire theme parks where happy couples spent their honeymoon. However, her business card for LSG Sky Chefs simply said, "President."
During her seven-year tenure as the youngest - and only female - president and chief operating officer in the company's history, Lehman helped double revenue from $600 million to $1.3 billion by expanding the company's commercial portfolio beyond airline catering and in-flight services.
Lehman, who retired from LSG Sky Chefs in 2013, now runs Flying L Properties, her own boutique real estate investment and rental firm that operates 10 properties in the Caribbean, Mexico, and the U.S.
So, what's her formula for success? In broad strokes, her theory is simple: "Be better today than you were yesterday, and be better tomorrow than you were today," she says.
How that works out in the daily grind of application is something Lehman likens to a journey. "Right out of college, this looks like a rigid set of railroad tracks. You're on this train. You don't know if you can get off or chart your own course because there are rails on the ground. The destination is where those tracks go," she says. But then, business acumen, ideas, and guts merge and you risk taking an exchange - or even laying new tracks - to go in a different direction.
Lehman's success-as-a-journey model came to life at LSG Sky Chefs, a division of LSG Lufthansa Service Holding AG, where the talent and efficiency of the kitchen operations staff inspired her to think beyond their niche. "Our people were excellent at building food to specifications on a massive scale," she says.
Her idea? Expand what LSG was doing - consistent, efficient production of sandwiches, salads, and wraps - into the convenience store, retail, and even theme park markets. "Now they do 200 million meals annually in the U.S.," she says.
Though she led an 8,000-employee company through explosive growth during the worst economic downturn since the Great Depression, Lehman says her aha moment of professional success actually came when she began her entrepreneurial real estate venture. "I'm running my own company. It's really my own. I get to wake up every day and work for myself," she says.
Michael Staenberg
(BS Business Administration '76)
At the helm of The Staenberg Group, Michael Staenberg has built a career building shopping centers - more than 200 of them to the tune of 35 million square feet of premier retail space. Yet, for all his success in retail development, he suggests that true achievement has very little to do with money. "I don't measure success by dollars. I measure it by whether you've accomplished things that will last. Have you made a real difference in the lives of people?" says Staenberg, whose name in the St. Louis area is synonymous with civic leadership and philanthropy.
Staenberg credits the W. P. Carey School for his great business education. But the moxie? That's all him. In 1978, the wet-behind-the-ears ASU graduate made a gutsy move. "I called up the McDonald's director of real estate. He asked me, 'How many restaurant real estate deals have you ever gotten?'"
"None," Staenberg said, with a tone that implied the crucial next word.
Yet.
"That led me to do 300 deals for McDonald's, and an introduction to Sam Walton to do Walmart stores," he says. The rest, as they say, is history.
Staenberg was green before it was trendy, incorporating energy-conserving roofs, retaining natural habitat where possible, and constructing parking lots with filters that drained and recycled oil.
He is also a visionary with a gift for seeing something where there was nothing. The two-mile mega shopping center, Chesterfield Commons in Missouri, transformed what others viewed as unusable flood plain land into the country's first big box retail power center with 2.5 million square feet of stores.
Perhaps Staenberg's vision was born during a childhood of modest means. Perhaps it flows because he's an artist with a mind for business. Maybe it is driven by the Jewish concept of Tikkun Olam, or "repairing the world." Whatever the source, the vision that drives his business success is the same vision that drives his passion for philanthropy.
"I can only fit into one pair of jeans at a time. I drive a Ford Fusion. I don't need a fancy house," says Staenberg, whose pay-it-forward parents instilled his desire to parlay business success into support for good causes. The Staenberg Family Foundation, which he established with his wife Carol in 2005, has supported economically disadvantaged youth, the arts, renovation of public spaces, and a wide range of programs that enhance Jewish life.
His advice for business graduates? "Pick a job you enjoy. Don't make it about money. Pick a job that feels good. And try to give back - if you change just one life, you've made a difference."
Scott Donaldson
(BS Accountancy '80, MACC '81)
Some success stories are retrospectives - the long view of a fulfilling career from a much-deserved perch of retirement. Scott Donaldson, who announced his retirement last month after a 36-year tenure as partner with Ernst & Young (EY), will soon step away from his industry-leading work offering tax services to nonprofit tax-exempt organizations. His last day at EY will be June 30.
While his full retrospective won't develop until he's had time and distance away from the job, Donaldson already looks back with gratitude that EY gave him the flexibility early in his career to focus on a specialty practice area he enjoyed. While his gratitude is well placed, there's another and perhaps equally important ingredient to his success.
He pounced.
In his steady, sturdy corporate vernacular, he's not quite that blunt. He tells of beginning his EY career in real estate accounting, then gravitating early on to work with tax-exempt clients. As his interest grew, so did his realization that this sector-focused specialty line had significant untapped potential.
He pitched it to company brass and was encouraged to develop a suite of services for nonprofit clients. At first, his work was something of a one-man show, with Donaldson's tax-exempt expertise sometimes being the tipping point that helped EY win out in competitive RFP bids for audit and tax services for community nonprofits.
"We had a lot of success. It grew. My career grew along with it," Donaldson says, adding that young business graduates who see potential for a new niche - especially if it lines up with their professional interests - should never shy away from pitching it.
Today, EY enjoys a position of leadership nationally in tax services for the nonprofit sector. In 2004, EY nationalized its Exempt Organizations Tax Services practice, bringing all of its tax professionals together into one group as part of the firm's National Tax Department. And for the last five years, Donaldson has led this team of more than 115 tax professionals in the U.S. and South America dedicated solely to helping EY's nonprofit clients manage their tax risk - at least until June 30, when he'll close his office door for the last time.
He plans to take a year to figure out what's next. He already imagines that a CEO position with a Phoenix-area nonprofit might be a good next challenge. In the meantime, he's grateful to have enjoyed a long-term career doing what he loves and he remains humble to the core about his role in shaping EY's tax services to the country's nonprofit sector. "I was able to specialize in what I enjoy 100 percent of the time because the firm allowed me to do what I wanted to do."
Christopher Myers
(BS Finance '06)
Chris Myers is the first to admit he's no man behind a curtain making all the right decisions. Nor does he want to be.
Myers believes the most successful leaders tease out greatness in others. "It's not about being the smartest person in the room," says the inaugural Young Alumni Hall of Fame inductee. "It's about pulling the best people together and helping them become successful in their own right. So, while I'm very proud to be captain of the ship, does my name personally account for our success? I hope not. If that's the case, I haven't created a sustainable team."
Perhaps humility is as key as innovation when it comes to Myers' success as the CEO and co-founder of BodeTree LLC, a technology-enabled franchise services company. But make no mistake, in innovation, he is not lacking.
His business model at BodeTree was to take the financial support, industry compliance, and sales support services available to Fortune 500 companies and "break it apart" into technology-enabled tools affordable for small businesses. "Everything we do comes down to bringing technology into the equation." The result? Financial analytics, automated bookkeeping, streamlined lending, and other services are now accessible to what Myers calls the "Fortune 5000 Mainstream."
Eight years ago, Myers knew his upstart entrepreneurial venture had the kernel of a good idea. "The aha moment came when we realized franchising was the right channel for us. When we dipped our toes into that space, the sales cycle was three weeks, not 18 months. People in that market were actively pursuing us. We expanded our product array. And today we offer services for the life cycle of a business franchise," he says.
Speaking from this experience, Myers says that success is often more a state of mind than a destination. "I don't think I'll ever reach a point where I'll say, 'I've made it. Here I am.'"
What he does believe is that truly successful ventures connect dollar signs to vital signs. Money in the door has to be connected to how you achieved it. A successful venture outlives its visionary. And a well-assembled, happy team whose accomplishments are nurtured takes you farther than a solo act could ever go.
It's this ethos that carries success from the boardroom to the family room - where his two greatest ventures are his two young sons. While his business is thriving, he writes regularly for Forbes magazine, and is the author of the book Enlightened Entrepreneurship. Myers views his family as both the determinant and the reflection of his success. "My ultimate goal - regardless of anything else - is to make sure that my two young boys and my wife are happy, functioning, and fulfilled."
Learn more about the W. P.  Carey Alumni Hall of Fame and its members who have been inducted into it since 1940.