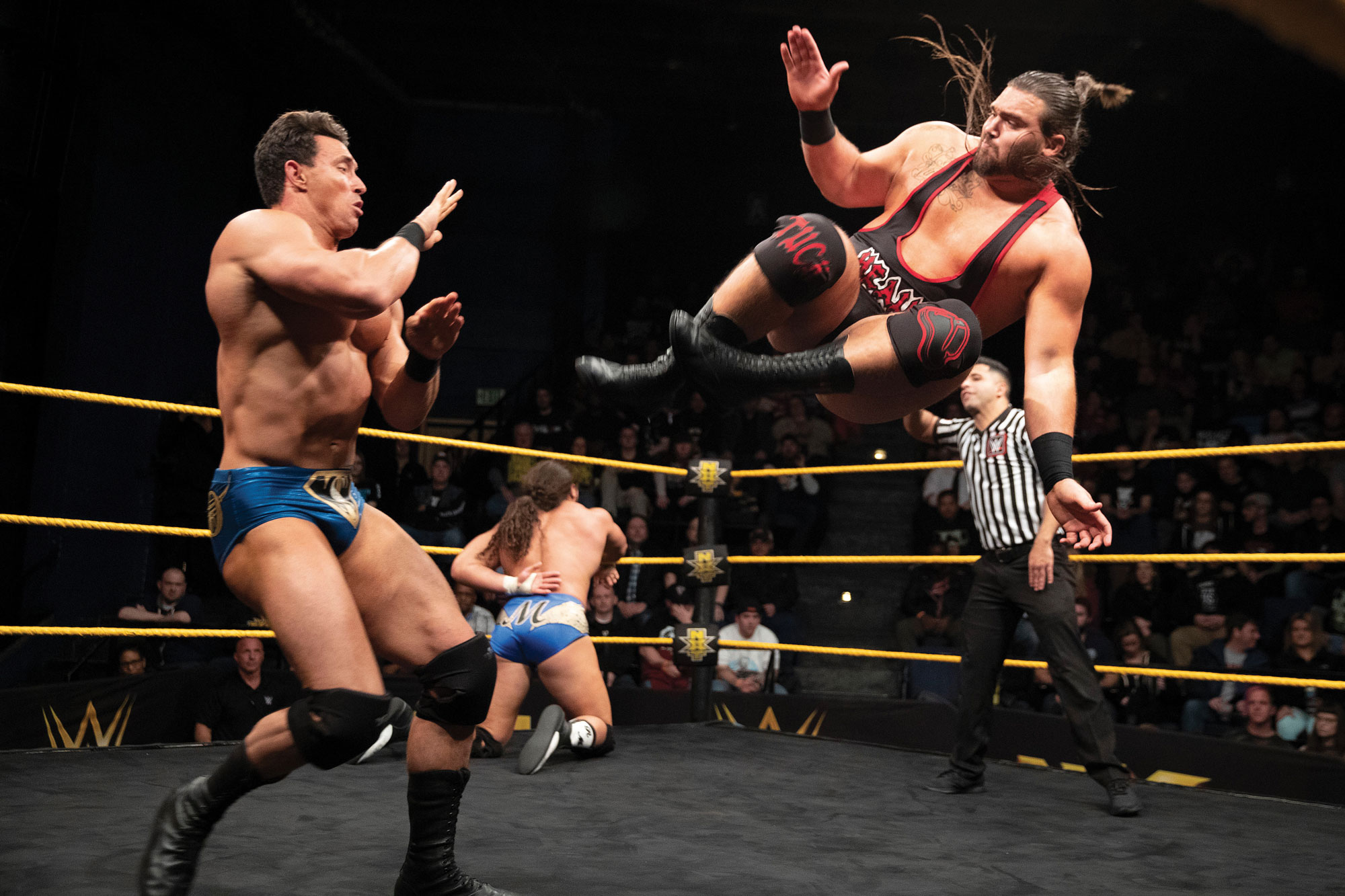 And in this corner: Accountancy alum Levi Cooper, aka Tucker
When his All-American collegiate wrestling days were over, he began his new career with WWE, the organization also known as World Wrestling Entertainment. Meet one half of the tag team duo Heavy Machinery.
By Andrew Clark
Shortly after graduating from the W. P. Carey School, Levi Cooper (BS Accountancy '13) had the opportunity to try out with WWE, the organization also known as World Wrestling Entertainment. Being a WWE Superstar wasn't the life he envisioned. When his All-American collegiate wrestling days were over, he expected to begin his new career in the accounting world. But on July 24, 2013 — which happened to be Cooper's birthday — he got a call that would change his life. WWE wanted to offer him a contract after having him in for a tryout the month before.
Fast forward five years, and Cooper is one of the up-and-coming Superstars in the company. He wrestles under the name Tucker and is one half of the tag team duo Heavy Machinery. Cooper had been wrestling on the WWE's NXT developmental brand since 2015. However, on the Dec. 17, 2018, episode of Raw, WWE's flagship program, it was announced that Cooper and his tag team partner were being promoted to the main roster.
"Professional wrestling wasn't on my radar," Cooper says. "When the opportunity popped up, I knew it was something I needed to do. It was the best decision I've ever made in my life."
Cooper joined forces with another former NCAA wrestler named Otis Dozovic to form Heavy Machinery. Over the past three years, the duo has performed on NXT, which operates as WWE's third global brand alongside Raw and SmackDown.
For Cooper, a typical week involves a significant amount of preparation and training. Based in Orlando, Cooper spends the majority of his week at WWE's Performance Center. On a daily basis, Cooper is working on strength and conditioning, watching film, and developing his character through promo classes, among other things. At the end of the week, Cooper performs in multiple shows either in Florida or out of state.
Inside the university ring
Though he didn't pursue a career in accounting, Cooper notes that his time in college helped prepare him for a number of different aspects of life as a sports entertainer. He says that his business education has been a valuable resource as he tries to build his individual brand. By understanding marketing concepts, Cooper notes that he's in a much better position as he works on different aspects of his brand, such as creating tag lines and hooks. Another way his time at ASU has been helpful is on the accounting side. Since Cooper operates as an independent contractor with the company, he says his education has been very useful when preparing taxes.
After attending Portland State (which discontinued its wrestling program) and Cal State University Bakersfield, Cooper transferred to ASU in 2010. He says he was drawn to Arizona State University because it provided him with a chance to wrestle with a talented program, while allowing him to study in a top-level accounting school.
Cooper had started college as a general business major. Yet once he took his first accounting class, he says he was hooked and knew what he wanted to pursue as a major — and a career.
"I'm puzzle-oriented, and accounting fit my general mindset," he says. "On top of that, it was something I saw a decent future in, and it was a job I'd be good at."
During his time at ASU, Cooper was one of the nation's top wrestlers. In his first season, he was 27-12 and won All-American honors after finishing in eighth place at the NCAA Championships. Additionally, during the 2011–12 season, Cooper was consistently ranked among the 10 best wrestlers in the country.
For Cooper, his time with the ASU wrestling program helped prepare him for many facets of his professional career. Cooper also notes that having teammates such as Anthony Robles, who won the 2010–11 NCAA title and was born with one leg, gave him perspective on the impact of putting in hard work. He also says that he learned the importance of working together.
"I got a great understanding of how to work in a team environment," says Cooper of his tenure with the Sun Devils wrestling program. "In the WWE, we are trying to work together to put together the best show and product we can."
According to Cooper, his new career fits his personality perfectly. And though he didn't go into the accounting industry, he feels that he's right where he needs to be.
"My favorite part (of being in the WWE) is the freedom," he says. "It affords me the opportunity to be myself. To be performing in front of people and have them be on board with what I am doing. It's what I was meant to be doing all my life."