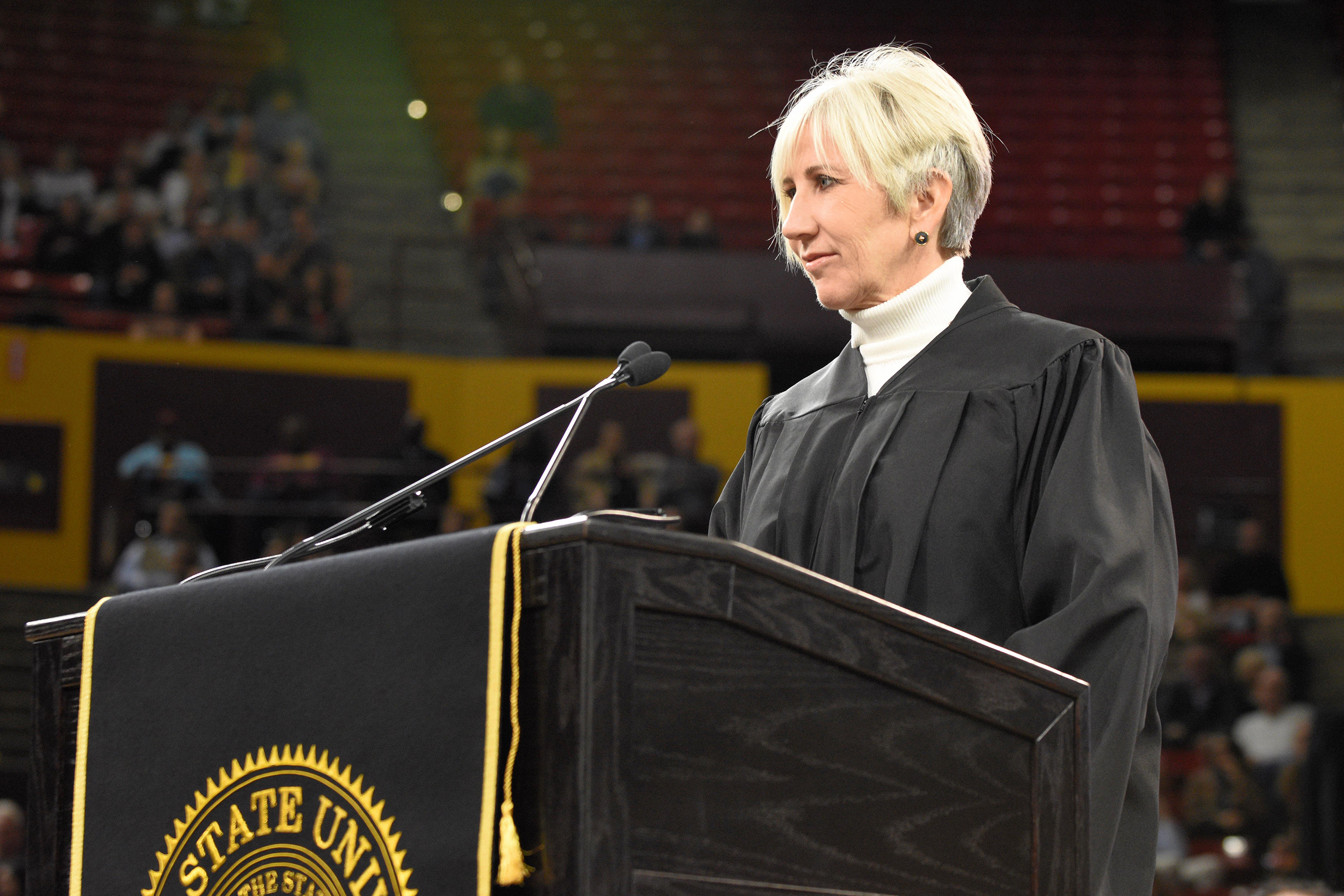 The power of female philanthropy
What does the future of doing good look like? Research shows women in the lead. Accountancy alum and entrepreneur Trish Gulbranson shows it's about more than just dollars and cents.
By Claire Curry
Around the globe, women are earning more, inheriting more, and building profitable businesses. Recent research suggests that women may soon control the majority of U.S. household wealth. In the five-year period ending in 2015, private wealth held by women grew from $34 trillion to $51 trillion, as reported by The Economist, and this trend is continuing.
Because of their increasing wealth and financial independence, women are also giving more. In fact, the percent of the wealth they give away is nearly double that of their male counterparts: 3.5 percent versus 1.8 percent. They truly want to make a difference.
One such woman is Trish Gulbranson (BS Accountancy '88), a successful entrepreneur who recently established an endowment in her own name at Arizona State University. The gift is the second she's made to the university; the first was in honor of her late husband Scott in 2013.
"I asked him what his biggest regret was in life, and he said that he wished he would've finished college," Gulbranson recalls of the conversation the couple had when Scott was in hospice. After he passed away, she decided to set up an endowment that granted scholarships to returning students who had not yet completed their degrees. The gift is also meant for students in W. P. Carey's Center for Entrepreneurship, another tribute to Scott who was a successful stockbroker and entrepreneur.
"I could see why he had a hard time finishing college," Gulbranson says. "He had all these ideas and he would go execute them," leaving little time for much else.
So infectious was Scott's entrepreneurial spirit that it inspired Gulbranson to take a leap of faith, quit a six-figure job, and launch her own company 15 years ago.
"He was the wind beneath my wing to start this business," she says. "He said 'If you want to do it, you should. You are smart enough.'"
A healthy venture
One of Gulbranson's passions has always been health and fitness, an interest encouraged by her late mother who stressed the importance of good nutrition and health throughout her childhood. So, she decided to open a med spa to provide the full range of skin care services to an increasingly health-conscious population in the Phoenix area.
Gulbranson brought her sister, Lisa VanBockern (BS Accountancy/Computer Information Systems '98), aboard and the two worked closely together, building the business from the ground up.
What began with a dream and a single franchise has grown into a thriving business that has expanded to include five clinic locations throughout the Phoenix metropolitan area and a corporate office in Tempe, all run by 59 employees. Two additional clinics will open in September 2019.
Derma Health Founder and CEO Trish Gulbranson tributes her decision in 2004 to take a leap of faith, quit a six-figure job, and launch her own company to her late husband Scott's entrepreneurial spririt.
What's more, the company's growth led VanBockern to spin off her own successful company with the line of skincare products she developed as a certified aesthetician at Derma Health Skin & Laser. Skin Script is now a company with a full staff and corporate office in the same building as Derma Health. Their success has earned the sister-entrepreneurs recognition as Sun Devil 100 recipients for three years in a row.
Educating future entrepreneurs
Gulbranson credits the experience she gained in the corporate world — she worked in public accounting for a decade, including at PriceWaterhouseCoopers, and later as the president and CEO of a software company — and her education at ASU for instilling the discipline, hard work, and confidence she needed to succeed as an entrepreneur.
So when it came time to figure out where to carry forward Scott's legacy, choosing ASU's W. P. Carey School of Business was a no-brainer.
Since the endowment was set up, six student-recipients have been able to continue their college educations, a fact that Gulbranson finds both humbling and rewarding. At a recent scholarship luncheon, one of these students made a point of finding her to thank her. "He was raised by a single mother and was the first in his family to go to college," she says. "He's a bright young man and it was awesome to meet him."
Being able to see her philanthropic dollars at work in her life is what made Gulbranson decide to open the new endowment in her own name.
"If I leave something for the University in my estate after I pass, I would not have met the beneficiaries of the scholarships and they would not have known me," she says. At the recent luncheon, Gulbranson admits becoming emotional when she heard the outpouring of gratitude from scholarship recipients. "My endowments are having an impact on people's lives," she says.
Trish Gulbranson poses with scholarship recipient and double major Austen Pearce at the Annual Scholarship Luncheon at the Tempe campus on Wednesday, Nov. 7, 2018.
Giving in other ways
Philanthropy means more than just dollars and cents, as Gulbranson has proven. In addition to deepening her relationship with her alma mater through the two endowments, she has volunteered as a member of the ASU Alumni Association, this year as it's chair, and sits on the Board of Trustees. She also participates in Women's Circle events run by W. P. Carey Dean Amy Hillman.
"Women do have a different perspective, and it's critical to have a balance of both a man and a woman's impact in this world," Gulbranson says, referring to research that shows that women make more pro-social philanthropic investments. "Women need to think about what's special to them."
Reflecting on Women's History Month, she notes several women who have inspired her. "My mom is the one who inspired me most in donating funds to a university," she says, adding that education was a priority for her mother who was a teacher. Others include her sister; fellow alumna Kathleen Duffy (Communications '81), founder and president of Duffy Group, who encouraged Gulbranson to get involved at ASU; and Dr. Christine Wilkinson, the senior vice president and secretary of ASU who was inducted into the Arizona Women's Hall of Fame last year. "Women like her blaze the trail," Gulbranson says.
Another advantage of her volunteer posts at ASU is the inside view she has of the innovative research that is happening on campus. "At the biomedical center, they are working on research to [halt] Alzheimer's disease," she says, "and they are close. The university is doing amazing things. When you see the research being done and what is going out into the real world, it blows you away."
Top photo: Trish Gulbranson shares her words of wisdom at the ASU undergraduate commencement at Wells Fargo Arena on Monday, Dec. 10, 2018. Photo by Charlie Leight/ASU Now