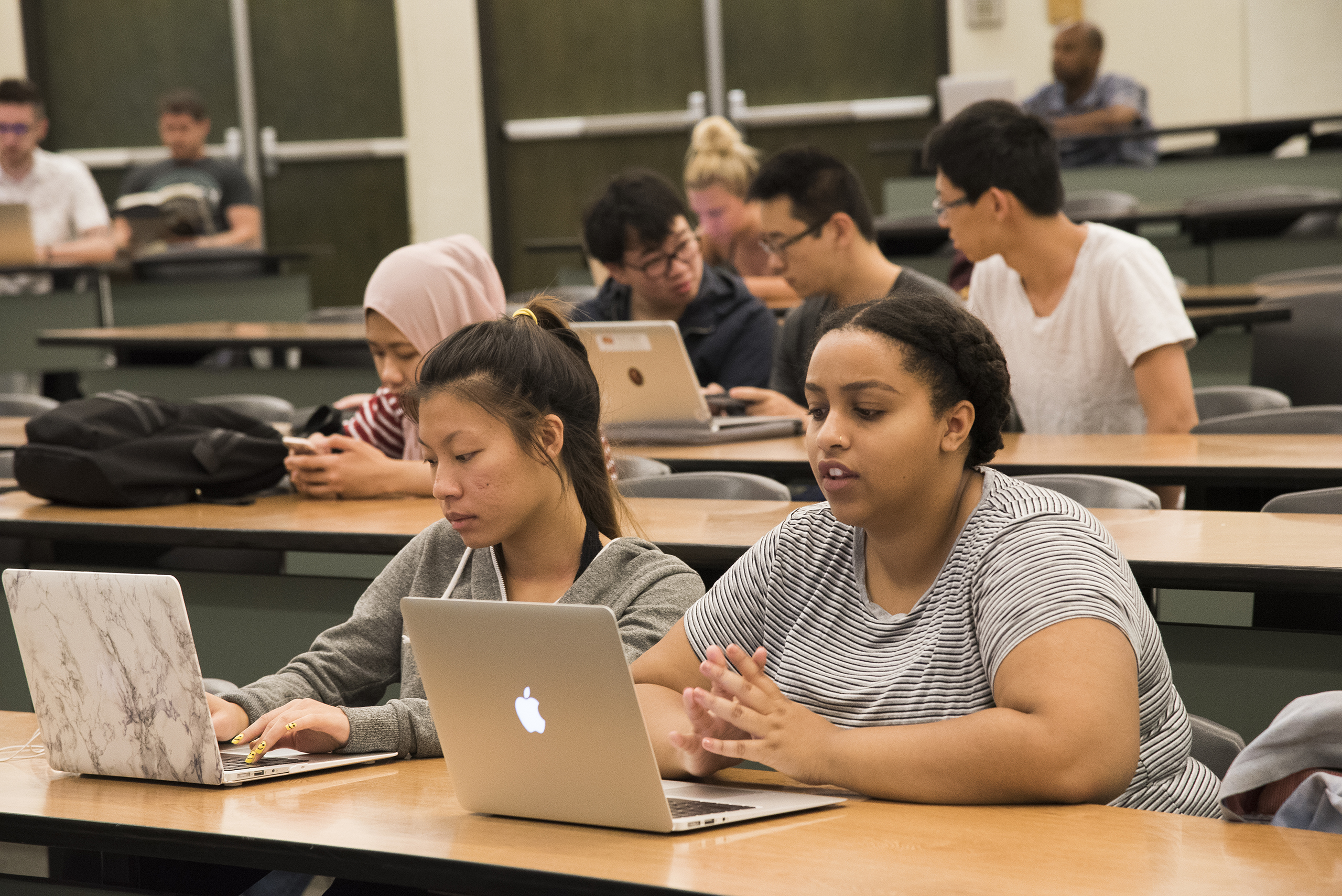 MS-ISM or MS-BA: Which graduate degree is best for you?
The high-level knowledge and experience these master's programs deliver could be just the thing to ramp up your career.
By Jenny Keeler
Looking to take your business or information systems degree to the next level? Getting a graduate degree may be the answer.
The high-level knowledge and experience many master's programs deliver could be just the thing to ramp up your career. The business and information technology fields are brimming with opportunities for career advancement. The Bureau of Labor Statistics expects 75,000 new jobs by 2026 in these fields.
But which program is right for you?
Information management and business analytics often go hand-in-hand and choosing which degree program to pursue may be a matter of fitting your unique background, experience, and goals.
For example, are you an aspiring data scientist or chief information officer? Do you want to dive into the data or manage it from above?
If you're on the fence, keep reading. The following information may help you decide.
MS-ISM vs. MS-BA: Costs and careers
The Master of Science in Information Systems Management, or MS-ISM, is ranked No. 11 by the U.S. News and World Report. The 12-month full-time program, held in the evening, promises to put students on the leading edge of where technology and data are headed.
The Master of Science in Business Analytics, or MS-BA, is a nine-month program that will place students at the forefront of big data, giving them critical analytics skills and knowledge that provide a business advantage across many markets and industries.
The cost for each program is comparable: The MS-ISM is $31,784 for in-state and the MS-BA is $33,608. Careers for MS-ISM graduates include chief intelligence officer, business systems analyst, and project manager, among others. Potential careers for an MS-BA grads range from data mining engineer and big data analyst to data scientist.
Both graduate degree programs offer real-world experience and prepare students for careers in a wide range of industries.
Students who are currently in the MS-ISM and MS-BA programs share their experiences.
Connecting prospective students to the best programs
Student ambassadors are the link between those in the programs and prospective students. W. P. Carey student ambassadors share tips on application processes, returning to school, and how a particular program prepares students for a career.
Ambassadors are a kind of big brother, explains Christov Cornish, MS-ISM student ambassador. "As a student ambassador, I'm serving as a more personable information source that students can relate to and reach out to if they have any questions about the master's program, life in the states as an international student, or even if they would just like to make a new friend," he says.
Many new students Cornish talks to are concerned about time management, Cornish says. The challenging and sometimes lengthy assignments can be intimidating, but Cornish encourages students with words from Professor Phil Simon and the idea of desirable difficulty — a learning task that requires a considerable but desirable amount of effort, thereby improving long-term performance.
Cornish will graduate from the MS-ISM program in May 2020 and has a job lined up with KPMG as an IT advisory associate. He says the program has allowed him to transition into a more IT-focused role from his previous business administration position.
Student Ambassador Clinton Braganza says the MS-ISM program is suited for a working professional with a few years of experience who is looking for a more generalized view of information technology and its functions and who is seeking a managerial role related to IT.
"The MS-ISM degree will help enhance my understanding of IT at a much more senior level than I am used to," he says. The balance between tech and business is a common topic within the MS-ISM program and the MS-BA program. "I believe getting an MS-BA degree helps me connect the dots in the real world by understanding the business side of things and the technical side of things, which are two sides of the same coin," says MS-BA Student Ambassador Kenny Tjong.
Many prospective MS-BA students Tjong talks to are wondering if their unique background will fit in with the program. He assures them that data analysis stretches across many industries and offers many opportunities.
Tjong said the tools and concepts he's learning in the program help him feel confident to go back out into the real world.
Getting real-world skills and landing good jobs are top of mind for both MS-ISM and MS-BA students. Professors and program directors are constantly adjusting the curriculum to match what the industry is doing.
How do the professors behind the programs think they compare? Keep reading to find out.
Professors' perspective of the MS-ISM and MS-BA programs
Question: What kind of students will get the most out of the program?
Answer by MS-ISM Program Director and Professor of Information Systems Benjamin Shao: The students who have a strong interest in and are passionate about information technology and systems, as well as its deployment in a business setting, will benefit the most from the curriculum of our MS-ISM program.
Answer by MS-BA Program Director and Professor of Information Systems Sang Pil Han: "Students equipped with business acumen and analytical mindsets will benefit the most from a wide variety of analytics-focused courses the program offers.
Q: What advice do you offer to students hoping to stand out in the admissions process?
Shao: Potential applicants should emphasize why they want to pursue an MS-ISM degree and how they foresee the degree will help advance their professional career in IT. Academic background and/or prior work experience that fits the profile of the students we are looking for can also be valuable.
Han: Applicants with clearly articulated motivations and relevant industry experiences could certainly stand out among the applicants.
Q: What opportunities does the program offer?
Shao: We offer both state-of-the-art materials based on cutting-edge research conducted by our faculty and ample opportunities to interact with companies, both established and start-up, through projects, internships, and career fairs.
Han: The program offers intensive academic curriculum as well as extracurricular activities by which students can expand their scope of analytical skills through a brown bag speaker series, analytics case competitions, and student club activities.
Q: What are some projects you've seen your students tackle?
Shao: Our MS-ISM students have been involved in projects sponsored by Honeywell, Intel, Pearson, Ports America, APS, SRP, American Express, Nationwide, USAA, and more. The topics ranged from big data to tech consulting and from IoT to smart meters.
Han: Recently I mentored one student team on developing a predictive model for a local utility company. The idea was to predict whether a household owns an electric vehicle based on the electricity consumption data. The company wants to adjust its electricity capacity following the rise of households with electric vehicles. The team successfully explored various modeling frameworks and developed a prediction model to satisfy the company's needs.
Q: What are the key differences between the degrees?
Shao: The key differences consist in the breadth of the curriculums and career choices. The MS-ISM program is broader on both fronts. Instead of training our students to be a specialist in a focal area, we prepare our graduates for mid- to high-level IT management positions such as IT director, IT project manager, database administrator, information systems architect, information security officer, chief technology officer (CTO), chief data officer (CDO), and eventually chief information officer (CIO).
Han: Many students in our program envision becoming data scientists. That is, this program focuses on nurturing talents who can initiate, execute, and manage an analytics project throughout its journey.
Q: What other aspects of the degree should students know?
Shao: According to the US News & World Report, our MS-ISM program is ranked No. 11 in the business school specialty of information systems. The MS-ISM curriculum is taught by our renowned faculty whose research productivity is ranked No. 3 in the world based on the publications in the discipline's premier journals.
Han: As a STEM-accredited program, international students will be granted a three-year optional training period (OTP) upon successful completion of the program.
Q: Can you give an example of a job that a professional in this field might get?
Shao: Among the "50 Best Jobs in America for 2019" by Glassdoor.com, 19 are in the IT domain. On top of the list, four years in a row is data scientist with a median base salary of $108,000. The highest-paid IT job is a software engineering manager with a median base salary of $153,000."
Han: A data scientist.
Q: Anything else you want to let students know?
Shao: Phoenix is a booming area with growing prosperity, especially in the IT field, and it has more than 300 days of sunshine a year for outdoor activities. If enrolled, our MS-ISM students will enjoy a unique educational experience and promising career prospects.
Han: This is a rapidly growing program, and we aim to expand both in size and quality by constantly revamping our curriculum to keep the pace of the industry advancement.
MS-ISM core course descriptions:
Data and information management
Strategic value of information technology
Business intelligence
Information security and controls
Emerging technologies
Artificial intelligence and business
MS-BA core course descriptions:
Introduction to enterprise analytics — 

structural query languages and data visualization

Introduction to applied analytics — 

statistical analysis and forecasting

Data mining I and II — 

data mining, big data analysis, text mining

Data-driven quality management
Analytical decision-making tools I and II — 

linear/non-linear programming, simulation

Business analytics strategy — 

deep learning models

Marketing analytics
Applied project — capstone project
Ready to take the next step — a Master of Science in Information Systems Management (MS-ISM) degree or Master of Science in Business Analytics (MS-BA)? Find out what you'll need and how to apply today.