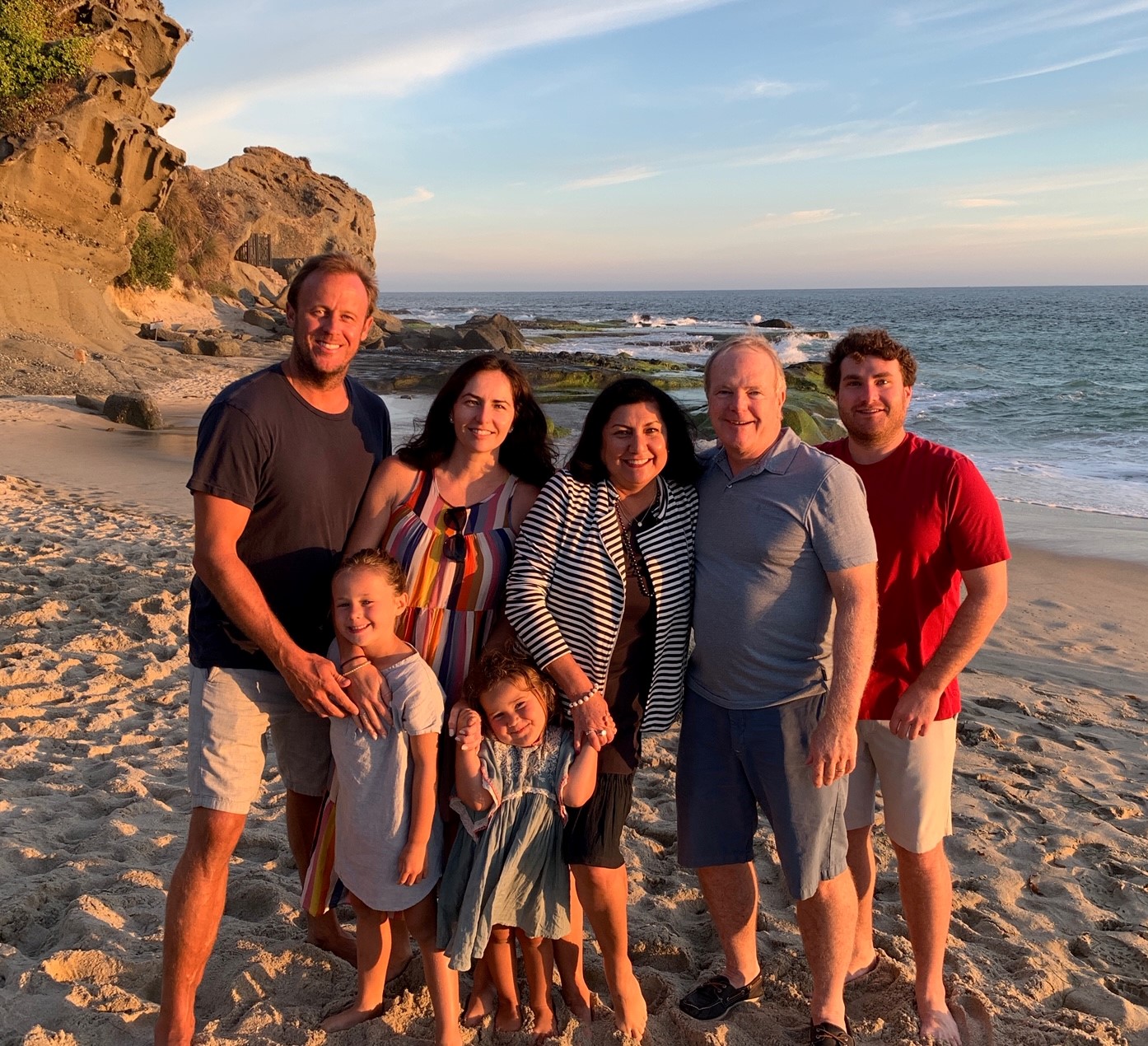 Catching up with W. P. Carey cupids Rob and Darcy Royal
Sometimes, students leave the W. P. Carey School with more than a top-rated education — they find a life partner, too.
By Emily Beach
Sometimes, students leave the W. P. Carey School with more than a top-rated education — they find a life partner, too. Getting acquainted at Noble Library, developing their relationship during cooking lessons, meeting at Camp Carey, or working together at school events — these alumni found love with a fellow W. P. Carey student.
We call them W. P. Carey Cupids — couples who met at the W. P. Carey School of Business and are now making lives together. The Royals, Rob Royal (BS Business Administration '79) and Darcy Romero (BS Business Administration '78), met in a junior year accounting class. After Darcy scored the highest grade on an exam, Rob asked if she wanted to study together. Forty-three years later, the couple and their family are still filled with Sun Devil pride. We caught up with Darcy and Rob to learn more about the special place ASU and W. P. Carey hold in their relationship.
What's a fun memory of your relationship at W. P. Carey?
We were in the same accounting, finance, insurance, and business policy classes. The competition to do better than the other in class was fun, especially because we spent so much time studying together at Hayden Library.
One embarrassing and funny memory: Our senior year we took a Finance Risk Management night class and were sitting next to each other writing notes about our upcoming spring break trip. I noticed Professor Lester Tenney (1921-2017) glancing at us and Rob didn't. Rob wrote a note and wanted a reply so he bumped my hand once, twice, then my arm a couple of times... and to our surprise, Professor Tenney declared to the entire class: "Rob, Darcy does not want to write you a love note right now." The entire class burst into laughter. That was the last time we passed notes in class!
Also, we figured we were destined to meet because at our College of Business graduation ceremony our assigned alphabetical seats happened to be right next to each other.
Where are you today?
Grateful and blessed to be dating 43 years and celebrating our 38th wedding anniversary in May. It seems like much less — the time has flown.
We lived eight years in Rob's hometown of Des Moines, Iowa where he went to Drake Law School and I worked on my master's degree. Rob practiced law in Des Moines and was the youngest lawyer to present to the Iowa Supreme Court (and won that landmark case). I worked for an insurance company as a commercial underwriter and was the first-ever woman field representative in Iowa.
We moved back to Phoenix in 1985, Rob as a shareholder attorney and me as a vice president risk manager for Merabank before becoming a full-time community volunteer. I have served on the National Charity League Boards, as a founder of the Cactus Boys Team Charity League, the Scottsdale School District Arts in Ed Council Board, Desert Fountain Auxiliary Executive Board, Junior League of Phoenix Board, Kappa Alpha Theta Alumni, the President of Brophy Mothers Guild and Resource Regent, Phoenix Children's Hospital WINGS Executive Board, and the Executive Board at Xavier. Rob and I both served the Orpheum Theatre Foundation Board in its rebirth. Rob has continued his expertise in business litigation and was even part of the prestigious legal team that revamped the State of Arizona Corporation Code and Limited Liability Act.
How have you stayed connected to ASU and W. P. Carey?
We raised our kids as Sun Devils, attending football and basketball games as a young family. We also traveled to most of the football bowl games, and our family scored the first row, 50-yard-line tickets and were on national TV at the 1997 Rose Bowl!
We have two "li'l Devil" granddaughters living in Southern California who love Sparky. They have been to ASU football, basketball, and even hockey games. The oldest wore her ASU cheerleader uniform with pride when they were guests at the USC game in the Pete Carroll Suite (and we won that game last year!).
Darcy is a second-year member of the Sun Devil Athletics Club Board and has been involved in ASU Women & Philanthropy since 2009. Rob has mentored W. P. Carey students interested in pursuing law since 2010 and was president of the W. P. Carey Economic Club of Phoenix from 2012-2014. Rob and I are also proud to support W. P. Carey each year through Sun Devil Giving Day.
What's your advice for couples who meet here and date during college?
We always treated our relationship as a partnership. You need to keep a good sense of humor, faith, trust, and respect. We honor and cherish our commitment to each other, seek to have fun every day, view life as a great adventure, and are always looking for the joy.
Rob's father passed away when he was 16, and my (Darcy's) father became permanently disabled when I was the same age. So we both knew that life would throw curveballs at you, and you need to seek out what you want and fight to keep it ... for each other, for your business, for your success, and your family.
When we became empty-nesters, I told my kids it was like we were in college again. Our daughter said, "That is not possible Mom." But we are proof.
Favorite place to spend time on campus together?
Studying together at Hayden Library, ASU football and basketball games, and the fountain by Old Main.
What's a favorite memory at ASU you share?
We have great memories participating in Greek life and philanthropy events such as Greek Sing. Rob remembers playing in several successful Fraternity Intramural Championships. Kappa Alpha Theta also played for the ASU intramural flag football championship game and Rob was one of our coaches. We also enjoyed our senior year spring break trip up the California coast.
When was the last time you visited campus and what did you do?
We are on campus quite a bit for Sun Devil Club, athletic events, and board meetings. The football clinic on the field last spring was a blast, too. And we attended the last W. P. Carey Hall of Fame event that honored some classmates, which was a great way to catch up.
What are you looking forward to?
We look to continue our community service and Rob's legal career. We love to travel and spend time up north in the summer, and of course a great deal of time giggling with our future Sun Devil granddaughters who are three and six.