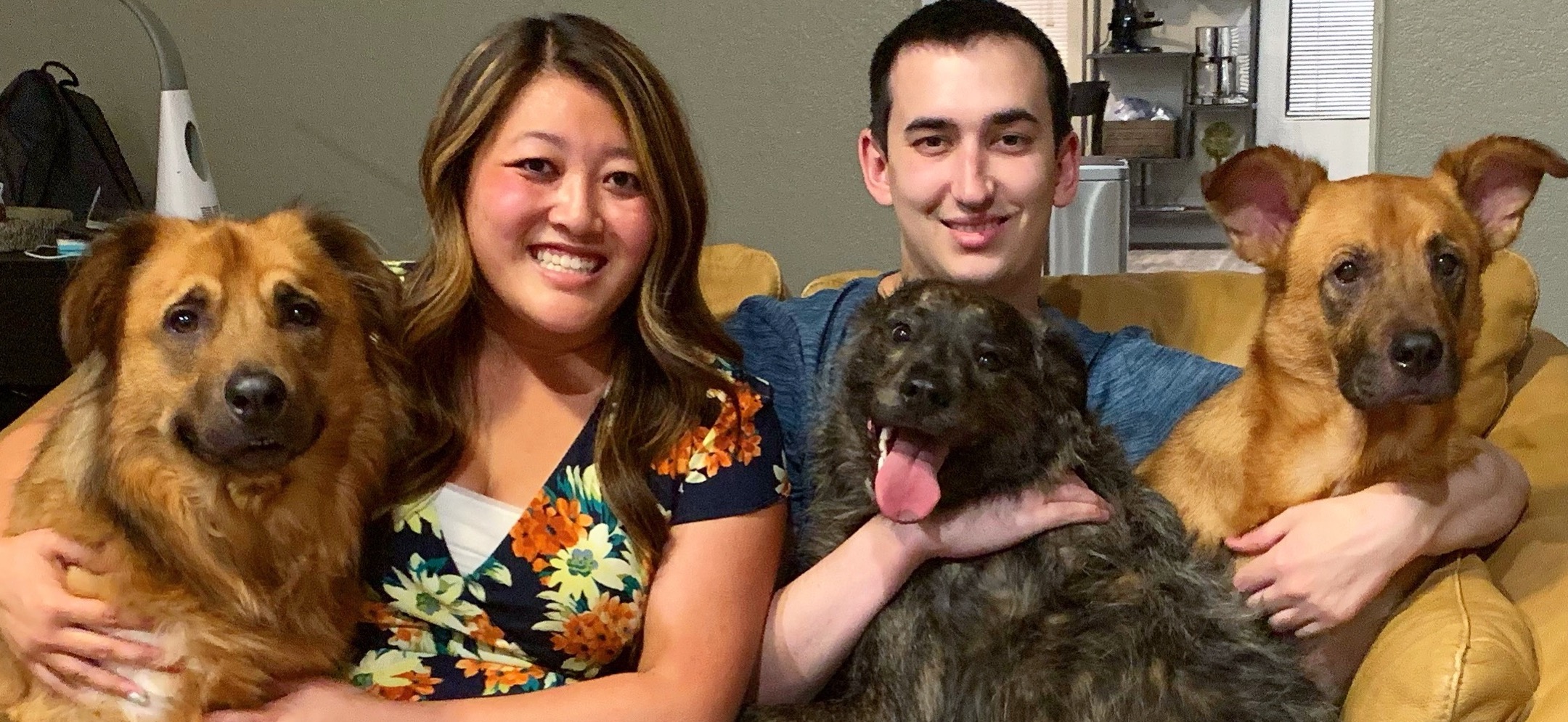 Catching up with W. P. Carey Cupids who make no bones about their love
San San Lai (BS Computer Information Systems/Accountancy'16) and Austin Millyard (BS Computer Information Systems/Accountancy '16) have plenty in common, including being dedicated dog parents.
By Shay Moser
Sometimes students leave the W. P. Carey School with more than a top-rated education — they find a life partner, too. Meeting at an internship interview, developing their relationship during class, or working together in group projects — these alumni found love with a fellow W. P. Carey student.
We call them W. P. Carey Cupids — couples who met at the W. P. Carey School of Business and are now making lives together. San San Lai (BS Computer Information Systems/Accountancy'16) and Austin Millyard (BS Computer Information Systems/Accountancy '16), met the fall semester of their junior year at an internship interview with Protiviti Consulting.
Millyard applied for the process role and Lai applied for the IT role. After the interview, the two started talking and realized they'd met during their freshman year and took the same online class. Lai and Millyard even went to rival high schools and had the same undergrad plan. They took the exact classes but at different times. During their senior year, Lai and Millyard took almost all of the same classes at the same time and doing a lot of group projects together.
"It was nice having someone I knew in all of my classes since we both had our strengths and we complemented each other's weaknesses," says Lai who's an active online MBA student. "I think we worked well together in our group projects; we got As on all of them."
Three years later, the couple is together and has more in common. We caught up with Lai and Millyard to learn about the special place ASU and W. P. Carey hold in their relationship.
Question: Where are you two today?
Answer: I think this is an interesting story because we landed in the same field. To start, Austin ended up with the internship from Protiviti in the San Francisco office and I interned with KPMG in the San Francisco office. We both wound up moving back to Phoenix and transferring to the respective Phoenix offices. At one point, Austin and I worked for the same company with the same job title, and I never expected that to happen.
Currently, Austin works for Axon as an internal auditor and I work for Carlisle as an IT internal auditor and our offices are both located in North Scottsdale. I also run a small side-business where I offer sweet treats and calligraphy services. Feel free to look me up on Instagram under @treatsbysanny.
Q: What's something special about how you started your relationship at W. P. Carey?
A: W. P. Carey is where we met and where our relationship started. That will always be special to us. If it wasn't for the great degree programs and career opportunities, we may not have met.
Q: What's your advice for couples who meet at W. P. Carey and date during college?
A: We were education-driven in college. While we happened to meet each other along the way, it didn't mean we could forget everything else that was going on in school or clubs/organizations. Our biggest advice is to enjoy college and be open to dating but to also make sure you prioritize school work and your previous commitments. Also, remember that you don't have to find the person you wish to spend the rest of your life at college, so don't put so much pressure on yourself when you probably already have so much going on.
Q: Favorite place to spend on campus together?
A: We spent a lot of our time on the Dean's Patio, which I think is almost every W. P. Carey student's favorite spot on campus. It's next to Starbucks where we can see everyone pass by in between classes.
Q: What's your favorite memory you share?
A: Every favorite memory we share involves our dogs. We have three dogs that are all Shepherd mixes. Two of them are in the W. P. Carey calendar (Brownie and Buddy — December 2020)! All dogs were rescued, and they keep us busy outside of working hours. We've had two of the dogs for four years and we've had the third dog for two years.
Q: What are you looking forward to?
A: Although we currently live together, we are not married and we don't plan to get married for a few years. We are focusing on our careers first and that's what we look forward to most. We also look forward to our future with our dogs (dog mom and dog dad for life!).
Q: When was the last time you visited campus and what did you do?
A: The last time we were on campus was at the W. P. Carey graduation in May 2019 where Austin's younger brother, Tanner, graduated with the same degrees as us — accountancy and computer information systems.
Top photo: Lai and Millyard with their dogs (from left) Brownie, Jax, and Buddy.