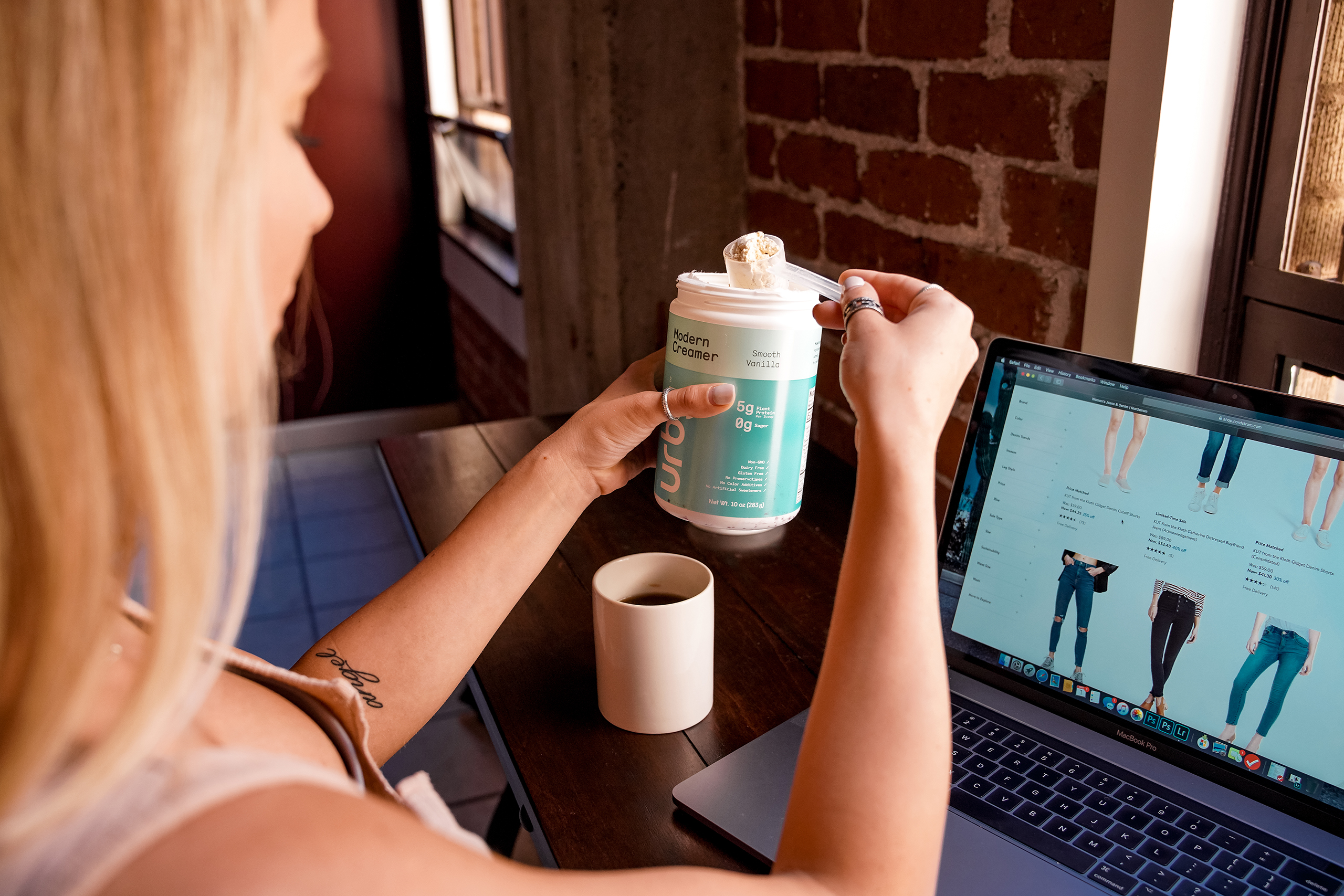 Finding the cream of the coffee
Alumnus Nick Boggs (MBA '11) founded a coffee creamer brand that focuses on good taste that's good for you. 
By Madeline Sargent
Alumnus Nick Boggs (MBA '11) was determined to create a great-tasting creamer that complemented his healthy lifestyle. The idea came to him about 10 years ago when he thought about dominant players in the creamer market like Coffee Mate.
"I like black coffee. I can drink it here and there, but I like to add a little flavor to it," says Boggs, who'd tried using various flavored protein powders as healthy additions but "it would clump together and didn't taste right."
Though healthy alternatives existed, he couldn't find exactly what he was looking for in the market. "I wanted to create a product that could improve the quality of life for others by providing a true functional benefit."
That idea brewed while Boggs finished graduate school and gained work experience.
The real-world value of work experience
A year into his MBA program, Boggs began an internship at a medical device company, and after graduating, he worked there for eight years. After a few years managing product lines, he was promoted to the mergers and acquisitions team, where he discovered a lot of information about emerging technologies that would later be relevant to him as a business owner.
"I had the opportunity to touch every piece of the business — marketing, finance, supply chain, accounting, operations, manufacturing, sales," Boggs says. "Externally, I worked with a lot of entrepreneurs while assessing companies. Internally, I got to work with senior-level executives, pitching — and ultimately pursuing — deals."
In July 2018, after a lot of hard work and market research that pointed him toward a plant-based creamer — as well as more than 100 iterations and taste tests to get the flavor and consistency right — Boggs made the leap from employee to entrepreneur and founded Urby, which is short for "your best you" and represents the idea of pursuing your best self in all aspects of life.
Urby is primarily sold online through Amazon, but the company also has started to offer it at gyms, fitness studios, and coffee shops, meeting health-conscious consumers where they are. Urby was featured on a Well+Good's list of plant-based creamers to try, "if you're really passionate about protein."
"Our product is high in protein, has zero sugar, and is made with clean, plant-based ingredients only. It's also dairy-free, soy-free, and gluten-free, which means it's easy on the digestive system," Boggs says. Other healthy ingredients include sunflower seed protein powder, organic coconut milk powder, and monk fruit extract.
Adding a greener touch to coffee
Another important aspect of Urby is its social impact. "I'm passionate about non-profits and have always been involved in volunteering," says Boggs, who's on the board of Big Brothers Big Sisters of Central Arizona. Because Urby is a food and beverage product, he wanted to align Urby's social impact mission with the fight against hunger. For every Urby creamer you purchased, one meal is provided to someone facing hunger through its partnership with Rise Against Hunger.
"Each meal provides essential nutrients to meet a basic human need. There are still more than 800 million people around the world facing hunger. This alone is a noble cause, but what makes this partnership even better is Rise Against Hunger goes into vulnerable communities and teaches sustainable skills," explains Boggs. "They teach women business skills and farmers get agriculture lessons. That way, community members can learn the necessary skills to help them maintain these improvements long term."
The company's manufacturer is in Tempe, Arizona, and its warehouse is in Phoenix. Boggs says, "With our digital-first strategy, we're able to operate lean, hiring subject-matter expertise where necessary."
Recent graduate, Elisa Moreno (BS Marketing/Business Entrepreneurship '20) plays a critical role in the company's digital marketing, particularly with social media. "It's nice to have a fellow Sun Devil involved in the day-to-day projects," Boggs says. "She gets experience with a startup and learns more about the business world. Plus, it's a great way to give back to the ASU community."
The coronavirus pandemic has both presented challenges and created new opportunities for Urby that play to the company's strengths. Opportunities in new physical retail stores have been delayed in some cases; however, more people are purchasing food and beverage products online. Now more than ever, personal health and supporting others in a time of need are top of mind for many people.
"Since Urby is focused on improving health and making a positive social impact, the company values are resonating with consumers," says Boggs.