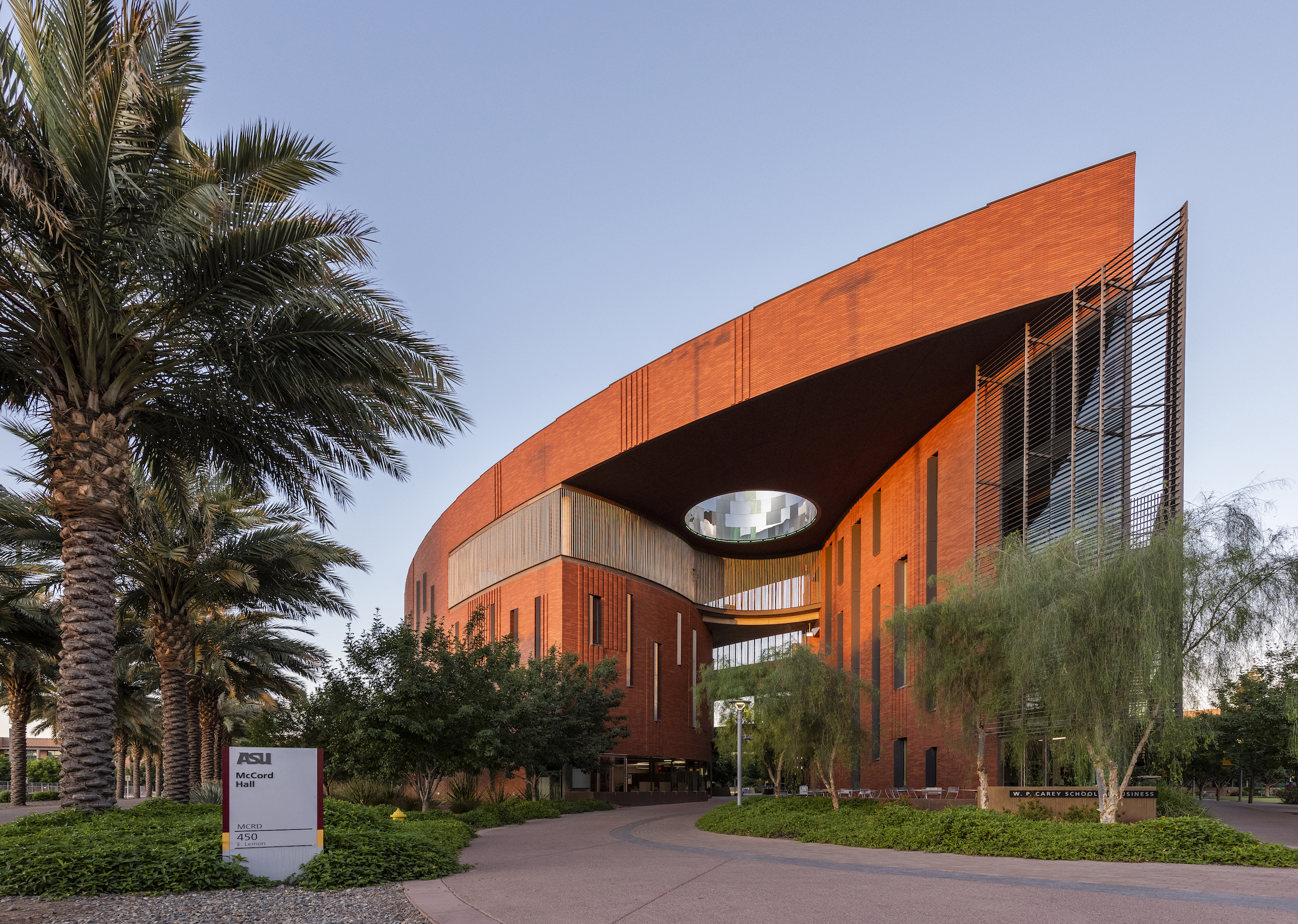 Executive's career and ASU journey provides core class material for MBA students
W. P. Carey executive-in-residence and adjunct professor Steve Lockard navigates graduates' education needs with experience from his business pivot.
By Brian Hudgins
Steve Lockard's major career leap happened when he stepped off-route to make a surprise move.
Lockard was working at Satloc, Inc., a GPS systems company based in Scottsdale, Arizona, and founded by the late John T. Walton when a new opportunity arose.
"John was a boater," Lockard says. "He owned a boat company in Warren, Rhode Island, called TPI. John and his partners, Mike Ahearn and Mike Pierce asked me to move my family to Rhode Island and see if we could turn this boat company into something of real value. The surprise was leaving electronics, an industry that I had come to know fairly well, to match up with a person that had significant investment capital and fine leadership traits — not knowing for sure what business we would develop with him and his team. But we knew with confidence that we would do something worthwhile and big and do it the right way.
Lockard joined TPI in 1999 when it was a builder of sailboats. The big venture turned out to be the genesis of a $1.4 Billion global wind blade manufacturing company, TPI Composites. It started with about 200 people in Warren and has grown to over 14,000 employees worldwide — including 6 million square feet of floor space in the U.S., Mexico, Turkey, China, and India coupled with engineering offices in Denmark and Germany.
When we started in wind blades in 2001, wind energy was too expensive and was heavily subsidized. Today, wind is one of the cheapest new forms of energy generation … electricity generation. So we have been able as a company and an industry to help drive down the cost of wind energy and make it much more cost-effective.
Lockard says they're also working on taking out the weight in electric vehicles through the use of structural composites. "I'm pleased with the company's progress. We get to help decarbonize the electric sector and put food on the table for 14,000 families around the world. It's an example of being able to do well and do good."
By Lockard's estimation, that transition from boat company to wind blade manufacturing outfit was based more on the belief in a group of people rather than the pull of a rock-solid set of stats on a sheet of paper. "It wasn't a perfect product road map," Lockard recalls. "It was more about an entrepreneurial team and a manufacturing technology road map."
Embracing the process
The TPI Composites story is one Lockard can share with W. P. Carey students as an executive-in-residence, adjunct faculty, a role he had an opportunity to discuss with W. P. Carey Dean Amy Hillman once Lockard had stepped away from handling the day-to-day operations of TPI to become chairman of the board in May. "I had stayed in touch with Amy and had an existing role occasionally guest speaking and mentoring students," Lockard says. "I told Amy I would love to do more. She crafted the executive-in-residence position."
Going through several classes in the first couple of months allowed Lockard to see which formats worked best. "The feedback has been constructive," Lockard says. "I enjoy the back and forth with students."
Because TPI Composites went through a rigorous market development process early in its lifespan to go from a boat builder and transform into a wind blade company over time, that journey provides core discussion material.
We learned lessons about strategy, sustainable competitive advantage, intrapreneurship, investment banking, and how to raise both private and public capital.
Having tackled that variety of needs enables Lockard to tailor his communication with Sun Devils based on a particular class level or business experience level. In telling the TPI story, it could be a discussion about competitive advantage or entrepreneurship. It depends on the class or place of students.
One aspect Lockard has weaved into those discussions — the value of a consistent company culture that carries over from one year to the next or one decade to the next. When the TPI mission was boat building, the operation was very close to Narragansett Bay and numerous individuals and companies who owned sailboats. "It was a perfect place for a sailboat company to be located," Lockard says.
By the time Lockard got there in 1999, that consistency of innovation was set in stone. "Our growth was driven more by the company culture than by the location," Lockard says. "We continue to incubate products and technology from Rhode Island 21 years later."
When Lockard was examining how to share the TPI story — his initial thoughts led to a Q&A, dialogue-heavy format instead of a speech lecture. Considering the meetings have been coordinated through Zoom, Lockard notes the heavy input volume from students and active chat room have provided opportunities for them to stay engaged during 90-minute sessions. "Their questions have been on the mark and if I miss a question real-time in chat, I try to be sure to catch up and cover it," Lockard says. "I'm impressed with the students and faculty."
Windy City wonder
ASU made a mark with Lockard when the Joliet, Illinois, native was assessing his education options. Many of his friends interested in engineering took the trek to either Illinois or Purdue. Lockard was locked in on doing something different. "I had family in Tucson and I visited Arizona and ASU. I fell in love with ASU," Lockard says. "I knew I wanted to be involved in technology and marketing. I took all of the MBA prerequisites at W. P. Carey while pursuing an electrical engineering degree and working at Rogers Corporation. It was a very busy time in a good way."
Sound classroom and work experience gave Lockard solid footing when he faced the prospect of moving TPI Composites to a broader international stage. To accomplish that, the TPI team had to address a series of questions whether the manufacturing opportunity was in the U.S., Mexico, Turkey, China, or India. How to ensure world-class operations? What is the right way to conduct business? How do trade policies play into the work plan and worker methods? What steps do individual factories need to take to maintain communication with local officials?
"There is a tremendous international student population at ASU," Lockard points out. "Whether it is banking in Africa or AI algorithms in China, good business case studies can come from anywhere. That diversity is highly valuable — it is diversity in another form. That country culture diversity brings a lot to the table."
Just as Lockard learns from the varied experiences of ASU students, he has found important critical information can come from another source: the customers of your customers.
Lockard is the past chairman of the board and past chairman of policy committee for the American Wind Energy Association. "In the wind energy space, with AWEA, I met quarterly with the top 30-plus leaders of the U.S. wind industry," Lockard says. "We worked on industry issues and developed personal relationships. I would often ask them: 'Tell me about your business.' You can learn a lot not only from what your customers are telling you but the challenges their customers are dealing with. When wind energy cost was too high, how do you get policy support? You get in the trenches and build relationships. That way, you are working from your knowledge of the market instead of buying a market study."
That combination of data analysis and personal interaction has been valuable for Lockard through his career, much in the same way that ASU set a foundation. "With the progress that Dean Hillman has made through the inclusion of students from around the world and the efforts of Dr. (Michael) Crow with the first School of Sustainability in the country and the Global Futures Laboratory at ASU, there is so much progressive world-class work. This is an incredibly exciting time to be a Sun Devil!"