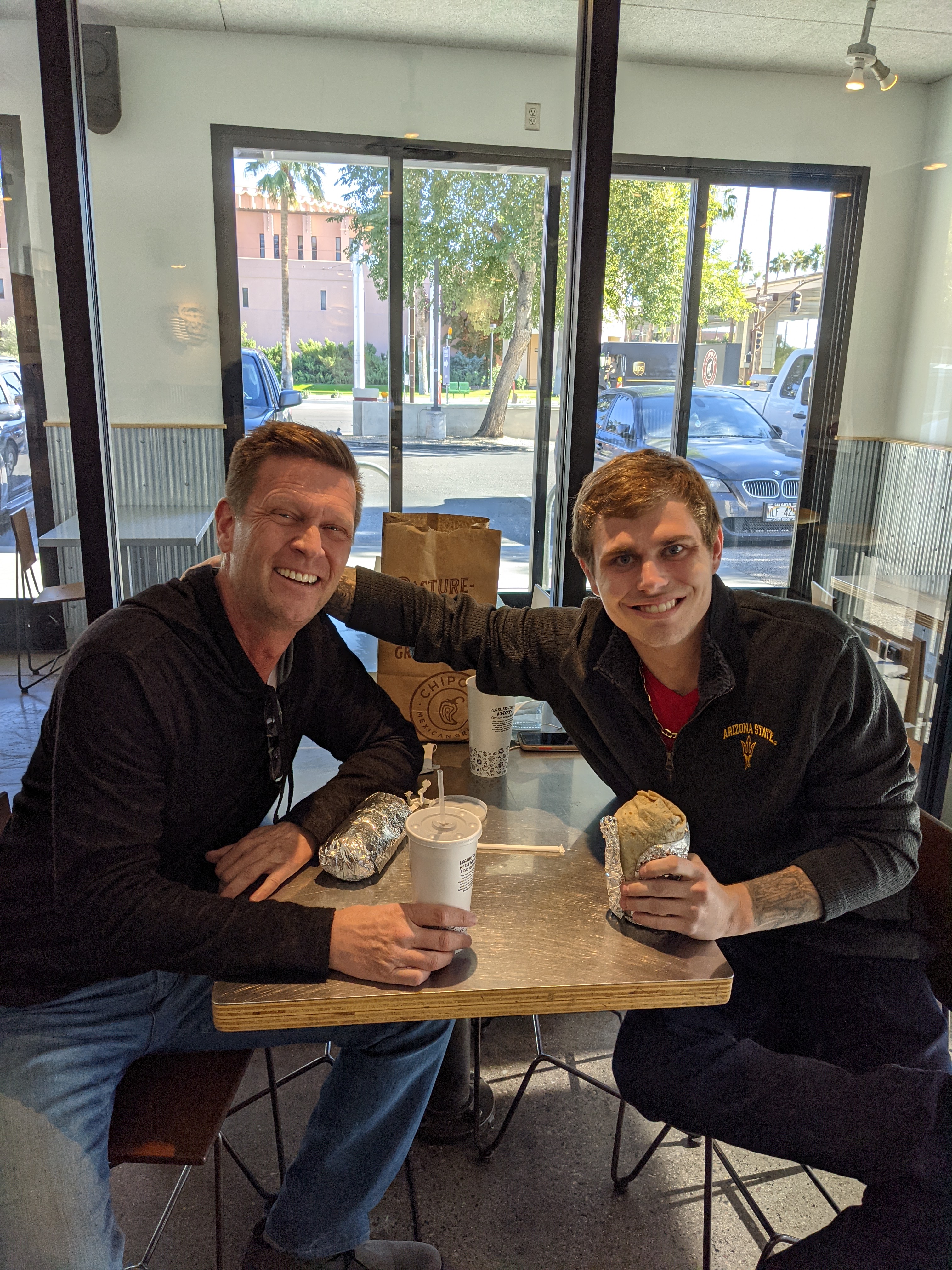 Master of accountancy student overcomes adversity with persistence and assistance
John Irish (BS Accountancy '20) received help from his father and faculty. Now he's on the verge of graduating with his Master of Accountancy and beginning the job of his dreams at Deloitte.
By Shay Moser
John Irish (BS Accountancy '20) received help from his father and faculty. Now he's on the verge of graduating with his Master of Accountancy and beginning the job of his dreams at Deloitte.
"Everybody's dealt a hand of cards, and you can't blame the dealer," John Irish (BS Accountancy '20) says with a big smile on a Zoom call.
His dad, John Irish Sr., shared those words of wisdom and they've become somewhat of a life motto. Most wouldn't know it, but behind John Irish's smile, his hand of cards has been full of challenges and adversity.
Against all odds, Irish managed to overcome adversity and will soon graduate with a Master of Accountancy (MACC) before beginning the job of his dreams. His determination, hard work, and grit are responsible for his success, and several people helped Irish along the way.
Lasting lessons from dad
The most influential person in his life was his father. Irish was adopted at a young age and his adoptive father, and namesake, became his protector, biggest encourager, friend, and hero. Irish's adoptive mother became physically and mentally abusive once the parents split. Irish's father did everything he could to protect his son, even moving to Hawaii to put some distance between them and the mother. Finally, after finding bruises all over Irish's body, authorities got involved and it was enough to keep Irish away from his mother and the abuse.
Their story turned around and life was good in Hawaii, just the two of them, enjoying their island paradise until Irish's father was diagnosed with stage four liver cancer when Irish was 14. Irish became his father's caretaker, quitting high school and completing his high school diploma online at age 16.
Irish's father never gave up, attending his son's baseball practices with his chemo apparatus attached. Irish Sr. knew the end was near, so he made the most of his time with his son, having important life conversations over beer. It was a special time, Irish says. It left him with memories he'll cherish forever. Irish's stressful and traumatic childhood resulted in a survival mindset. He admits that he didn't have many aspirations for the future. His father, seeing his son's potential, did his best to change that. Irish says he always told him not to let his past be an excuse for his future.
Throughout his life, Irish's dad did his best to instill a good work ethic in his son, telling him he could do anything with hard work. Academics were important to Irish's father and he knew his son was smart. Irish says his father would never help him with his homework, it was his to figure out. He also taught him life skills that he would need someday, like negotiating the cable TV bill.
After a long battle, Irish Sr. passed away on Dec. 31, 2011, when Irish was 17. His father left his final words of wisdom in a video message. In it, Irish Sr. said there was no time for sorrow, only for cherishing happy memories. He encouraged his son again, telling him to take charge of his life and not to let the hand he's been dealt keep him from a happy life. Irish Sr. said he wished he could have met and spoiled Irish's children and how important it is to be a good father.
In his final words, he said, "Finally honey, I love you with all my heart."
Irish cherishes that video and watches it often when he needs to hear his dad's voice, get a bit of encouragement, and renew his determination.
The helping hands in career path to accounting
After his father's death, Irish came to Arizona, near friends, and wondered how he could honor his dad and make something of himself. He enrolled in community college and decided to study the subject he was best at — math.
That led Irish to the accountancy program at W. P. Carey. With his father's words echoing in his head, he moved forward on his career path with several people helping Irish along the way.
The first counselor Irish met with was Kylee Stewart. Irish says it was obvious how important the program was to him and Stewart committed to helping him succeed. She guided him to the courses that would best fit Irish's needs. When Irish decided to enter the Master of Accountancy program, Stewart helped him fill out his application and even helped him land a scholarship. She still checks in with him, even though she's no longer his counselor.
"She's tremendous, she's one of the most amazing people I've met," Irish says.
Nancy Cassidy, a senior lecturer in the accountancy program, pushed Irish in her class. It was tough, Irish says, but it confirmed for him that accounting is the right career. Cassidy also lined up a tutoring job for Irish to help him earn money to make ends meet.
Another professor offered Irish extra time to complete an assignment when Irish's daughter was born. Irish says several professors shared their time and advice.
I've been so fortunate with the people I've met and the help I've gotten.
Irish took advantage of the resources offered to him — professors' office hours, counselor guidance, resume writing help, and more.
One day, Clinical Professor of Accountancy Greg Dawson asked his class if anyone had any news — job openings, interviews, offers — and Irish raised his hand and said he had an upcoming interview.
"He's a front-row-sitter kind of guy," Dawson says of Irish.
Irish met with Dawson and the two went over his resume, cover letter, and prepped for possible interview questions. Dawson even helped Irish tie the necktie he would wear to the interview. Irish loosened it, carefully slipped it over his head, and continues to wear that tie. Irish and Dawson meet weekly at Chipotle to talk about life and accounting over burritos.
"To have somebody willing to give me the time," Irish says. "It means so much to me."
In addition to the career advice and necktie help, Dawson filled a space in Irish's life and was somewhat of a father figure to Irish.
"It takes a lot of weight off my heart," Irish says.
Dawson says it was Irish's pure determination that got him where he is today.
What John had to fight through to do this, I think it's amazing. He didn't give up when giving up would have been easier.
Dawson estimates that Irish's odds of success, given his childhood, would be about .0001%, and he hopes that other students who think that kind of success is unavailable to them, will be inspired by Irish's story.
"Graduating from a top master's program at a top university, going to unquestionably one of the top firms [Deloitte] in our industry," Dawson continues. "… what a testimony to his hard work and grit in overcoming obstacles."
This is what Dawson calls the transformative power of education. Dawson himself is proof of it.
Dawson's father had a rough upbringing. He was in and out of jail as a young adult but dared to make a change in his life and in doing so, he changed the trajectory of the entire family. Dawson was the first generation of his family to attend and graduate from a four –year college and is now a university professor.
Dawson was awarded the outstanding faculty mentor award for the 2019-2020 academic year and says mentoring students and helping them succeed is the best part of his job.
"That's what we, as a university, can offer," Dawson says. "There're so many people who can be helpful, it's just a question of somebody raising their hand and saying, 'Hey, can you help me with this?' "
Irish is grateful he raised his hand and asked for help. He'll graduate from the MACC program in July and begin his career as an audit associate at Deloitte this summer.
"I don't think, in his wildest dreams, my dad would have imagined what I've been able to do," Irish says.
Top image: Clinical Professor of Accountancy Greg Dawson (left) and John Irish (BS Accountancy '20) at one of their weekly get-togethers at Chipotle to talk about life and accounting over burritos.