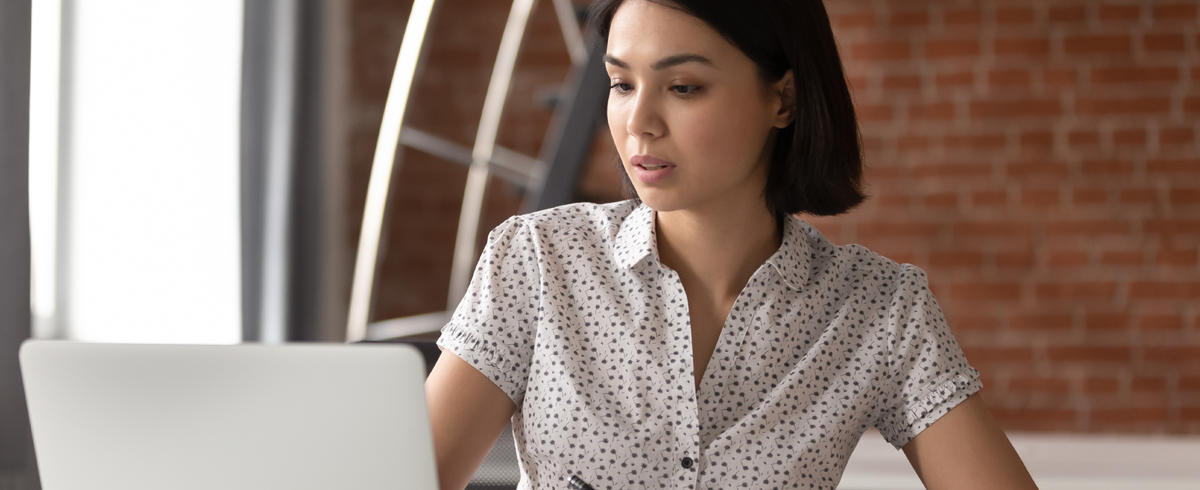 3rd Annual Women in Supply Chain Symposium: Fueling the Supply Chain of the Future
On Thursday, September 16th, the Women in Supply Chain Symposium "Fueling the Supply Chain of the Future: People, Technology, and Resources" event provided valuable insights for W. P. Carey students by bringing the stories of successful women in supply chain to the stage.
Madeline Sargent
The best supply chains embrace diversity of thought to ensure that great ideas are heard and implemented. On Thursday, September 16th, the Women in Supply Chain Symposium "Fueling the Supply Chain of the Future: People, Technology, and Resources" provided valuable insights for W. P. Carey students by bringing the stories of successful women in supply chain to the stage.
Presented by the ASU Supply Chain Executive Consortium along with the W. P. Carey School of Business, executives representing leading retail, high tech, food, and beverage supply chains shared career advice during the live virtual symposium and networking event.
Supply chain leaders honored
Mohan Gopalakrishnan, associate professor and chair of the Department of Supply Chain Management, and Lecturer and Assistant Chair Cindie Blackmer began the event by recognizing the Liz Baldridge, who passed away last year, and a memorial scholarship established in her name.
Baldridge, a W. P. Carey alum and former Microsoft employee, championed hiring talented supply chain candidates from ASU. Known for her empathy in both personal and professional situations, the ASU supply chain community is proud to commemorate Baldridge and her spirit of giving back.
Gopalakrishnan then announced the Supply and Demand Chain Executive's Women in Supply Chain Award. "It celebrates female supply chain leaders and executives whose accomplishments, mentorship, and examples set a foundation for women in all levels of a company's supply chain network," he said.
This year's recipient, Johanna Steigerwald, has driven digital translation of sales and operations planning systems resulting in improved demand review and connection between Sales & Supply at W.L. Gore the past several years. She is actively involved in the Supply Chain Executive Consortium at ASU.
"I'm really touched by this award," she said.
Speakers supply students with insight
Kicking off the in-depth supply chain discussion was Katie Pascale, director and chief of staff for supply chain at CISCO. Pascale earned a bachelor's degree in human communication from ASU in 2011.
During her presentation, she spoke about community, learning inspirations, and ways to fuel career growth. "I started at CISCO in 2007, and have had various roles since then. Learning has become my foundation, " she said. "I think the magic comes from finding the right fit."
Up next was keynote speaker, Donna Warton. As vice president of Microsoft Devices supply chain and sustainability, her presentation, Microsoft Devices in Supply Chain View to the Future summarized that businesses must be agile in order to survive.
"Technology is at the heart of the future. At Microsoft, we digitized our business in order to connect our supply chain," she said. "Keeping up with advances in technology, and paying attention to the increased demand for supply chain talent are important factors to success."
Women in supply chain panel
After the presentations, the panelists discussed relevant topics in the supply chain management industry. Audience participants submitted questions for the panelists to answer.
The panelists included Jie Xue, CISCO vice president of technology and quality; Mariely Bandas-Franzetti, vice president of enterprise services at Dell; Katharine Schmidtke, Facebook director of infrastructure, custom silicon sourcing; Jacquelyn M. Howard, Starbucks vice president of direct sourcing; and Tom Maher, Dell senior vice president of global service parts, who moderated the conversation.
Supplying career tips
Xue touched on what makes her career at CISCO rewarding. "I have a lot of fun in my role everyday. The big challenges I think about as opportunities," she said.
"Supply chain is a competitive differentiator for each company. I think the biggest opportunity for supply chain, in terms of supply chain security, is supply chain resiliency, because of the global broad footprint of the ecosystem," she added.
Bandas-Franzetti, of Dell, believes new skill sets will lead to new jobs in the future. "We all need to recognize that we are evolving in technology and that we need agility in revamping our skills as well as focusing on tremendous customer service."
At Starbucks, Howard believes that success in the supply chain industry is nothing if you get to the finish line alone. "The biggest opportunity we have is to find people who love what they do," she said.
Supplying ways to use your network
"There's access to your professors, access to your peers, access to professionals who've been in your shoes, but ultimately, your network can be built by you," said Howard.
"One of the most important lessons of my entire life was realizing it's okay to ask for help. Because jobs will be hard, situations will be difficult, you will change roles and companies, but it depends on how you show up for work every day and your work ethic, and your character. That is the pinnacle of how people remember you," she advised.
Schmidtke, of Facebook, mentioned the importance of staying engaged. "If you're present, you're engaged. It also means that you're transparent, you're open to ideas, you're open to hearing what people say, you're open to advice, and reaching out to your network when appropriate," she said.
"These qualities give you so many places to go with your career."
Supply chain and technology
Xue mentions, "The reason why we need 50% engineers, combined with the business operation professionals in supply chain, is because it really allows us to leverage technology to bring about differentiation."
"At CISCO, we leverage digital technologies to make supply chain operations far more efficient," she stated.
Schmidtke mentioned how Facebook stays informed regarding new technologies within the industry. "We work with the supply base to enable them to build the technology of the future. So we do a lot of design with suppliers and ecosystem building and are able to really understand the marketplace."
Howard, too, understands how crucial investing in technology is. "At Starbucks, we really want to continue to invest in technology. We really need smart ASU graduates to help bring those things forward," she said.
Advocating for your supply chain career
Howard admits it can be daunting to navigate workplaces. "I would say to really try and understand why people push back about certain topics," she said. "Also, it helps to utilize different approaches to get people's buy-in. Be willing to mold your view to drive success at an organizational level or even a customer level."
She believes Starbucks has done a great job of advocating for diversity and inclusion. "I would advise students and young professionals to consider working for a company that matches your values," she said. "It's also worth it to observe how companies hire, retain, and develop employees."
Remote work during COVID-19
Franzetti believes Dell realizes the whole conversation around remote work has changed since the pandemic started. "Work is an outcome and not a location anymore," she said.
"We have locations everywhere in the world for our companies. So if you have the talent, you can intern in one location, and be hired locally in your home country."
Schmidtke mentions that working at Facebook gives her a boost when it comes to connecting virtually with colleagues. "Relationships are actually the key to making remote-work successful. I still have a relationship with my colleagues," she said.
"My advice to students is to have a receptive ear at the end of a virtual conversation. Also, just because you're working remotely, doesn't mean your relationships don't matter. Still build those connections."
Closing remarks
Carl Mount, senior vice president of supply chain operations at Starbucks, left the ASU and W. P. Carey community with some final words. "Going back to where we started today and honoring Liz Baldridge is important to me," he said. "Thank you to her parents and to Microsoft for endowing a scholarship to help supply chain students and alumni. Her life was taken far too soon."
Mount also took the time to thank the panel. "Wow, I hope our audience took as many notes as I did. Thanks for joining us and learning more about supply chain opportunities, and future challenges."
Networking event
After hearing the speakers and panelists, W. P. Carey supply chain students were able to join virtual breakout sessions and ask questions to employees from Cisco, Dell, Facebook, Lumentum, Starbucks, Walmart, and W.L. Gore.
Breakout sessions were hosted by members of the Supply Chain Executive Consortium. The virtual discussions centered around career advice, industry trends, supply chain strategy, remote work, diversity and inclusion, and more.
During one breakout session, a student asked about how executives prioritize the strengths and flexibilities of a supply chain.
Pascale mentioned how COVID-19 has brought about significant change. "My job has been to follow and leverage what's happening in the supply chain during the pandemic."
Schmidtke talked about how crucial transparency is. "When I started at Facebook, the application went down and people were calling 911," she said. "I had to prioritize moving fast, while ensuring fixes focused on quality."
She also mentioned the importance of staying proactive with bringing new technology to the supply chain. "Growth and scaling aren't linear. Facebook tries to hire to keep up with advances in technology at an aggressive rate."
Another breakout session discussion centered around how businesses have had to rethink leadership during the pandemic. "I've realized the culture of a company doesn't have to do with the building it's in," said Maher, senior vice president of global service parts at Dell.
"I've been able to maintain relationships without my normal travel schedule. It's really about being flexible."
---
The supply chain program at the W. P. Carey School of Business at ASU is ranked No. 2 nationwide by U.S. News & World Report. Learn more from the W. P. Carey Department of Supply Chain Management.