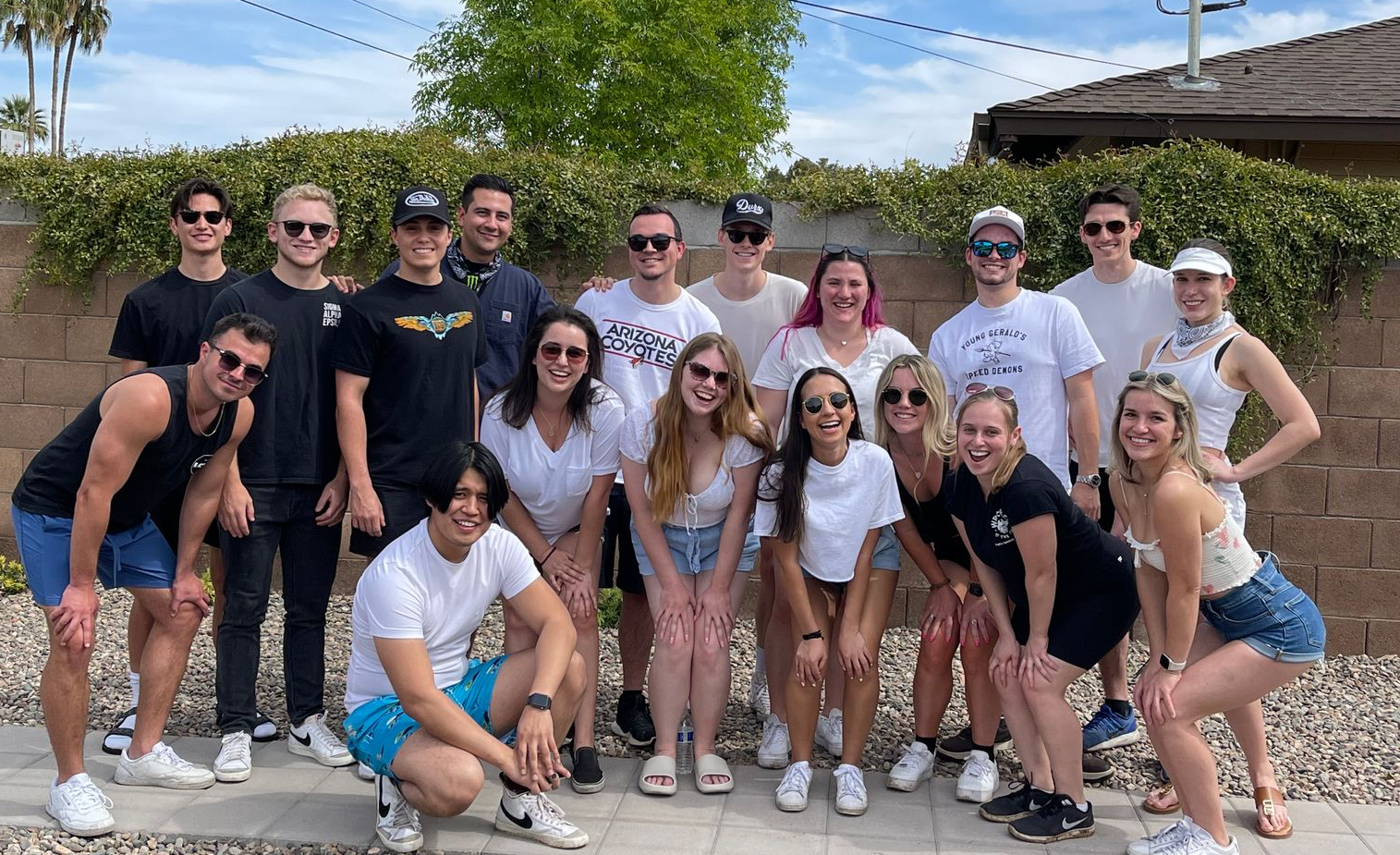 Strength in numbers
Business quickly became personal for Bethany Lares (BS Accountancy '20, MACC '22), who lost her mom and found a support system at W. P. Carey.
On the first day of her master's program, Bethany Lares' mother died of breast cancer.
Lares didn't know what to do. She met with a program administrator, who walked her through some options: Stay, request time off, or take a formal leave of absence. As Lares weighed them, she could hear her mother's voice urging her not to quit.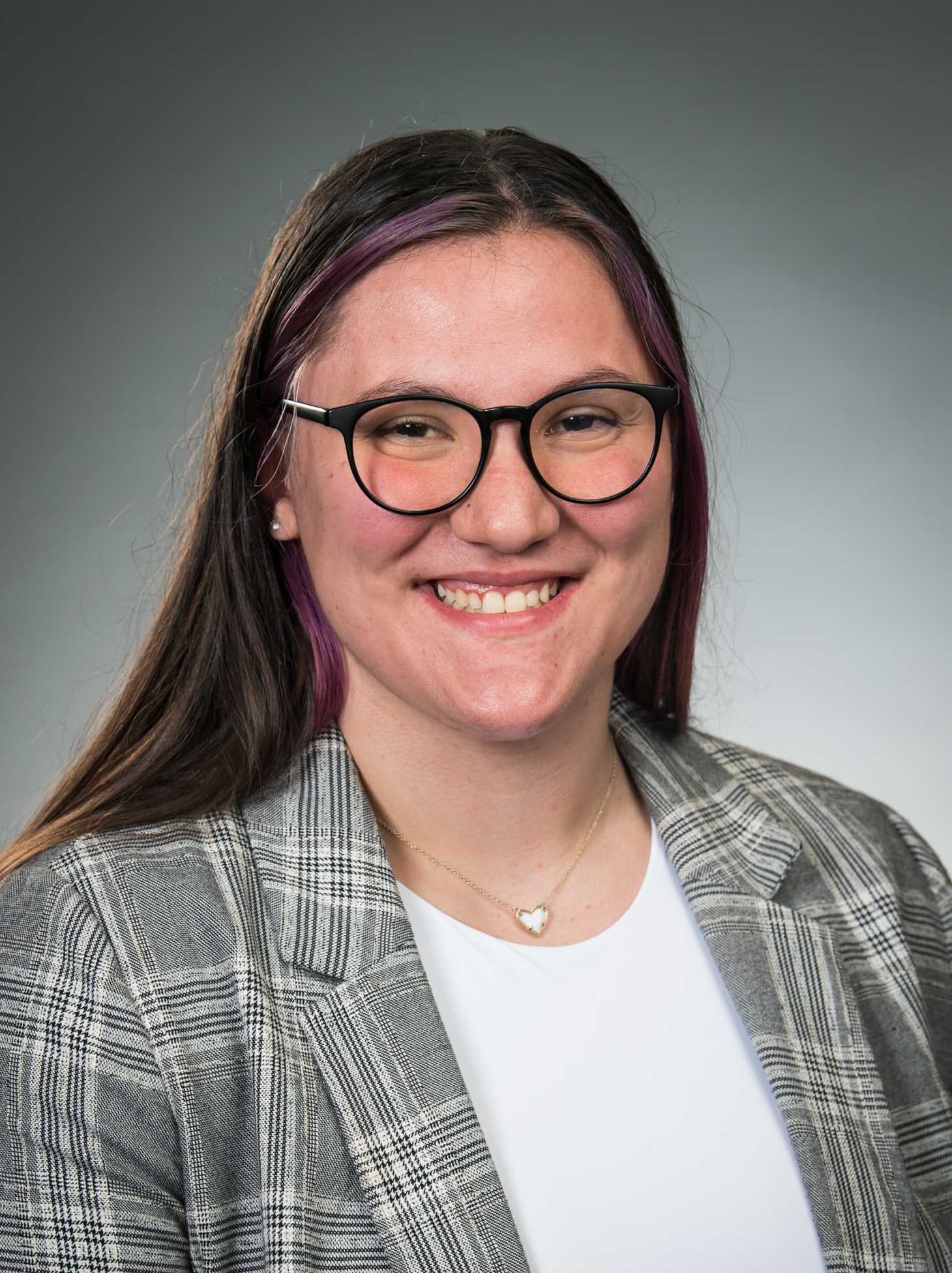 "I knew I couldn't take the year off," she says. "My mother would be very upset if I did that."
She moved forward, finding a support system in the Master of Accountancy and Data Analytics (MACC) program's students and faculty, particularly clinical professors Janet Samuels and Gregory Dawson.
"All my professors knew," Lares says. "Janet and Greg kept tabs on me to ensure I was doing well. And that support, my professors, plus all the other students in my cohort, was exactly what I needed."
Dawson describes Lares as "joy personified," though he is quick to give equal praise to her talent, intelligence, and commitment to hard work. Samuels says she was one of her top students even with the obstacles Lares was facing.
"She spoke up in class, helped other students, and was a strong student herself," says Samuels. "And on top of that, she has this amazing backstory of everything that she was fighting through while doing this great stuff."
Early challenges
Part of Lares' backstory includes being raised at times by her sister, 17 years her senior. When Lares was born, and their mother fell ill, her sister dropped out of school to support the family. Inspired and, at times, prodded by her sister, Lares achieved good grades in the hopes of earning scholarships for college. When she was 17, Lares became homeless due to financial difficulties within her family. After accepting a full ride to ASU, she took advantage of a program allowing students to move into their dorms early.
While Lares knows her family members did the best they could, she internalized many of their struggles as she grew up.
"I was always comparing myself to other kids who had money and parents to help them with their homework," says Lares. "I remember when I was in middle school, I would have to call sick out of school when we went on field trips because my parents couldn't afford it. I constantly compared myself to those around me, and that never went away."
Although Lares is on track to becoming a CPA today, she says she didn't like math as a child. Her embarrassment over getting a C on her fifth-grade math homework drove her to explore the subject, and she soon realized she enjoyed working with numbers. She entered ASU as a math major, was an instructional aide for honors calculus one and two, and tutored for ASU athletics.
Lares tried several majors before taking an introductory accounting course with Clinical Assistant Professor David Shields, who she says played a key role in her decision to switch to an accounting major. When she graduated at age 20 and didn't feel confident enough to begin a career, she enrolled in the two-quarter MACC program.
Old patterns
By the time she graduated from the MACC program in spring 2022, Lares had passed four CPA exams and accepted a job offer as an audit associate from Price Waterhouse Coopers (PwC). Unfortunately, the job didn't start until fall, and, in the meantime, Lares needed to work. She had been supporting herself since the age of 17 and was now assisting her dad as he dealt with serious health issues.
Aware of Lares' situation, Samuels spoke with Andy Call, the school director and Accountancy Professional Advisory Board Professor. Call offered Lares an adjunct professor job, teaching a summer auditing course. Lares gratefully accepted the offer, but there was a problem. During her capstone project, she realized the isolation of the COVID-19 lockdown and all-virtual interaction had resurfaced an old fear of public speaking.
"I think we did excellent work on the project, but the delivery — I was shaking, I was nervous, I was stuttering," Lares recalls. "When I get nervous, I make dad jokes. And when I ended that presentation, I was so embarrassed. Like, what am I doing?"
Lares sought therapy, telling her counselor she had one month to overcome her fear. They dug deep and uncovered self-confidence issues, and Lares realized her pattern of comparing herself to others was holding her back. After a month of self-reflection and support, Lares began teaching and enjoyed being in front of a classroom.
Imposter syndrome abounds
According to Dawson, one of Lares' main supporters in the MACC program, the lack of confidence she faced is common.
"Many students in the program seek me out to have conversations, and every single one of them is intimidated by the career they're going into," Dawson says. "They think they're the only person struggling with issues around imposter syndrome. I say I've talked to 30 of your classmates, and they feel exactly the way you do. You're not alone. It's not unusual. And now, let's talk about how to grow and develop in the face of this."
For Lares, growth looked like seeking support from a professional and beginning to see herself for who she was. The work allowed her to teach, but more importantly, it made her aware of the false beliefs holding her back.
"After therapy, I live my life a little more freely and understand that, whatever I am now, I can't change it. I'm Bethany. I can only get better from here. And if I keep trying to get better, that's all that matters."
"Happy that I'm happy"
Lares is excelling in her first year at PwC, where her seniors seek her out for help with Alteryx, the data analytics program she learned in Samuels' class. She was recently lauded in a performance evaluation for creating a time-saving data workflow with Alteryx. And when she isn't an expert in a subject, she has the space to grow.
"One of the best things about PwC is that I can ask my senior, 'Hey, do you know how to do this?' And they say, 'I don't know, but we can find someone who does and find out together.' There's no shame or solitude. They make sure you learn it, and that's it. I love that so much."
Lares is also enjoying providing for herself financially and being able to take her sister or father out to a nice meal. It's a welcome change, she says, to go from worrying about paying bills to indulging the people she loves and who have helped her so much.
"It is awesome. I love it. I feel so much less stressed. I felt a little lost after starting my job because that had always been my finish line. It was the light at the end of the tunnel, and what's next? And one thing I'm learning is, I worked so hard to get here — I need to enjoy it."
Recently, Lares sent her dad an article about the MACC program, in which she was featured. He replied, "Boo, I'm so excited for you — I'm so proud of you." He then sent it to her extended family and shared every congratulatory response. It was something her mom would've done, Lares says.
"She would have posted it on Facebook and said something super embarrassing," she says, laughing. "And I was like, 'Glad we could leave that one in the past!' I love her, but glad there are no more embarrassing Facebook posts. But I think she would be happy. She would probably giggle about some of the things I do in life. But I think she'd be happy that I'm happy."
Top photo: Bethany Lares, fourth from right in the back row, and her MACC program cohort on a hike.