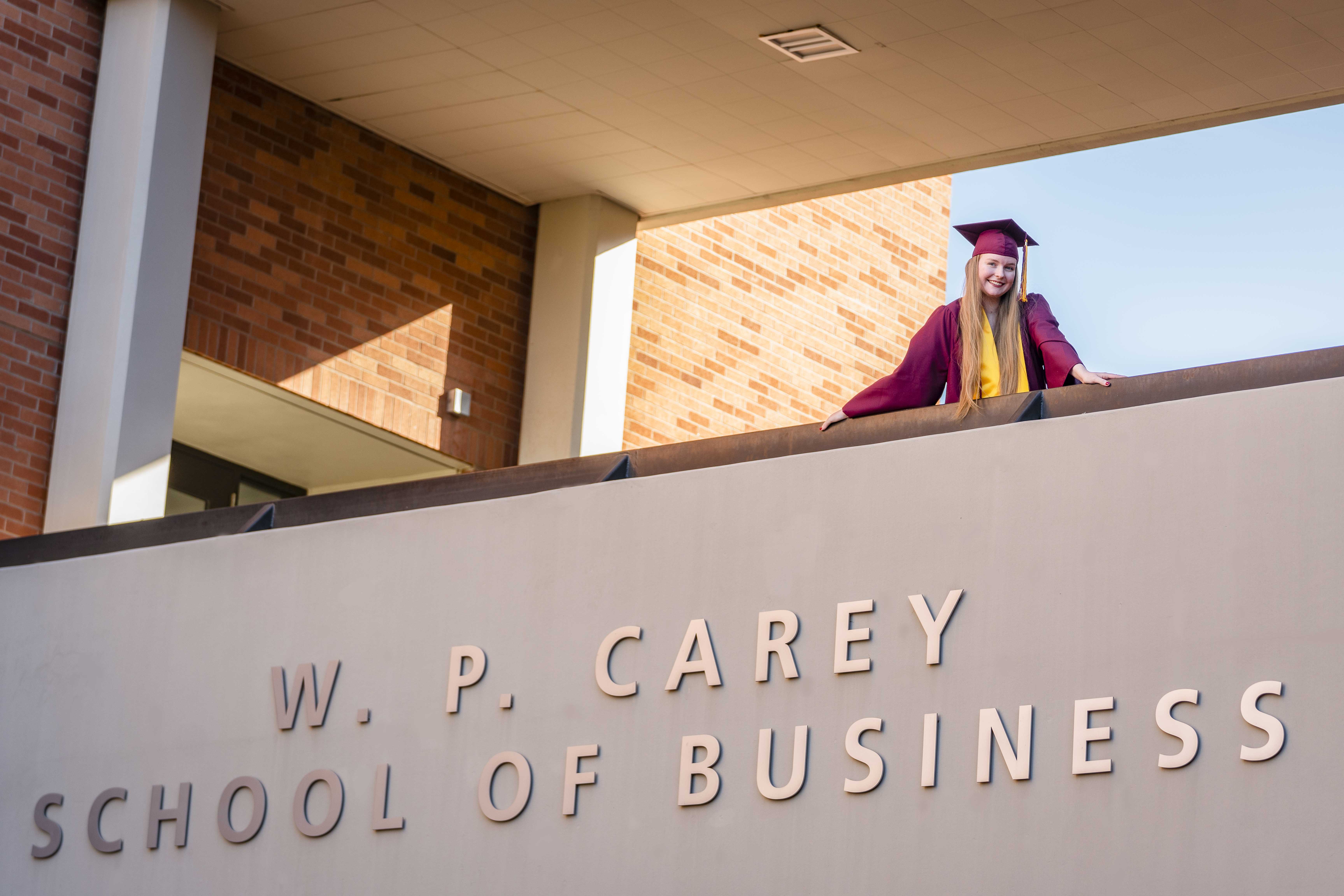 Four degrees in four years for graduate heading into PhD program
Sydney Abel (BA Sports Business/BS Business Entrepreneurship/BA Business Law/BFA Art Photography '23) wraps up a busy undergraduate career
After graduating this spring, quadruple major Sydney Abel will return to W. P. Carey this fall, entering the PhD in management program. She will have completed 247 college credits in four years, never earning less than an A-.
However, Abel's road to success wasn't without challenges. During her first year at ASU, she began passing out as many as 15 times a day. She was eventually diagnosed with an autonomic nerve disorder and says while scary at times, the experience has given her the confidence to advocate for herself and shaped her research interests.
We caught up with Abel to learn more about her time at ASU.
Question: You started as a photography major and eventually added three business majors. Can you walk us through your undergraduate journey?
Answer: I've always loved running little businesses. Like, in fourth grade, I sold pet rocks and sewed blankets. Early in my ASU career, I realized I missed learning about business. I decided to transition to W. P. Carey and add a degree in entrepreneurship.
My first class at W. P. Carey was CIS 105 with Matthew McCarthy. He was one of the most engaging professors I've ever had. I crochet jellyfish, and he said, "In this class, you're allowed to crochet in the front row." Through that experience and my academic advisor, I realized I wanted to get more involved with W. P. Carey. I enjoyed the classes I was in and the students I was around, so I added a business law degree. Then, this past year, I was taking esports classes for fun and realized I was two classes away from a sports business major, and I thought, "Why not?"
Q: Why were you drawn to W. P. Carey?
A: I noticed that even though I was taking different business classes, I was always with the same group of students. It was nice to have that community backing and know that I would know someone every time I went into a classroom. W. P. Carey is a huge school, but it felt small in my little community. The professors also blew me away. I kept having professors and wanted to take more classes from them. And that spiraled into more and more degrees because I had a fantastic time in each course.
Q: Who were some of your favorite professors?
A: Alyson Saxe [faculty associate in management and entrepreneurship] has a great way of teaching, giving feedback, and engaging the students. Her class was very hands-on and discussion focused. Also, John Pierce [professor of practice in marketing] is a very funny, engaging professor. His esports class was interesting because he brought in guest speakers from the industry. They were people I'd been reading about for years who would just come into our class and talk. It was amazing.
Q: You are leapfrogging over a master's degree straight into the W. P. Carey doctoral program in management. How did that come about?
A: I took an organizational behavior class with Rachel Burgess [assistant professor in management and entrepreneurship], and she was a fantastic professor. After class one day, she told me how she went from undergrad to PhD, and I was like, "Wow, you can do that?" She suggested I try to get some experience in research and helped me find a space in the Management Department Behavioral Lab. It gave me perspective on what a PhD student does, and I became interested in applying to ASU. I love the community here. I didn't want to leave, so I'm glad I made it into the program.
Q: You faced some health issues at ASU and were eventually diagnosed with an autonomic nervous system disorder. Can you share how that impacted your academic career?
A: I passed out in the photography lab during my very first class. I felt fine for a month, then continued to pass out. It was scary until I figured out the resources that were available to me at ASU. The SAILS office did an amazing job meeting with me and helping me figure out a game plan of accommodations that fit me personally. They gave me the tools to talk to professors and advocate for myself.
Honestly, it all gave me more confidence. I could meet with professors and, off the bat, have a personal relationship because I had to discuss my ailments and what was going on. I never had a moment where I felt like I had to drop out. So, although it was a scary time, I felt like the ASU community had my back. From the beginning, they said, "This is how we're going to help you and how you're going to be able to do well."
I still pass out one to five times per day. That's a lot less than at first when it was more than 15 times. But I've figured out ways to mitigate it. This July, I get a service dog, which will be with me on campus, which is great. The dog will also help mitigate symptoms and be able to medically alert when I will be passing out.
Q: How has your experience helped shape your research interests, goals, and long-term plans?
A: After my PhD program, I plan to become a professor at a research-focused university. I would love to do cutting-edge research and push the future of academia. My current research interests are diversity and inclusion, and I would love to see the intersection of disability and business. That's why I want to study organizational behavior. I think teaching in a university setting would be cool, especially being able to give accommodations to those who need them and make a difference in people's lives.