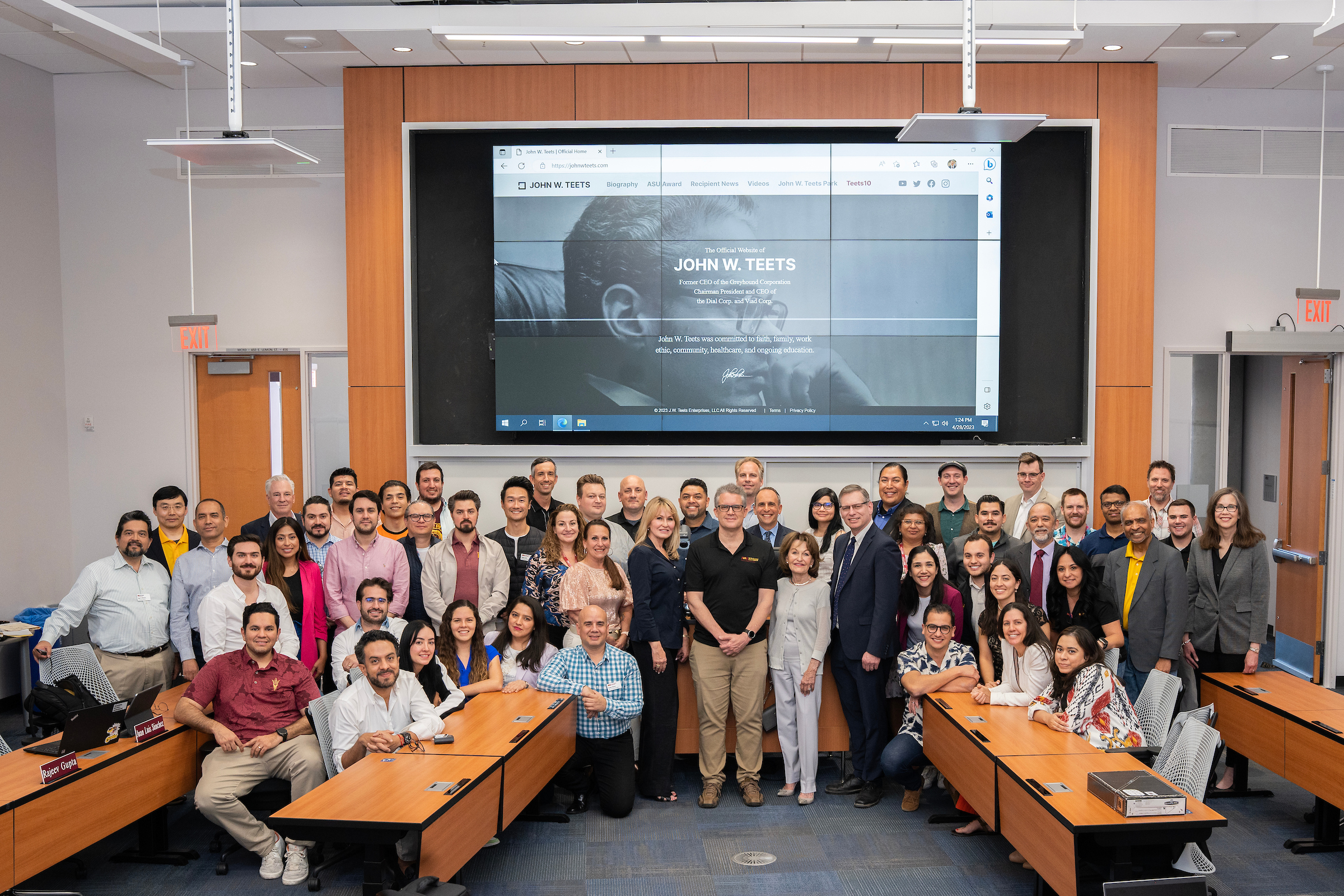 W. P. Carey honors faculty with John W. Teets Outstanding Teaching Awards
The W. P. Carey School of Business announced this year's recipients of the John W. Teets Outstanding Teaching Awards in surprise classroom visits during the final week of the academic year.
W. P. Carey honors the legacy and memory of John W. Teets, a prominent Phoenix business leader and philanthropist, by awarding outstanding teachers each year. Teets and his family established an endowment to recognize and reward professors and graduate assistants chosen by their students as the best teachers.
The daughter of John W. Teets, Heidi Teets, expressed gratitude for the winners. "My father established the endowment for these awards in 1999," she said, "with the intention of recognizing and tangibly rewarding professors and graduate assistants chosen by their students as the best teachers. It is one thing to have acquired higher education; it is quite a different skill to actively and accurately convey that knowledge to others in a meaningful and effective manner." Heidi Teets and Nancy Teets, John's wife, joined W. P. Carey academic leaders to surprise the faculty winners in their classrooms in front of their students.
John W. Teets Award for Outstanding Undergraduate Teaching
This year's undergraduate winner is Greg Collins, assistant teaching professor of supply chain management. One student nomination says, "Professor Collins is an outstanding resource to students and is always willing to help! He fosters a very inclusive and encouraging learning environment and continues to place his students first!"
This ties in with Collins teaching philosophy: "For me, academic skills and knowledge might be the content for a class, but it's the fabric of each student's personal context that will be influenced and grow for a lifetime. I try to focus on that," he says. Several members of the undergraduate Business School Council (BSC), who help coordinate the Teets Awards process, were present for the presentation of the award to Collins. Collins was visibly moved by the award when it was presented said afterwards, "it was an extraordinary event and surprise."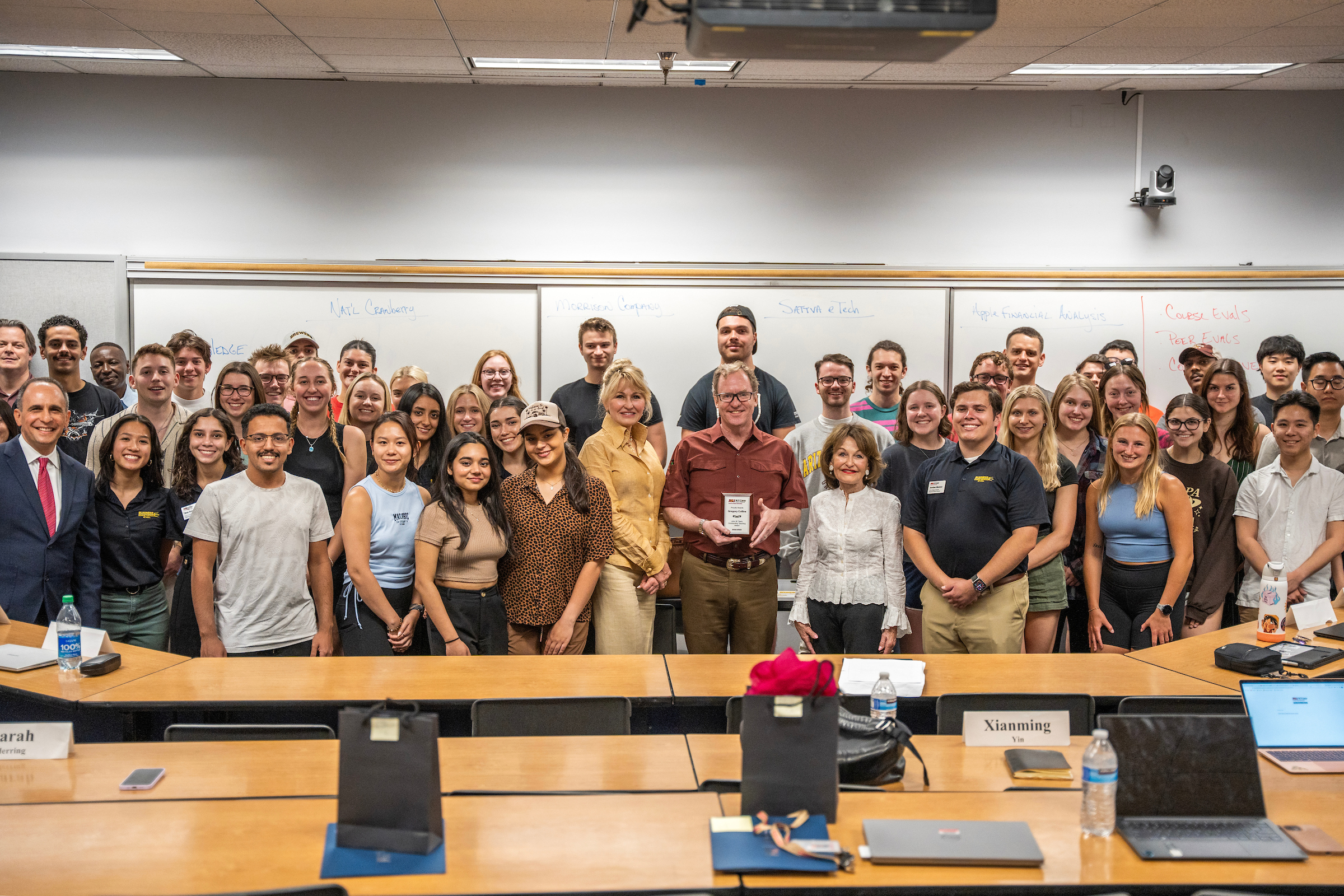 Runners-up in this category include Matt Sopha (Information Systems) and Jeff Macias (Supply Chain Management).
John W. Teets Award for Outstanding Graduate Teaching
The graduate winner is Riva Drummond, clinical assistant professor management and entrepreneurship. "The John W. Teets Award is an encouragement for excellence," says Drummond. "It is a demonstration that what we do in the classroom matters to students, society, and organizations. It also reinforces by belief that education is the only way to transform society and strengthens my determination to wake up every day to deliver 100% and be the change I want in society. I'm humbled to have been chosen by my students for this honor."
The student nominations for Drummond underscored his sentiments; one wrote, "His enthusiasm was always present, and his humility was as well. Upon class completion, every student walked away with more insight, awareness, confidence, and motivation to impact change."
Drummond had a double surprise in his classroom (pictured in header) as two classes of Executive MBA students (including students from the joint W. P. Carey program with EGADE in Mexico City) converged to surprise him along with W. P. Carey Dean Ohad Kadan, other academic leaders, and Heidi and Nancy Teets. "I was caught off guard and became speechless when I noticed my classroom was taken by so many special people," he explained.
Runners-up in this category include Reynold Byers (Supply Chain Management) and Don Goldman (School of Accountancy).
John W. Teets Award for Outstanding Teaching Assistant
The winner for Undergraduate Teaching Assistant is Xiaohui Zhang, a fourth-year PhD candidate in the Information Systems department. One nomination explains, "Xiaohui works to ensure that his students not only understand the concepts from class, but that they are able to apply them within their own current or future work environments." Zhang received the award in front of BSC student leaders as well as several faculty members of the IS department and members of the dean's office.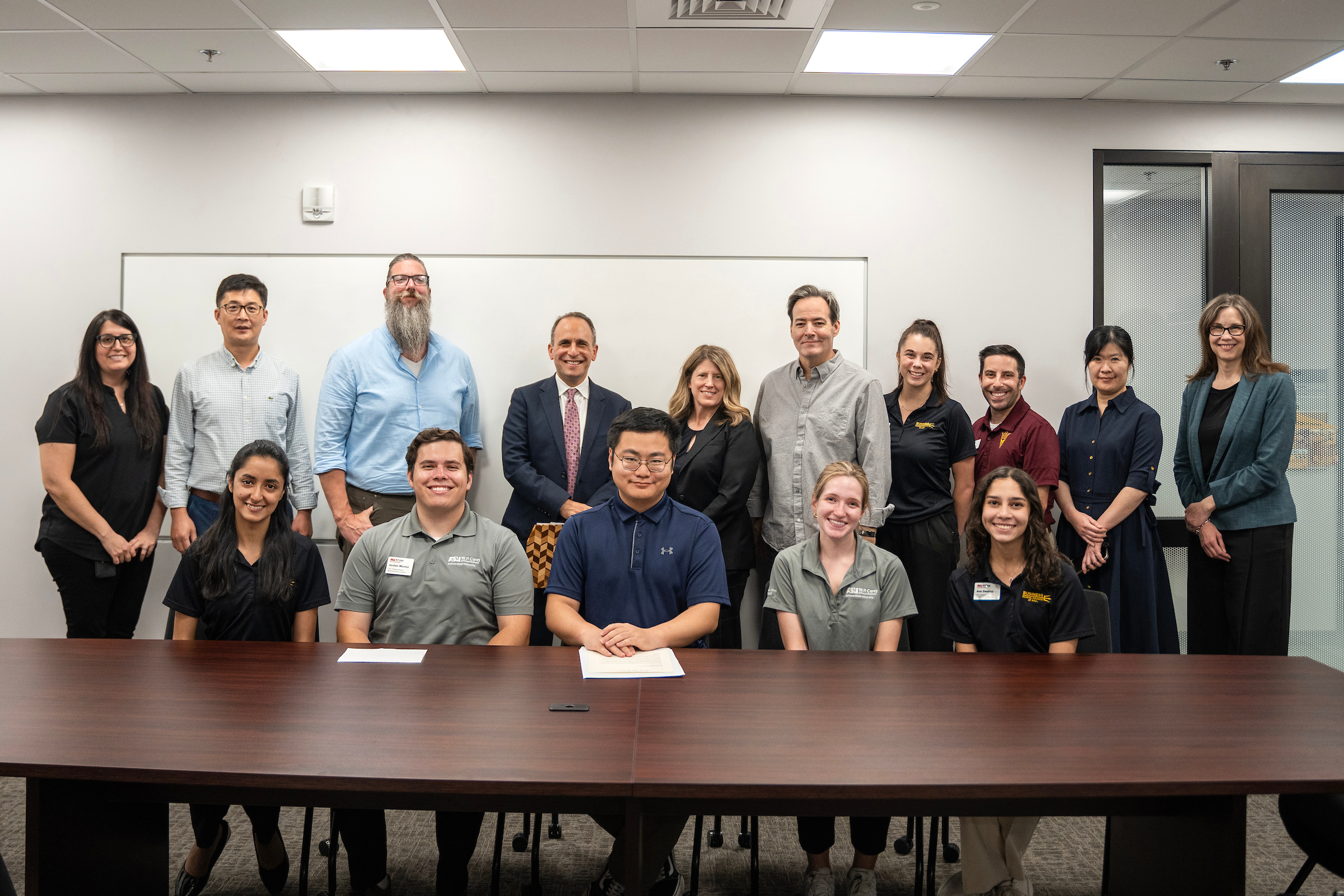 Daniel Gruber, associate dean for teaching and learning, who coordinated the visits to the classrooms for the Teets Award presentations is proud to honor the outstanding faculty members at W. P. Carey School. "The Teets awards have had such an incredible impact on teaching in our school for more than two decades. Honoring our faculty and presenting them with their awards in front of their students with Heidi and Nancy Teets was inspirational and joyful. It also gave us an opportunity to teach the students about John W. Teets and the Teets family. The faculty members were moved and their students were delighted – it was a magical moment."
Learn more about the John W. Teets Outstanding Teaching Awards.