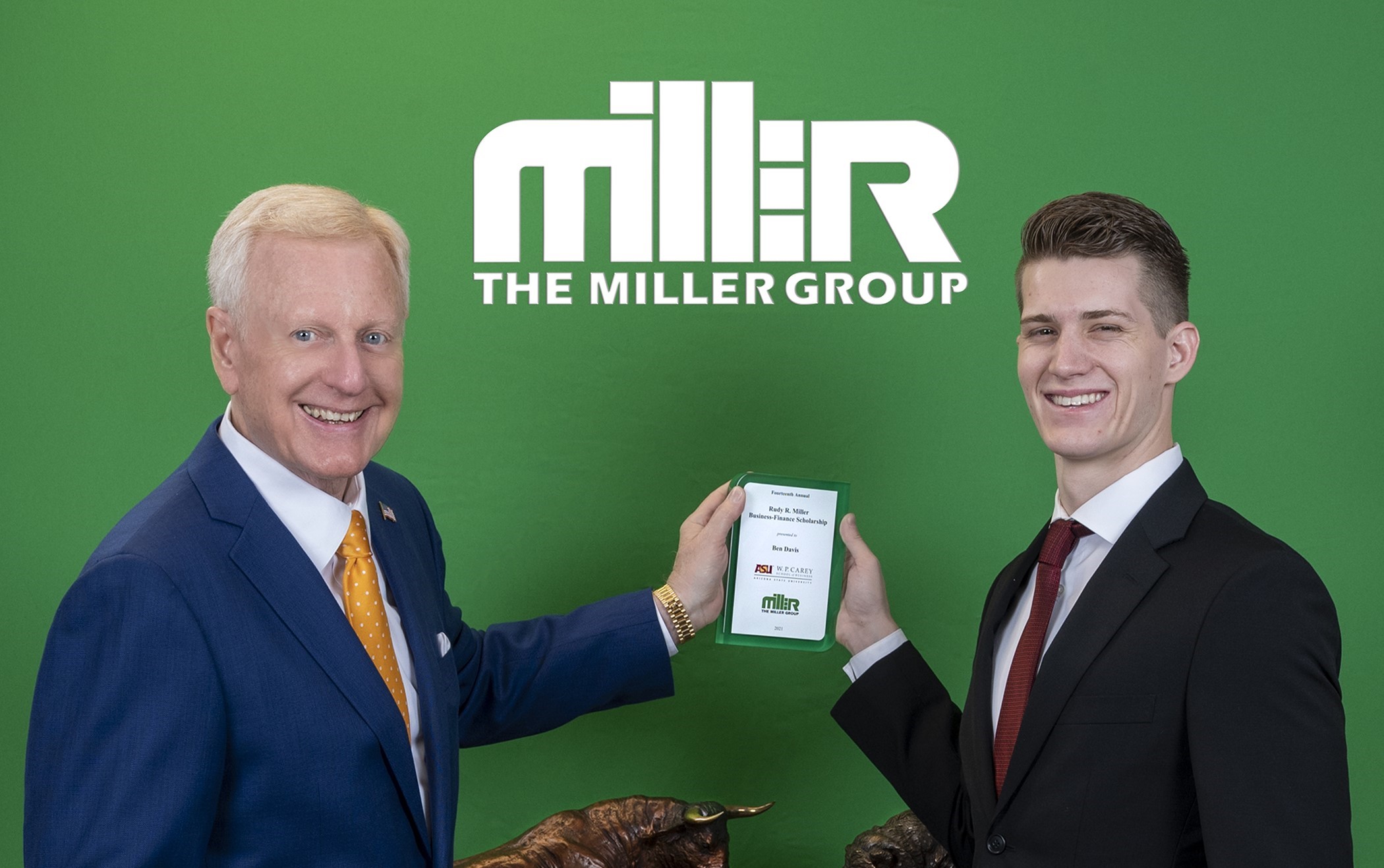 Inspiring the next generation through mentorship
An advocate for the Arizona community, Rudy R. Miller is a high energy individual who is passionate about helping young professionals through scholarship and lifelong mentorship.
Molly Loonam
Whether advocating for educational initiatives, veterans programs, or the sports and arts communities, Rudy R. Miller is zealous about giving back to others.
Miller established the W. P. Carey Rudy R. Miller Business — Finance Scholarship (RRM Scholarship) in 2008 to recognize and honor outstanding students for their academic achievements and community involvement, which has aided 18 students in graduating from ASU in the past 15 years. But for Miller, the true gift is not the monetary support: it's the lifetime mentorship he offers scholarship recipients.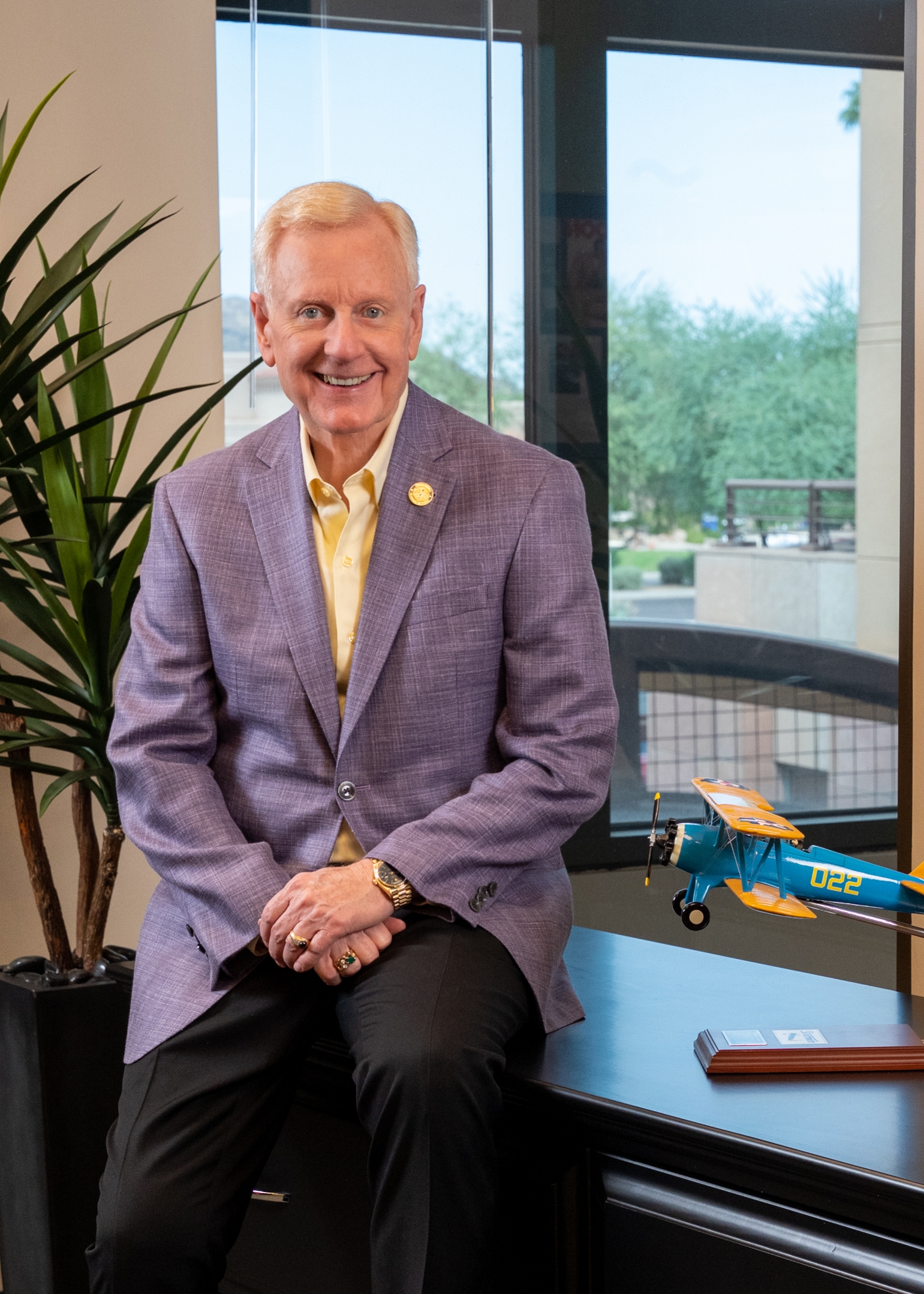 "It's incredible to have direct exposure to someone like Rudy, and it's shown me that success takes hard work. That's had a big impact on me," says Steven Ede (BS Finance '18), recipient of the 2018 RRM Scholarship. "Mentorship is a way to have a personal yet professional connection with someone. It's a confidence booster and gives you a sense of belonging. That's beneficial for everyone."
"Rudy Miller has had a positive impact on every one of his scholarship recipients," says Maya Duebler, business relations specialist for the Department of Finance. "He has truly been a wonderful mentor and coach to our students over the years. Through his scholarship he continues to encourage and recognize our most determined and accomplished students."
An entrepreneur, philanthropist, and investor, Miller has mentored dozens of people from all industries and walks of life. Founder of The Miller Group (TMG), a venture capital, private equity, financial advisory, and management consulting firm headquartered in Scottsdale, Arizona, Miller serves as chairman, president, and CEO of Miller Capital Corporation, a TMG-affiliated company. He has served on several boards and committees — both locally and nationally, public and private — throughout his career. Still, nothing is as important to Miller as the many ways his philanthropic endeavors have supported and grown his community. He spends almost 50% of his personal time regarding this commitment.
The gift of mentorship
Ede says he has always loved math and began his undergraduate journey at Pima Community College before transferring to W. P. Carey to study finance. While at ASU, he was inducted into the Beta Gamma Sigma Honors Society, an international society and network that recognizes academic excellence.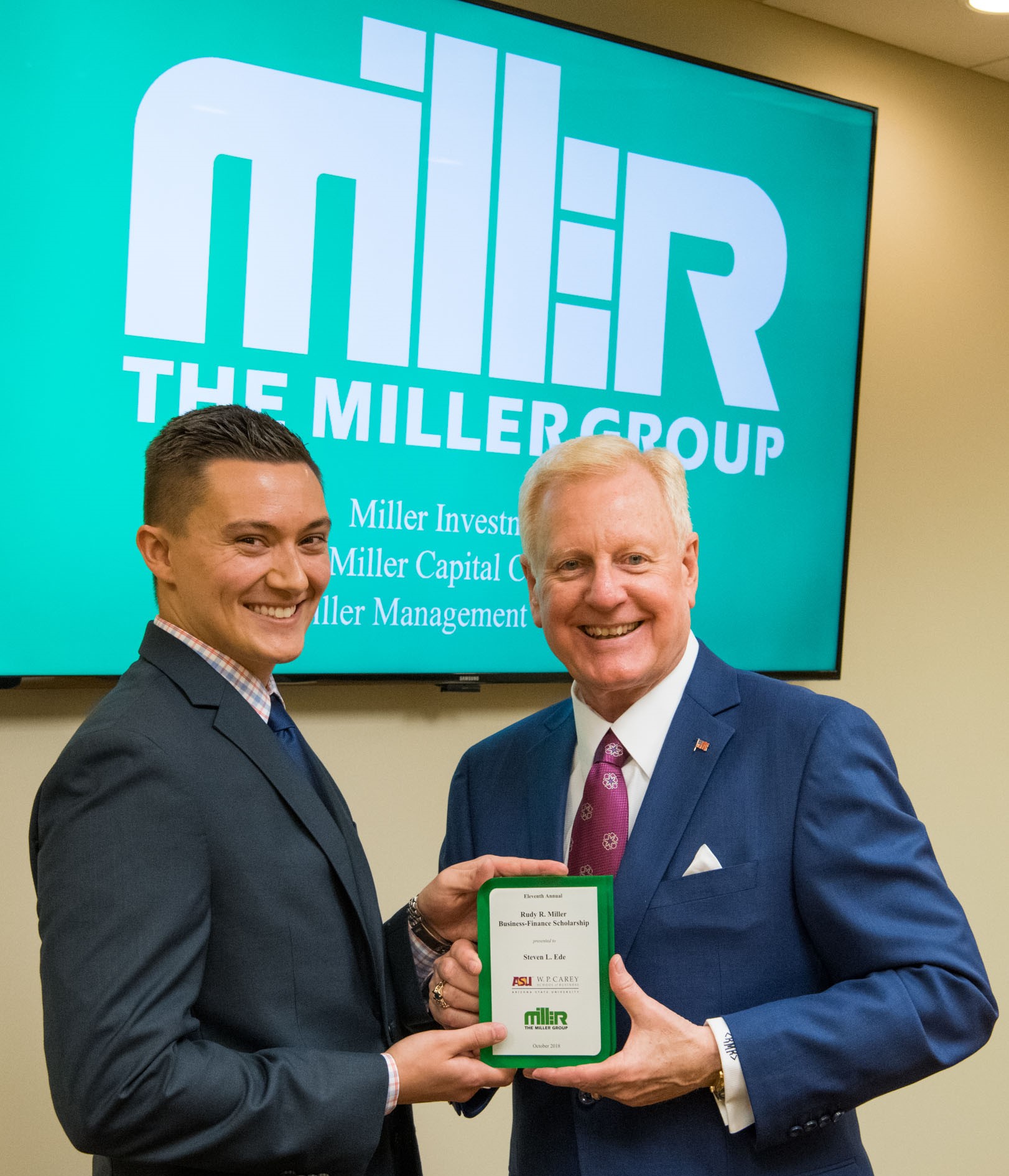 "I took elective courses focused on alternative investments and derivative products, and I instantly knew it was what I wanted to do. The math behind alternative investments is beautiful," says Ede.
Ede discovered the RRM Scholarship during his senior year. While monetary support is always helpful in assisting college students, Ede was interested in the scholarship for the mentorship opportunity. Miller has mentored Ede since his graduation five years ago, and Ede keeps him informed of his personal and professional achievements.
"It's helpful to connect with someone so successful, especially in the area I want to be successful in, and know they're human. He's made mistakes too," says Ede. "That's the biggest benefit I've received from mentorship. I've seen it takes hard work and dedication. If you're willing to do the work, you can get there too."
Ede is a partner services analyst specializing in investments at the real estate developer Dominium. A chartered financial analyst (CFA) level-three candidate, he is studying to take the final exam this February. Ede says the best advice Miller gave him is that tough times don't last, but tough people do.
"That hit me. He's been through those moments and can relate," says Ede.
Alum Ben Davis (BS Finance '22), recipient of the 2021 RRM Scholarship, was involved in several campus organizations as an undergraduate student. A graduate of Barrett, The Honors College, Davis served as executive vice president for the Financial Management Association, director of finance for the Business School Council, and elections commissioner for Undergraduate Student Government.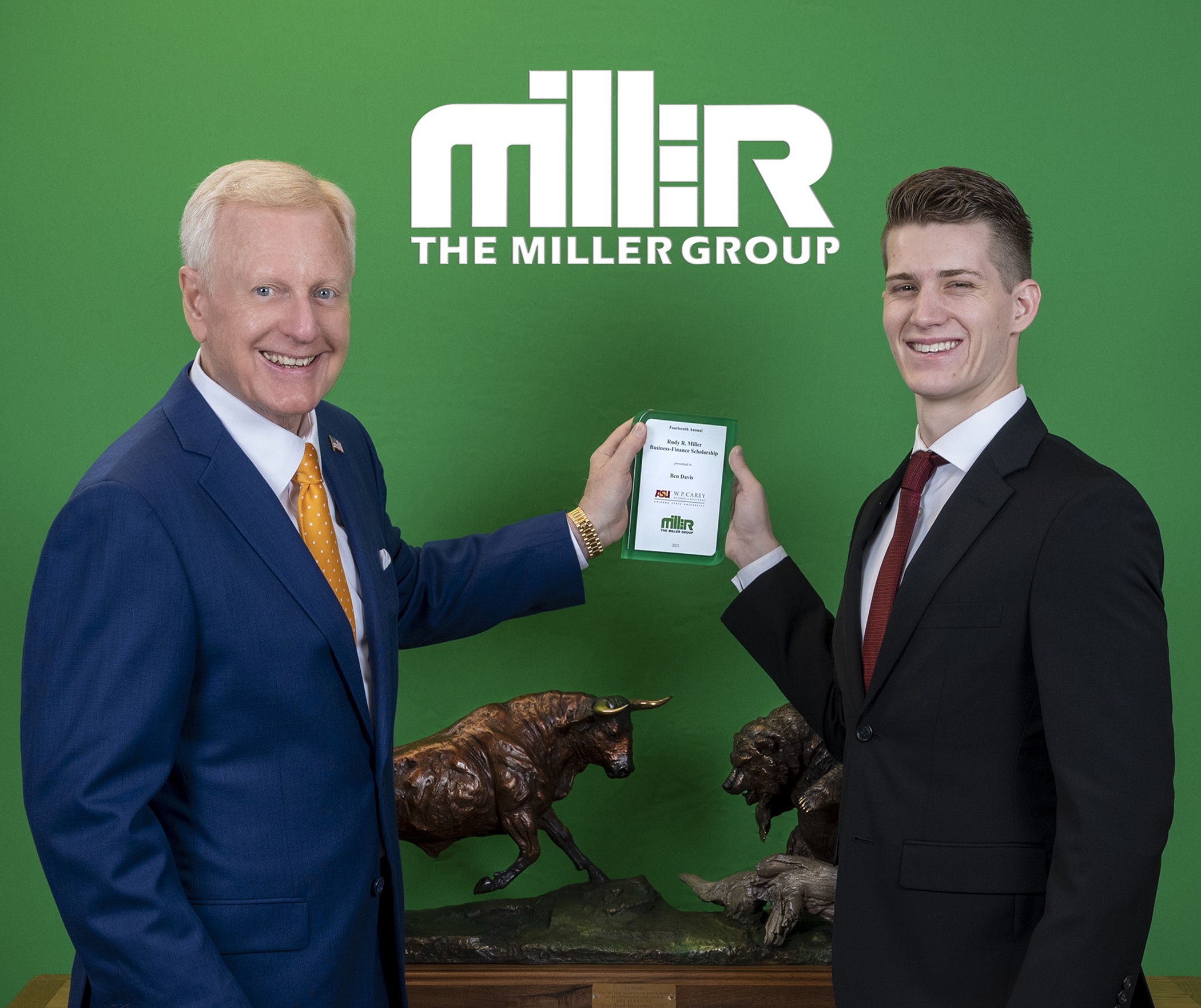 "I think W. P. Carey has some of the highest levels of instruction," says Davis. "I'm a big fan of extracurriculars. Every student should take on as many clubs and opportunities as possible. You meet a lot of people while actively working toward events or bringing in company representatives. It feels meaningful."
Davis is pursuing a career as a mixed martial arts (MMA) play-by-play commentator and travels internationally to direct broadcasts with expert commentators — sports commentators who assist the main play-by-play commentators — and interviews athletes during fight weeks. He became interested in combat sports six years ago and enjoys supporting athletes in their most significant moments.
Davis says having a mentor like Miller, who is also an entrepreneur, is helpful when navigating his career path. The mentorship builds Davis' confidence, and his conversations with Miller help reassure him that he's on the right track.
"It emphasizes our relatability. He sees I'm not taking the beaten path and can relate. That's where his advice and most of our conversations stem from," says Davis. "Rudy is the best mentor. I've never met someone so involved who cares so much. He is charitable in every sense of the word. However, he is also one tough guy and holds people accountable."
"Mentorship is important because not everybody fits into a box," explains Miller. "There are so many opportunities out there, and everybody has different goals and walks to a different beat. I think people should pursue what they love to do."
"Rudy prioritizes adding value," says Davis. "Whether it's commentating, sideline reporting, or fighting, one of my biggest takeaways from this mentorship is adding as much value as I can."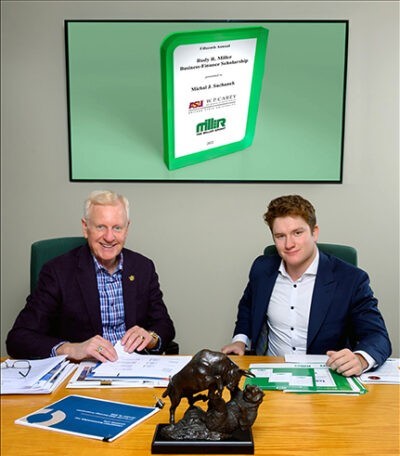 Historically, RRM Scholarship recipients began mentorship sessions with Miller after graduation. This year, Miller sat down with the most recent RRM Scholarship recipient, Michal Suchanek (BS Finance '23), to initiate the first mentorship session while presenting the scholarship. Miller says beginning a mentorship before graduation can help students navigate their career goals and the job market while actively searching for employment opportunities.
Miller stated, "Michal and I spent three hours of in-depth financial and business discussions, including the challenging market place in today's business environment and the world, as part of my mentorship for RRM Scholarship recipients."
"Michal exhibits qualities we value at TMG with his exceptional ASU education. He has been recently employed as a corporate and institutional banking analyst for PNC Bank. We have kept in touch and are scheduled to meet in November for his next mentorship session."
TMG will announce the next annual RRM Scholarship scholarship recipient in December 2023.
Rooted in Arizona
Miller was raised in Virginia but is an Arizonan at heart.
A former fireman and first responder, Miller served in the U.S. Army, Army Reserve, and Air Force Reserve. His service brought him to the Valley, where he settled with his wife and raised two children. Miller is proud to say two of his grandchildren are fourth-generation Arizonans on his wife's side, whose family immigrated to the state in 1917. The family has been associated with the university since Miller's father-in-law was an Army Air Corps pilot doing training at Thunderbird Field ll, now the Scottsdale Airport, which Arizona State Teachers College (ASU) acquired after World War ll.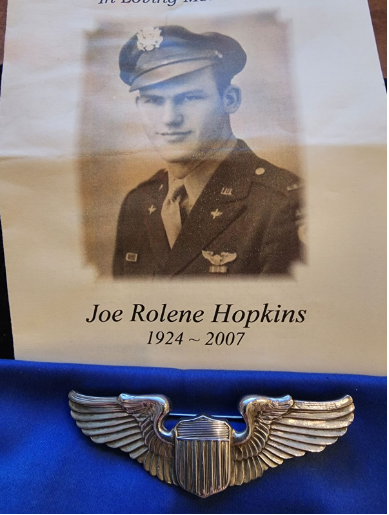 "Arizona is built into my family's DNA. I've always been involved with ASU and loved what they were doing," says Miller. "I've given a lot to Arizona. I love the community."
Since moving to the Valley, Miller has dedicated his time and talents to supporting various state and national organizations. He was part of the Arizonans for NFL Expansion committee. Miller participated in the Phoenix Metropolitan Sports Alliance, which involved bringing the NFL Cardinals to Phoenix and served as president and board director for the National Football Foundation and College Hall of Fame's Valley of the Sun chapter. He served on the Arizona Board of Private Postsecondary Education and the Arizona Police Officers Memorial Board. Miller received a Medal of Merit for service on a presidential task force from former President Ronald Reagan. He currently serves on the College of Aviation and College of Business, Security, and Intelligence boards at Embry-Riddle Aeronautical University in Prescott, Arizona, where he has established scholarships benefiting students at both colleges. He supports other ASU students and initiatives through the Thunderbird ll Field Veterans Memorial Scholarship program for aviation at the Ira A. Fulton Schools of Engineering, which he developed as chairman of the Advisory Board and Scholarship Committee.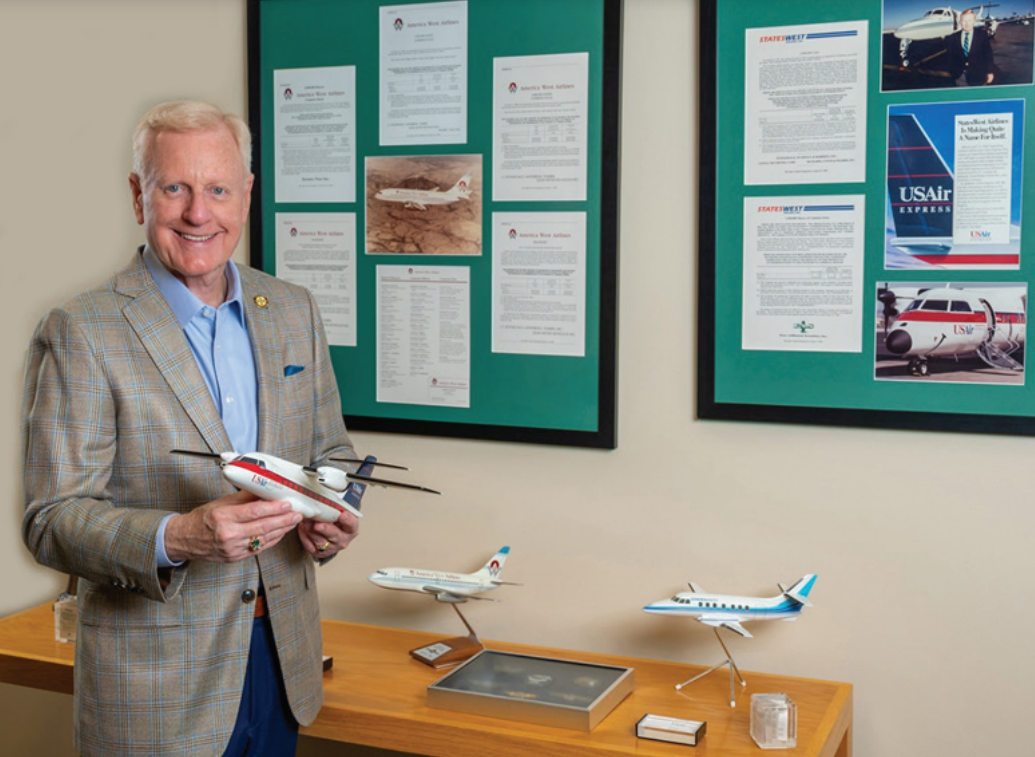 In addition to TMG, he was an early investor, advisor, and board member of America West Airlines. Miller founded the Phoenix-based States West Airlines/USAir Express, where he served as chairman, president, and chief executive officer, and Miller Technology and Communications Corporation, a regional technology training services provider selected by INC. Magazine as one of the 100 fastest-growing small public companies in the nation. Miller's extensive career made him a valued member of the W. P. Carey Dean's Council, a national group of 100 prominent business executives invited to play a leadership role in shaping the future of the school by advising the dean and acting as W. P. Carey advocates in their organizations and communities.
Through Miller's endeavors to support education and young professionals, he hopes to leave a legacy of inspiring and encouraging others regardless of age, career, or life goals. "I am so passionate about helping people," says Miller. "Earlier in my life, I coined a phrase that I've told every student I've mentored and every person I've met who needs help: Be proud of who you are and what you can become."