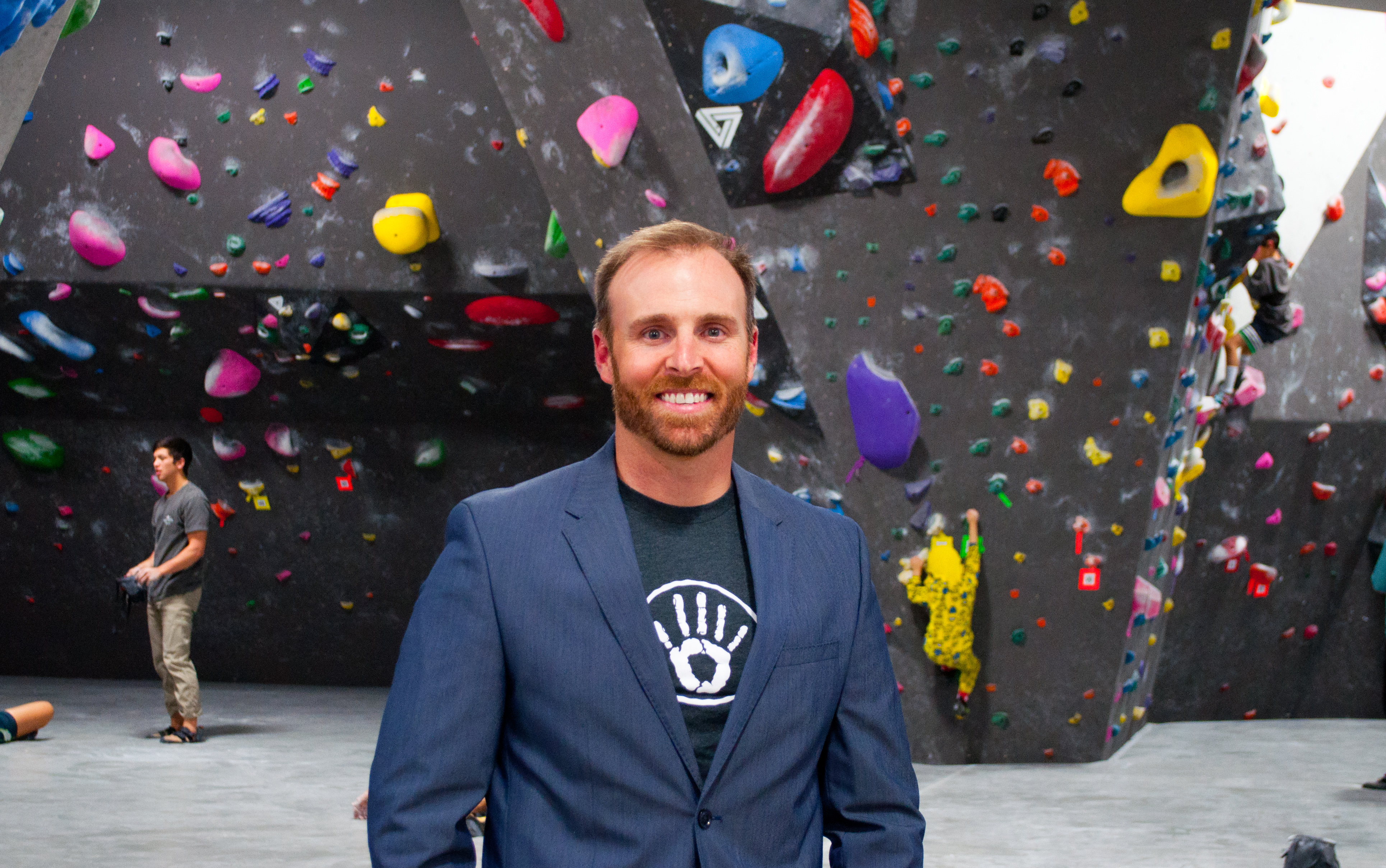 Pursuing purpose through business and service
As a veteran and founder of Black Rock Bouldering Gym, alum Chris DiMaio Dodge is cultivating community through sport.
Molly Loonam
Finding purpose has always been important to Chris DiMaio Dodge (BS Marketing '11). "As a child, I looked up to my grandfather and uncle's service in the U.S. Army. I was a high school senior during 9/11 and wanted to find greater purpose through service," says Dodge. "It made sense to choose the Army and honor my family's history."
Dodge served four years as an E-5 U.S. Army Sergeant in Iraq before returning to Arizona and enrolling at W. P. Carey. Transitioning from military to civilian life can be challenging, and he advises student veterans to seek a strong, motivational support system.
"It's important to find examples of who you want to become in the next stage of your life," Dodge says. "There are fewer restrictions outside the military, and the fun of university life can be overwhelmingly attractive. Enjoy the benefits you've earned while staying focused on your next mission."
After graduation, Dodge found success at a Fortune 500 company but again knew he wanted to find more purpose in life. One afternoon, while stuck in traffic on his way to his local rock climbing gym, Dodge wondered why there wasn't a facility closer to his community.
"After a few months of research, I couldn't find a reason other than no one had done it yet," says Dodge. "I put together my first true business plan during a group presentation at W. P. Carey and, coincidentally, used that same plan as a template to build my future business. Over the next two years, I gathered resources and updated my plan as the business became more feasible."
Building community through bouldering
Today, Dodge is the founder and CEO of Black Rock Bouldering Gym (Black Rock). This Phoenix-based bouldering gym has served the community with bouldering opportunities, fitness classes, personalized instruction, and youth programs since 2016. The sport resembles rock climbing, but bouldering athletes climb without a personal anchor system.
Dodge enjoyed competitive sports as a child and began bouldering in the military as an alternative to traditional fitness training. He stayed involved with the sport while pursuing his degree.
"It's easy to let your mind wander when lifting weights, and, after combat, getting locked into a specific memory wasn't helping my personal growth," says Dodge. "I appreciated the bouldering discipline because I had to focus on the activity, or there would be immediate consequences. Bouldering became a physical, mental, and emotional therapy. My passion grew the more I climbed."
Indoor climbing and bouldering gyms have been gaining popularity in recent years. The sport debuted in the 2020 Tokyo Olympics, where athletes competed for the highest combined scores in speed climbing, lead climbing, and bouldering. But for professional and recreational bouldering athletes, it's not just the full-body workouts that draw them to the sport but the community of athletes it creates.
For Dodge, cultivating a community-oriented business that inspires others through fitness begins with conversations with community members, engaging in communal activities, and creating an environment that provides a safe, comfortable, and sincere space for everyone.
"I was born and raised within a mile of Black Rock and have been incredibly fortunate to watch the local community grow over decades of change," explains Dodge. "This has always been my community. I feel a personal responsibility to lead my daughter, family, friends, and neighbors."
One of Dodge's most satisfying business moments was Black Rock's grand opening. Still, he tries to focus on the gym's daily wins, like watching his team problem-solve, hearing about a process or procedure that has been improved without needing his supervision, or watching a guest complete a climb they've worked on for weeks.
Dodge's advice to future business owners is to embrace challenges, stay motivated, and be humble when finding success.
"Believe in your purpose. Starting a business is difficult, but it's the first step in a bigger plan," says Dodge. "I took massive risks in the military and business. Without the courage to trust my support system and a drive to work hard, remain curious, and stay humble, none of this would be possible. I'm grateful every day I get to come into Black Rock."
Salute to Service
This Veteran's Day, ASU invites the Sun Devil community to celebrate individuals who volunteer to serve in our country's military through networking, sports, and arts events during the Salute to Service (Nov. 8-18) week. ASU is proud to honor the men and women who put service above self in their professional and personal lives.