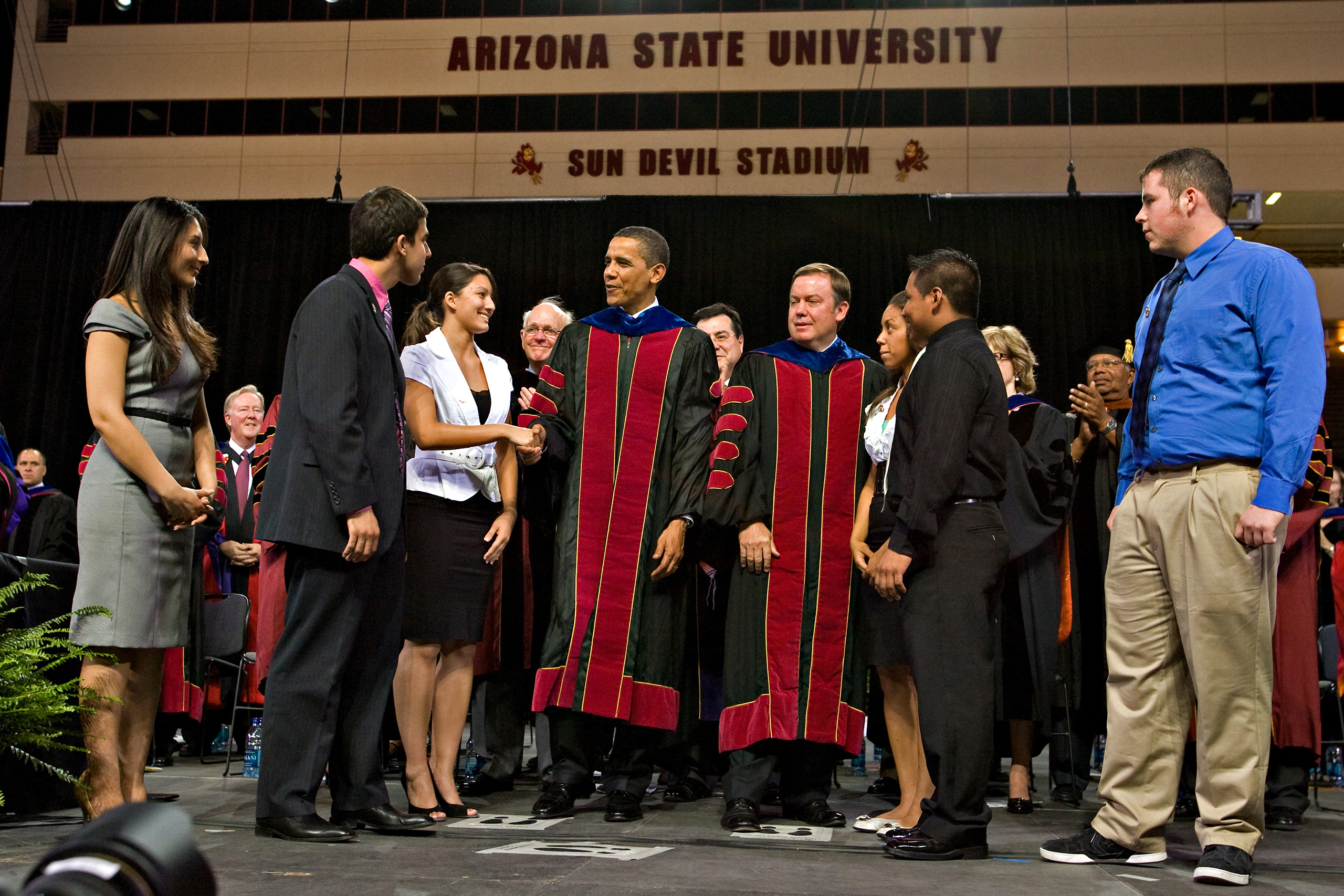 Age is no obstacle for this senior
At just 18-years-old, Justin Nhieu hopes to take his philanthropy and experience to the next level: the President of the United States.
By Jenny Keeler
To say that Justin Nhieu dreams big is an understatement. He plans to be president of the United States one day. 
He's always been a go-getter, graduating from high school at age 15 and with a computer information systems degree at age 18. As if being an 18-year-old college grad isn't enough of an achievement: Justin was the fall 2018 information systems nominee for the Turken Family Outstanding Graduating Senior Award.
To his classmates, he was just another college student. Nhieu never told anyone his age, and no one knew he was younger than most other students.
"I never viewed age as something that set me apart," he says. "I was a college student just like all my peers. We're all trying to get degrees, get internships, get jobs."
In his two and a half years at ASU, Nhieu reached several goals and added to his list of accomplishments — a near-perfect GPA, a place on the Dean's List every semester, and a recipient of a New American University Scholar award.
Nhieu is continuing his education this spring in the business analytics master's program. He'll also keep working as a technology consultant in the University Technology Office (UTO) for the Office of the President.
It's no surprise Nhieu landed a job in the UTO, where he can rub elbows with high-level executives, including ASU President Michael Crow. He's getting good advice and valuable insight on how to be an effective leader, engage with the community and get into local politics — all helpful tips for his lofty goal of reaching the oval office.
"I'm just taking it all in right now," Nhieu says.
Presidential aspirations
Being the president of the United States would allow Nhieu to make a positive impact in the world and use his influence and power for good.
"It'd be a great opportunity to help a large group of people and be a global leader," he explains.
If it doesn't pan out and Nhieu doesn't become the commander in chief, he says he'll be able to rest easy knowing at least he had those high aspirations and went for it.
Nhieu is already using his talents for good. He volunteers with an organization called His Hands and Feet, a homeless outreach center in downtown Phoenix. He used his CIS skills to create a video showcasing the work the organization does and the benefit to the homeless community and society.
Not bad for an 18-year-old.
Question: What was your "aha" moment, when you realized you wanted to study the field you majored in?
Answer: When choosing a degree, I looked to the opportunities provided by each major as well as the advice from my parents. My dad had studied electronics engineering, and my mom obtained a degree in business management from ASU. Both fields sounded equally enticing. In addition, the exponential advances in technology and the constant day-to-day business interactions between companies, people, and governments led me to believe in the stability of both fields as well as the stability of the career opportunities associated with them. When I learned that computer information systems is a STEM degree and revolves around how technology fuels business processes, I knew I wanted to pursue CIS. As I started taking both technical and business classes, I grew to love it even more.
Q: What's something you learned while at ASU — in the classroom or otherwise — that surprised you, that changed your perspective?
A: Going in, I expected the college experience to be difficult and overwhelming. I was surprised to learn that it wasn't as difficult as I had thought. The professors were clear in their lectures and resources were readily available. In addition, having student worker positions available allowed me to professionally develop while maintaining my standard for academic success.
Q: Why did you choose ASU?
A: I chose ASU for the W. P. Carey School of Business, as well as its location. I knew the esteemed business school would provide me with the skills and knowledge to succeed in any endeavor that I wished to pursue. In addition to the many opportunities provided by the college, I was only 15 at the time, so my parents wanted me close to home in Arizona.
Q: Which professor taught you the most important lesson while at ASU?
A: Of the many lessons that I have learned at ASU, one in particular stuck out. It was given by Eddie Davila, a supply chain management professor. He told us that when trying to improve a business process, it sometimes may require looking at successes in other, unrelated industries. For example, in one of his lectures, he mentioned how he studied NASCAR Pit Crew workers' efficiency and speed changing car tires. He then used the same methodology to improve the speed of certain supply chain processes.
Q: What's the best piece of advice you'd give to those still in school?
A: My advice for all students: If you want to be successful, put in the effort. It doesn't matter how smart, how rich, or how poor a person is, as long as that person puts in a genuine, focused effort toward their goal, more than likely, they will achieve it. However, it is not enough to just put in a lot of effort. It is essential to focus your effort on the important things and to prioritize your tasks. It is better to do one thing superiorly than to do many things with mediocrity. A combination of long-term planning and short-term fulfillment of my goals resulted in where I am today. The past five years after high school, I put in hours and effort both strategizing and executing my plan to graduate with a bachelor's degree at age 18. I encourage anyone with any goal to utilize this mentality and see the success that they may be able to achieve.
Q: What is your favorite spot on campus, whether for studying, meeting friends, or just thinking about life?
A: My favorite spot on campus is the Memorial Union. It's central to being part of the W. P. Carey School of Business. If friends wanted to meet, whether it was for studying, eating, or socializing, it was the place every student knew. With the new renovations, the Memorial Union provided a very fun and relaxed atmosphere with food options and vast seating areas.
Q:What are your plans after graduation?
A: I currently work as a technology consultant student worker as part of the Office of the President. After graduation, I will continue to work there as a full-time staff member. In addition, I plan to pursue a master's degree in business analytics.
Q: If someone gave you $40 million to solve one problem on our planet, what would you tackle?
A: In the past, I have helped provide food, clothing, and hygiene products to the homeless community. With $40 million, I would continue serving this outreach by starting an organization aimed at developing the professional and personal skills of members of the homeless community to assist their transition to the workforce. The organization would provide basic necessities, as well as prepare them for work so that they can support themselves financially for a sustained period of time.
Top photo: President Barack Obama speaks at Arizona State University's 2009 Spring Commencement. Photo by Charlie Leight/ASU Now