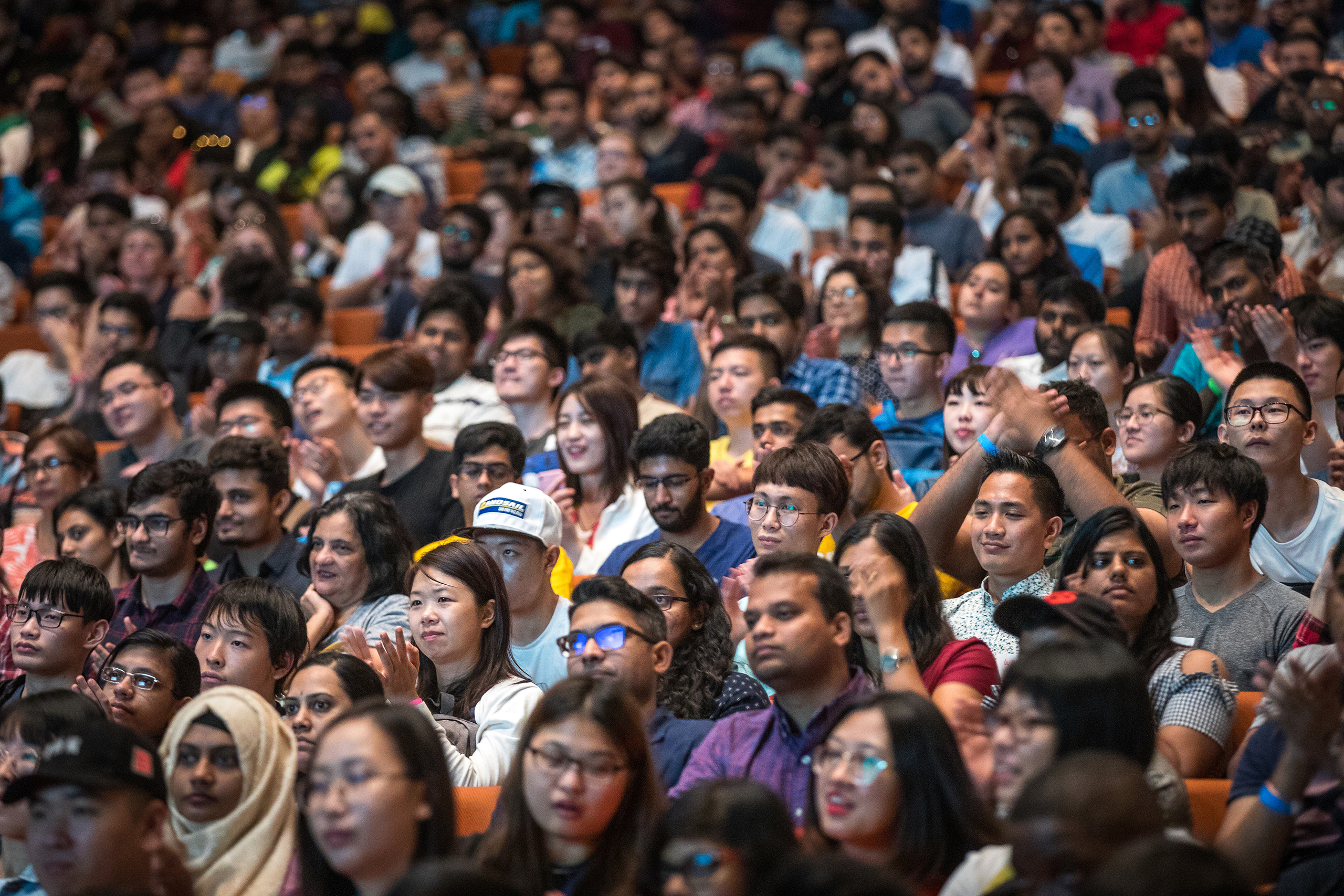 International alum finds support and success
With more than 2,000 international students calling W. P. Carey home, alumni Pierre Moeckel discusses how ASU gave him the opportunity to study his passion and experience American culture.
By Jenny Keeler
The language of information systems and data is universal. Alumnus Pierre Moeckel experienced this firsthand.
Moeckel, a 2017 graduate of the Master's of Science in Business Analytics (MS-BA) program at W. P. Carey, is from Tuebingen, a small town in Germany, near the Black Forest. After graduating with dual undergraduate degrees in finance management from the ESB Business School in Germany and the NEOMA Business School in France, Moeckel began looking for a master's program that would fit his needs. He had no idea that would bring him around the world to Tempe, Arizona.
One reason alumnus Pierre Moeckel wanted to join ASU is because of its well-known football program. "Tailgating and going to the stadium to watch PAC-12 games is just an unusual experience for a German kid," he says. "Game days were definitely highlights throughout my U.S. experience."
He applied to the Fulbright Scholar Program, and before he knew it, he was packing his bags and heading to the desert.
"When I got accepted, I wasn't able to deny it anymore — it felt adventurous to start a new life in Arizona," Moeckel explains.
He knew a few other German Fulbright Scholars and no one else. But Moeckel wasn't alone.
Helping foreign students thrive
According to fall 2017 enrollment numbers, there were 2,084 international students out of the more than 15,000 students from 100 countries who call W. P. Carey home.
Much effort is put into making international students feel at home. In total, ASU welcomes more than 13,000 international students from 136 countries around the world. The International Student Engagement program supports, advocates, and designs opportunities for international undergraduate and graduate students throughout their college experience. Students can participate in the Global Guide Peer Mentorship program, join the Coalition of International Students, and partake in many globally themed celebrations.
"In general, I think that ASU is well prepared to host international students," Moeckel says. "I received a lot of support, both to handle all the administrative stuff and to get to know other foreign students who were new as well. This helped a lot to get settled."
Football games were another way Moeckel could bond with his peers, and something he never experienced back home. He became a fast Sun Devil fan.
After graduating, Moeckel went to work at Adidas and became the strategy team's data guy, he says.
Information systems and data analysis practices are very similar in Europe and the United States, according to Moeckel. The most significant difference is the data privacy rules. They are much more severe in Europe, he says and, as a result, some data is difficult to access there.
Moeckel is now back home in Germany. He lives in Munich and is using his data analysis skills working for Amazon.
Question: What was your "aha" moment, when you realized you wanted to study the field you majored in?
Answer: During my undergraduate program, I participated in a workshop with an external consultancy. The company developed a model that identifies the customer's willingness to pay for a specific car module based on e-commerce crawl data. I realized that I wanted to feel confident in analyzing large data sets and to turn data into insights as the consultancy did.
Q. What's something you learned while at ASU — in the classroom or otherwise — that surprised you, that changed your perspective?
A. I thought that excellent analytical capabilities were key to a project's success within the MS-BA program. During our team projects, I realized how important it is to bring forth the strengths of each team member to achieve a common goal. It doesn't matter if you prefer organizational, analytical, or creative tasks. At the end of day, the effort counts.
Q. Why did you choose ASU?
A. First, I decided to join ASU due to the curriculum of the MS-BA program. I wanted to focus on real-world problems and common cases that I might face in a company. The MS-BA follows a practical, case-based approach, and it completely fulfilled my expectations.
Second, as a German Fulbright Scholar, I wanted to embrace the American culture especially by supporting the community in Tempe by getting involved in sports activities and social clubs. When I was sitting at my desk in my hometown in Germany and applying to universities, it just felt right to opt for ASU. In hindsight, I can say that it was a unique experience to be part of such a great community.
Third, I wanted to join ASU because of its well-known football program. Tailgating and going to the stadium to watch PAC-12 games is just an unusual experience for a German kid. Game days were definitely highlights throughout my U.S. experience.
Q. What's the best piece of advice you'd give to those still in school?
A. Don't be afraid to make mistakes.
Q. What did you do following graduation? What are you doing now?
A. Due to Visa limitations, I was allowed to work for only one year in the United States after graduation. During that time, I joined the Adidas strategy team as a project manager in Portland and New York City. I was fortunate to be the team's data guy and work on all kinds of data analyses within the organization.
In Germany, I just started to work for Amazon within the Fresh & Prime Now team.
Q. If someone gave you $40 million to solve one problem on our planet, what would you tackle?
A. A UNICEF study unveiled that the risk of a child's death is the highest within the first 28 days of life. I would use the money to improve or develop systems that support the distribution of essential medicine for babies in the poorest regions of the world.
Q. What perspective have you gained as an international student? What challenges have you faced? What benefits have you gained having had this experience?
A. Being empathic in different situations was very challenging for me during my time abroad but also back home in Germany. Sometimes the taxi drivers in Beijing would drive circles around my destination to make some additional money. My German neighbor used to always complain about a little dirt on the common hallway, and when I moved to the States, I had to face very unfriendly immigration officers. Those were a few weird and challenging experiences out of a thousand amazing ones. I don't want to judge people on some bad obstacles because we all do things for a reason. It is an ongoing effort, but I want to approach people with a smile and understand why they act as they do.
Top photo: Around 2,000 students and 300 parents came to the International Orientation Opening Ceremonies at ASU Gammage on Wednesday, Aug. 8, 2018. Photo by Charlie Leight/ASU Now