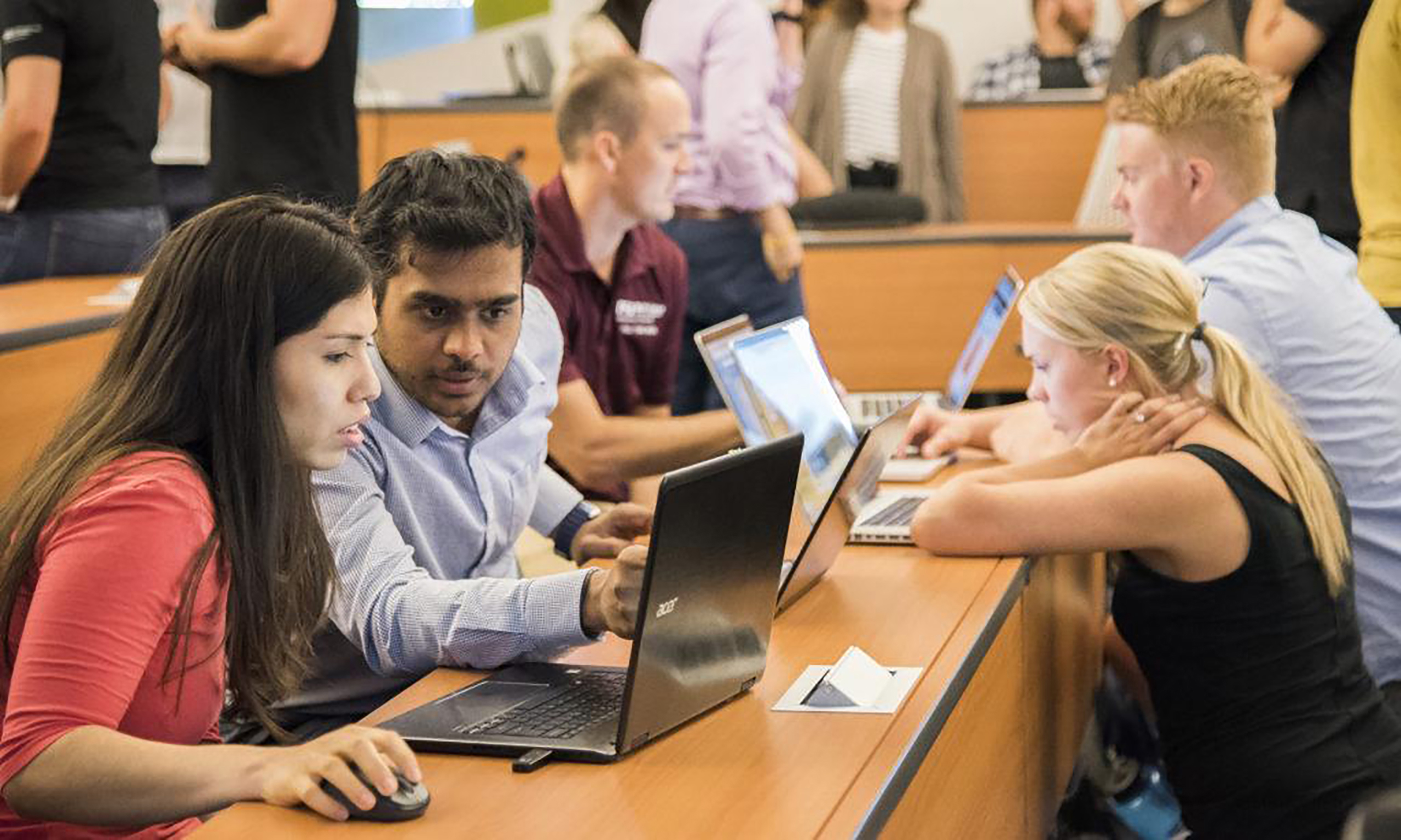 A partnership that makes learning a two-way street
An information systems consulting team and a local health care startup are using data to create real-world research opportunities for students.
By Claire Curry
A partnership between a W. P. Carey information systems consulting team and a local startup is helping the firm use data in new ways and providing real-world research opportunities for information systems scholars, including a PhD student who is working on her dissertation.
The company, Picmonic, is an online educational platform that helps students in health care fields study for standardized tests. It uses visual storytelling and cartoon-like pictures — called Picmonics — to help the students learn and retain information about diseases, drugs, and body parts so they can successfully pass tests for licensing.
"The approach Picmonic has taken is unique," says Professor and Chair of Information Systems Raghu Santanam, who is teaming with Associate Professor Yili (Kevin) Hong, Assistant Professor Victor Benjamin, and doctoral student Qinglai He as research consultants to the company.
"They're trying to understand how their service is being utilized because that feedback is necessary for them to continue to make changes to it, their platform, and the user interface."
Qinglai He has been executing research for two Picmonic projects, under the guidance of Santanam, Hong, and Benjamin, and is using the work as the basis for her doctoral dissertation.
One project sought to determine whether giving Picmonic users another way to access the tool — in addition to logging in from their PCs — would affect their motivation to use it. Preliminary results show that adding the mobile app more than doubled the test users' goal pursuit and increased their activity with the tool by nearly 25 percent. The mobile app also motivated users who were previously inactive.
Additionally, the study looked at whether the mobile app would affect users' willingness to pay for a subscription service, and the results were positive: Mobile adopters are 51 percent more likely to subscribe to the platform's premium service offerings.
The second project considered the effect push notifications would have on users' activity on the learning platform. "Our research shows they are effective in engaging students," He says. "The first project demonstrates the value of launching a mobile application, and the second suggests a costless, quick approach to motivate users."
He has presented the preliminary findings at conferences at MIT in Boston, the INFORMS Annual Meeting, and the conference on Information Systems and Technology in Phoenix, and the Workshop on Information Technologies and Systems in Seoul. The team is also co-authoring papers for review by leading academic journals in the information systems space.
"The partnership enables me to access real data and real business practices," He says, adding that it's especially meaningful for her doctoral studies.
Santanam explains that collaborating with startup companies provides essential learning opportunities for students to solve real-world business problems. What's more, the projects should benefit both partners in some way. "Whatever theoretical angles we pursue from an academic perspective should also translate to something that is tangible for Picmonic," Santanam says.
To that end, Ken Robertson, co-founder and executive vice president of Picmonic, says the partnership with the W. P. Carey team has already yielded positive results. "It's giving us insights and helping us think about data in a different way," he says. "We have already implemented some of the recommendations, especially the push notifications, to drive engagement toward certain features [on the platform]."
Help students learn valuable career skills and gain a key competitive edge by partnering with the W. P. Carey School to help solve your data management issues.
Contact Raghu Santanam, chair of the Department of Information Systems, to learn more about student data consulting projects: raghu.santanam@asu.edu