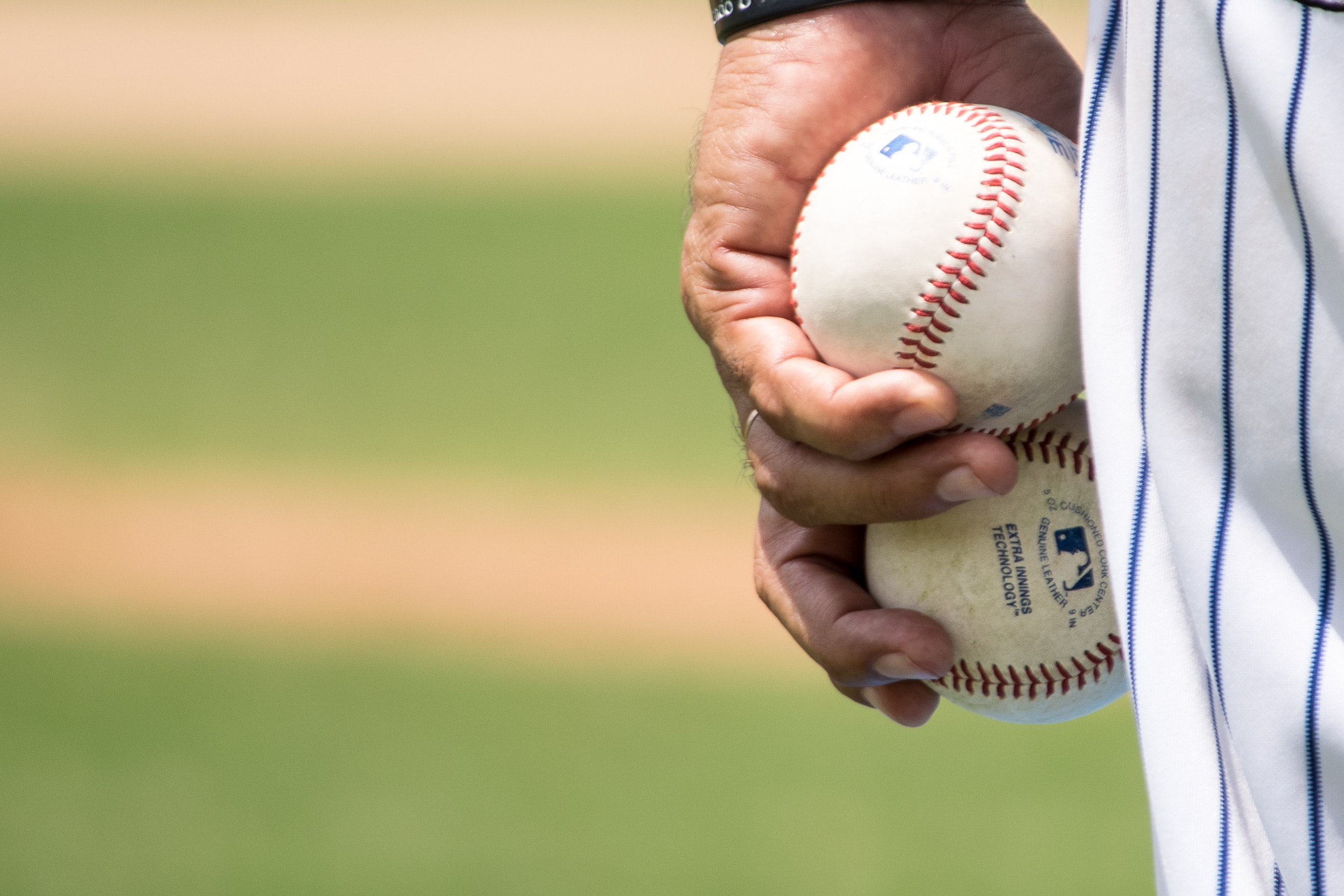 W. P. Carey's 'Moneyball' approach
Two alums' apply a page from the Oakland Athletics' playbook at work and in school.
By Brian Hudgins
As cookie-cutter, multi-purpose Major League Baseball parks built in the 1960s and '70s such as the Astrodome and Riverfront Stadium gave way to glitzy new stadiums with on-site restaurants, museums, and better fan sightlines, another revolution was taking place.
Scouting of individual players and teams took a turn. Teams gradually started using advanced data to help front-office personnel make wide-ranging baseball decisions on everything from on-field player positioning to trades and overall roster construction.
A pair of W. P. Carey grads have witnessed the transformation up close. Arizona Diamondbacks Analyst, Baseball Operations Research & Development Cody Callahan (BS Marketing '14, MS Business Analytics '15) uses mathematical models to help solve complex plays in baseball for the team. Daniel McIntosh (BS Finance '07, MBA '10), a lecturer on the Tempe campus, has examined the ins and outs of analytics largely in the basketball arena.
For both W. P. Carey grads, the amount of raw data used can multiply and provide new analysis avenues even in the span of a few years. "I work on the Rule 4 Amateur Draft and player evaluation within amateur and pro baseball," Callahan says. "I started in the 2015–16 season [with the Diamondbacks]. Since then, we've advanced a lot in the quality and quantity of analysis we provide for the baseball operations department. We've also expanded the data sources we use for these analyses."
Growing up with baseball
Callahan's initial exposure to baseball happened in northern Virginia where he spent several childhood years before his family moved to Scottsdale, Arizona. "I was always interested in baseball, but it got bigger in Arizona with the sport being played year-round at a greater level. The number of coaches and resources here are unique for baseball."
That resource bank includes the Society for American Baseball Research (SABR). The Phoenix-based organization started in 1971 as a group of 16 baseball researchers at the National Baseball Hall of Fame. Today the organization includes more than 6,000 members. Callahan was the captain of the 2015 ASU team that won the graduate and professional school division at the 2015 Diamond Dollars Case Competition at the SABR Analytics Conference. "During college, I could intern with SABR because they are local," Callahan says. "It all feeds into itself."
Callahan's student experiences at ASU fulfilled his need for practical knowledge. Courses in logistics and modeling provided data skills. The Master of Science in Business Analytics program gave him an SABR competition opportunity. "That was a great environment for meeting my future boss with the Diamondbacks," Callahan explains. "The grad program allowed us to compete at the SABR Analytics Conference. It was all about developing skills and applying them to your work."
Playing out 'Moneyball'
While Callahan was sharpening his business skills at ASU, teams throughout various sports were gradually building up their analytics crews. The 2011 movie "Moneyball," starring Brad Pitt, was based on Michael Lewis's book of the same name. It detailed the exploits of the 2002 Oakland Athletics, a squad that won the American League West despite having the third-lowest payroll in Major League Baseball.
As more teams followed suit and picked up on what the Athletics had done, Oakland's competitive advantage diminished. "There's a mispricing of high OBP (on-base percentage) players until more teams see this trend and bid up to the price — eroding the advantage," McIntosh explains.
"Sports is a copy-cat league and teams are very good at seeing what other teams did to win. Look at the Royals, Cubs, and Astros. They followed similar analytic strategies to get to a world championship."
Even as wins piled up, getting scouts and front-office folks to buy into the value of analytics has been a process. For people who have known baseball through one lens, how do they react to having established views questioned? Do the benefits outweigh the costs? It's an ongoing discussion. "The field of analytics is getting into more nuanced analysis — and at some point — the costs outweigh the benefits," McIntosh says. That is always something the front office staff has to think about when they run a business."
Dialogue among Callahan and his peers mainly happens at a couple of conferences each year, including the SABR Analytics Conference (held in Phoenix in March) and Sabermetrics Scouting, and the Science of Baseball held in August in Boston. The two events give analytics professionals a chance to meet people who work in the same job role, but communication halts occasionally. "You don't want to let people know what you are working on," Callahan observes. "Baseball is a zero-sum game. There is an interesting dynamic at the conferences."
Outside of baseball, Callahan has a strong interest in basketball, a trait he shares with McIntosh. For Callahan, that includes casual pickup games, more structured rec-league games, and keeping an eye on NBA stat website Cleaning the Glass (cleaningtheglass.com). For McIntosh, looking at analytics and competitive advantages largely happens on the basketball side. McIntosh's bachelor's degree from Barrett and his MBA from W. P. Carey gave him tools to make mountains of data more easily digestible. "It gives you a structured way to break down important components, looking at the highest probability of success and structuring them," he says.
Those career avenues in analytics enable people who did not play a sport at an elite level to hone their skills and reach great heights in the National Basketball Association. "If you look at Daryl Morey (the general manager of the Houston Rockets), he didn't have an athletic career, but he has the skillset on how to run an organization," McIntosh says. "Legends like Larry Bird, Michael Jordan, and Isiah Thomas had no analytics experience. There is a dichotomy on how to ascend to the highest levels and be able to identify efficiencies."
As careers have been built and these data-based evaluations have taken root among pro sports franchises, ASU has followed a similar blueprint on a smaller scale based on budget limitations at the collegiate level. What used to be a single-tier operation for ASU baseball has expanded. Basic use of a radar gun to register pitch speeds has grown to include the data provided by TrackMan Baseball, a 3D Doppler radar system that measures the location, trajectory, and spin rate of hit or pitched baseballs. Pitch characteristics such as tilt, vertical break, and horizontal break that used to be strictly measured by scouts' vision now have quantitative numbers attached.
The TrackMan tools help ASU, considering the relative lack of manpower compared to a professional squad. "They (colleges) have to be more selective," McIntosh states. "ASU got access to TrackMan, which gives exit velocity and speeds they didn't have five or 10 years ago. They only had the radar gun for velocity and coaches doing hand timing. With radar guns, there were even disagreements over which ones were more accurate from different positions."
Amid the developments and industry changes during the last few years, Callahan has crunched the numbers to help the Diamondbacks in their pursuit of National League West supremacy over the Los Angeles Dodgers, San Francisco Giants, and Colorado Rockies. "The workload is a little heavier during the season (than the offseason), but it is more balanced than if I was on the field coaching or in player development," Callahan says. "Seeing how our impact has changed collectively has been cool to see. Our analysis is stronger and we have a better dialogue going."