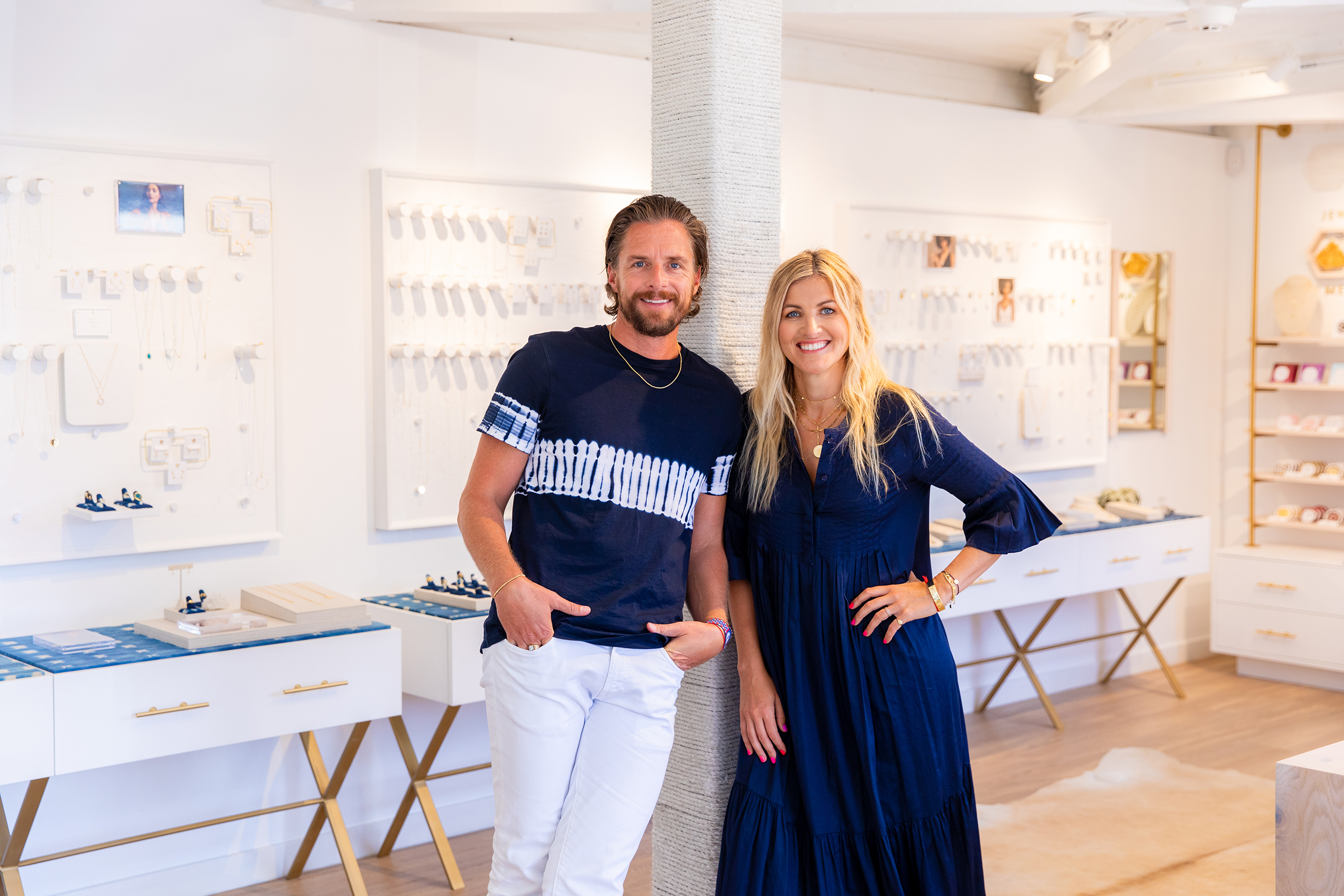 When W. P. Carey Cupids build a business together
With Valentine's Day fast-approaching, there's nothing better than a good old-fashioned love story with a couple who met at ASU, fell in love, and share their lives and work.
By Shay Moser
Jason Reidel (BS Marketing '96) first spotted his future wife at a fraternity and sorority rush at ASU in the fall semester. Gorjana Ristic (BS Marketing '96), who was interested in Greek life too, was at one of the social events to meet prospective and current members when they caught one another's eye.
While Reidel and Ristic shared an interest in Greek life and were both marketing majors, they couldn't have grown up more different. He is a New York City native and raised on the East Coast. She was born in Serbia and raised in Canada. Fate brought them closer when he finished high school in southern California and she completed ninth through 12th grades in Scottsdale, Arizona. Once they got to ASU, the rest was history.
On Jan. 5, the couple celebrated their 19th wedding anniversary. We call them W. P. Carey Cupids — alums who met at the W. P. Carey School of Business and are now sharing lives.
"We got married after Gorjana graduated from college and I had recently graduated from law school," Jason says. "Life in college was fun and care-free. Life after college was a little scary, having no idea what our path would be."
Since their Maui wedding in 2001, the couple's path has taken them to their permanent residence in Laguna Beach, California, where they launched a line of "jewelry with intention" — gorjana — in 2004.
"I followed a creative impulse to launch the eponymous, quintessentially Californian jewelry line with the help of Jason," explains Gorjana. "We combined our strengths to build the company from the ground up, hitting the road with samples in tow and driving a collective 50,000 miles to sell the initial collection. Initial orders were fulfilled from our apartment floor and we worked the trade show circuit as a team of two."
With their relentless hard work came success — the company has grown from an idea into a full-fledged, multi-million dollar business, still owned and operated by the couple 16 years later. The unique jewelry line can be found in more than 1,000 retailers nationwide, not including the brand's 15 brick-and-mortar locations.
"We wanted to create a brand of jewelry that has beautiful, timeless designs, made with high quality but at a price point that was approachable for people," says Reidel, who adds that Gorjana brings the creative vision and talent to the business while he hustles to promote and distribute the jewelry and find locations.

Since opening their first brick-and-mortar location in Laguna Beach in 2016, they've rapidly expanded the retail locations on both coasts. There are now 10 gorjana locations across California. The couple has an apartment in New York City that they visit every few months where there are three stores. The 13th location opened in Arizona at the Scottsdale Quarter within the newly constructed building.
"We had so much support from family and friends with two back-to-back opening parties," says Gorjana, who is responsible for bringing the stores to life. "The first was on Friday evening, and the next day we went to the ASU vs. USC game and headed directly to the Saturday grand opening in all our Sun Devil gear."
Besides Gorjana's connection to Scottsdale attending high school, her mom lived in the city for over 25 years and has deep roots with its Serbian community.
"We always take the kids to Scottsdale, at least once per year, and show them the Arizona State University campus in Tempe, climb Camelback Mountain, and spend time at hotels and restaurants," Reidel says.

Aside from the personal relations to Scottsdale, opening a gorjana location there made sense for the couple since it's "a California brand, based in Laguna Beach, and a lot of Arizonians vacation to California and share many of the same tastes in shopping and restaurants," Gorjana says. "We love what's been built at Scottsdale Quarter and couldn't be more excited to be front and center of its new development. We consider Arizona a sister state to California, and this is our first big step toward retail expansion outside of California and New York City."
Every tale of romance is different, of course, and Jason and Gorjana Reidel's story is unique, but their account has a common thread with fellow alums who met at ASU and fell in love: The W. P. Carey School of Business. That's why we wanted to know the secrets to their success both on dating in college and working together through marriage.
Here are the couple's answers to our questions
Question: Any advice for couples who meet at W. P. Carey and date during college?
Answer: Don't forget to remember what made you first fall in love. Life has a way of wearing that down, so you have to keep the "Spark" (no pun intended).
Q: Favorite place to spend on campus together?
A: Palm Walk was always a fun stroll.
Q: Favorite memory on campus together?
A: Following the ASU football team on their 1996 season to the Rose Bowl.
Q: What's it like to run a business with each other? Did college life together prepare you for it?
A: It's a common question we get asked. Most people marvel at it. But we're yin and yang. We're best friends and complement each other well. I always say we run our business like a family and our family like a business. I don't think anything fully prepares you for life. College is a tremendous baby step toward being on your own as you transition to adulthood. Just make sure your communication is as high as possible and always remember perspective is relative.
Q: How has your W. P. Carey education, particularly marketing degrees, guided the business?
A: Marketing is such a valuable business degree, especially for aspiring entrepreneurs, because no matter what service or product you're selling, understanding the customer and what motivates them is critical — and not just when starting, it's a constant value even as your business scales.
Q: Do you have any failure-to-success stories about starting the business?
A: During the holiday season of 2004, we had just gotten accepted to our first trade show in New York City. We spent the weeks before Christmas spending what little money we had making inventory and building displays for the show. We coerced our family to make as many lace hoop earrings as they could, which was a popular style at the time.
Thankfully, we have a pilot in the family who was kind enough to give us tickets to fly to New York City. We landed in the city with nowhere to stay and went directly to Pier 94 to see our 10-by-10 booth, which was in the last row of the entire show. Even worse, we learned our displays were stuck on a train that crashed in a snowstorm somewhere in Ohio and wouldn't arrive until two days after the show began.
We borrowed $200, rented a truck, and went to IKEA in Secaucus, New Jersey, and rebuilt our displays into the evening.
The show went great, and we sold over $50 thousand of jewelry in three days. We got home, celebrated the success, and then realized we had no money to make any of the orders.
Fortunately, we figured it out.
Q: What are you looking forward to?
A: We look forward to continuing to raise our family, growing our business, and giving back to the communities where we have stores.
Question: What's next for gorjana?
A: We have a wave of new stores coming to Northern California in the spring, based on the tremendous success we've had in San Francisco, as well as our third location in New York City slated to open in Brooklyn.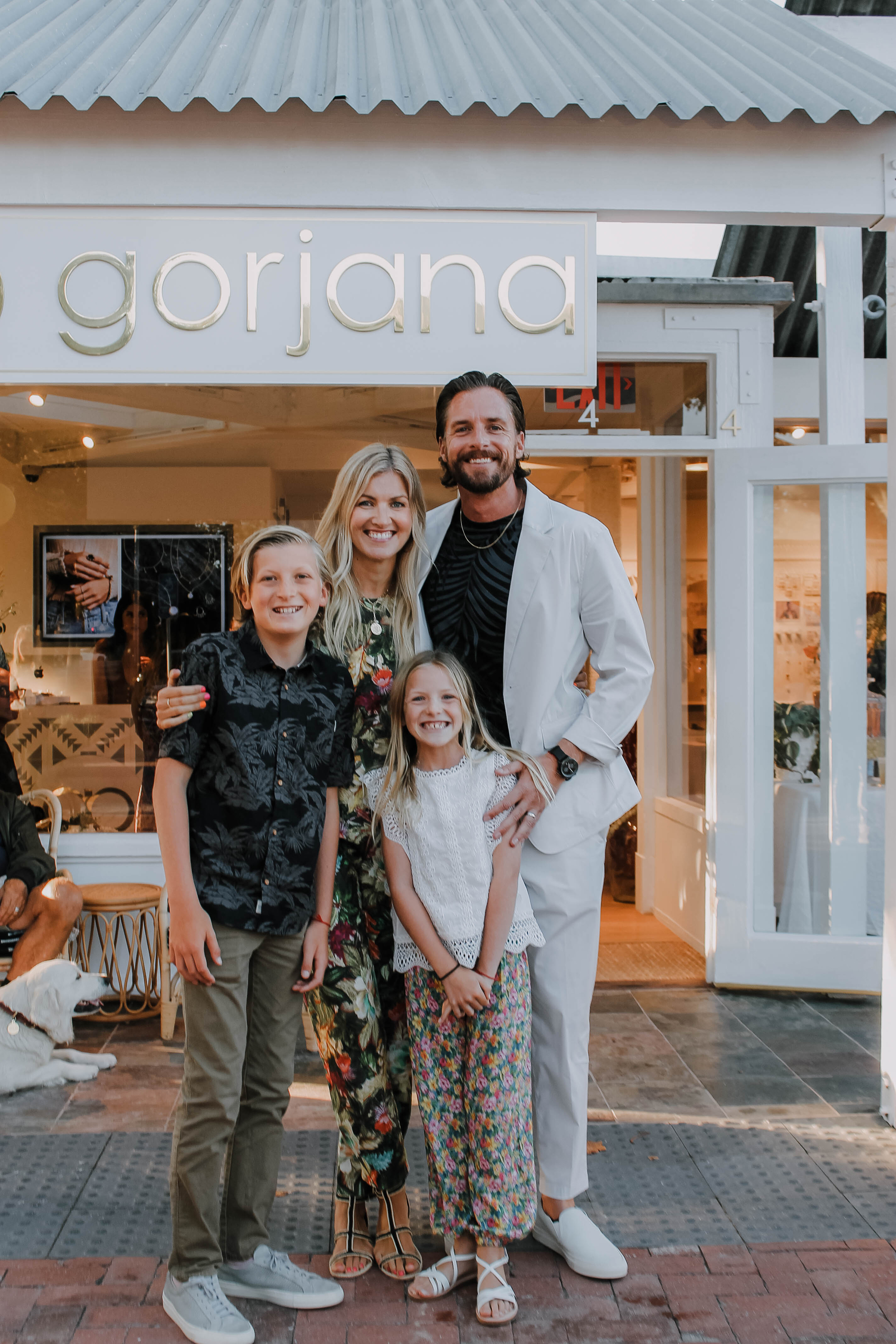 Jason Reidel (BS Marketing '96) and Gorjana Ristic (BS Marketing '96) with their 12-year-old son and 9-year-old daughter.