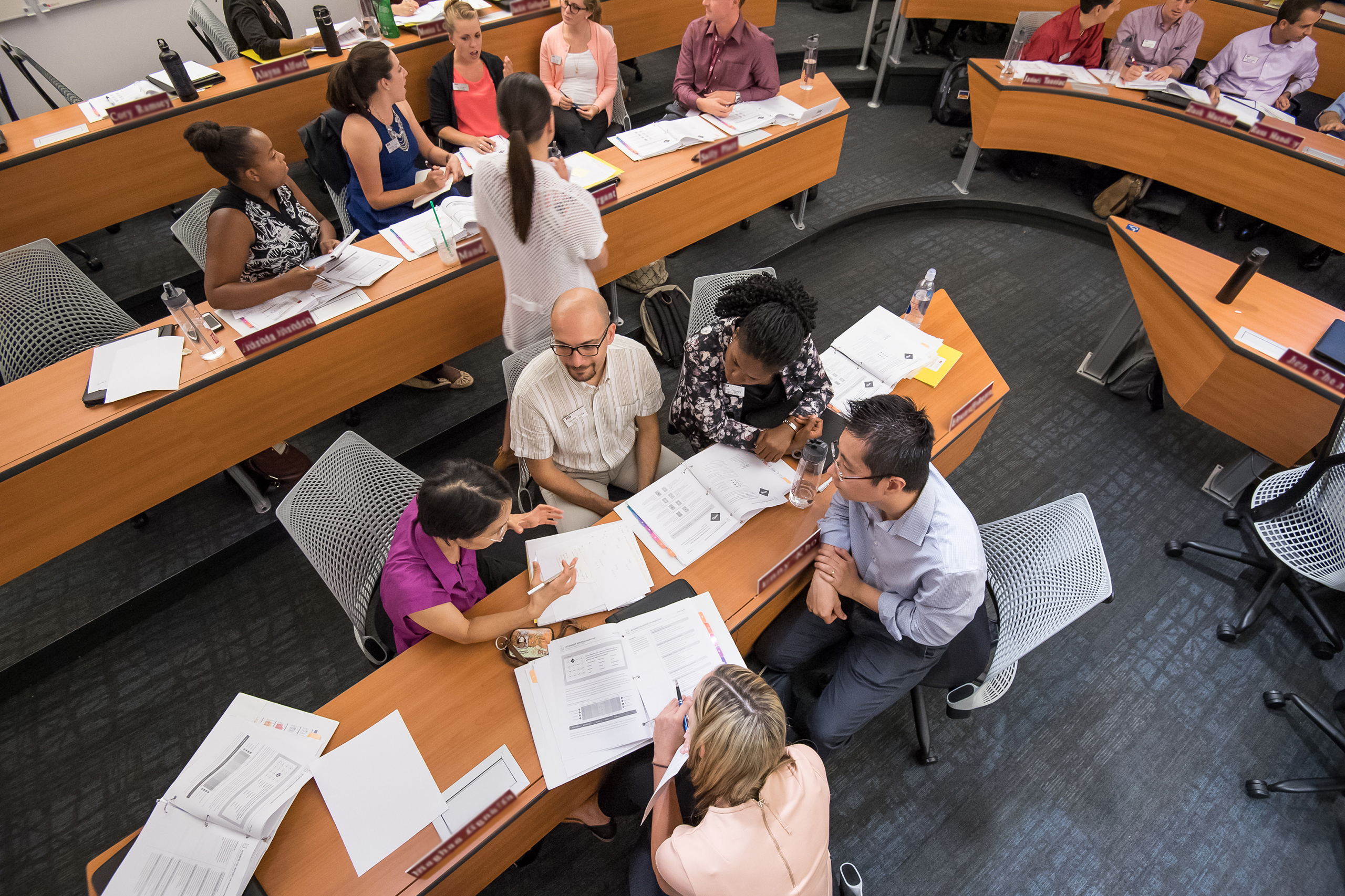 MBA students work on messy problems
A distinct opportunity among graduate-level business programs, W. P. Carey Learning Labs connect Full-time MBA students with non-business master's students across Arizona State University — to collaborate on action-learning projects, gain cross-functional skills, and solve real problems for real businesses.
Education funding is one of the most complex, controversial, and political issues facing Arizona. Still, a group of W. P. Carey School of Business students eagerly jumped into the debate, trying to give more money to poor schools.
The students were part of the first Intellectual Fusion Learning Labs cohort, an applied project that paired Full-time MBA students with other graduate students during the fall semester of 2017. The teams then tackled complex real-world problems.
"The core values of the W. P. Carey School of Business are interdisciplinary collaboration, applied learning, and working on messy problems, and that's what sparked this idea to pair with non-business graduate students," says Joan Brett, associate professor of management, who launched the semester-long course, one of the main components of the curriculum in the Full-time MBA program.
There were four tracks in the 2017 Learning Labs, which is now known as Interdisciplinary Applied Learning Labs:
Biomedical engineering, with teams collaborating the development, marketing, or adoption of biomedical devices
Mechanical engineering, in which students tackled a clean-energy plan and presented it to the Tempe City Council
Social work, which presented ideas for improving the Department of Child Safety's (DCS) work with outside agencies to help foster children
School financing, with students analyzing Arizona Department of Education data and proposing improved distribution of $34 million to the state's 1,900 schools
The challenges were complicated and that was the point. Most of the school financing teams decided to give a larger pot of money to only a few hundred schools — a solution that would be unpopular if it was actually implemented. That's because, Brett says, not all schools that showed improvements would get rewarded for them. "But the schools that do receive funds will get a larger amount, which would be more valuable, as it would allow the schools to do something more significant with the reward, such as hire a new teacher."
Cory Ramsey (MBA '18), a student in the school financing track, says the groups never forgot the human component. "We're talking about kids, and they're not Excel spreadsheets or formulas," he says. "We didn't want to come across as dehumanizing them."
Another MBA student, Jordan Johnson (MBA '18), says she learned a lot from the deep dive into school financing. "We were trying to see if it's even possible to balance the human element and the financial element and the overall public policy implication," she explains. "It was a holistic experience for us in that we got to see how business can be applied to problems like this."
And the expert "clients" agreed that applying business principles is a key skill in untangling complicated social problems. Michael Faust, the deputy director of the Arizona Department of Child Safety, worked with the students in the social work track over the semester. He challenged the students to come up with a better way to improve outcomes that didn't cost any more money. He was impressed by the students' work.
"We thought that every team came up with at least one meaningful idea that could be deployed at the department," he says. In particular, one team proposed using a geographically targeted social media campaign to find foster families in a specific area so foster children don't have to change schools.
The idea of coupling business with child welfare isn't something a lot of people would naturally think of, but it's something that people like me have to do every day, so it was very worthwhile for everyone to see that," Faust says.
After their presentations, each team received feedback from their clients, experts in the field, ASU faculty, and students. Three school superintendents poked holes in the school financing teams' presentations. The social work team received feedback from the DCS director and five of his managers. A city of Tempe councilperson, a director of a community nonprofit, and a city council member heard the mechanical engineering team's presentation. A health care executive was in the audience as a critic for the biomedical engineering team.
Brett says the program hopes to add Learning Labs in more disciplines next year, and the existing labs will tackle new problems. For example, the school financing lab will look at how to increase the number of Arizona residents who have college degrees.
"It's good for our students to think about a problem where there is no one right answer," she says.
ASU business school recognized for learning labs
NAACSB International — the world's largest business education network — recognized Arizona State University's W. P. Carey School of Business among 25 business schools as a highlight of its Innovations That Inspire member challenge.
What students across ASU say