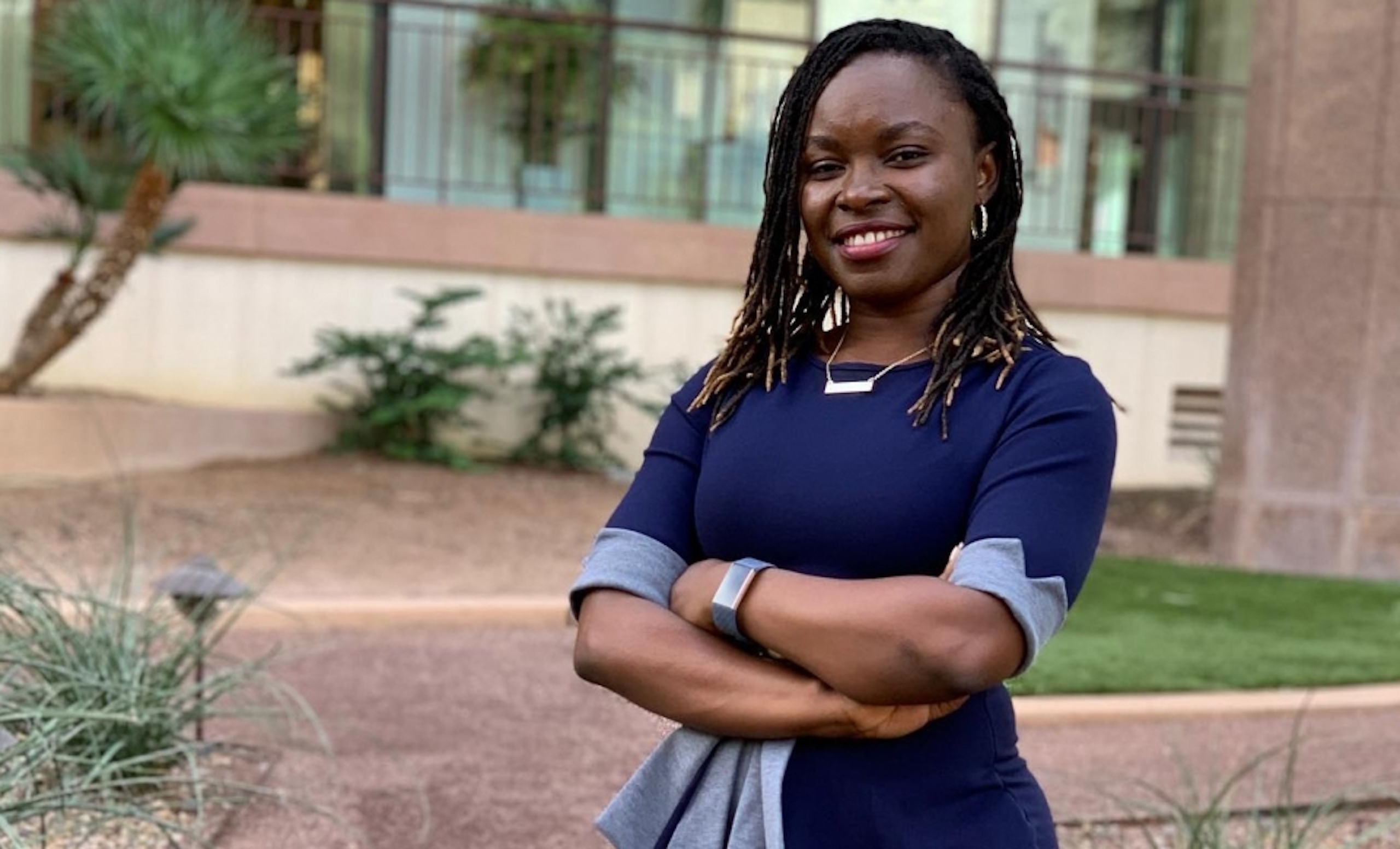 ASU alumna and founder of the Pauline Foundation shares her start-up success
Pauline Nalumasi's (BS Accountancy '18) nonprofit provides skills training and scholarships to exploited women and children in Uganda and supports rural farmers.
By Mary Beth Faller
Before Pauline Nalumansi earned a bachelor's degree in accountancy in 2018 and a master's degree in global affairs and management from the Thunderbird School of Global Management at ASU in 2020, she had a difficult childhood.
Nalumansi lost both parents before age 12 and was forced to work as a housemaid. She won a scholarship to high school and, when she was 24, won a Mastercard Foundation scholarship to come to ASU. It was the first time she left her country, and the first few months were very hard as she struggled to fit in.
"My English wasn't that good so I struggled to understand the American accent," she says. "The food was a challenge. I didn't know how to cross the road. I missed my family so much and I was lonely most of the time.
"I was crying most of the nights."
But after bonding with a counselor at Camp Carey, Nalumansi began challenging herself to socialize and seek out opportunities. She became a mentor for the Fleischman Scholars program and a math tutor, and she began to share her story with other people.
She submitted 200 applications for student jobs but was unsuccessful. So she got help from the W. P. Carey School of Business in polishing her resume and practicing interviewing skills, and then landed two jobs — as a program manager with the International Students and Scholars Center and in the career services center of Global Launch.
While she was an undergraduate, the anxiety over her future became overwhelming, and she became depressed.
Every evening, I would go to A Mountain and pretend that I was hiking but I was talking to God. 'Did you bring me to this country to suffer?' I asked.
As she prayed, Nalumansi began to get the idea for a foundation that could help people. But she didn't know where to begin. She went to Changemaker Central, pitched her idea for the Pauline Foundation to a room full of people for the first time, and won $2,500 in the Changemaker Challenge social entrepreneurship competition.
At the same time, she was contemplating her future. She knew that even with a bachelor's degree, she would have trouble finding a job back in Uganda. Then she heard about the Thunderbird School of Global Management.
"I was applying for funds for the Pauline Foundation at the same time I was applying for scholarships for Thunderbird at the same time I had two jobs and was a full-time student," she says.
She was selected for a SHARE Fellowship to attend Thunderbird and believes she won because she described her dream for the Pauline Foundation in her essay.
The summer after graduating with her bachelor's degree and before starting at Thunderbird, Nalumansi returned to visit Uganda. Originally, she wanted to raise money to pay school fees for young girls who are forced to drop out of school to work to support their families.
"When I went home and talked to these girls, I realized that most were abused sexually in the process of selling food on the roadside," she says.
They were not interested in school, but they did want to start their own businesses. But they didn't have the skills.
Some girls drop out of school when they are hired by families to care for young children, and sometimes they are sexually abused by men in the household.
Nalumansi pivoted in her mission, deciding that the Pauline Foundation would offer courses in tailoring, baking, and hairdressing to those young women, and start a daycare center so families would have an alternative to hiring school-age girls. Since its founding in 2017, the foundation has awarded 22 scholarships and trained 44 young women.
The Pauline Foundation provides skills training and scholarships to exploited women and children in Uganda and supports rural farmers.
Nalumansi graduated from Thunderbird in May and is spending this year as a University Innovation Fellow at ASU. Fellows are free to create their own projects, and she is working on ways to support foster children as well as seeking partners to expand ASU Prep Digital globally.
Her goal is to create a new kind of higher education system in Africa, and she's planning to pursue a PhD next year.
Unable to travel during the pandemic, Nalumansi misses the young women she's connected with in Uganda, but the foundation has continued to help. Recently, it launched computer training programs in remote areas.
"The students send me messages — 'I never thought I would touch a computer,'" she says.
"That makes me want to keep doing more."
To read about all seven alumni featured, go to asunow.asu.edu for the full, original story.