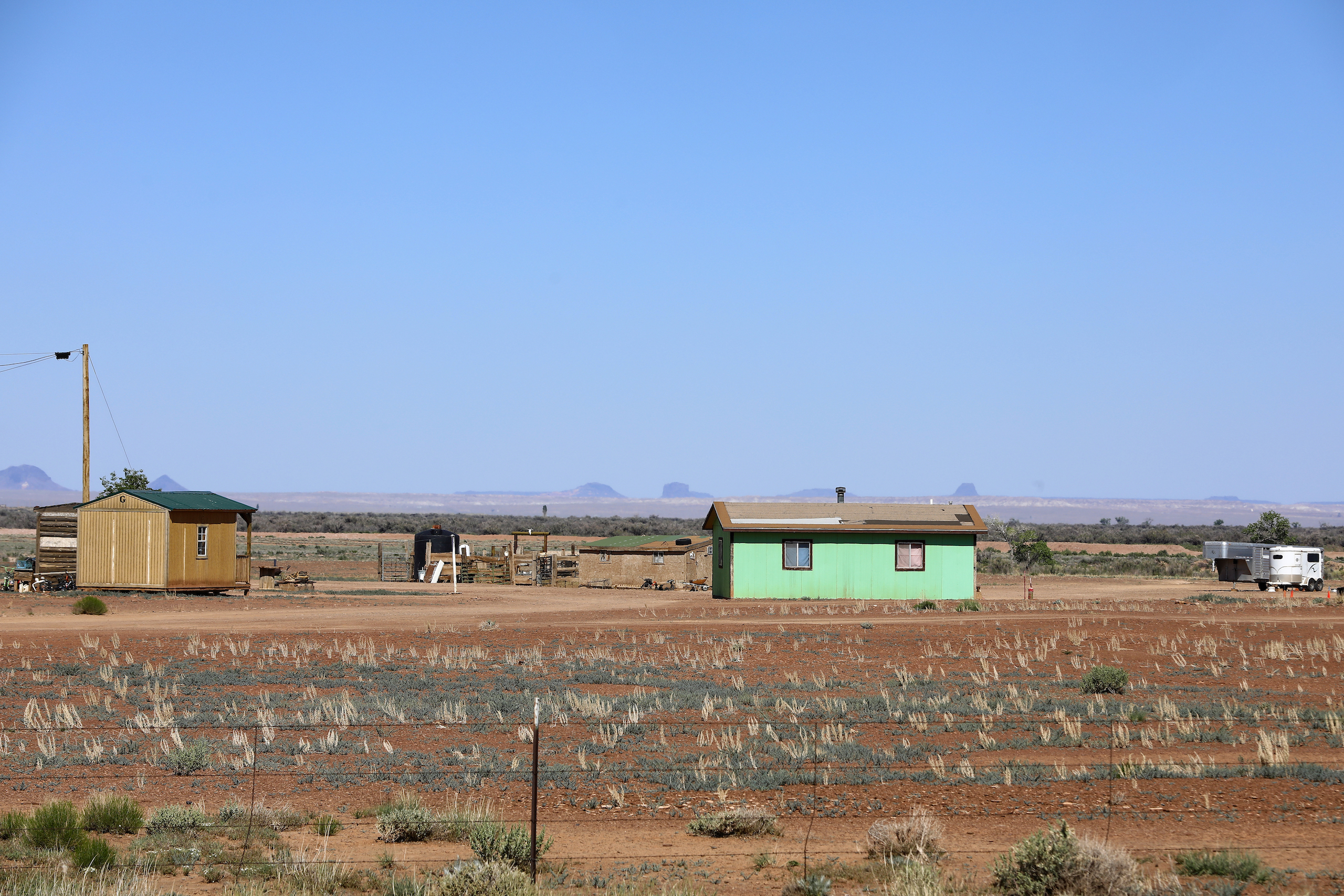 ASU alumna starts non-profit for entrepreneurs and businesses on the Hopi and Navajo reservations
Jessica Stago (BS Economics '01), a co-founder of Change Labs, works with businesspeople on Native American reservations, who often don't think of themselves as entrepreneurs.
By Mary Beth Faller
W. P. Carey graduates have started dozens of nonprofit organizations that help thousands of people in Arizona and around the world, including Native Americans, veterans, children with disabilities, foster kids, immigrants, and people in developing countries. Here is the story of one of those alumni, who for years poured enormous amounts of work, mostly unpaid, into her passion project.
Jessica Stago (BS Economics '01), a co-founder of Change Labs, worked as a restaurant manager and consultant during the early years while she was launching the organization.
"We would get $20,000 here or $10,000 there and try to do something for the entrepreneurs, and then we would have nothing for a few months. That went on for a few years," she says.
She learned from mistakes.
"Once, we brought a marketing professional out to the rez and three people showed up," Stago explains. "The trainer was talking about websites that can do all this stuff and how social media was becoming a thing. And we realized, 'We don't even have good access to the internet here.'
"That was the last time we brought anyone from off the rez to do training."
After graduating from ASU, Stago worked in the area of small business development, including with the National Center for American Indian Enterprise Development Mesa, Arizona.
Then she moved back to her hometown of Winslow and decided to start a medical-supply business with her mother, focusing on the Navajo Nation, while also working in small business development for Northland Pioneer College. In that job, she connected entrepreneurs to training, technical assistance, and coaching.
That's when I found all these entrepreneurs that nobody knew about, and when I started to figure out that our community doesn't have the same level of support for business development as communities off the reservation," Stago says.
She joined forces with Natasha Hale, who had started a Native incubator network. They would offer training and support for entrepreneurs, but nobody would show up because they didn't think of themselves as entrepreneurs.
"There is not a word in our language for 'entrepreneurship' or even 'business,' " Stago says. "That gives you an idea of the perception.
When you drive through this community, you see people selling burritos or fixing cars or, what we're most known for, people selling arts and crafts.
"You can drive down a dirt road and see a sign for anything from window tinting to tire repair to haircuts or child care," Stago continues. "Everyone in our community has somebody they take their vehicle to, to be fixed because there are no auto shops on the reservation.
"And if I say to them, 'Do you have a business?' they say, 'No, I just make things and people decided to pay me.' "
So Stago and Hale set out to change the perception, one social media post at a time.
"I started taking photos of people in their businesses. And we used the hashtag #IAmTheNavajoEconomy," Stago says.
"People would repost that and they loved that their relatives were being recognized as pillars of the economy."
Those entrepreneurs are facing a tangle of challenges.
"A business owner might have a great idea and a market to tap into, but when they get out of our program, they can't get a loan on the reservation or a physical location," explains Stago.
"We need banks and investment institutions to say, 'OK, we realize that there is this historical trauma in these communities and they've been wholly left out of the banking industry for generations now. To fix that, we'll change the way we do business there and provide investment capital in ways that will work there.' "
Stago and Hale later partnered with Heather Fleming, founder of a design firm. The three co-founders based Change Labs in Tuba City, where the organization is facing one of the same obstacles as the businesses they help: access to land. Reservation land is held in trust and governed by complex laws. The nonprofit has raised enough money to build a 4,000-square-foot headquarters that would also provide space for food vendors but has been hampered by bureaucracy.
"It's been three years of trying to get land to build a building," she says. "We're waiting on a right of way for a piece of land or on some kind of permit. We tried changing our plans two or three times."
Change Labs also is working to change tribal policy to be more responsive to small businesses.
"When you have a big project like a casino, you can get those leases and all that permitting done in a couple of months, where it could take a year if you're a small business," she says.
Meanwhile, the nonprofit is in its fourth incubator cohort.
All the funders want to know how many jobs we create. Well, we are working with people who can only work out of their homes. They're not only supporting themselves, but they're also supporting their entire families. There's not an opportunity for them to hire because they can't expand.
– Jessica Stago, who is director of business incubation for the nonprofit Change Labs and also works as director of Native American economic initiatives for the Grand Canyon Trust, as well as heading her own consulting company
"Eight years later, when people ask the jobs question, I'm proud to say that we have 27 graduates of our business incubator. They might be single-owner entrepreneurs, but that's 27 jobs on the Navajo Nation."
To read the full, original story about seven alumni turning their passion for helping people into thriving nonprofits, go to asunow.asu.edu.