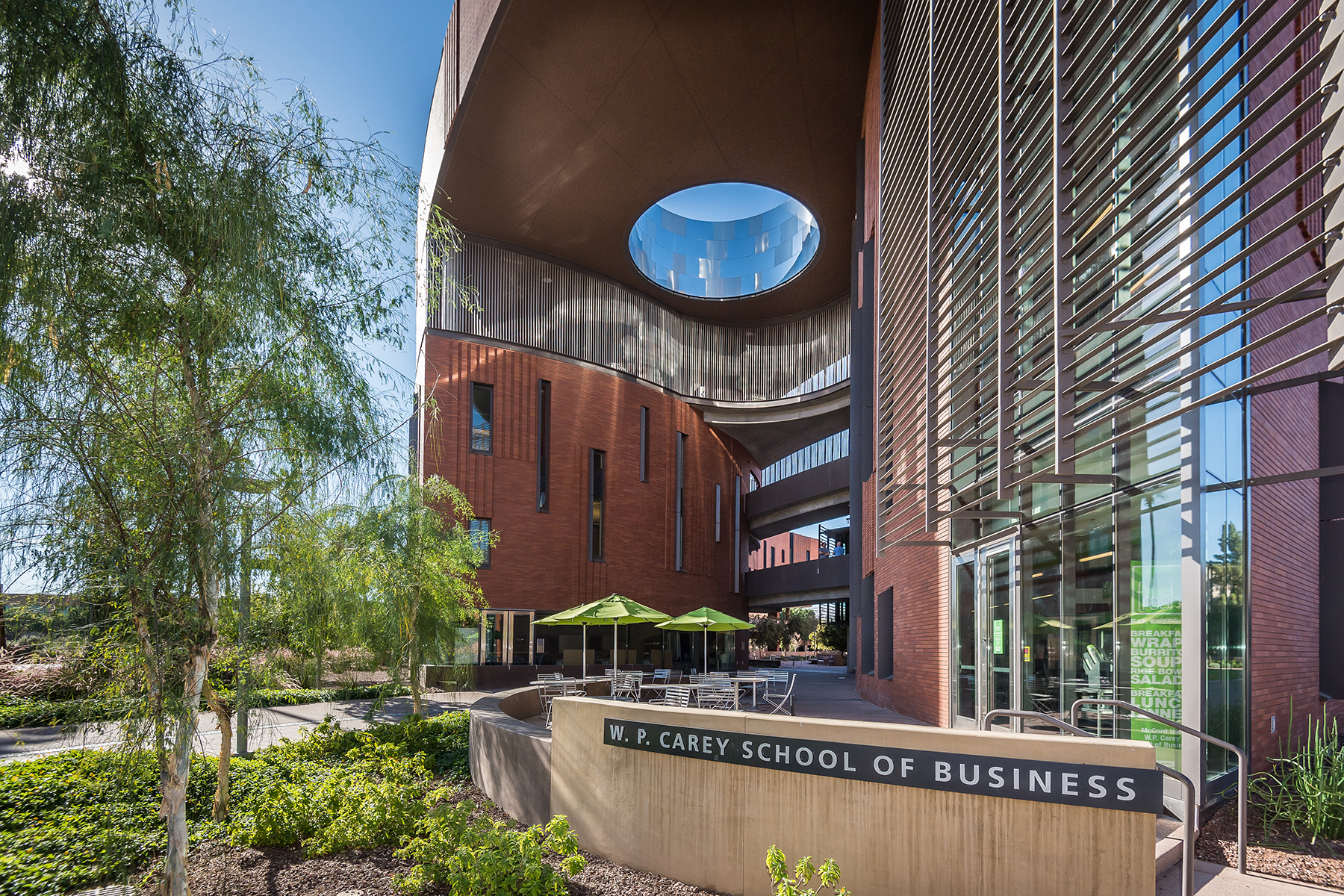 ASU named a Best Business School by The Princeton Review
Arizona State University's W. P. Carey School of Business is one of the nation's most outstanding business schools, according to The Princeton Review®. The education services company chose W. P. Carey for its list, "Best Business Schools for 2021."
TEMPE, Ariz. (Dec. 10, 2020) — Arizona State University's W. P. Carey School of Business is one of the nation's most outstanding business schools, according to The Princeton Review®. The education services company chose W. P. Carey for its list, "Best Business Schools for 2021."
W. P. Carey earned the No. 1 spot in the country for Best MBA for Operations, the No. 6 spot in resources for minority students, and No. 8 for Online MBA programs.
The No. 1 ranking is confirmation that students feel well-prepared for a career in operations and report positive outcomes in the field. The resources for minority students ranking means a great deal to us, and as we have said many times this year, we are working to make this school and ASU more inclusive and welcoming for all students.
– Amy Ostrom, interim dean of the W. P. Carey School of Business and PetSmart Chair in Services Leadership
As one of the first business schools to invest in Online MBA programs, W. P. Carey has consistently ranked in the top across several outlets.
"We recommend the W. P. Carey School of Business as an excellent choice for an aspiring MBA," said Rob Franek, The Princeton Review's editor in chief. He noted that the company chose the schools for its 2021 list based on data from the company's surveys of administrators at business schools during the 2019-20 academic year. The administrator survey, which numbered more than 200 questions, covered topics from academic offerings and admission requirements to data about currently enrolled students as well as graduates' employment.
Franek added, "What makes our Best Business Schools list unique is that we factor in data from our surveys of students attending the schools about their campus and classroom experiences. For our 2021, list we tallied surveys of more than 17,800 students at 244 business schools." The Princeton Review's 80-question student survey asked students about their school's academics, student body, and campus life, as well as about themselves and their career plans. The student surveys were conducted during the 2019-20, 2018–19, and 2017–18 academic years.
The Princeton Review website profiles of the schools have sections reporting on each school's academics, student life, admissions information, and graduates' employment data. In the W. P. Carey School profile, The Princeton Review editors describe the school as: "…attracts a wide variety of online MBA students thanks to its excellent reputation, and students accordingly name 'the quality of education' along with 'flexibility' when asked about the greatest strengths of the program."
A few comments from W. P. Carey School students The Princeton Review surveyed:
Our professors have held us to the highest level of professionalism and demand.
The administration is similarly accessible and regularly holds town hall meetings to get a feel of the vibe of the student body and get feedback.
It has been a pleasure to work with the school administration and faculty on adjusting class setups and extracurricular activities. They only want what the students want and proactively try to accommodate those preferences.
The student body itself is composed of "interesting folks from around the country accompanied by a strong international component."
The career placement center has a variety of effective resources and plenty of job-finding events such as case competitions, business competitions, networking events, and corporate connections.
There is a real focus on leadership at Arizona State, and students are directed towards career leadership courses from the start.
The profiles also have five ratings that The Princeton Review tallies based on data from its administrator and/or student survey. The ratings are scores on a scale of 60 to 99. Rating categories are Academic Experience, Admissions Selectivity, Career, Professors Interesting, and Professors Accessible. Among the ratings in the W. P. Carey School profile are scores of:
95 for Academic Experience
95 for Admissions Selectivity
94 for Career
96 for Professors Interesting
96 for Professors Accessible
The Princeton Review does not rank the on-campus MBA programs overall, from 1 to 244, or name one business school best overall. Instead, the company reports 18 ranking lists of the top 10 business schools in various categories. Most of the ranking lists are based on data from both student and administrator surveys. Only about 25% of the schools appear on the ranking lists. W. P. Carey is on the following ranking list(s): Best MBA for Operations, Greatest Resources for Minority Students, and Top 50 Online MBA programs.
Learn more about W. P. Carey's online MBA program and resources for minority students.
About the W. P. Carey School of Business
The W. P. Carey School of Business at Arizona State University is one of the top-ranked business schools in the United States. The school is internationally regarded for its research productivity and its distinguished faculty members, including a Nobel Prize winner. Students come from more than 100 countries and W. P. Carey is represented by alumni in over 160 countries. Visit wpcarey.asu.edu.
About The Princeton Review
The Princeton Review is a leading tutoring, test prep, and college admission services company. Every year, it helps millions of college- and graduate school-bound students achieve their education and career goals through online and in-person courses delivered by a network of more than 4,000 teachers and tutors, online resources, and more than 150 print and digital books published by Penguin Random House. The company's Tutor.com brand is one of the largest online tutoring services in the U.S. It comprises a community of thousands of tutors who have delivered more than 19 million one-to-one tutoring sessions. The Princeton Review is headquartered in New York, NY. The Princeton Review is not affiliated with Princeton University. For more information, visit PrincetonReview.com and the company's Media Center. Follow the company on Twitter (@ThePrincetonRev) and Instagram (@theprincetonreview).
For more information, contacts:
Shay Moser, W. P. Carey School of Business
shay.moser@asu.edu
480-965-3963
Jeanne Krier, Publicist
The Princeton Review
pressoffice@review.com