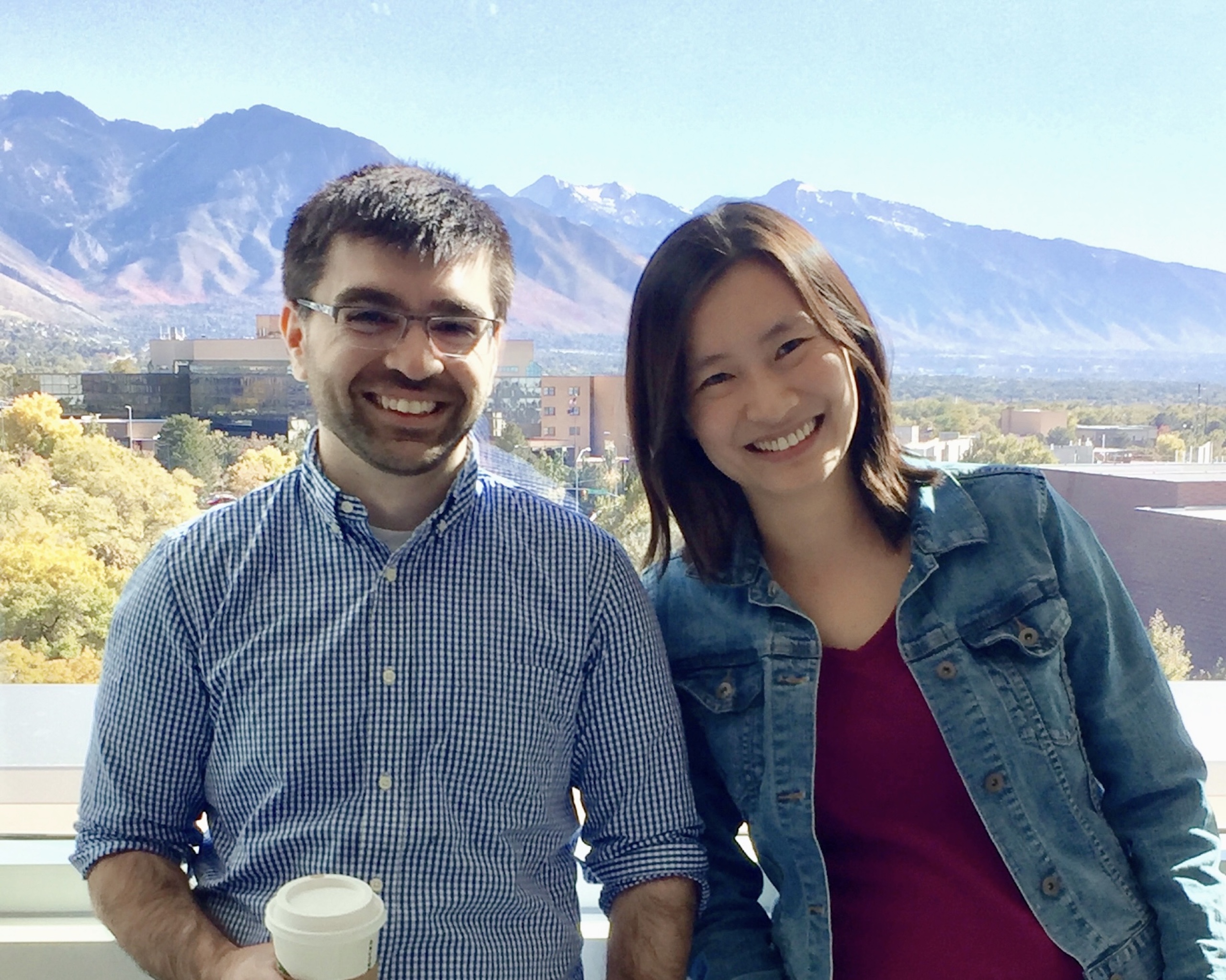 Classroom cupid strikes at W. P. Carey
Assistant professors of information systems, Victor Benjamin and Xiao Liu, started off as students and now work side by side at W. P. Carey.
By Jenny Keeler
Stolen glances across the classroom, elbows brushing at their desks, late nights spent studying together. It's no wonder Cupid's arrow often strikes students.
That's how it happened for assistant professors of information systems Victor Benjamin and Xiao Liu. The two met in 2011 as grad students at the University of Arizona. They had many of the same courses and became lab partners. He first noticed her gentle spirit. She liked his direct, tell-it-like-it-is personality.
After graduation, the two went out into the working world in academia — Benjamin at ASU and Liu at the University of Utah, and their relationship became long-distance.
"That's as reasonable of an inter-state commute as you could have," Benjamin says.
The hour-and-a-half plane ride wasn't too bad, especially considering Liu's other job prospect was in New Jersey. Things could have turned out differently if she'd moved across the country, Benjamin explains.
"I give her credit for sticking through it with me, and we made it work," he says.
Luckily, another position opened up at W. P. Carey, and once again, the couple was back in the classroom together, but this time as colleagues.
There are, of course, certain challenges that come with working with your spouse.
"We talk about work a lot at home," Liu says.
The line between work life and home life is blurred for Liu and Benjamin, but that's been the nature of their relationship from the beginning. There are advantages to working together too — they carpool to work, have lunch dates together, and can talk about their work with a unique understanding.
Now that they're working remotely from home, they've lost their carpool time but, Liu says, their quality of life has improved. They're cooking more meals at home, getting outside to go for walks and play Pokemon Go, and, Liu says, their research productivity has gone up with fewer distractions at home.
The couple, who married twice — first in a courtroom in 2018 and then again in 2019, when Liu's parents were able to come from China, just recently bought a house. They both say starting a family is something they're considering and they're looking forward to getting outside together for some low-tech activities like hiking, camping, and traveling.
"Nature is so undervalued, at least in our technologically focused careers. That's [nature] a whole aspect to life that we have not enjoyed as much as we should," Victor says.
Here's a look at their love story in their words:
Question: How did you meet and what's the first thing you noticed about your husband?
Liu: Victor and I met when we started graduate school at the University of Arizona. We were in the same cohort for course work and worked in the same research lab. It first occurred to me that he is a very honest and direct person.
Q: What was your first date? Who asked who out?
Benjamin: I was the brazen one and asked her out to a local Mexican restaurant down in Tucson. They had mariachi bands and food being served in hollowed-out volcano stones. I wasn't sure if she would like it, but at least I knew it would be memorable.
Q: What are the advantages of working together? Disadvantages?
Benjamin: The biggest advantage is that we get to have lunch together every day. That's probably a bit cheesy to admit, but I enjoy the small moments. Xiao is also a lot smarter than me, so another advantage is that she can help me with my research! I am sure she is thrilled whenever I ask. There were a few times she did my homework for me, too, when we were PhD students. One major disadvantage is that we end up talking a lot about work at home. Not that that's bad necessarily, but it probably limits what other topics we could potentially explore together.
Liu: The advantage of working together in the same place is that we can go to work, go back home, and sometimes get lunch together. We have shared experience in teaching and research. The disadvantage might be that we probably talk about work too much at home.
Q: How has that changed during the Covid-19 pandemic and now working from home?
Benjamin: I feel guilty to report that we've both enjoyed working from home; however, we've enjoyed it more for ourselves rather than from interacting with one another. We're both homebodies and like having a simplistic daily routine, but we sit in different rooms to work and go for great lengths of time during the day without talking to each other.
Liu: We saved the time spent in commute in the past. We have more homemade food recently.
Q: What are you looking forward to in the future together?
Benjamin: Career-wise, Xiao and I had a great doctoral advisor and we look forward to making him proud of us. He's our academic papa. I'm also excited to see how much Xiao can achieve; as I said, she is much smarter than me! We've spent half of our relationship knowing each other as students, and now the other half has been spent knowing each other as adults with jobs. I look forward to getting to know Xiao even better as our lives progress together.
Liu: Building our life together and exploring different parts of the world.