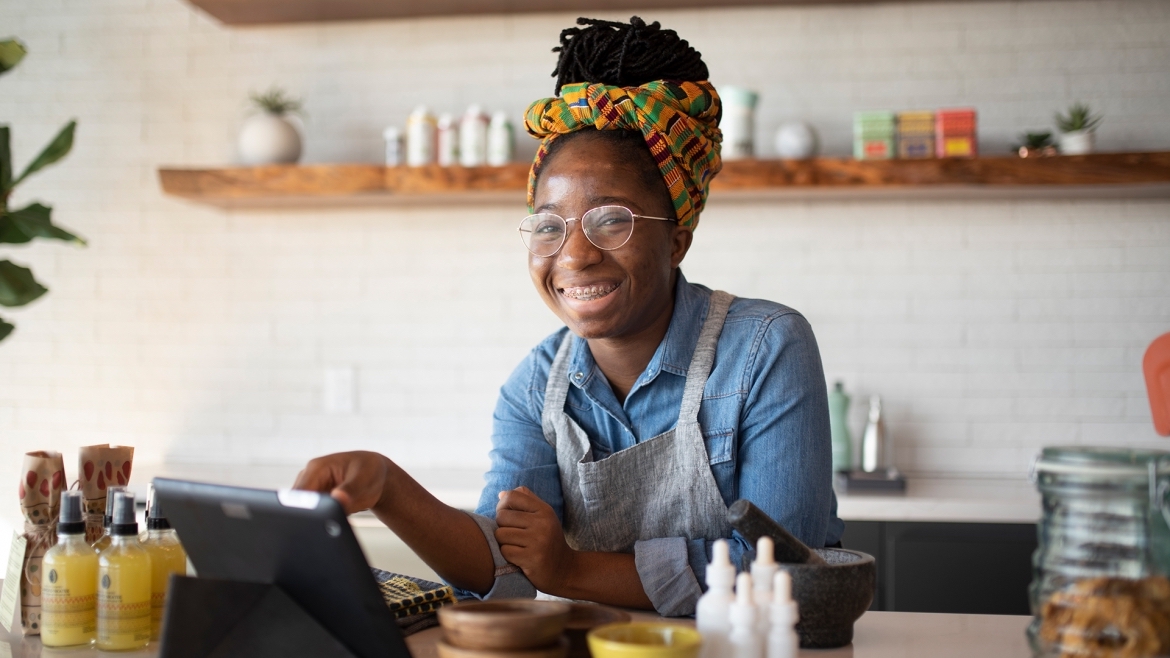 Alumna uses fruit to offer dependable income opportunities in Ghana
Private donations and corporate partnerships helped make it possible for Ghana-born Freda Sarfo (MS-GL '19) to start Tropical Almond, which gives mothers reliable income, saves trees, and donates high-protein snacks to hungry children.
By Craig Guillot
It's one thing to create a good idea, but it's a challenge to turn that idea into a profitable and sustainable product or service. Having access to mentoring, education, and financial support greatly increases the odds of success.
Community members and ASU alumni, students, and faculty can take advantage of several entrepreneurial resources through the J. Orin Edson Entrepreneurship and Innovation Institute, from workshops to mentoring to funding. Much of the funding is awarded through biannual Demo Day competitions where ventures deliver pitches as they compete for hundreds of thousands of dollars.
To date, more than 600 entrepreneur teams are impacting the world with the support and financial backing of ASU and philanthropists. Here's an example of a W. P. Carey alumna who used seed funding from Venture Devils to start a profitable and sustainable product:
While tropical almonds (known locally as Abrofo Nkate) have long been consumed as a local sweet in Ghana, they haven't always been viewed as a source of economic prosperity. After learning from a horticultural engineer about the promising yet undervalued benefits of the tree, Ghana-born Freda Sarfo (MS-GL '19) dug deeper. She learned the fruits have a high-quality cosmetic oil, more protein than chicken, and more fiber than oats.
"We started doing more research into the nutritional composition of the tropical almond, how it benefits the body," Sarfo says. "And there weren't any products on the market with it."
Sarfo, a master's degree student in global logistics and a Mastercard Foundation Scholar, applied for Venture Devils and won $4,000 in 2019. She says that her study of supply chain and logistics has helped her in establishing Tropical Almond.
"In our business strategy, because there are no established tropical almond farms, we source from tropical almond trees in communities and homes from different regions across Ghana. Without these trees, our business wouldn't be. My knowledge and experience from ASU have helped me to design and manage our diverse supply chain effectively and efficiently. I occasionally went to Dr. Dale Rogers with questions on Tropical Almond's supply chain, and he was always happy to assist with his advice and suggestions."
In establishing Tropical Almond, Sarfo used the funds to travel back to Ghana, educate people on the trees' benefits, and create a business plan. She built a small processing facility and now pays women to collect and crack the fallen nuts then cold press them to retrieve the oil. The company also makes high-protein snacks using the almonds. Tropical Almond currently works with about 60 women, mostly single mothers. It has significantly helped during the pandemic as many of these women lost other odd jobs.
Through outreach, the Tropical Almond team also has saved more than 100 trees that would have been cut down. In addition, for every bottle of almond oil sold at the online store, the company donates a bag of high-protein snacks to hungry children.
"Our tactic was to help these mothers find social income, reliable income so they can take care of their children and families," Sarfo says.
To read about other local startups making a difference, read the full, original article at asunow.asu.edu.
Top photo: Freda Sarfo started her business in her kitchen, formulating products made from tropical almonds found on ornamental trees in her native Ghana.