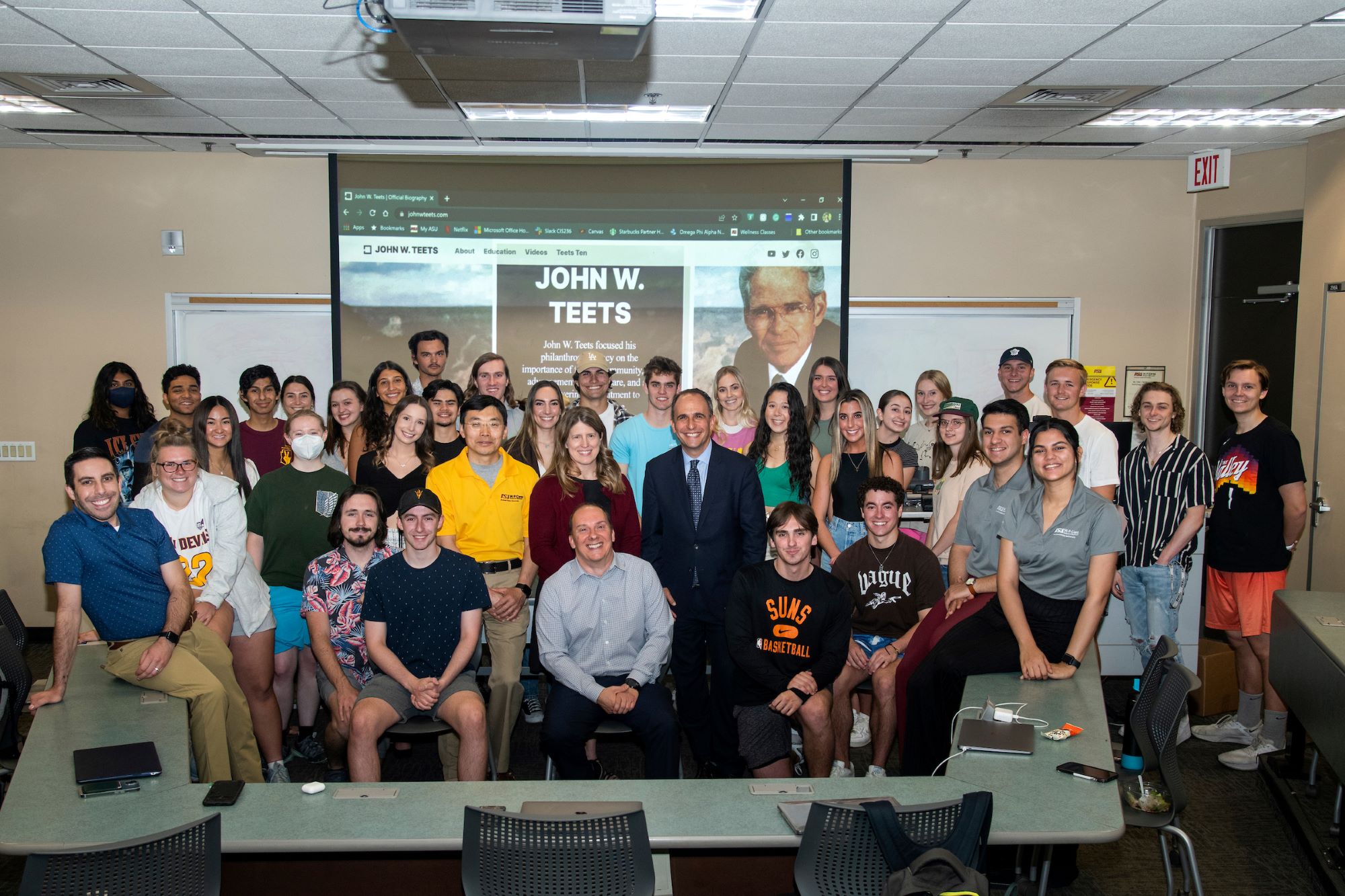 W. P. Carey honors faculty with John W. Teets Outstanding Teaching Awards
The W. P. Carey School of Business announced this year's recipients of the John W. Teets Outstanding Teaching Awards to bookend an excellent semester.
Each year, the W. P. Carey School of Business honors the legacy of John W. Teets through awarding excellence in teaching. Teets, who was CEO of VIAD, formerly Greyhound Corporation and the DIAL Corporation, and his family established the endowment for these awards in 1999 with the intention of recognizing and tangibly rewarding professors and graduate assistants chosen by their students as the best teachers. The Teets awards are unique because the nomination and selection processes are entirely student led through the Business School Council, making them especially meaningful for the recipients.
Heidi Teets, John's daughter, stated in a letter to this year's winners that her father "was uniquely appreciative of the role of a teacher and mentor, and he well understood the hard work and drive it takes to be recognized by your students as an outstanding educational influence in their lives."
This year's winners were awarded in surprise ceremonies on the last day of class. Amy Ostrom, interim dean of the W. P. Carey School, and Dan Gruber, associate dean of teaching and learning, presented the awards alongside other school and program leaders. "Providing access to an excellent business education is at the heart of what we do at W. P. Carey," emphasized Gruber. "I'm incredibly grateful to our faculty who work day and day out to help our students thrive. It was a joyful opportunity to honor the award winners in their classrooms and in front of their students."
John W. Teets Outstanding Undergraduate Teaching Award Winner
Eric Knott, lecturer in the Department of Management and Entrepreneurship and owner of consulting firm FinePoint HR, is this year's undergraduate teaching award winner. One of his nominators said, "Eric truly cares about each of his students and their success individually. He goes out of his way to make himself available and encourages students to work hard for their future."
Knott was also recognized by students for the applicability of his classes. One student said, "His coursework focuses on real-world problem solving, especially in his Consulting Projects class. He takes the time to work with companies to create projects for students to work on throughout the semester."
Knott, who was jokingly suspicious when such a large group of visitors joined his classroom, was humbled to receive the honor. "It's rare that I'm speechless," he laughed, and concluded simply, "The students are why I do what I do. Their recognition means everything."
John W. Teets Outstanding Graduate Teaching Award Winner
Reynold Byers, clinical professor in the Department of Supply Chain Management, is the winner of this year's graduate teaching award. Byers has a reputation for being a tough professor, but as one nominator said, "He expertly helps students navigate some complex subjects. His classes are rigorous, but for all the right reasons."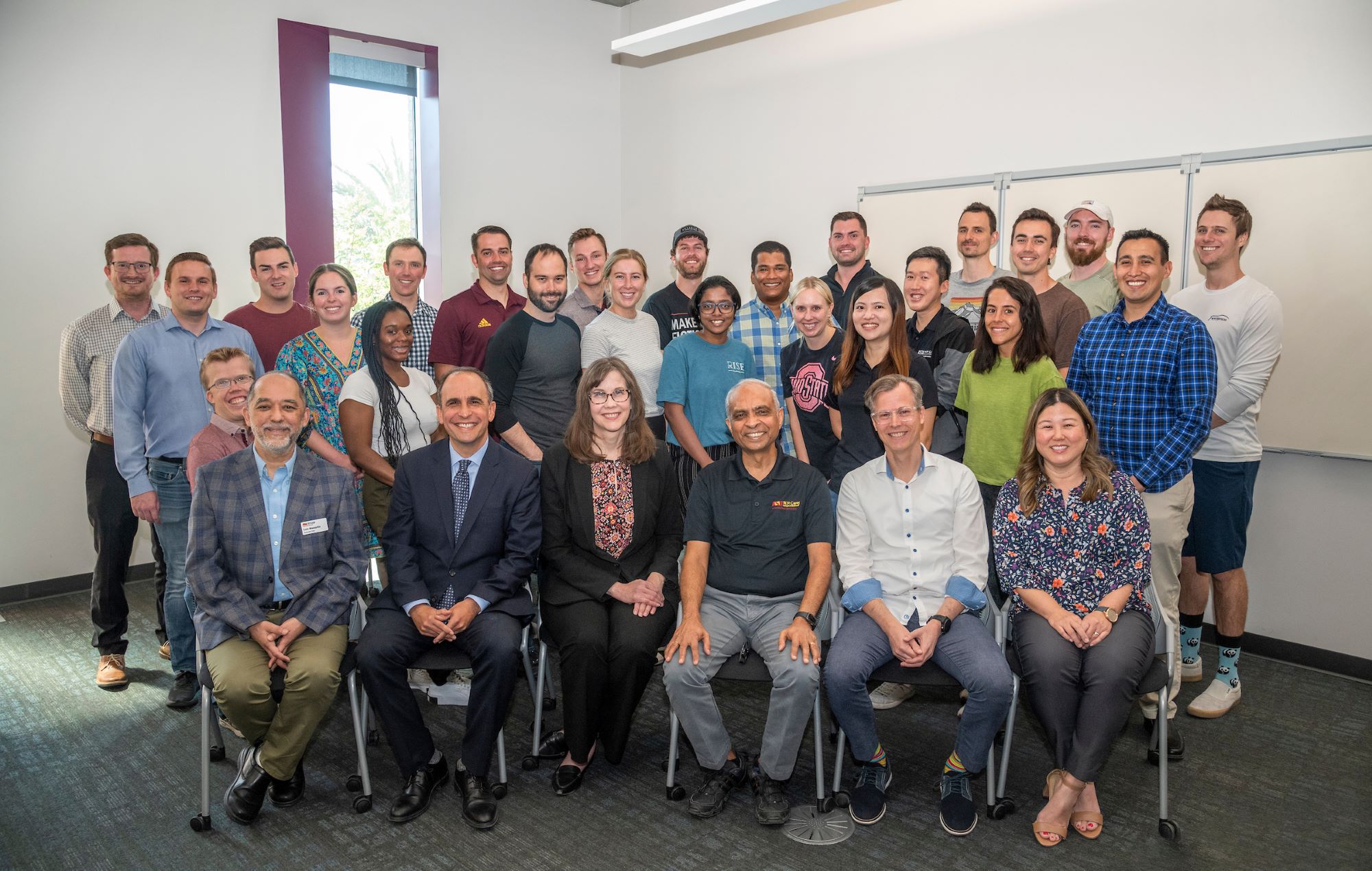 Reynold Byers (seated, second from right) surrounded by his class after being awarded the John W. Teets Outstanding Graduate Teaching Award.
Another shared, "He sets expectations for excellence clearly, holds students to a high standard, and gives challenging assignments and exams that truly build and test knowledge. At the same time, he is always approachable, encouraging, and helpful to all who need assistance."
Byers was touched to receive the award. "It means so much to be honored by students," he said. "As an educator, these moments when you know you've made a positive impact can really provide energy to continue innovating in the classroom."
John W. Teets Outstanding Undergraduate Teaching Assistant Award Winner
This year's winner of the undergraduate teaching assistant award is Subham Sharma, an MBA student who has been a teaching assistant in several classes in W. P. Carey Career Services. Nominating Sharma, one student said "Subham is a person with a heart of gold. He is a great example of a TA that goes above and beyond to assist students to achieve their desired outcomes."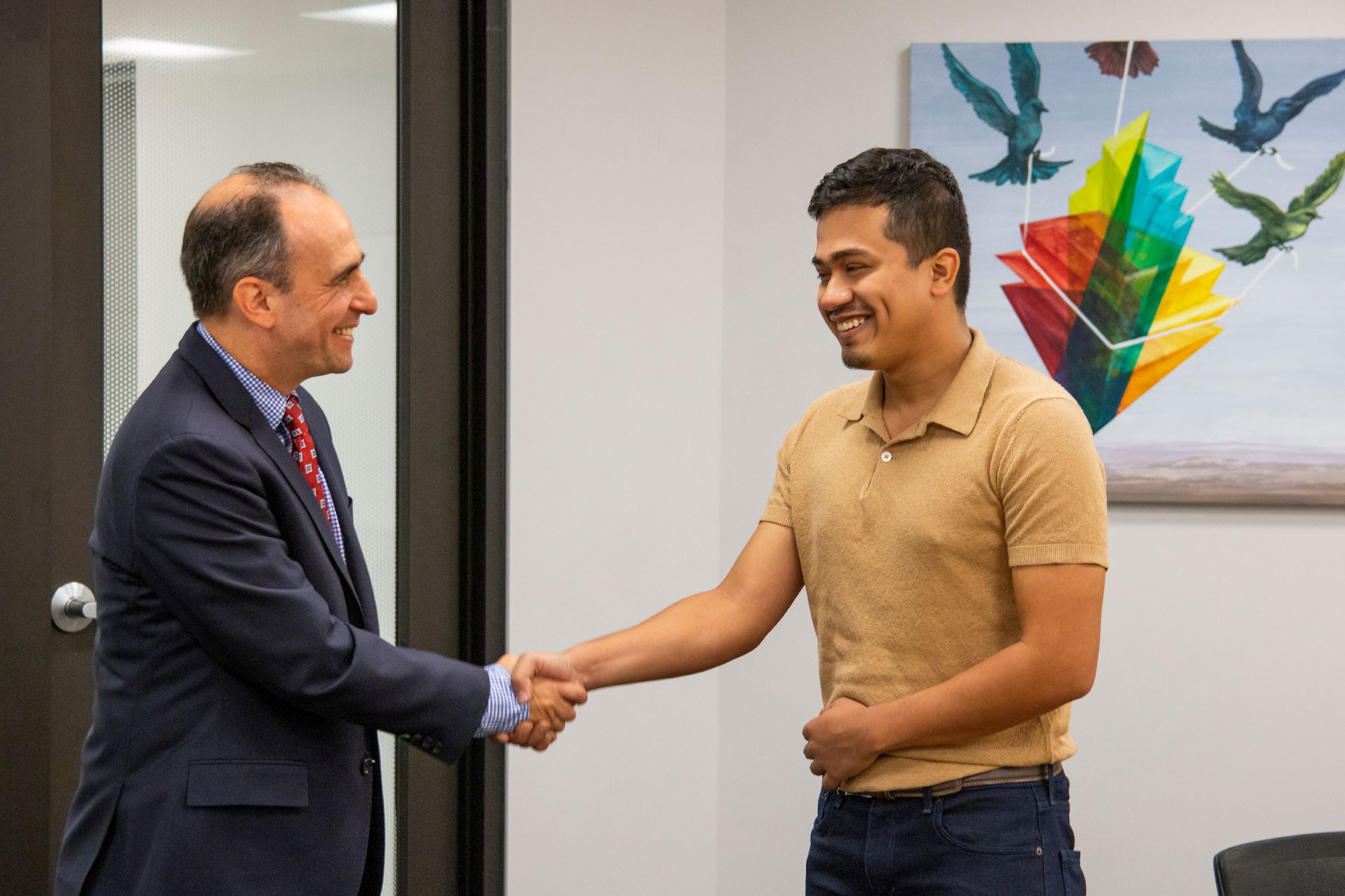 Subham Sharma shakes the hand of Associate Dean Dan Gruber after receiving the John W. Teets Outstanding Undergraduate Teaching Assistant Award.
When presented his award, Sharma said, "I've been inspired by my brilliant colleagues, who brought me up to speed on teaching. It was very exciting to provide students with the support I would want in their shoes."
"Looking back on the last couple years, we've asked our faculty and students to display resilience and creativity through trying times," added Gruber. "This award celebrates their accomplishments, and the completion of a successful school year. I am grateful to the Teets family for honoring outstanding teaching at W. P. Carey for over two decades and am inspired to recognize their ongoing impact on our school with the John W. Teets Outstanding Teaching Awards."
To learn more about the legacy and impact of John W. Teets and the Teets family, visit johnwteets.com.