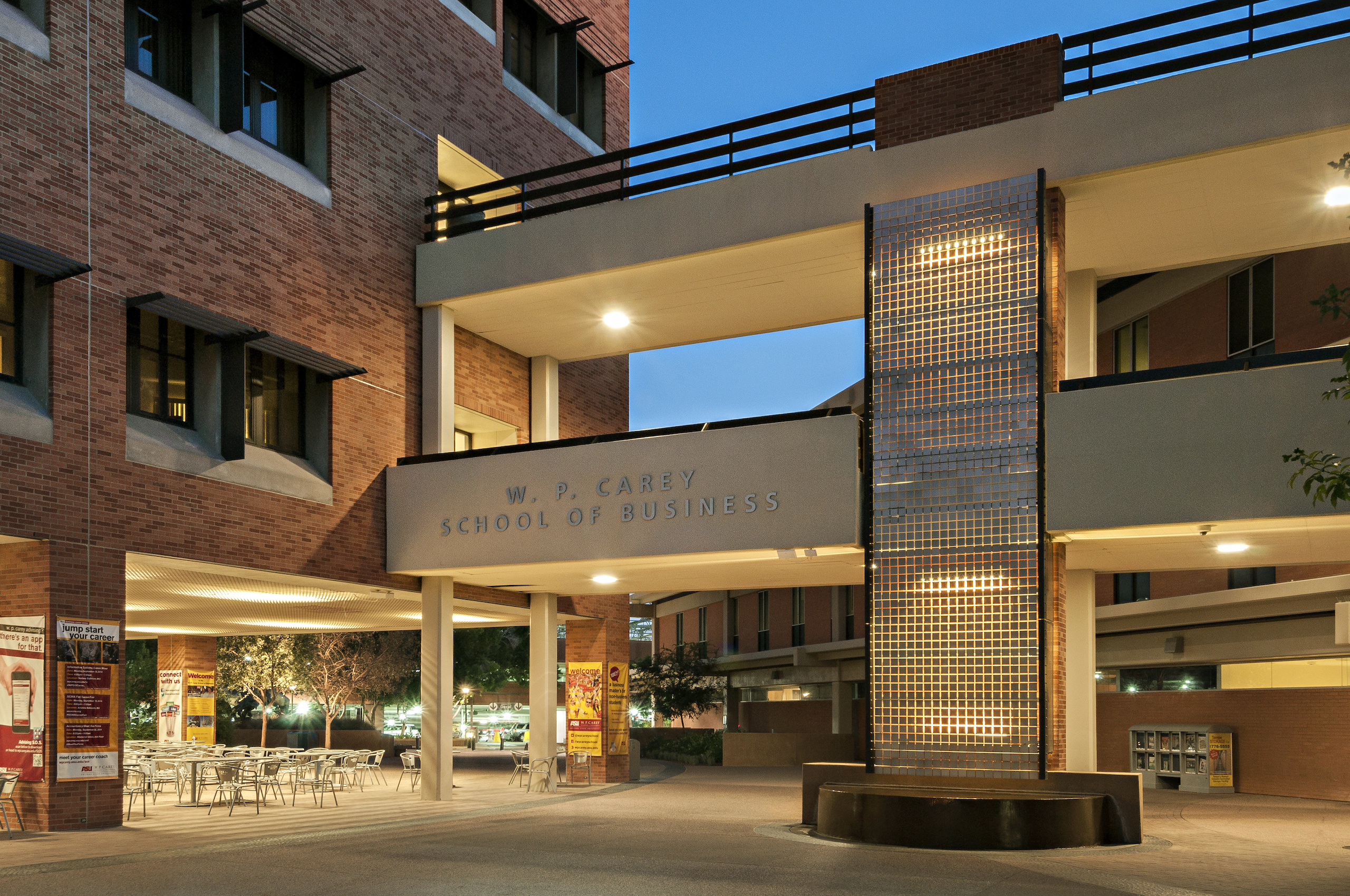 Two longtime W. P. Carey information systems professors retire
As they retire in May, Uday Kulkarni and Robert Wood will leave a legacy at W. P. Carey, having affected the lives of thousands of students throughout their decades-long careers.
By Jenny Keeler
A phrase in the Indian language of Marathi is "zak marnar ahe," which, roughly translated, means, "I'm going fishing." Those who use this expression usually have no real intention of catching fish.
As they retire in May, it's become a new motto for longtime professors Uday Kulkarni and Robert Wood.
Both professors will leave a legacy at W. P. Carey, having affected the lives of thousands of students throughout their decades-long careers. Both Kulkarni and Wood began their teaching careers in the '80s; Kulkarni joined W. P. Carey in 1988 and Wood in 2005.
Uday Kulkarni says farewell to a long career at W. P. Carey
Kulkarni never had an attendance requirement for his classes; the students just showed up. He had a unique ability to connect with each student and know whether they grasped the curriculum. Kulkarni made sure he was always available for his students, giving them his cell phone number.
"I discovered I was a teacher when I started teaching," he says. "I didn't know that I loved teaching until I became a professor."
The truth is, Kulkarni says, it's not about teaching. It's about asking the right questions and leading his students to think and find the answers.
"It's about creating an atmosphere for critical thinking," he says.
Kulkarni takes pride in being well prepared for his classes, calling himself a "painful perfectionist." But even then, he'd, at times, get stumped by a student's question. He says, "there's a silence, thinking, and then you must be vulnerable. He admits when he doesn't know the answer and encourages the class to think through the question together.
Those are the parts Kulkarni says he might miss.
And his colleagues.
Kulkarni has made lifelong friendships in the department, working with other faculty members to build new department programs and supporting younger professors.
Colleague and friend Angelina Saric, associate director of information systems, says Kulkarni had a central role in shaping the department's positive culture. The value he placed on each faculty, staff, and student member was visible, she says.
"Uday has been an exceptional colleague and positive figure," Saric says. "No matter what's going on with him, he always cares and wants to know how someone is doing. He is one-of-a-kind, and his presence in the department will be greatly missed."
Kulkarni's goal was to create an environment for fellow faculty and students to feel good about themselves. He says his realization and revelation are about the people.
"This is not about accomplishments, but about being kind. I've found that being kind makes me happy," he says.
Kulkarni and his wife, Sarita, decided to retire this year. They planned to travel the world, visit national parks, and be in nature. Sadly, Sarita passed away last year.
The two were married for 40 years. He'd come home after work each day and share all the wins and losses of the day with her. She was his biggest supporter. Kulkarni says now that Sarita is gone, teaching doesn't feel right.
He'll honor his wife by sticking to the plan, even though it looks different now. He still plans to travel — he has a three-week-long vacation with college friends beginning in London and will celebrate his youngest daughter's wedding this summer in Ireland.
He says he'll get back to his woodworking hobby, making cabinetry, which, like teaching, requires a good amount of perfection and patience. Kulkarni plans to continue with Sarita's hobby of gardening. He's also trying to perfect some of her recipes and teach them to his three daughters. He's also found a new hobby — singing, a skill introduced by his 93-year-old father. His father plays the harmonium while Kulkarni sings. He's also an avid yoga practitioner, and he's learning Spanish.
Kulkarni's advice for his students is to get to know their professors and build relationships because they are rooting for them.
Senior lecturer and beloved teacher Robert Wood retires
Having primarily taught first-year students, Wood encourages and helps his students figure out what they want to do. To do this, he tasks his students with three things:
Find something you enjoy doing.
Find something you can be proud of. "You can't be a ski bum forever," he says.
Find something to pay the rent.
Also included in that list is to go to every class. Getting at least a B in any subject is almost guaranteed if you show up to class, Wood says.
"Showing up is 80% of the job; that's equally true in school," he says.
Wood estimates he's taught more than 36,000 students, as his CIS 105 course introduces computer systems and technology. Wood says helping those bright-eyed, eager first-year students find a career path has been fulfilling and fun.
"I like to think of myself as a teacher more than anything else," he says.
Wood didn't start that way. He grew up on the East Coast and earned an undergraduate degree from Harvard University; then, he attended the University of California – Berkeley for a doctoral degree.
He began his career in the corporate world, working first at Baird Atomic, developing computer models for infrared tracking systems, then at Greyhound Lines, where he was responsible for all information systems functions within the company.
Then he was laid off. It was the worst day and the best day of his life; the latter led him to teach. He joined the faculty at Drake University in Iowa in 1988, then made his way to the W. P. Carey School of Business in 2005.
"I got into teaching by accident," he says.
Teaching became the job he never knew he wanted. Wood's joy from teaching and caring for his students is evident, and being around 20-year-olds keeps him young and hip. His grandkids think he's cool, he says.
Wood's consistency and care earned him the Outstanding Teacher in Information Systems award in 2015 and 2020. He received the Pat Tillman Veterans Center Honor Roll award for "dedication to student veterans at Arizona State University."
W. P. Carey Principal Lecturer Matthew McCarthy worked alongside Wood for 12 years and said Wood is indispensable and will be dearly missed.
"He's an educator for all the right reasons," McCarthy says.
Wood technically retired from the industry career and Drake University, making this his third retirement.
"This is the third time I've retired, so we'll see what happens," he says.
He plans to spend more time with family — his wife of 40 years, three great-grandchildren (and a fourth on the way), eight grandchildren, and three children. He and his wife have focused very much on family life.
To keep his "mind firing," Wood co-authored a book about business cases that incorporate Excel problems.
Between fishing trips, Wood and Kulkarni will remain involved with and connected to W. P. Carey as emeritus professors.