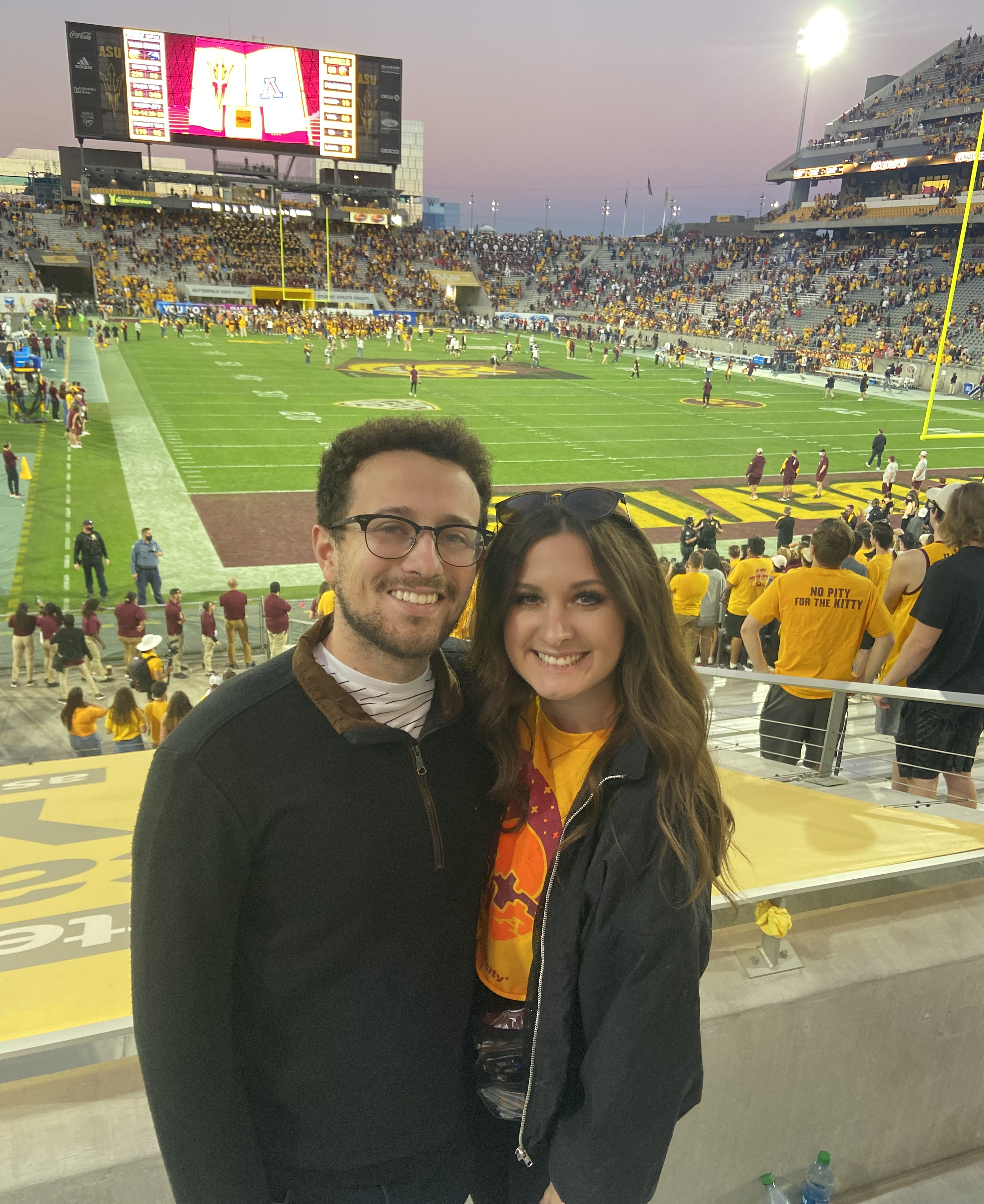 Catching up with W. P. Carey Cupids whose friendship leveled up on a trip
While traveling to a conference, friends Madison Furnas (BS Marketing '22) and Adrian Lauderdale (BS Marketing '21) began to see each other in a different light.
Sometimes students leave the W. P. Carey School of Business with more than a top-rated education — they find a life partner, too. We call them W. P. Carey Cupids — couples who met at W. P. Carey and are now making lives together.
Five hours as seatmates on a flight to New Orleans and an ensuing conference helped turn a year-and-a-half friendship into something more for Madison Furnas (BS Marketing '22) and Adrian Lauderdale (BS Marketing '21). We caught up with Madison and Adrian to learn about the special place ASU and W. P. Carey hold in their relationship.
Question: Where are you today?
Answer: Adrian: We're in Boston. I moved here right after I graduated in July 2021, and Maddie moved here a year later.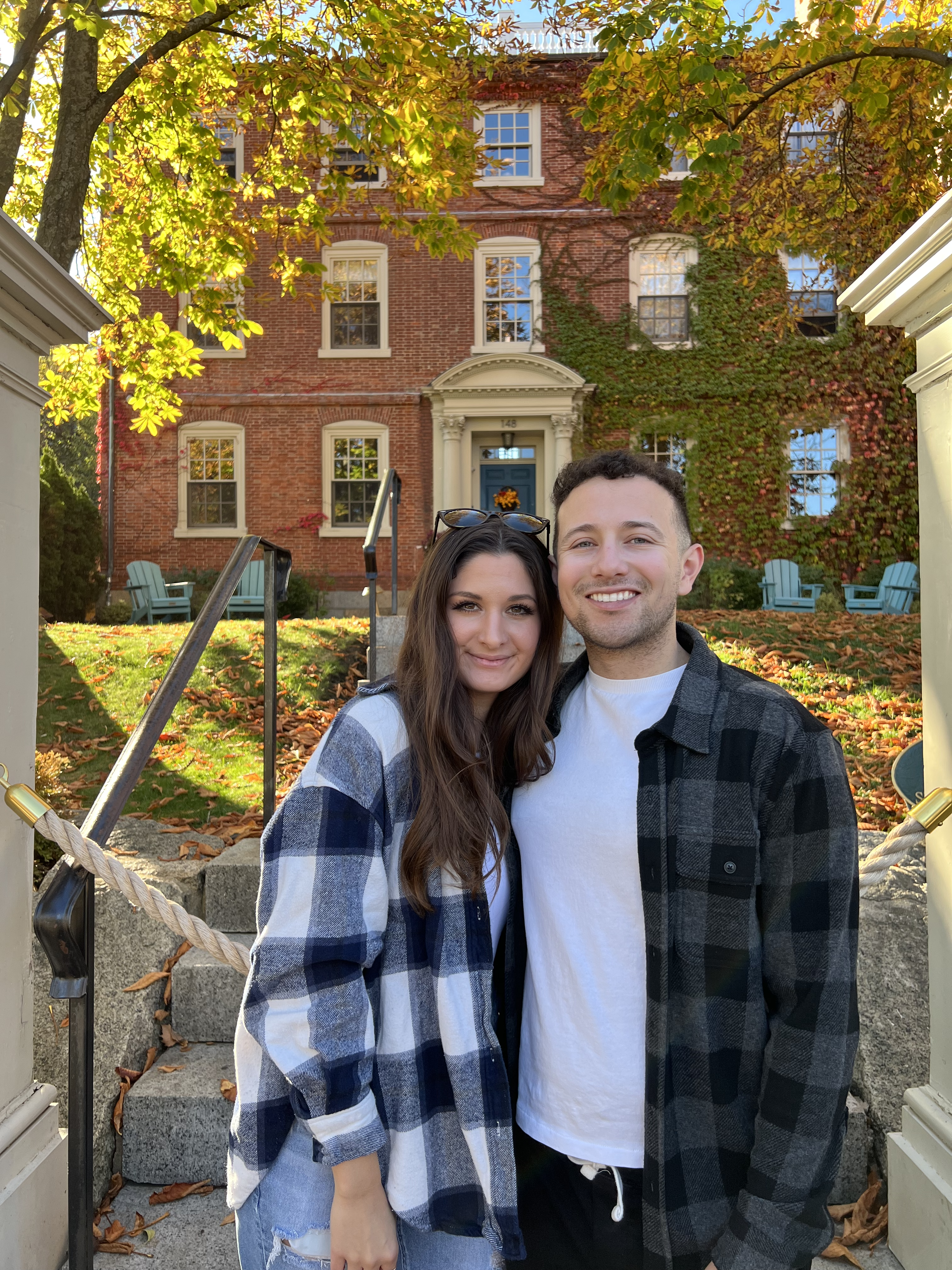 Answer: Madison: It was special because he wasn't sure he was going to Boston. He graduated a year before me and was thinking about Denver or New York or some of the other offers he was getting. And then when he heard from Boston, I was like, "Great, go there because a company I've been wanting to work for is there and I'm hoping to apply." And sure enough, I got it, and we ended up in the same city.
Q: How did you meet?
A: Adrian: We met during W. P. Carey Involvement Week and from there, I recruited Maddie to the American Marketing Association (AMA). We were both in the AMA and on the leadership board together and became friends that way.
Q: What's a favorite memory from your time at W. P. Carey that you share?
A: Adrian: The AMA has its annual International Collegiate Conference (ICC) in New Orleans, where you compete in marketing and sales competitions and network. We started talking when we went to that conference together.
Madison: It was fun because we were able to practice our competitions with each other. And then, even when Adrian graduated, he was able to watch me continue to go to those conferences and compete. We loved ICC and miss it — we wish we could still go.
Q: So, the conference is where your friendship took a romantic turn?
A: Madison: It probably took a bit of a romantic turn before the trip because, to be honest, I don't think I hung out with Adrian specifically for the entirety of the trip because I'm very competitive and was so focused on the competitions. Boys were not on my mind! But before that, we always hung out after classes, and, because of AMA, we had all these after-school activities. Afterward, we would walk home in the same direction and chat. All those little things sparked it, and then both times we went to ICC, everyone else was on the same flight, but for some reason, it filled up before Adrian and I booked our flights. So, we were always the last two stuck on the same flight together — and we did not coordinate it either time — and we sat next to each other and had five hours to chat. We got to know each other and were like, "Wow, we have a lot in common."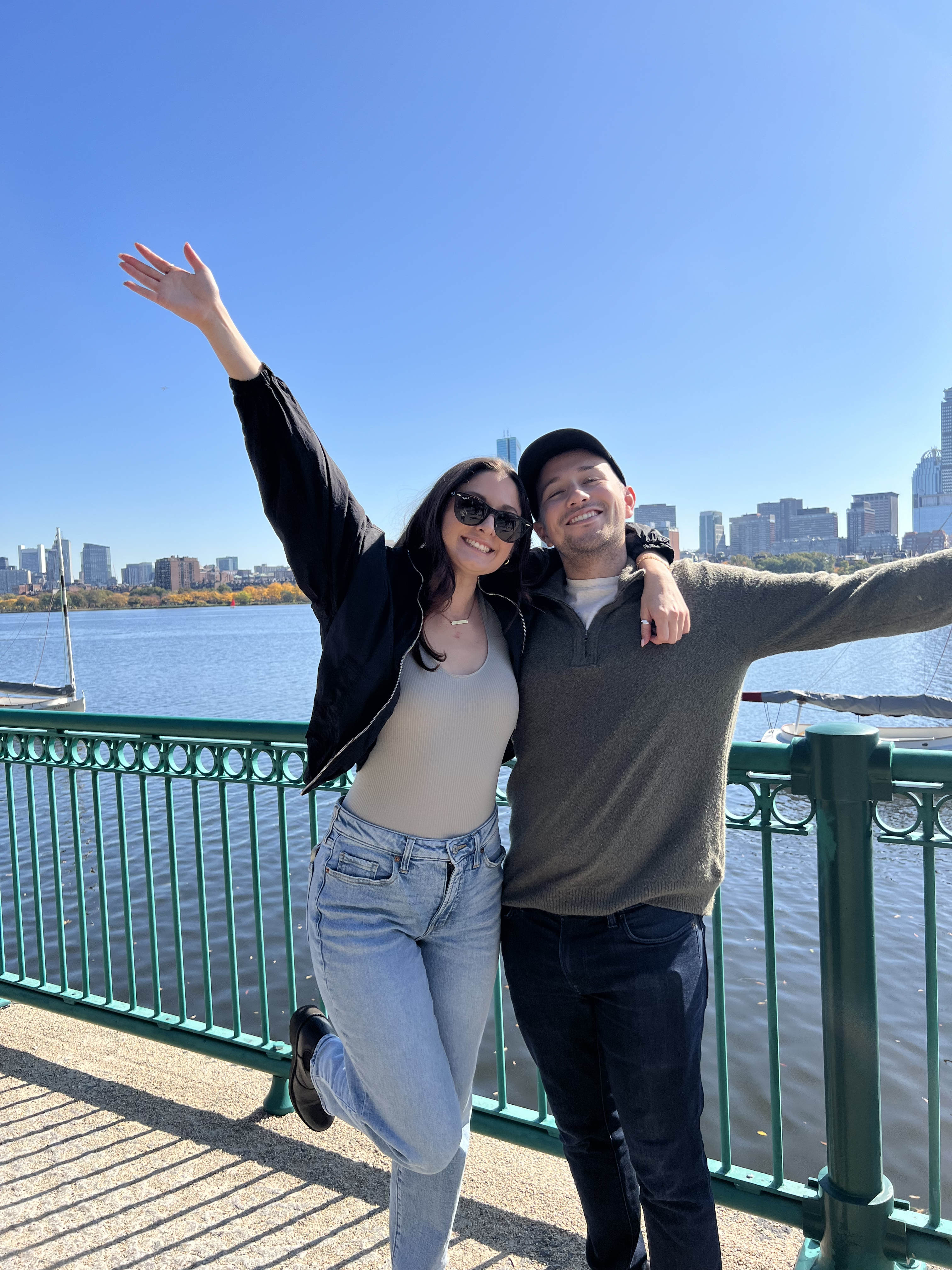 Q: What was your favorite place to spend time together on campus?
A: Madison: Our absolute favorite place was Leaders Academy. We loved it. We made so many connections there and it's where we hung out with all our friends, not just each other. I remember grabbing coffee in the morning and going to Leaders and it was peaceful and quiet. In the evenings, we would hang out at Hayden library, grab a pizza, and study with friends for the classes we had together.
Q: How have you stayed connected to ASU and W. P. Carey?
A: Madison: We've stayed connected through mentorships, friends, and the staff connections we've made. Mentorship is a big aspect of it because organizations will come to us with questions and a lot of them are still our friends. It's nice to be kept in the loop and hear from them, especially since we're so far away we can't visit. There are also quite a few staff members we stay connected with, like our career coaches, and, as a student worker, I worked for Michelle Laws [international programs manager] and Barbara Parkinson [manager of undergraduate scholarships], so I stay connected with them.
A: Adrian: Our closest friends are either still in college at ASU or have recently graduated. And we serve as mentors in a way to some of those people. It's a great way to stay connected. Occasionally, we're asked by students to speak and share wisdom with their organizations. We enjoy it a lot and it's one of my favorite ways to stay connected.
Q: When was the last time you visited campus?
A: Adrian: I was there to see Maddie graduate in May 2022 and that was very special. With my circumstance of graduating virtually [due to Covid], it was a fun experience being at Sun Devil Stadium and seeing Maddie graduate in person.
A: Madison: I visited in December 2022 and caught up with some friends from AMA, which was fun. A lot of those friends will graduate this upcoming May.
Q: What's your advice for couples who meet at W. P. Carey and date during college?
A: Madison: Our time at ASU was incredible for our self-growth and trying to figure out who we were. For anyone dating in college, it's best to find yourself with someone who is your teammate and can support you through this growth. You should still grow as your relationship grows. It will make the relationship much stronger and more interesting, too. When Adrian and I were dating in college, we went through lots of long-distance phases — I was in another country for long periods. This allowed us to grow as a couple and space for us to grow individually. You want to find someone who is your teammate and will understand your goals and priorities in life.
Q: What are you looking forward to?
A: Adrian: We have big plans this year — we're coordinating a trip to Italy for our third anniversary in April. It will be both of our first times in Italy, but my first time overseas. It will be fun to have that shared experience together visiting Venice, Florence, Rome, and Amalfi Coast.
A: Madison: I've traveled a lot and I've never been able to take Adrian with me. We even dated long distance when I was studying abroad in the U.K., and I wanted him to visit but it never happened with Covid. So, we've been preparing for this trip for a while and we're excited!
Find more cupids who found their person at W. P. Carey here and here.