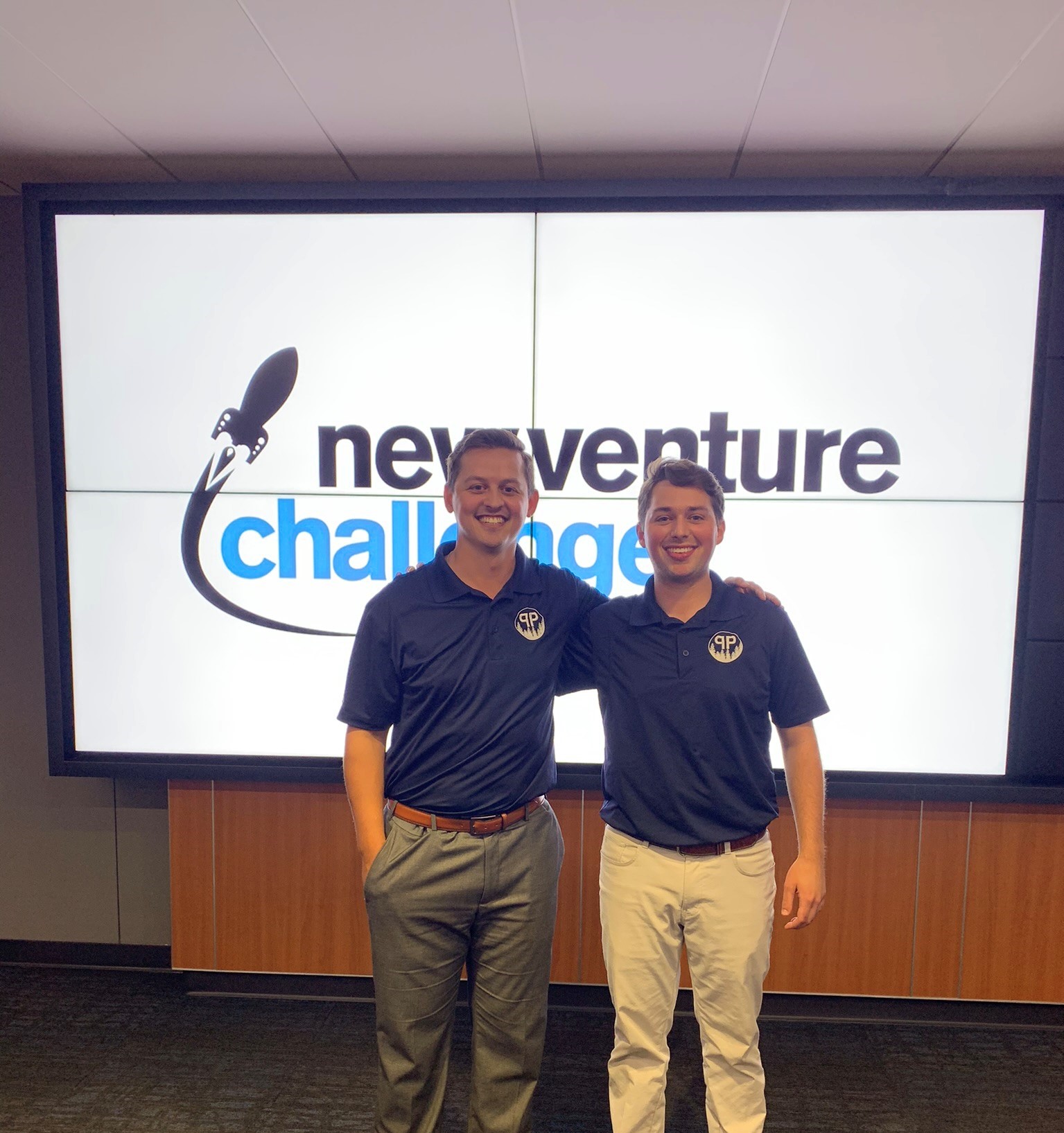 MBA team wins $30,000 for entrepreneurial venture
Roman Stephan and Jeff Watkins are the first MBA team to win the New Venture Challenge for their sustainable beverage product.
Molly Loonam
This past May, Full-time MBA students Roman Stephan and Jeff Watkins presented their business pitch for Proper Pack — a sustainable, paper beverage packaging product — to a crowd of judges, mentors, and peers at the New Venture Challenge finals.
The New Venture Challenge is an annual, application-based eight-week course that aims to empower student entrepreneurs to grow successful businesses and culminates in a competition for an investment in their business.
"After our presentation, there were 10 minutes of Q&A, and one question was, 'How does it hold up?' " says Watkins. To answer, the teammates handed that individual a freshly packaged four-pack of canned beverages. The audience member started shaking the package, and Stephan and Watkins' product held up.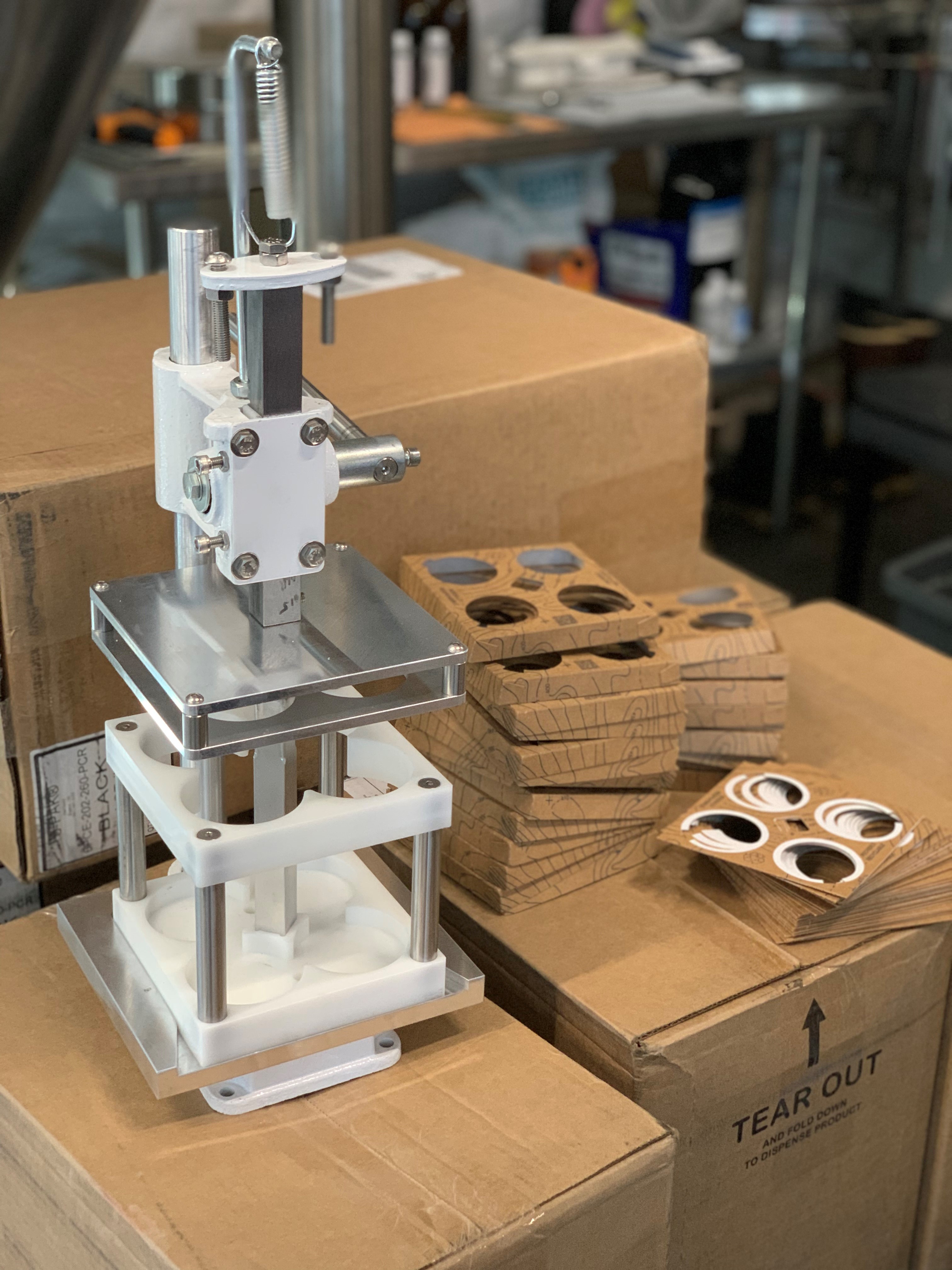 "Jeff immediately turned around, and we high-fived. The judges seemed shocked and impressed that it worked as well as it did," says Stephans. "You hear 'paper can carrier,' and it doesn't sound like it will hold cans, especially when thinking about 64 ounces of fluid."
This innovative design and hands-on demo helped seal the deal for Stephan and Watkins, who became the first MBA team to win the New Venture Challenge. As a result, the two received $30,000 to continue developing Proper Pack.
"It was one of those disbelief moments," Stephan says. "We put the work in, but it's different when you hear you won."
Opening the door to innovation, and adaptation
Both Stephan and Watkins also hold bachelor's degrees in business entrepreneurship. And after connecting at the MBA orientation last fall, Stephan proposed the duo start a business together — from there, the New Venture Challenge seemed like a natural next step.
Now in its sixth year, the New Venture Challenge was pioneered by entrepreneur and visiting scholar, professor, and researcher Scott Wald (BS Management '76, MBA '79) and is run by the Center for Entrepreneurship and New Business Design at ASU's W. P. Carey School of Business.
For most students, the challenge is a unique opportunity to take their established entrepreneurial businesses to the next level. However, Stephan and Watkins had a different experience.
"Every other company was much more developed than we expected," says Watkins, with some already generating thousands of dollars in revenue before the start of the course.
By comparison, "we actually changed our concept to Proper Pack during break on the first day of class," he adds, despite applying to and being accepted into the challenge with a different business model and concept.
"Roman and Jeff gave us a real opportunity to see something very novel," adds Jared Byrne, director of the Center for Entrepreneurship and New Business Design. "Traditionally, students who participate have been in entrepreneurship for long enough that they self-identify. They say, 'I want to go for venture capital funding, so I will take that course. But this course doesn't traditionally work with an untested idea. So, it was entertaining and inspiring to work with Roman and Jeff as they were going through this process."
The concept behind Proper Pack stemmed back to Watkins' time as an undergraduate student, inspired by his cousin founding a brewery.
"He had said, 'I would love if someone could make a paper can carrier," says Watkins. "But then you connect the dots on sustainability, which is our goal, and it becomes a no-brainer if you can match the price of the plastic packaging."
After successfully changing their concept to Proper Pack, the team spent the next eight weeks developing business and financial models and attended classes featuring guest speaker sessions focused on entrepreneurship alongside their fellow competitors. Various professional mentors were also available to coach and provide feedback.
But a majority of the work took place outside the classroom. When they weren't modeling their prototype or researching their customers and competition, Stephan and Watkins were in the field pitching their product to breweries across the state.
They were so successful in this endeavor that by the time the New Venture Challenge was in the semi-final round of pitches, their prototype was actually already on loan.
"It was interesting because they had created this device, and they couldn't show it to anyone because they already had a customer using it," says Byrne. "Then they made it to the finals. What they accomplished in such a short period of time was very impressive."
Lessons that continue for life
Long-term, Byrne says his only advice to this year's winning team is to continue what they've been doing.
"They were so open to feedback. They came to class, engaged, and worked with their customers. They worked with the mentors. It was a living, learning laboratory for them," Byrne says. "If they continue to do that with their customers as they move forward, I think Roman and Jeff will be much bigger than maybe even Roman and Jeff understand they're going to be."
As the New Venture Challenge itself also grows, Byrne hopes to expand the program to two cohorts a year.
"I don't believe that there is any program at ASU that is better situated to train students on how to scale investable business models," he says. "Entrepreneurship is not linear. We try to create an ecosystem where no matter what you're running into, somebody here can help and give you feedback."
For Stephan and Watkins, what's next involves continuing their MBA programs and further developing Proper Pack.
"We built out what goals we have for this next year. We're going to put together a timeline, measurables, an action plan, and strategy for hitting those projections," says Stephan. "We took a little bit of time to enjoy being done with the first year and winning the New Venture Challenge, so now it's time to go back to work."
Over the next five years, the duo hopes to gain more Arizona customers and grow the company enough to employ themselves after graduation.
"I always knew I wanted to start my own business," says Watkins. "Now that's shifted to something real and present."
Top photo: Full-time MBA students Roman Stephan and Jeff Watkins at the New Venture Challenge competition at Avnet Hall on May 1, 2023. Photo by Jye Ling Lu.