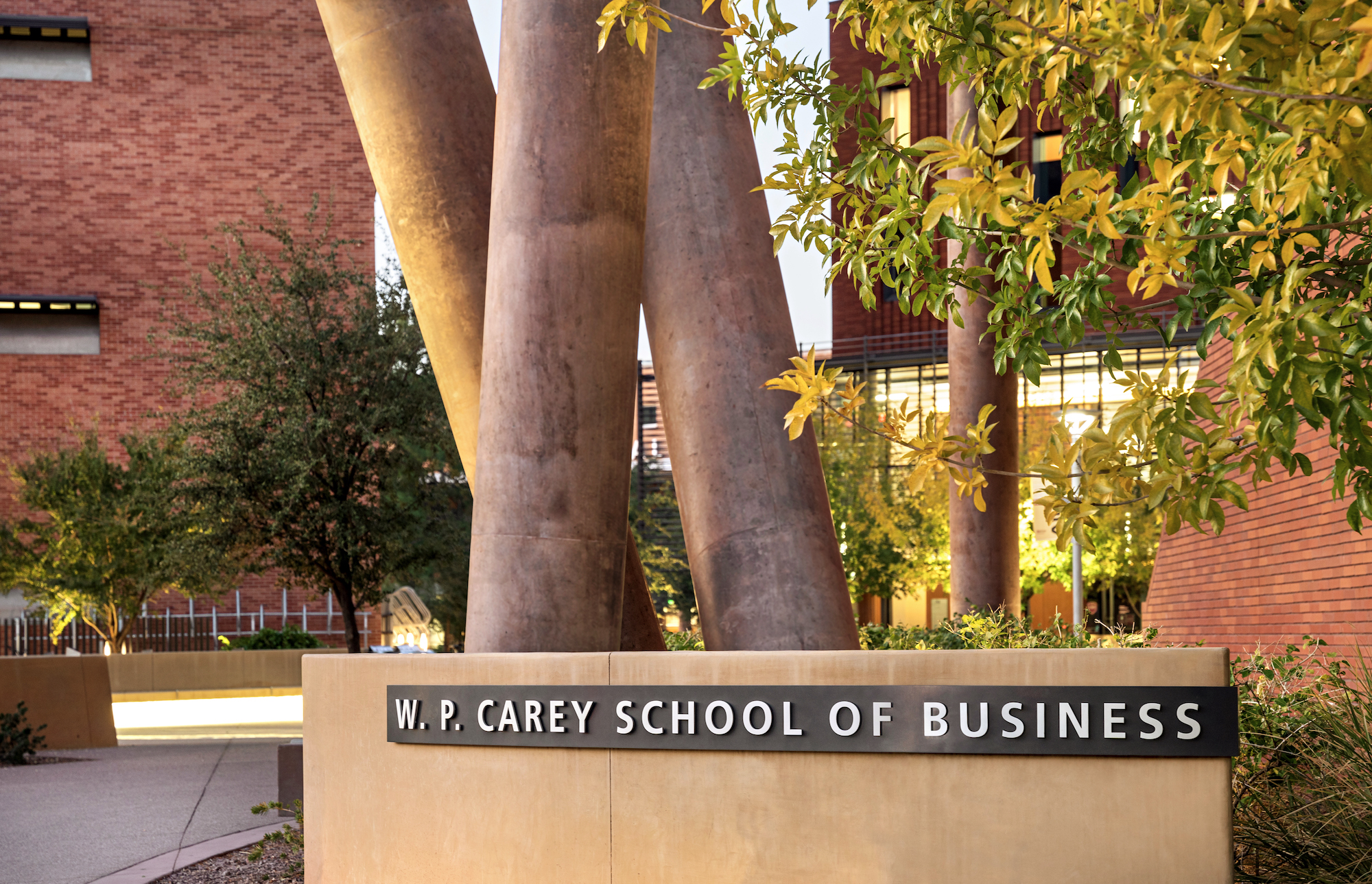 Santa Clara Pueblo Native student leverages MBA to impact wider communities
Current student and MBA Association co-president, Jamelyn Ebelacker, came to ASU's W. P. Carey School of Business after spending years working abroad with the Peace Corps. The global pandemic and discovering the Carey Code led Ebelacker to change course and pursue a Full-time MBA.
Rachel Clark
Current student and MBA Association (MBAA) co-president, Jamelyn Ebelacker, has always focused her life around helping others. Ebelacker came to ASU's W. P. Carey School of Business after spending years working abroad with the Peace Corps.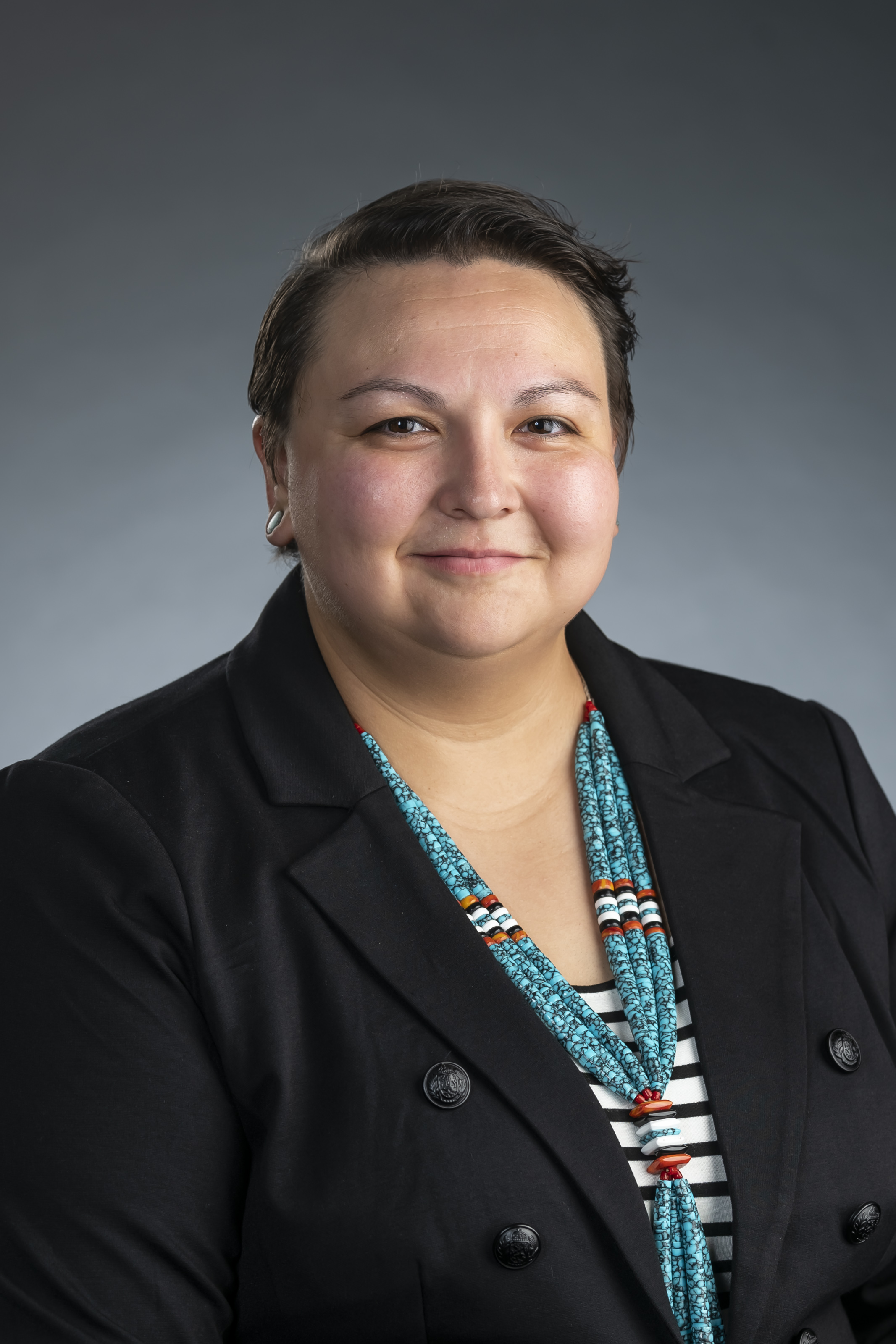 "In March 2020, I was living my best life as a Peace Corps Volunteer Leader on the island of Saint Lucia in the West Indies," she says. "I was in my third year of service abroad, working in the head administration office of the Eastern Caribbean post."
Each day, Ebelacker facilitated community and educational development projects across four different islands — helping volunteers write and secure grants, overseeing training programs, and fostering spaces for positive community relations to grow.
"In that role, I watched libraries get built from the ground up in remote villages," she says. "Classrooms with new books and supplies came alive, and children received the support and quality education they deserved. I served with passion and pride and was privileged and humbled to have the opportunity to do so."
A global pandemic forced Ebelacker to change course. Discovering the Carey Code — the code of conduct that connects and fuels the W. P. Carey School of Business community — was one of the reasons she decided to pursue a Full-time MBA from ASU. W. P. Carey news interviewed Ebelacker to learn more about her journey.
Question: After the Peace Corps and finding yourself suddenly back in the U.S., how did you choose to pursue a Full-time MBA at ASU?
Answer: Thankfully, I soon found myself in a position to follow my passions for sustainable and equitable community development and began working as a Program Manager and Creative Producer with several BIPOC and Indigenous organizations. As a proud Santa Clara Pueblo native with a background in the arts, I was honored to once again have the opportunity to assist communities of artists, activists, and changemakers.
I felt that the work I was doing nationwide was vital to the strength and health of these communities and groups, and the personal fulfillment was rewarding beyond words. But in the back of my mind, I knew I could do more if I had the knowledge and education to back it up. Thus began my search for a higher ed program that would enable me to continue this work I loved so much, while maintaining the values of "people and planet over profits" I hold dear.
What stood out for me about the W. P. Carey School's Full-time MBA program was their Where Business is Personal attitude, and the Carey Code, which simply states:
I am a W. P. Carey Sun Devil:
I contribute to our legacy and live our values of excellence, integrity, impact, and community.
I demonstrate that business is personal by treating others with respect and kindness.
I advocate for diversity, equity, and inclusion to create stronger organizations and societies.
I embrace and exhibit ethical business practices and lead others by example.
I champion fellow Sun Devils and volunteer when and what I can to promote their success.
And, together, we will spark positive change in the world, by doing good while doing well.
I submitted my application after reading this because I knew I had found my place.
Q: What does being a part of the W. P. Carey community mean to you? Are there any relationships or resources that have made a difference for you?
A: Community to me is everything. It's the lifeblood of any group of people with common goals, and it's the support system that keeps individuals thriving and growing. The community here at W. P. Carey lives up to that, and more.
My cohort boasts some of the greatest people I've ever had the privilege to know, with boundless kindness, generosity, and understanding. Not only do staff and students alike champion your efforts and celebrate your victories, each and every one of them will go out of their way to help you succeed.
I've heard stories of academic programs where the opposite is true. Where competition and getting ahead at all costs is the norm and students often must fend for themselves. I can only imagine how that behavior manifests in individuals when they go out in the world, but that doesn't fit into the vision of any future I want to be part of.
Here at W. P. Carey, we lift each other up, we rise together, we look out for one another, and when one of us wins, we all do. The benefits of a community like that are felt far and wide, and I can't wait to see what amazing things this group will do when we set out into the world.
Q: How do you feel W. P. Carey students create meaningful change in the community, on campus, and in their careers?
A: The program at W. P. Carey is structured in a way that allows for students to create their own path. While there are prerequisites and milestones every student must achieve as part of their degree plan, each student is given every opportunity to pursue their educational journey and career goals in ways that make sense to them.
For many here, including myself, the pursuit of an MBA is about much more than a piece of paper or the promise of future job security. Many of us are on a mission to go back out into the world and "leave it better than we found it," which is something my cohort talks about often. That attitude and belief system manifests itself on campus each and every day, whether it be through student groups organizing volunteering projects around Tempe, providing pro bono work to community nonprofit organizations, or pursuing a concurrent sustainability certificate through ASU's School of Sustainability.
While staff and faculty at W. P. Carey do an incredible job helping to facilitate these activities, the initiative comes from the students, as there's an understanding throughout our cohort that if we want to create meaningful change in the future, wherever our careers may take us, we have to start here and now.
Q: What are you looking forward to next in your program? What about after you graduate?
A: At this point in my academic journey at W. P. Carey, it often feels as if I've climbed the tallest mountain in the land and can now see clearly for miles in every direction. It's a rare feeling to come to a point in your own life when the possibilities for what comes next seem limitless.
The knowledge and skills I've gained in just one year of this program have bolstered my confidence in moving forward my career and life goals with a clarity that barely existed before. This next year, I'll be taking more classes in the consulting and marketing tracks, while mixing in project and budget management courses for good measure. The classes I take towards the sustainability certificate program will also provide great insights on topics important to me, such as ethical and conscious capitalism, corporate social responsibility, impact investing, and the circular economy.
My ultimate goal is to return to my tribe and work with our development corporation to continue to bring about positive change for our community, with economic development opportunities, financial literacy and security, and tribal legal sovereignty. As my ancestors have done before me, it is now my charge to ensure the resilience and endurance of our peoples for the next seven generations to come, and this program is one more step in the direction of my ability to do so.
Ready to learn more about the ASU MBA?
Request information directly from our graduate recruiting team. We can't wait to meet you!