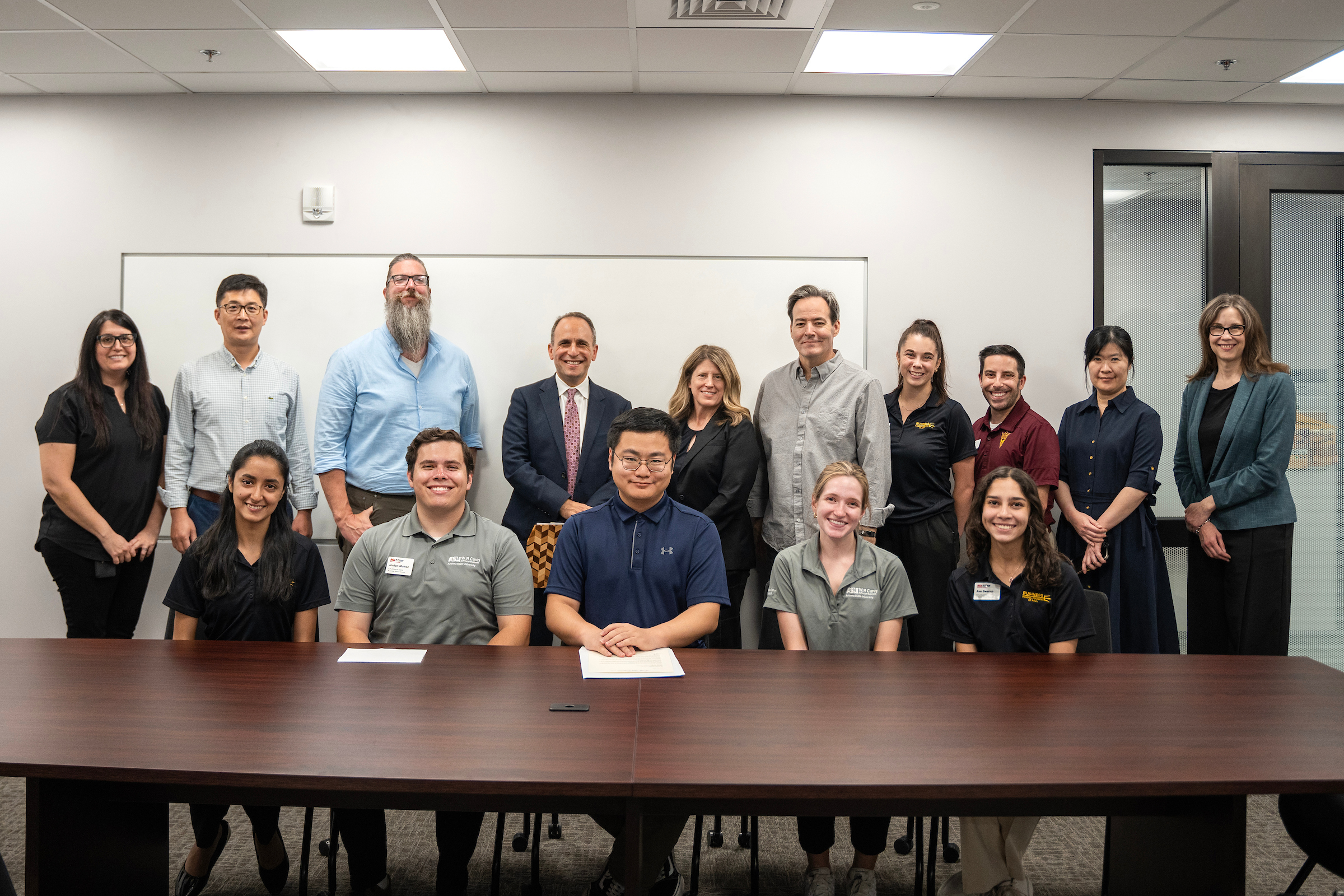 W. P. Carey teaching assistant honored with John W. Teets Award
Xiaohui Zhang was one of three faculty honored with the award this spring for his commitment to educating students about the information systems field.
Molly Loonam
Xiaohui Zhang was shocked when students, faculty, and staff surprised him with the 2023 John W. Teets Award for Outstanding Undergraduate Teaching Assistant this spring.
"This award encourages me to continue my teaching philosophy of being a responsive and practically oriented instructor," says Zhang, an information systems (IS) graduate research associate and fifth-year PhD candidate. "I appreciate that students recognize my efforts, and I appreciate the Teets family's endowment for this award and their unwavering dedication to supporting education."
The John W. Teets Award was established in 1999 by Phoenix business leader and philanthropist John W. Teets to recognize and honor outstanding ASU professors and teaching assistants. A student awards committee nominates and selects award recipients based on enthusiasm for student success, course subject matter, and a commitment to education by going above and beyond to help students understand course curriculum.
Greg Collins, assistant teaching professor of supply chain management, received the award for outstanding undergraduate teacher, and Rivadavia Drummond, clinical assistant professor of management and entrepreneurship, received the award for outstanding graduate teacher.
Zhang says he felt "happy and honored" when Daniel Gruber, associate dean for teaching and learning and clinical professor of management and entrepreneurship, presented him with the award. John W. Teet's daughter and wife, Heidi and Nancy Teets; Pei-yu Chen, IS chair and Earl and Gladys Davis Distinguished Research Professor in Business; the student awards committee; and faculty from the IS department and Office of the Dean joined Gruber when he presented the award.
Zhang says he values being a resource for his students by providing them with meaningful feedback and guidance. He often personally reaches out to students falling off track to offer additional support.
"In my teaching experiences, I have most enjoyed the mutual learning process," says Zhang. "My students come from various backgrounds and bring unique and original perspectives to group discussions and assignments. It inspires me to revise course content further to bring more value to students and their future careers."
Zhang earned his bachelor's degree in engineering management and master's degree in management science and engineering from Shandong University in Jinan, China. His research focuses on the governance of social media platforms, including detecting fake news, moderating inappropriate users, and newsfeed channel regulations. In his next paper, Zhang will investigate the impacts of banning social media users based on their content generation, as research suggests suspending social media accounts for improper behavior does not stop users from posting low-quality or inappropriate content.
"Research in the IS field is intricately linked with emerging technologies and how they influence business and society," says Zhang. "Keeping abreast of IT [information technology] advancements energizes and renews my enthusiasm for the field."