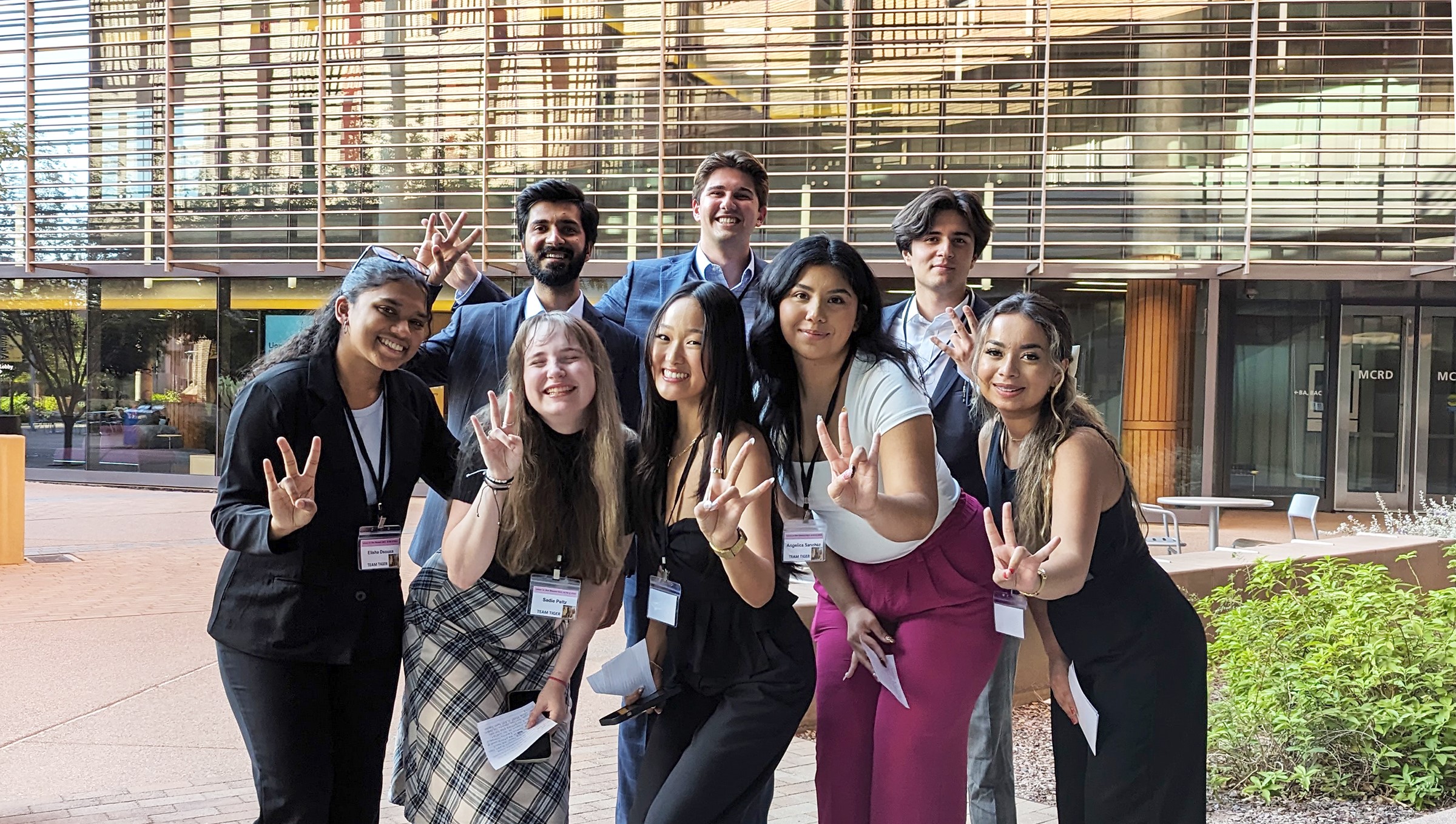 Lions rule the desert in first-of-its-kind brand building competition
An ASU professor brings global creative awards event to W. P. Carey.
Perri Collins
Held annually in Cannes, France, the Cannes Lions International Festival of Creativity is home to the world's most prestigious advertising awards. Over the past two years, a small contingent of ASU students took part in the festival through a global education course led by Clinical Assistant Professor of Marketing Nancy Gray. This year, Gray brought the excitement of the international competition to Sun Devil Nation with the first Lions in the Desert competition at ASU's W. P. Carey School of Business.
The competition was Gray's brainchild. "Cannes Lions is the Academy Awards for the advertising industry," she says. "Other schools were taking students there, but you can't take them all when your university has 100,000 students. So instead, I thought, how can we bring Cannes Lions here to Arizona State?"
Over the past year, Gray has worked to bring the Cannes experience to ASU and introduce students to what's possible in their future careers. Two student organizations contributed to the effort — Adworks and the American Marketing Association. The two-day Lions in the Desert event featured keynote speakers and jurors from Cannes Lions, State Farm Insurance, and two award-winning global firms — Havas SA and Mindshare. Arizona-based agencies hosted expo tables, provided coaching, and served on first-round juries.
Gray challenged student teams to create an innovative marketing campaign for local business Sweet Republic Ice Cream. They had 24 hours to develop a strategy and a 30-second commercial to draw new ice cream lovers.
Sweet Republic owner Jan Wichayanuparp had never worked with an agency before and was looking for a guiding message for the popular ice cream brand.
"We got a lot of creative freedom to come up with a strategy and marketing plan for the company," says Jenna Rodriguez (BS Digital Marketing '25). "Our team wanted to emphasize how Sweet Republic was a locally owned business and focused on building community through ice cream."
"This experience just reinforces that I picked the right major. I can see this being something I'm passionate about and thoroughly enjoying it," says Rodriguez.
Even though the competition took place over ASU's fall break, over 140 students attended the Monday morning career expo, and nearly 80 students participated in the two-day competition. Each team received a creative brief and package of ice cream samples to experience the brand and were grouped into teams named for other big cats in the wild (with the winners being dubbed the true lions of the competition).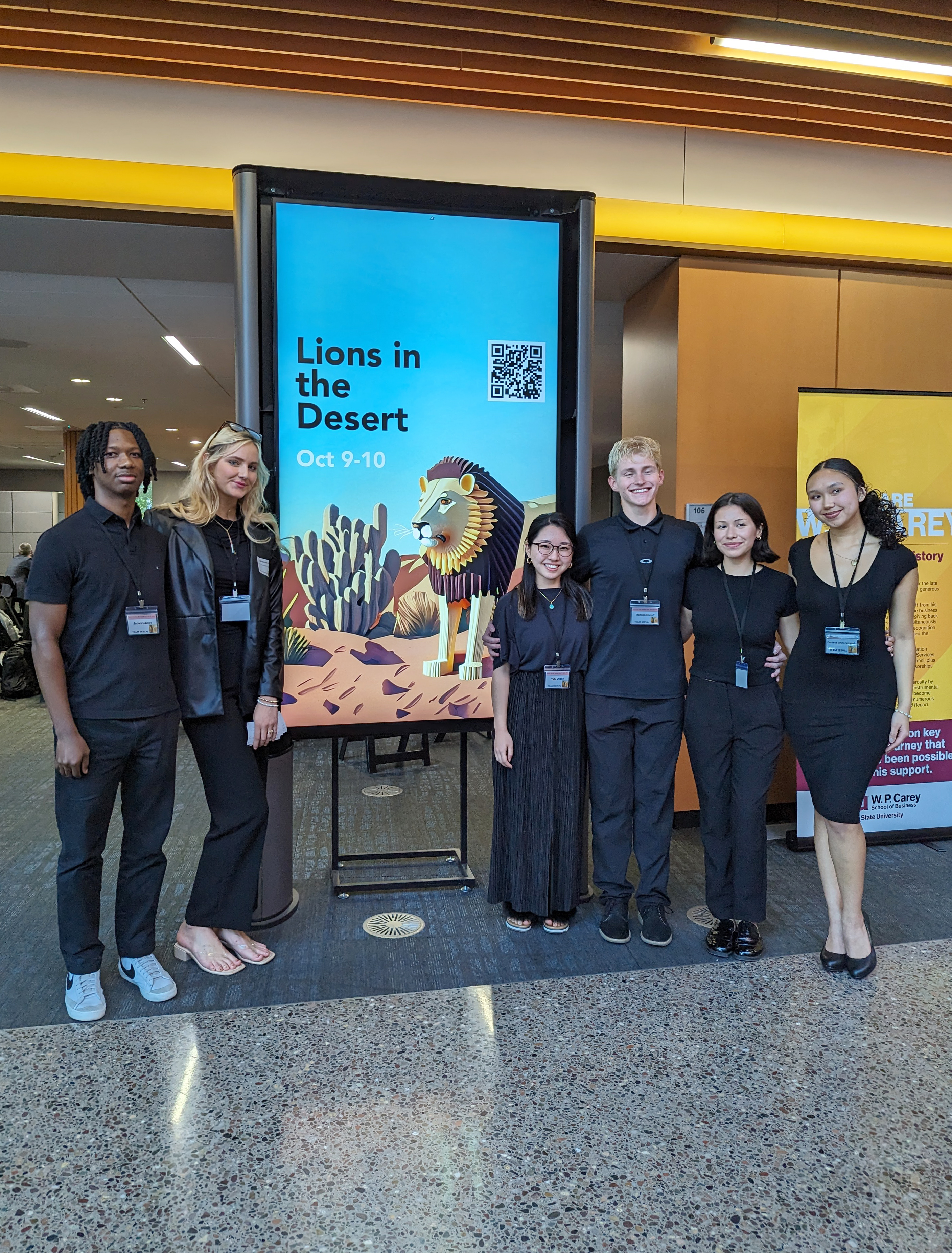 The event kicked off Monday at 8:30 a.m. in McCord Hall with breakfast and a mindshare and finished at 8 p.m. Tuesday with a presentation from the four finalist teams, a keynote speaker, and an awards presentation in the Student Pavilion.
For senior Jacari Gaines (BS Digital Marketing '24), participating in a competition like this was a first.
"I wasn't sure what to expect. I've done similar assignments for class, but having only 24 hours to do this with a group of people I've never met before, it was a new experience for me," he says.
Noah Patch (BA Business Communications '25) learned about the event through an email from the American Marketing Association student club. "I saw this as a great opportunity to simulate a real-world experience," he says, adding that working with students from other schools and majors was a good opportunity to learn from people with different perspectives. "It allowed us to be creative and make our ideas shine."
While business students made up the bulk of participants, Gray invited students in other majors to participate.
Diana Damurjian (BA Filmmaking Practices '23) was intrigued by the opportunity to learn more about the business side of creative work. "My group had people with diverse backgrounds. The first two hours of working with my group was nonstop brainstorming. It was cool to see so many different mindsets."
"Two days is a very short timeframe to pull off something like this," Damurjian adds, explaining that putting together a successful proposal was about balance. "You want to be broad; don't pigeonhole yourself. But know where you're going with your ideas."
Covid made business owners realize how quickly they must be able to pivot. The jurors sought out three major criteria: strategy, creativity, and execution of the deliverables.
Juror Dawn Bates, a 20-year industry veteran and president of Nomatic, thought the competition was a great teaching opportunity and evaluated the teams through a professional agency lens.
"A brand can have many pillars to tell its story, but ultimately, there needs to be a single north star that we can follow," she says. "Some teams were able to bring that to life better than others."
Overall, Bates enjoyed listening to the presentations. "It was fantastic to be here. All of the teams were impressive. The work they did in just 24 hours was inspiring."
Tim Washburn, chief creative officer of the Harkey Group, was also delighted to be asked to be a juror. "I think it's fantastic that the school is creating these kinds of practical training programs, where students get access to real-world professionals," he says. "I loved participating in this and helping students figure out where they want to go. And the fact that W. P. Carey partnered with creatives from the Cannes Lions International Festival is incredible."
After receiving feedback from a panel of marketing and advertising experts, the four finalists prepared a final five-minute presentation to jurors and peers alike.
The winners were:
Grand Prix: Team Serval
Denisse Anne Cargado, Julianna Fuhr, Jacari Gaines, Trenton Imhoff, Yuki Okada, and Elisa Torres
Gold: Team Tiger
Elisha Dsouza, Jack Hipschman, Esteban Olivares, Sadie Peltz, Angelica Sanchez, Giselle Marquez Sandoval, Emily Stabilito, and Faseeh Yunus
Silver: Team Lynx
Jessica Bullock, Cassidy Miller, Eloise Odorisio, Noah Patch, Soleri Stephan, Chie Sugiyama, and Amanda Wright
Bronze: Team Caracal
Braiden Bedal, Diana Damurjian, Michelle Ivanova, Ashlyn Nargunam, Riley Swanson, Presley Symington, and Drake Tasev
Trenton Imhoff (Digital Marketing/Supply Chain Management '24) thought the competition was exhilarating. "This truly exemplified the potential of united creativity in shaping the future of the marketing industry."
Gray was impressed with the energy students brought to the competition.
"This was our pilot," says Gray. "And I'm looking forward to making it an annual event."