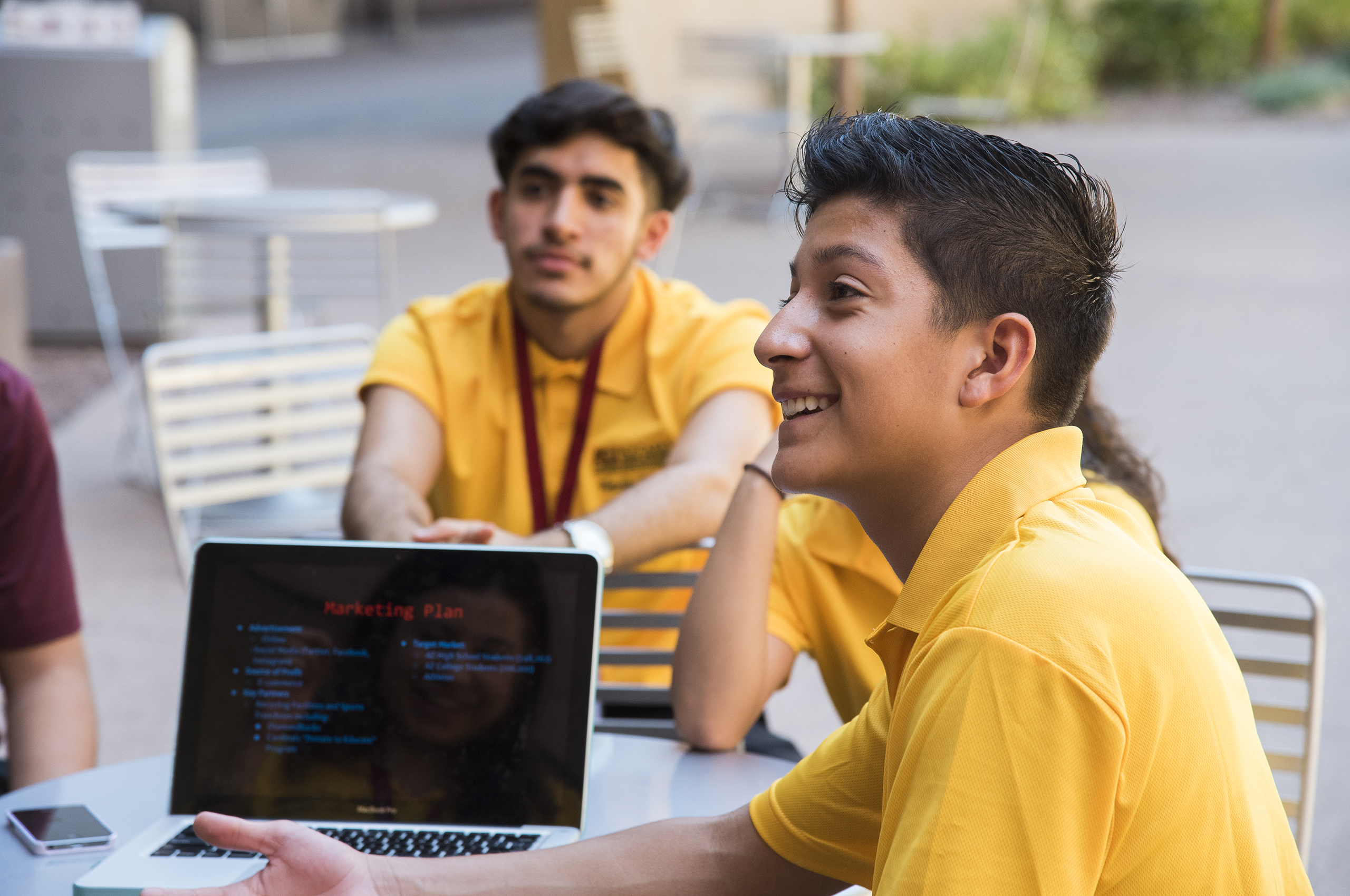 Fleischer Scholars: A high school summer program with real impact
Being a peer mentor for Fleischer Scholars was one of the best decisions Maeve Norton has ever made, not only because it has opened her eyes and opportunities for personal growth, but also because she was able to make a positive impact on the lives of wonderful young people.
Maeve Norton
Being a peer mentor for Fleischer Scholars was one of the best decisions I have ever made, not only because it has opened my eyes and opportunities for personal growth at W. P. Carey and the professional realm, but also because I was able to make a real, positive impact on the lives of some wonderful young people.
Fleischer Scholars is a one-week, residential summer program for deserving juniors from Arizona high schools. Through generous donations from the program's namesake (the incredibly successful entrepreneur Mort Fleischer and his family), some 40 selected applicants are given full scholarships to spend a week living at ASU, learning about business careers and education, and connecting with university staff, faculty, and students.
From the moment us mentors welcomed the mentees into their dorms and the program, I was pleasantly surprised to see how quickly we all bonded. Sure, mentors and mentees alike texted, called friends, and so on, but for the majority of the time, phones were left in backpacks and conversations were audible. I was amazed to see everyone adapt to the environment and new people so quickly. It was almost unreal how smoothly everything happened and how much we all laughed that first night, and every night thereafter.
Each day was filled with different, exciting activities from sunrise to sunset. Whether we were on the volleyball courts, in the lecture hall, or touring SkySong, all the mentees and mentors alike were very committed and active in the program's various activities. This contributed to an open, accepting, and relaxed atmosphere, making it possible and comfortable for all of us to bond with one another.
Perhaps the strongest relationships were built during group project and free time; each pair of mentors was assigned to coach four to five mentees through a group business presentation. By the end of the week, many mentees felt comfortable asking mentors important, personal questions about college, business, and even life in general, which might have otherwise been left unasked and unanswered. For me, the best part of the program was being able to bond with my small group through a variety of ways, from making up a silly dance to having some deep conversations.
While the goodbyes at the end of the program were pretty difficult, I can confidently say that the program was successful due to the relationships that I still have with some of my mentees, as well as their feedback about how the program has inspired them to explore various aspects of business and how they fit into them. Four, five, six months after the last day of the program, I have talked to former mentees about applying for college, getting through tough senior-year homework and exams, and starting out on a career path — questions that require a lot of trust, and show the strength of relationships built through Fleischer Scholars.
---
The bottom line: Serving as a guide for the scholars during such a pivotal and exciting time in their lives was absolutely amazing and unforgettable. Learn more about the impact Fleischer Scholars could have on your life.