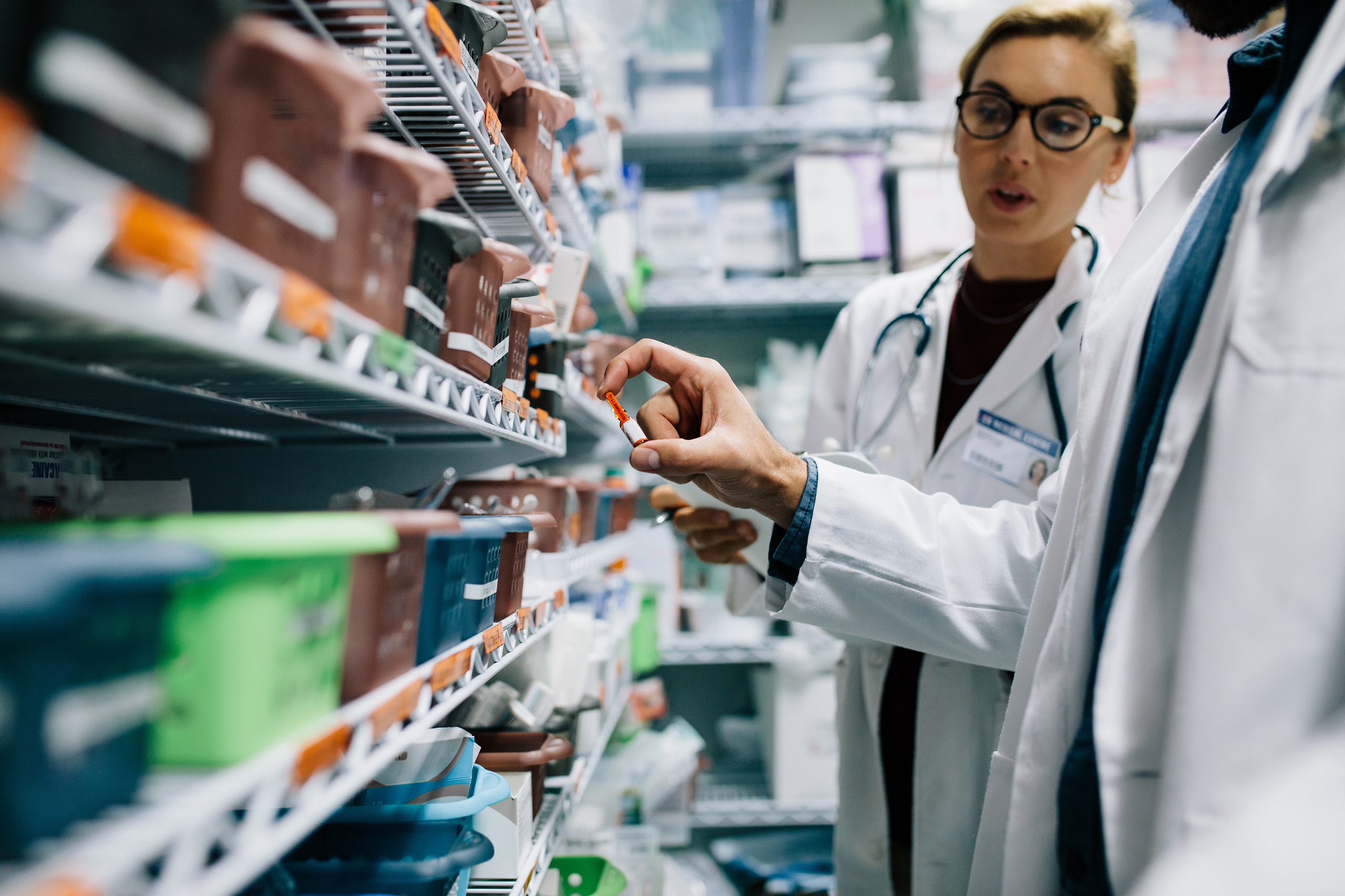 Hospital-doctor relationship is key to reduce health care supply costs
New research shows that investing in mechanisms to align physician incentives with medical facility incentives saves money.
By Claire Curry
Health care reform and the skyrocketing costs of medical care are hot topics in the United States now more than ever. National spending on prescription medications exceeds $450 billion and, according to a recent report by QuintilesIMS Holding, could climb as high as $610 billion by 2021.
The aging population in the United States is fueling the demand for supplies needed for procedures such as hip replacements, knee surgeries, and cardiac care, explains Eugene Schneller, professor of supply chain management whose research focuses on the health care sector. The manufacturers' prices for these devices can vary drastically.
"Suppliers have sold the same product to two different hospitals in New York that are across the street from each other," says Yousef Abdulsalam, who earned his doctorate at the W. P. Carey School and now serves as assistant professor of information systems and operations management at Kuwait University. "One [hospital] paid $2,000, and the other paid $900. Because the prices are opaque, there is very little transparency."
Although insurers and patients — and now hospitals — ultimately share the burden of these costs, insurers, patients, and hospitals have little say in purchasing decisions.
In their paper, "The impact of physician-hospital integration on hospital supply management," published in the Journal of Operations Management, Professor of Supply Chain Management Gene Schneller, Abdulsalam, and two colleagues investigated the relationships between doctors and hospitals to determine whether they have an impact on hospital supply costs.
When you buy shampoo, you are generally the person buying the item, paying for it, and using it. In the supply world of health care, it's frequently the physician who selects the item, the insurance company that pays for it, and the patient who uses it. This creates interesting incentives and triangles.
— Yousef Abdulsalam, who earned his doctorate at the W. P. Carey School and now serves as assistant professor of information systems and operations management at Kuwait University
Abdulsalam, who focused his dissertation on health care supply chains, credits his mentor Professor Schneller and the Health Care Supply Chain Research Consortium for sparking his interest in this sector. The consortium was established at ASU in 2004 to bring academic research on supply management to health care organizations. In addition to serving as a think tank, it hosts, through its home within the Center for Advanced Procurement Strategy (CAPS) Research, an annual conference where Abdulsalam and Schneller have presented their study.
To explain what distinguishes hospital supply chains from other businesses, Abdulsalam uses the analogy of a chef selecting ingredients for a restaurant's menu. "The chef chooses what kind of ingredients to use, the restaurant pays for them, and customers eat the food," he says. Similarly, doctors choose the supplies for medical procedures, insurers pay for them, and patients use them.
The researchers looked specifically at the relationships between doctors and hospitals. "How well-aligned are physicians with the hospital in terms of their motivations, actions, and their way of doing business?" Abdulsalam asks. "Concerning supply costs, physicians play a significant role."
The study compared supply costs against physicians who are employees of a hospital, those in group practices that are affiliated with a hospital, and doctors who are non-contracted "free agents" of sorts. In addition to reviewing data from the American Medical Association on more than 5,000 hospitals, the researchers conducted a separate survey of 100 hospitals to validate their findings. Results show a strong correlation between lower supply expenses and doctors who have the strongest allegiance to the hospital — employees.
A shift in funding casts new light on supply costs
Examining this facet of the health care supply chain is critical not only because of the cost impact on insurers and patients but because of the impact on hospitals as revenue-producing businesses.
"In the past, many of these items were reimbursed by insurance companies on the basis of what they cost," Schneller says. "Now, they give the hospital a set amount of money for a given kind of procedure." Insurers pay lump-sum amounts, or "bundled payments," for specific procedures, but the payment doesn't factor in flexibility for individual supply costs. So, if the insurance company pays $20,000 for a procedure, for example, and a physician chooses a $15,000 implant, there's not much left to cover all of the other costs required to perform the procedure.
These research findings are meaningful in illustrating the importance of the hospital-physician relationship as a potential opportunity to control supply costs better.
The hypothesis is the more a doctor aligns with the hospital, the more he or she will be attentive to the cost of what they use. Especially now that supplies are the largest cost next to labor, if the doctor takes the most expensive medical device and puts that into a patient regardless of whether it's needed or not, given the way the hospital is now reimbursed, the hospital can lose money. It's like sending your child to college with a credit card that has no limit.
— Professor of Supply Chain Management Gene Schneller
While it is not appropriate, or necessarily ethical, for a hospital to dictate which supplies a doctor uses, since there are direct financial implications, hospitals should have some way to manage this aspect of the supply chain.
"We are looking at how hospitals integrate physicians in terms of aligning the incentives, so physicians are more mindful of how they're choosing the supplies," Abdulsalam says.
A matter of oaths and ethics
It makes sense that the medical specialist performing a surgery be the person to select the tools that he or she believes will result in the best outcome for their patient.
Unfortunately, however, several investigations have proven that physicians' supply choices are sometimes influenced by suppliers and pharmaceutical companies that offer perks and incentives to choose their product over competitors. Eli Lily and Company, the global pharmaceutical organization, based in Indiana, paid more than $200 million to doctors for promoting their drugs in 2011, according to an article in the online portal Natural News. Many other similar allegations have made headlines in the past decade. To halt misconduct and make these transactions transparent, the federal government put the Sunshine Act in place to mandate that suppliers report such incentives.
Optimal physician-hospital relationships
According to Schneller and Abdulsalam, most hospitals maintain a "portfolio" of physician relationships — a combination of employees, group affiliates, and attending physicians — to serve the health care needs of their communities and to balance the business ledger.
"Physician employment in one hospital in the United States makes up about 19 percent [of the physician portfolio]," Schneller says. "The rest are on a contract basis, or attending physicians." One exception, he pointed out, is Mayo Clinic, which employs 100 percent of its physicians. There is an ideal portfolio for every hospital, but it is rarely the same because each hospital has different needs and demands.
Past research supports the idea that employed physicians are more committed to the hospital, Abdulsalam says, "in terms of driving innovation and providing the additional level of customer service." But there are also drawbacks to employment. The biggest? Physicians don't come cheap.
Another drawback is productivity, Schneller says. "They may not be incentivized to produce at the level they'd produce as an attending physician" because the hospital is covering their salaries and professional expenses such as malpractice insurance. Clearly, appropriate incentives are needed.
Managing relationships to contain costs
A key takeaway from their research is that hospitals that invest in mechanisms to align physician incentives with the hospital incentives can save money for supplies purchased. While the study suggests that employed physicians are more attentive to costs, "the caveat is that other physicians that have strong relationships with the hospital when incentives are aligned are also attentive to costs," Schneller adds. The bottom line is that employment isn't the only answer.
"If I were a hospital administrator, I would be saying that I need to begin to invest in programs that will align the physicians with my organization," Schneller concludes. "If I can provide that kind of environment, not only am I going to have savings but I hope I'll have better patient outcomes because we'll have standardizations in selecting the best product for the patient."
Supply chain managers seek to standardize because, with volume, they can negotiate better prices for supplies. By working together, hospitals and physicians can achieve the goal of value-based purchasing, meeting both the criteria physicians have for using quality products they can readily endorse and at the same time satisfying the administration's need to manage spending.
"The hope would be that you would have a more efficient system and that costs would come down," Schneller says. "That's not been the history, but that's part of the objective of the reformed health care system." Some companies such as Walmart are now sending employees who need specific procedures to a targeted, high-quality performing hospital, so the hospital is continually incentivized to reduce costs.
Most senior executives have not paid attention to the supply chain until recently, according to the researchers. However, increasingly, it is being seen as an area that can contribute to the sustainability of the organization as a business.
Next to payroll, supplies account for the second largest percentage of a hospital's expense. Experts say that U.S. hospitals spend more than $3.8 million on medical supplies and devices alone. "It's tough to reduce labor, Abdulsalam says. "But with supplies, you're getting the same outcome for sometimes half the price."
To better prepare senior hospital administrators for new challenges facing their industry, the W. P. Carey School now offers a business of health care concentration in its Executive MBA program, which includes courses on economics, supply chain issues, informatics and artificial intelligence, and policies.