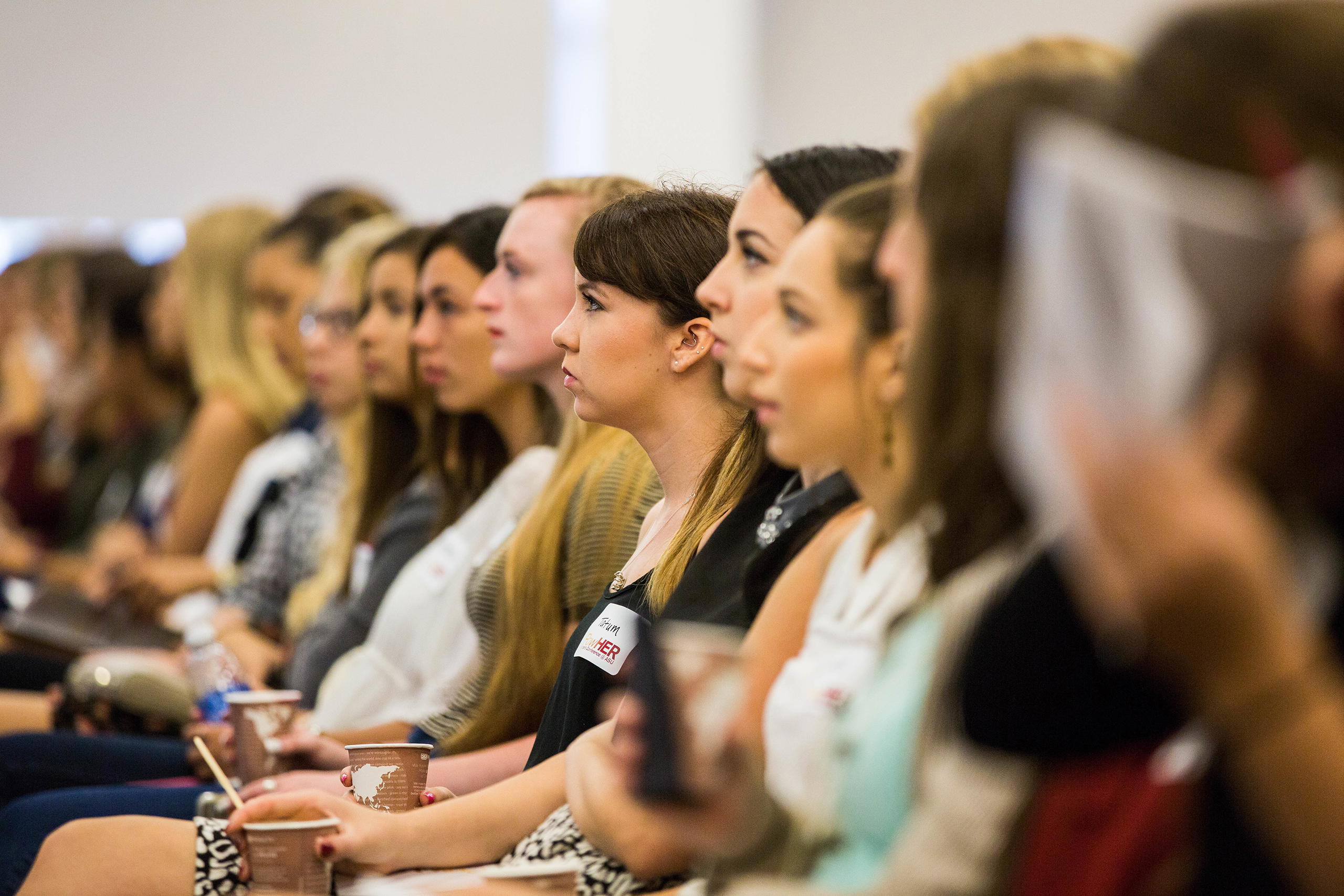 America's Digital Goddess gives back to women in tech
The new Kim Komando CIS Scholarship is for female students in the W. P. Carey School who are majoring in computer information systems and have a minimum GPA of 3.5.
By Jenny Keeler
Kim Komando is no stranger to being the only woman in the room. She's one of the only female radio personalities offering technology advice. She also was the only woman in her computer information systems class at W. P. Carey in 1985.
Now she's helping other women who are walking the same, sometimes lonely, path.
The Kim Komando CIS Scholarship is for female students in the W. P. Carey School who are majoring in computer information systems and have a minimum GPA of 3.5.
"I'm so excited to share the good news about my first-ever, full-ride college scholarship for a student going into the tech field," says Komando, who helps listeners across the country understand and expand their digital lifestyles. "As the only woman in my class, graduating at the top of my class, this is an opportunity to share in that experience, give back, and help make dreams come true."
IT help wanted
Komando says the tech industry is booming, more jobs are being created, and skilled workers are needed. According to the Computing Technology Industry Association (CompTIA), a non-profit serving as the voice in the technology industry, there are more than 6 million tech professionals in the United States and close to one million technology-related job openings are posted every year.
"In the fast-paced industry of tech, it is important that we support the next generation of innovators who will continue to pave the road ahead," Komando says.
The scholarship, which is given through the Kim Komando Charitable Trust, is available for in-state or out-of-state students. In-state students will receive $11,875 and out-of-state recipients will be awarded $28,500.
"It's a great time to be in tech now more than ever," Komando says, "and I want to share the enthusiasm and anticipation for what our next leaders will create."
Life calling
After graduating at age 19, Komando (BS Computer Information Systems '85) went to work at IBM. She began climbing the corporate ladder, and the guys in the office watched in amazement as she landed successful accounts and made big sales. She showed off her success with fast, flashy cars but, ultimately, Komando decided the corporate world was not for her. She started a newspaper column and did many TV appearances offering advice on everything digital. Komando even created a series of instructional videos called Computer Tutor. Finally, she went to the local radio station and pitched a talk show about home computers and a new thing called the internet, and The Kim Komando Show® was born and has since become a media success.
The three-hour radio talk show gets 50,000 calls per week and 500 emails a day, during which Komando, aka America's Digital Goddess®, shares tech news with listeners, as well as answers their questions about smartphones, tablets, e-readers, computers, cameras, the internet, security, and more. She's passionate about teaching people how to get the most out of their digital devices.
I talk to people about living their best digital lifestyle. I help people figure out what they need and how to get something done. How to use technology to help care for aging parents. What's happening with a husband or wife looking up old high school friends on Facebook. How you can see if your kids are texting and driving.
Throughout her career, Komando faced many naysayers who didn't think a woman could compete in the predominately male IT industry. She got turned down repeatedly by radio programmers and station owners, but she stayed focused on her goal and saw it become a reality. Her advice is "never, ever give up." The Kim Komando Show — which broadcasts on more than 450 stations across the nation — is on every week, as well as in a weekly column for USAToday.com, on her website komando.com, on Fox News, and in a newsletter sent out to 40 million subscribers every month. Locally, in the Tempe, Arizona, area, Komando can be heard on KTAR 92.3 FM.
Apply for the Kim Komando CIS Scholarship through the W. P. Carey General Scholarship Application. Fill out your application once, and it will be submitted and considered for many different scholarships, including Komando's. Additional award opportunities and tips on framing your scholarship essay question responses can be found on the Scholarships & Resources