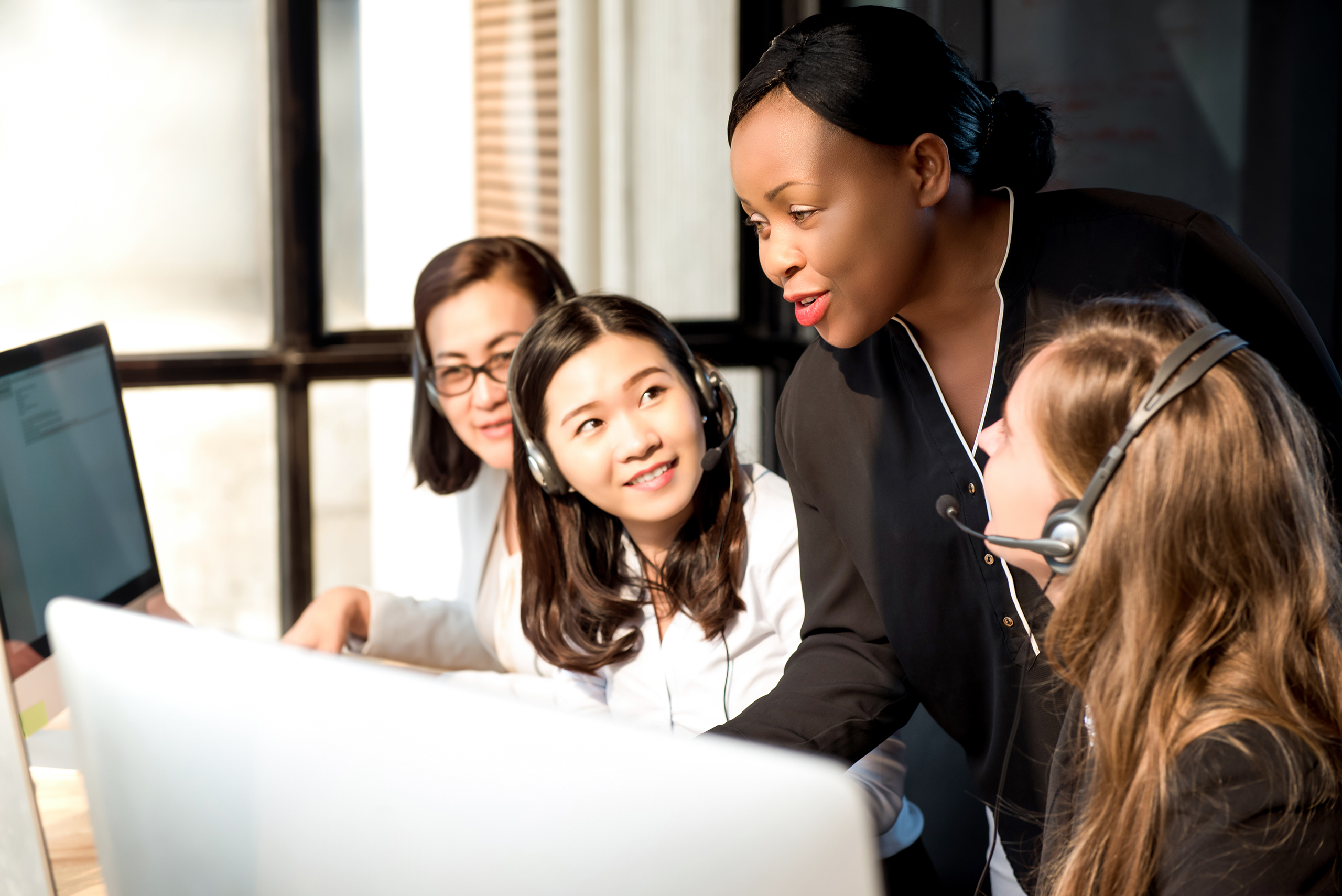 A corporate conscience: Good for the community and company
Televerde's Chief Responsibility Officer Michelle Cirocco was the keynote speaker at the Economic Club of Phoenix luncheon Feb. 5, where she shared the organization's commitment to its team — half of which sits behind prison walls.
Televerde is a high-tech, global demand generation company that accelerates revenue for its partners through innovative sales and marketing solutions. It also accelerates female inmates' work experience and transformation.
After two decades at Televerde, Michelle Cirocco (MBA '08) has developed a passion and commitment not only for the success of the company but also for its unique business model.
Cirocco leads Televerde's social responsibility efforts, which include a groundbreaking career skills program that has employed and empowered more than 3,000 incarcerated women in Arizona and Indiana. Developing inmates as call center representatives, Televerde creates better outcomes beyond prison and greatly reduces recidivism rates.
As the keynote speaker at the Economic Club of Phoenix luncheon on Feb. 5, Cirocco shared Televerde's commitment to social responsibility and how a corporate conscience can be good for the community and good for business.
The shift from profit to purpose
"We all know, as we learned in our MBA programs in college, that the purpose of business is profit," said Cirocco. "That idea was driven home by Milton Friedman in the now infamous article in the '70s where he told us the only social responsibility a company has is to generate profits for the shareholders — basically to make money."
"We all know what happened when greed became a strategy," Cirocco continued as she referred to her PowerPoint slide fraught with logos of fallen companies including Enron, Lehman Brothers, and Fannie Mae. "There are so many examples of what this type of focus on profitability did to business in the United States and around the world."
In 2011, trust in business was plummeting. Businesses were perceived to be prospering at the expense of the broader community, and corporate social responsibility efforts were failing to effect real change. The 2011 Harvard Business Review article by Michael Porter and Mark Kramer changed this.
Cirocco explained that the piece "Creating Shared Value," sparked a global movement to redefine the role of business in society around a simple but powerful idea: a company's success and social progress are interdependent.
"It's a win-win not just for the company but for the customers and for other people involved. It's where we are today," she said, "this concept of a purpose-driven generation. A lot of people want to pass this off to the millennials. But it isn't just a millennial thing, it's an everyone thing."
More than 48 percent of the general population has lost trust in business. Ninety-one percent of consumers would switch brands if a different one was purpose-driven and had similar price and quality. More than half (85 percent) of consumers believe that to be successful, corporations of the future will need to care about people and take a more active role in societal issues. "People are overwhelmingly expecting that businesses get involved in solving societal problems today," she said. "It's not just the job of government and nonprofits. Seventy-four percent believe businesses bear as much responsibility as government for driving positive social change."
Since Cirocco joined Televerde in 1999, she has held several leadership positions at the company including chief marketing officer. In her newest role as chief responsibility officer, she's already expanding Televerde's footprint to create more opportunities that transform lives. "When I first took over this role, I started to do research around the purpose movement. I was overwhelmed by the sheer number of organizations out there supporting companies in this concept of purpose."
For example, Certified B Corporations are businesses that meet the highest standards of verified social and environmental performance, public transparency, and legal accountability to balance profit and purpose. Conscious Capitalism builds and supports a global network of entrepreneurs, business leaders, and intrapreneurs dedicated to growth through conscious leadership with convenings, learning and development offerings, and public relations opportunities.
"There's this huge movement in business to be a force for good," Cirocco said. "Conscious Company magazine has quickly become one of the most popular business publications of our time because people want to get behind this idea of purpose and have a business that does something for good."
Born in purpose
"We were a purpose-driven company long before people were talking about purpose," Cirocco said. Televerde was founded in 1994 on the idea that providing jobs, training, and education to women who were in prison could enable them to become financially independent and have a meaningful and rewarding career after they were released. It could support them to care for their family, their children, and successfully integrate back into society.
Recently retired Televerde CEO Jim Hooker joined the company in 1995 with a tech background. The former IBM sales executive had built and sold multiple computer businesses. Based on where Televerde was in the market — the Internet was emerging, VoIP was the technology solution of choice, and the dot-com bubble and Y2K were fast approaching — he recognized there was an opportunity to fill the gap between sales and marketing.
"He thought, 'If we trained these women to become sales people, then they could benefit the business and build a career in technology sales,'" Cirocco explained, adding that Hooker brought IBM's immersive training model with him to Televerde, which is still relevant today. "His believe was that an opportunity in sales was a career less likely to look at and judge them based on the fact they had a felony conviction."
Celebrating its 25th anniversary this year, Televerde is 600 people strong, of which more than 400 are women working inside correctional facilities in Arizona and Indiana. The company has expanded into the UK, Argentina, and Australia. "These expansions have all been implemented based on requests from our clients, who have said they want to provide the same level of service to their customers that they receive from us in the U.S. We will be expanding into a women's correctional facility in the UK this year to take our business model further."
Televerde has nine contact centers globally, supporting 20 different languages. "We like to say we have an NPS, or net promoter score, of 65," Cirocco said. "In our industry, the measure of customer satisfaction ranges between 25 and 45. With a consistent number of 65, that's just because our customers love us."
"We generate demand, we accelerate sales, we help our clients get new clients," she continued. They do this by combining data intelligence, data strategy services, and predictive intelligence technology to build marketing campaigns that are supported by women in the correctional facilities who make phone calls, generate high-quality sales leads, and close business deals for their clients.
Televerde's clients include SAP, Adobe, Honeywell, Marketo, Dell, and Philips to name a few. "Our customers benefit us, but they don't buy from us because of our business model. They buy from us because we are the best at what we do. We just happen to be the best because of the business model. It represents an opportunity for our employees' future, which makes them highly motivated and dedicated. And if you know anything about employee engagement, you know engaged employees equal happy customers."
The results Televerde delivers for its customers can best be demonstrated with its work for SAP, one of the biggest software companies in the world. Televerde has generated more than 30,000 sales opportunities, $825 million in revenue, and 14:1 return on investment for SAP, which has been a client for nearly 10 years.
"That means a lot to us," Cirocco said. "The impact that's had on our company and our community is we've had 710 women on the inside work for them." The women start their career making phone calls and generating leads for SAP. Then they have the opportunity to transition to the corporate office in a strategic sales role. More than 220 women have transitioned out of the call centers at Perryville Correctional in Arizona to work for SAP, of which 66 are Televerde employees, 90 are employed in the sales and marketing industry around the nation, and 12 are SAP employees.
"SAP uses us as a workforce development model, said Cirocco. "When the women transition out, they work for us in our corporate office in a sales capacity, and when SAP needs to hire people, they reach out to us for employing them in their Scottsdale office.
"Of the 12 currently working at SAP today, four of them were in the top 10 of the sales team."
The Televerde business model
"We see the impact of change. We've committed our company to that change, and we're providing life-changing opportunities. Our strategic goal for the next 10 years is to provide 10,000 more life-changing opportunities while it creates avenues for our clients."
How will Televerde do this? It will continue giving female inmates a second chance. Five of its nine call centers are in correctional facilities in Arizona and Indiana, employing 400 women at fair market wages. But Cirocco made clear that they're not just call centers. Through immersion training, mentoring, and working with real-world clients, women are certified for sales and technology roles. In fact, nearly half of Televerde's corporate office — in every department and at every level — is made up of "graduates" of Perryville Correctional.
"The women work together to coach, support, and develop each other," Cirocco said. They support one another through the interview process, training, and ongoing certifications — all for the opportunity for a better life."
Not only does the company invest in the marketable skills of these women while they're incarcerated, it continues its support outside prison bars in partnership with the Arouet Foundation, a nonprofit founded in 2011 by Hooker and Televerde Chief Financial Officer Vince Barsolo. Together, they help the women gain financial independence, which includes providing pre- and post-release support through a three-year transitional model, financial education, advocacy and outreach, re-entry success support, education attainment, and employment.
Why does Televerde's corporate conscience matter?
"Arizona's prison population has grown 60 percent since 2000 — nearly doubling the rate of general population growth and compared with 6 percent nationally," she said. That is the fourth highest incarceration rate in the U.S.
"Three million, or one in 28 children nationally, have an incarcerated parent, of which 11 percent are in foster care." Four out of five women are mothers, and 66 percent of them have children under 18 years old. Children of mothers in prison are three times more likely to go to prison themselves.
Annually, $1.1 billion is spent in Arizona on criminal justice. "And it's not solving anything," Cirocco said. "We have a 40 percent recidivism rate. That means 95 percent of people who go to prison, 40 percent are going to go back within the next three to five years, largely because they're highly unemployable. Companies don't want to take the chance." People with a felony conviction have a 25 percent higher unemployment rate than the average person.
"In an economy where we're having a hard time finding people to fill jobs, there's a workforce of 23 million people who have been convicted of felonies — 23 million people who have to check that box and make it difficult for them to be employed."
On the other hand, it costs $25,000 to incarcerate someone versus $9,000 to educate them. Compare that to current annual tuition at ASU: $27,000. "We could be sending people to college for an education for the same price as sending them to prison," Cirocco pointed out.
Going back to the beginning of the presentation, she continued, "the idea is for us to solve some of these problems. "That's what the Televerde Effect is all about. Of the 3,000 women who work for us, we boast a 7 percent recidivism rate. It saves Arizona approximately $25 million annually by keeping that many women out of prison on a regular basis."
The incarcerated women who work for Televerde contribute to the cost of their incarceration, paying room and board every week out of their paycheck. That's $1.5 million that goes back to the state of Arizona to offset the cost of their incarceration.
"A lot of people say, 'Oh you're taking jobs away from people and giving them to people in prison,' but that's not the case, Cirocco said. "If the people in prison didn't exist, Televerde wouldn't exist. We built this business in order to provide women with jobs and training while they're in there so that they can be successful when they get out. We have created jobs in the state of Arizona, supporting businesses and bringing in revenue from other states.
"These women are becoming role models for their fellow prisonmates, their children."
Cirocco, who said she's always been an avid TED Talk fan, attended her first TED Conference, TEDWomen in 2015. There she met a woman who was hired to support TEDx in correctional facilities. This is what inspired her idea of TEDxPerryVilleCorrectional, "Behind the Curtain," which took place on April 19, 2018. Watch it: