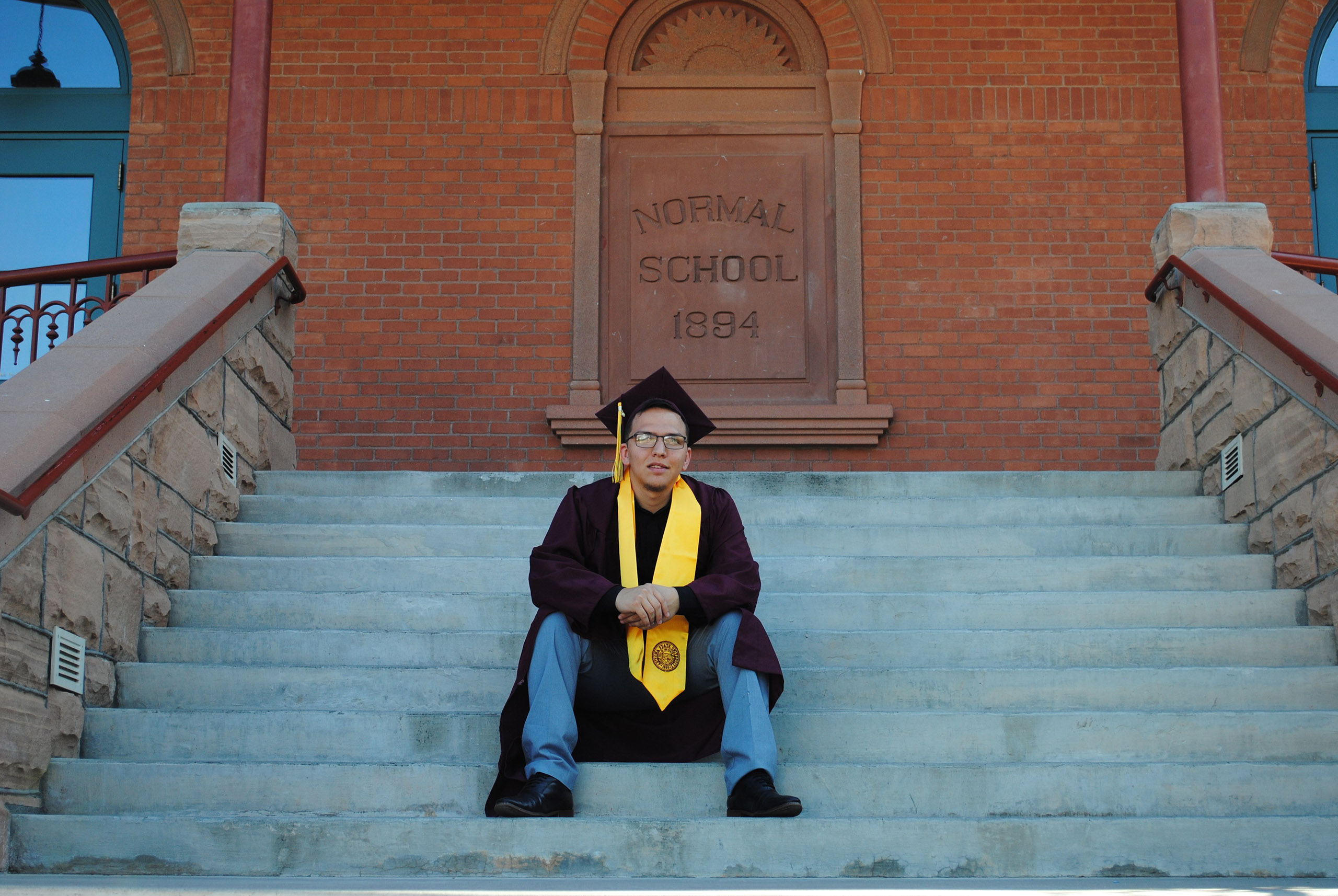 Fleischer Scholars camp convinced first-generation student to pursue ASU
Oldest of six overcomes struggles to graduate with two degrees.
By Mary Beth Faller
When Mickey Glover was student at Cesar Chavez High School in Phoenix, he was not thinking of going to college.
Even though he had good grades, was a member of the National Honor Society and was on the wrestling and spring football teams, he was focused only on one thing: making money.
"I grew up in low-income neighborhood with a single mother and I'm the oldest of six," he says. "My mom held two jobs to try to support us and she was also trying to go to nursing school."
Unfortunately, the school turned out to be fraudulent and when it shut down, Glover's mother had no degree and a lot of student loan debt.
"I was not thinking of college because of the financial position we were in. It didn't seem realistic," he says. "My goal coming out of high school was that I just wanted to work to help my mom provide for my siblings."
Glover is graduating this semester with degrees in computer information systems and business data analytics from the W. P. Carey School of Business, thanks to a lucky break. In the summer before his senior year, he was invited to attend the free, weeklong Fleischer Scholars camp at Arizona State University.
"I met a lot of great mentors there and it made me realize that a university education could be realistic for me," he said. "I was determined after that."
He applied for dozens of scholarships and won three, which made attending ASU possible. One was the Horatio Alger Scholarship, which required an essay in which Glover described overcoming adversity. He described being mugged while he was in high school.
"It was traumatic because I had a gun pointed at me. It could have been my last day," he says. "But I looked at it like the guy would get caught eventually and I personally didn't want to allow him to impact my life."
At ASU, Glover has been active in the Department of Information Systems Club and is a member of the Tau Psi Omega multicultural service fraternity, which has traveled to Hermosillo, Mexico, several times to visit boys in an orphanage.
Last year, he got an internship with Greystar real estate company. When the internship was over, the company offered him a job as a data analyst, so this semester, he's working full time while taking 16 credits.
Glover will be the first in his family to earn a degree.
"My mom is so excited," he said. "She doesn't introduce me as her son. It's 'This is my son who's graduating.'"
Glover recognizes that he's a role model for his siblings.
"Just getting exposed to university life helped to encourage me, so when I get a chance I bring all my siblings onto campus so they're exposed to that too."
Glover answered some questions from ASU Now:
Question: What was your "aha" moment, when you realized you wanted to study the field you majored in?
Answer: It was a homework assignment. I came in as an entrepreneur major. I had my own little candy business in high school. But then one of my computer information systems classes forced me to really think. I loved being challenged. I think I got an 80 on the homework assignment but I wasn't discouraged by the grade because I really enjoyed the rigor of the coursework. I found out about the major, and then I added business data analytics because analytics is the future.
Q: What advice would you give to those still in school?
A: I almost didn't do the Fleisher program because I was concerned I wouldn't make enough money to support my mom while I was at the program, but I talked to my managers and they gave me a break. You miss 100% of the shots you don't take.
Q: What's your favorite spot on campus?
A: I find myself constantly going to the little computer lounge on the second floor of Hayden Library. I tried to study outside or at other libraries. I don't use their computers or whiteboards, but I always find myself there.
Q: If someone gave you $40 million to solve one problem in the world, what would it be?
A: When I was in high school there weren't many programs that promoted the university track or even getting a trade skill. There weren't many programs that stimulated us. It always seems like they pushed community college. But what about the hope of attending a university? I would love to have programs for schools that don't have a lot of resources. I want them to recognize that there's hope.
This article was originally published on ASU Now April 24, 2019.