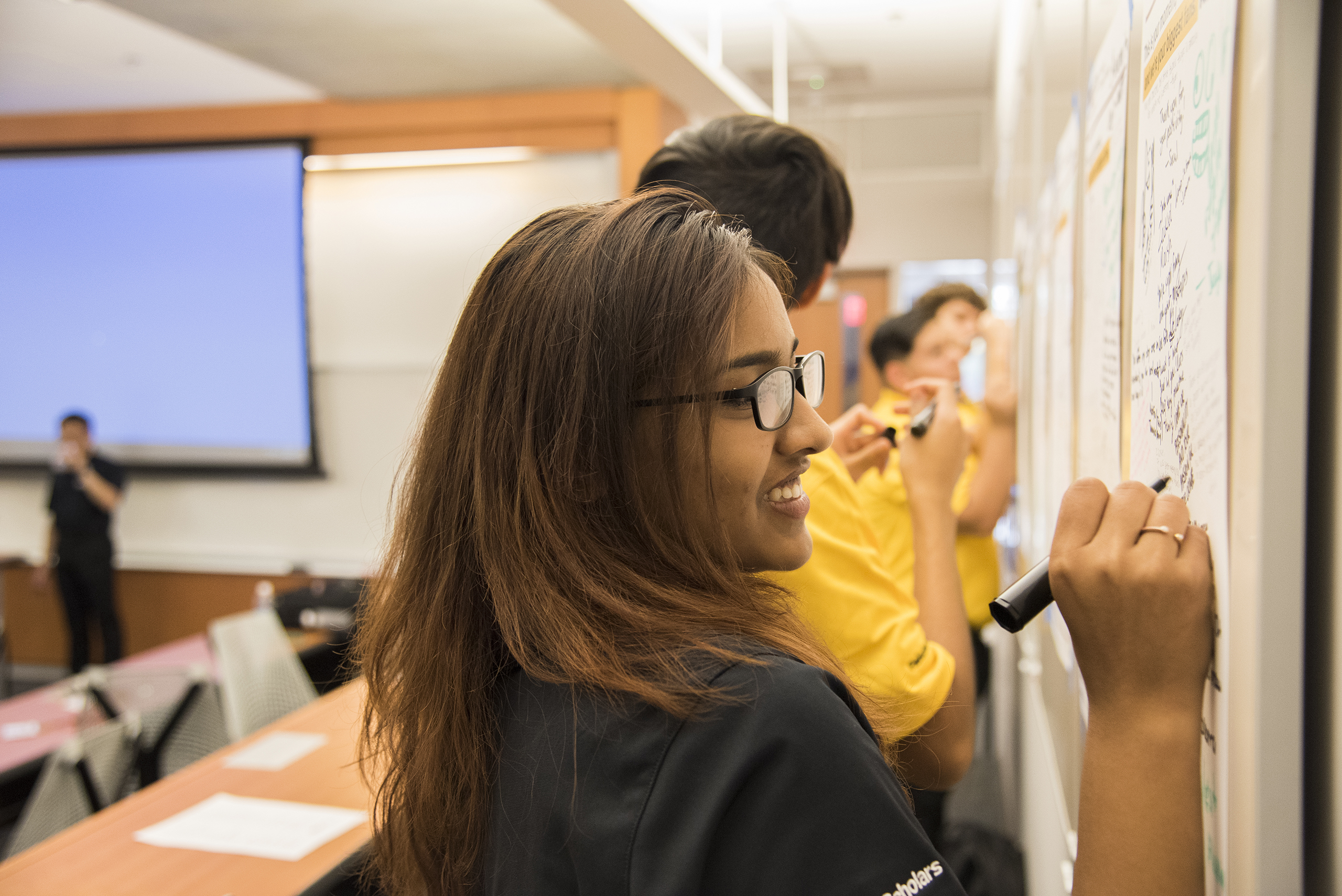 A bigger and better summer camp
Fleischer family donates new $1 million gift to benefit economically disadvantaged high school juniors.
Mort Fleischer's rise from a janitor to his success as an experienced financier, entrepreneur, and real estate investor prompted him to make the same opportunities available for economically disadvantaged high school juniors.
The Fleischer Scholars program, the weeklong residential experience he launched with wife Donna (BS Environmental Resources in Agriculture '75) in 2009, introduces students entering 12th grade to college and the world of business.
Mort says the economic opportunities that abound in America allowed him to build his businesses. "We will never achieve the American dream until we figure out how to get those people who are less privileged economically into the mainstream of this country," he says.
In 2009, the Fleischers also donated the $1.3 million bronze statue called "Spirit" that was once located outside the Fleischer Museum in Scottsdale, Arizona, and appeared on the cover of a local Chamber of Commerce publication for many years. The couple hopes the sculpture's permanent home that marks the entrance to the W. P. Carey School "inspires students about enterprise, philosophy, and art." Several plaques with inspirational messages by Fleischer about America, freedom, and achievement are placed at the statue's site.
"The statue artistically represents what American entrepreneurs and business people have been able to accomplish within America's vibrant framework," says Fleischer, who, along with valued associates, built Franchise Finance Corp. of America and Spirit Finance Corp. into successful New York Stock Exchange-listed enterprises for more than 25 years and then sold them. Subsequently, Fleischer and his partners formed STORE Capital, which is currently listed on the NYSE. "Spirit symbolizes the power of political and economic freedom that makes this country great. This statue is in a place where it can help inspire and educate young people about the boundless opportunities and achievements America and freedom provide us."
Now, a decade since starting the Fleischer Scholars program, the couple have donated a new $1 million gift to make the summer camp bigger and better. Of the more than 700 high school juniors who have gone through the program since its start in 2010, 70% are in college and 80% are first-generation college attendees.
Mickey Glover (BS Business Data Analytics/Computer Information Systems '19) is one such example. The Fleischer Scholars camp made this first-generation student see college as possible. "I was not thinking of college because of the financial position we were in. It didn't seem realistic," he says. "My goal coming out of high school was that I just wanted to work to help my mom provide for my siblings.
"I met a lot of great mentors there [Fleischer Scholars program], and it made me realize that a university education could be realistic for me," he says. "I was determined after that."
Due to the success of the Fleischer Scholars program at W. P. Carey, additional programs have launched at the University of Arkansas, Washington University in St. Louis, and three Thurgood Marshall HBCU member universities: Texas Southern University, Fayetteville State University, and Virginia State University.
Learn more about the W. P. Carey Fleischer Scholars program for deserving juniors graduating from Arizona high schools.