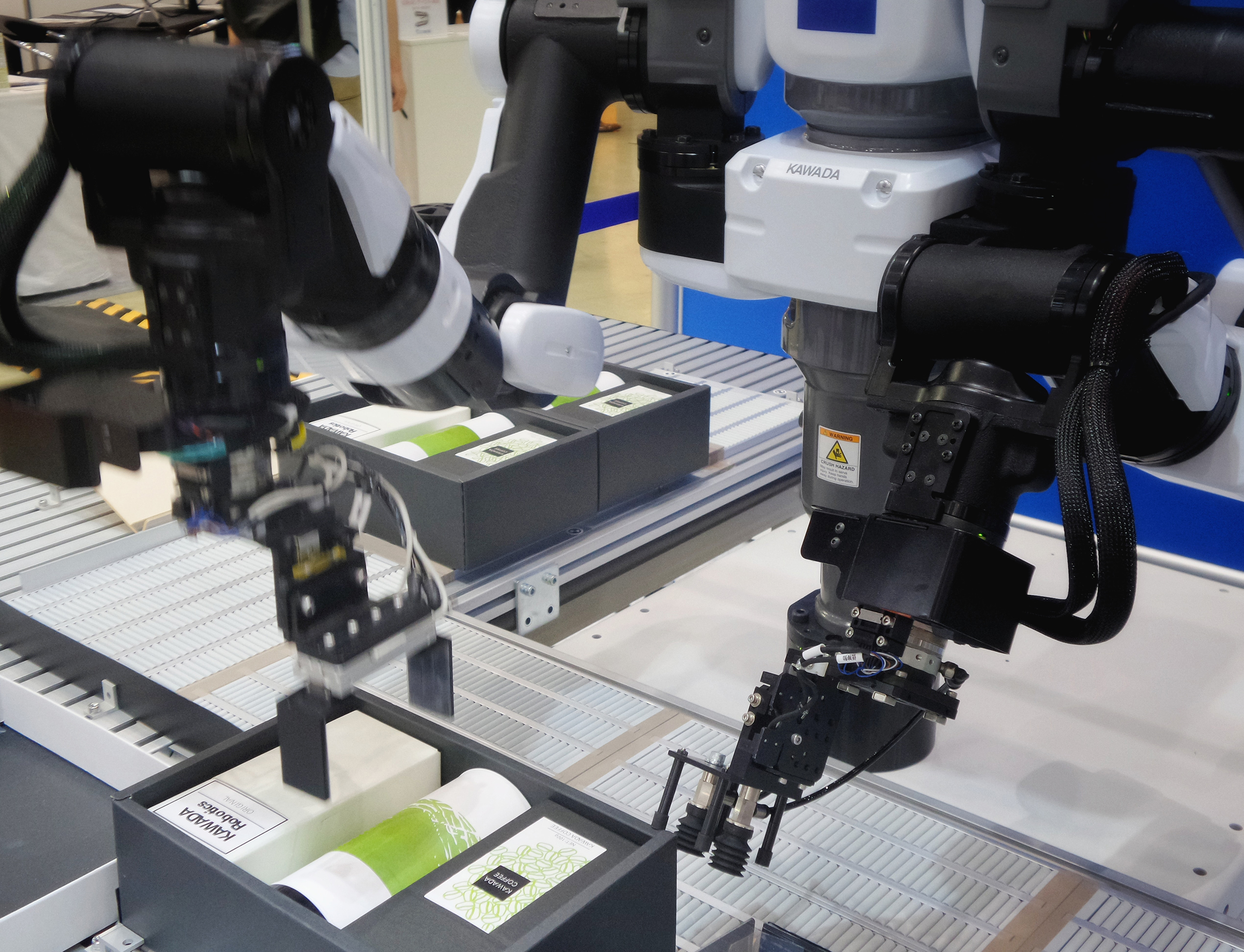 How to succeed in the Fourth Industrial Revolution
Although the prospects of massive technological changes ahead may be daunting, business leaders with a global mindset or immigrant mentality are the most likely to prosper.
Knowledge Network, Thunderbird School of Global Management
As we become fully entrenched in the fast-paced technological revolution called the Fourth Industrial Revolution, it's important to think about how individuals can prepare in order to not only survive but thrive. Professor Raghu Santanam, chair of the Department of Information Systems, says leaders will be required to be bold, have a long-term perspective, and possess an uncanny ability to pivot to succeed as we move into the future.
The changes coming and brought to us by the Fourth Industrial Revolution will be staggering, breathtaking, and inevitable. Change is not optional for business leaders and those in the trenches as we move further into the Fourth Industrial Revolution. Change will be mandatory.
The good news is that, although the prospects of massive technological changes ahead may be daunting, business leaders with a global mindset or immigrant mentality are the most likely to succeed. These are leaders who are able to do whatever it takes to succeed, learn from mistakes, and adapt to new cultures, new ideas, new opportunities.
As the Fourth Industrial Revolution unfolds, organizations and individuals are looking for ways to maximize the opportunities and minimize the risks of the world-changing innovations on the horizon. Previous industrial revolutions show that if businesses and individuals don't adapt, they get left behind. Businesses and, in many cases, whole sectors disappear. Once the car was widely introduced, no one needed a buggy whip, or a buggy whip maker.
With its groundbreaking technology, massive storage capacity, and unparalleled processing power and speed, this new era gives us the ability to gather huge amounts of data and make sense of it in ways that could not have been imagined just a decade ago. Billions of machines and devices are connected to each other and technology is interacting in ways that enable systems and processes to become better all the time.
Empowerment of the individual
To be clear, the Fourth Industrial Revolution, also called 4IR or Industry 4.0, is not a sci-fi scenario in which the machines are taking over. It is an opportunity that will empower people and organizations. But only if they understand how to take advantage of it. The buggy whip makers of today — workers impacted by new technologies — need to understand that the new technologies of the Fourth Industrial Revolution bring new opportunities, just like the automobile did in the First Industrial Revolution. And then they need to figure out how they can succeed while making a contribution to the new age.
It's people — business leaders and global workers — at the core of managing the transition to the new world of work. Yet the weight of these changes isn't carried completely by individuals. The World Economic Forum and other organizations have been studying the need for public-private cooperation on a global scale as technology changes. Long term public-private partnerships share risks and resources between government and business, using the knowledge and skills of private companies to deliver a truly public benefit. Public-private partnerships lead to greater data-sharing and collaborative solutions, increase the ability to scale, and can focus on developing vital infrastructures that support both the public and business.
Research and analysis into how this Fourth Industrial Revolution relates to the previous three reveals a wide consensus on the need for a more holistic model of economic progress. It suggests the need for a model that promotes higher living standards for all, respects planetary boundaries, and does not disadvantage future generations. One promise of the Fourth Industrial Revolution is to bring about such equality, sustainability, and growth.
4IR: Requiring a long-term perspective
Klaus Schwab, founder and executive chairman of the World Economic Forum, popularized the term the Fourth Industrial Revolution in a book of the same name published in January 2017. He believes we are vastly underprepared for the changes to come. He suggests the need to redesign business processes and institutions from the ground up.
But Santanam, who teaches a one-day Thunderbird workshop, The Future of Work & Digital Innovation, doesn't see evidence to suggest that we are underprepared. In fact, the changes are here and we are making use of them now.
Since the technology is here and already evolving, the next step is to make sure leaders are in place to make the most of it. Santanam says it will be important that global leaders understand strategic decisions that inherently provide options to pivot in the future based on changing trends and technologies."Bold leaders who make decisions with a long-term perspective will really thrive in such environments."
"Such a long-term perspective is needed in developing internal talent. And this cannot be just for the benefit of the corporation," Santanam says. He cited Starbucks and Uber — who recently forged partnerships with ASU — as examples of companies that foster a culture of life-long learning among their employees. (Eligible Uber drivers and Starbucks employees can take ASU classes online with the cost of tuition fully covered.)
Avoiding displacement of workers
An underlying theme with global CEOs and senior business executives talking about the future is that the acceleration of innovation and the velocity of disruption are hard to comprehend or anticipate. But one constant fear is that increasing adoption of technology may lead to the displacement of workers. This revolution could easily give rise to a job market that is increasingly segregated into "low-skill/low-pay" and "high-skill/high-pay" segments, which in turn will lead to an increase in social tensions.
Santanam agrees that it is important for individuals to anticipate and prepare for changes — but also for institutions and organizations to ensure the rapid changes brought about by technological innovations do not exacerbate inequality. We will see fundamental changes in society, but there is as much of a possibility for the democratization of skills as there is for segmentation of low-skill/high-skill jobs, he says.
"Technology adoption leads to upskilling. I have seen that in health care, on factory floors, and in-service industries. However, I think an effective countervailing force is the ease of use of technologies," Santanam says.
As we make technologies more user-friendly (think Nest thermostats, for example), more individuals are able to use those technologies to perform their jobs.
Ease of use will allow businesses to reverse the level of skills needed to do many jobs and also better match individual skills to a variety of job profiles.
Technology blurs international borders
The Fourth Industrial Revolution blurs lines between physical, digital, and biological worlds across all sectors. And areas of its greatest successes will be where leaders can also cross boundaries and borders around the world.
"Technology blurs international borders in more ways than we think," Santanam says. The future depends on our ability to work globally, to share data and knowledge, to positively exploit freedom of thought and expression. So successful leaders will have a global mindset — that is, a mindset of cross-border, cross-organization, cross-discipline cooperation.
Organizations have to give serious consideration to open ecosystems, sharing data and integrating tech capabilities, says Santanam. An organization may be a leader in creating open ecosystems and platforms or a participant in one or more open ecosystems. Either way, to thrive, companies will need to interact with many more partners covering a broad range of functions.
Interfaces will need to follow the "Amazon principle." They must be open, dynamic, and functional in real-time in order to integrate partners, technologies, and applications on an as-needed basis. When making decisions on products and services, business leaders have to seriously consider how those products or services may evolve in the next one, two, or five years – and that will include crossing borders of all types.
Global mindset, immigrant mentality, and the Fourth Industrial Revolution
The future relies on leaders who are open to and aware of diversity across cultures and markets and able to see common patterns across countries and markets. That is, on leaders with a global mindset or immigrant mentality.
Santanam says businesses and individual learners must grasp the need for real, comprehensive change in order to close any preparedness gaps as the world moves into the Fourth Industrial Revolution. Ignoring or neglecting the immediate and near-future technology disruptions will make it impossible to thrive in 4IR-driven markets.
Top of the list of attributes that will help individuals succeed in the Fourth Industrial Revolution are the same attributes held by successful global leaders and immigrants. Successful leaders need to tap into their assertiveness and creative thinking and sharpen their ability to identify opportunities, leverage diversity, and strategize for the long term.
They make the best out of a changing world. Because change will be mandatory.
This article has been reproduced with permission from Knowledge Network, the online thought leadership platform for Thunderbird School of Global Management thunderbird.asu.edu/knowledge-network/