When W. P. Carey Cupids eat fresh
Each February, it is our pleasure to celebrate and share the stories of W. P. Carey Cupids — couples who met and began their lives together at ASU's W. P. Carey School of Business. W. P. Carey Cupids have found each other at Noble Library and Camp Carey, through similar class schedules, and while working on shared business goals. For Cameron Heath (BS Accountancy '15, MAAC '17) and Savannah Kralovec (BS Supply Chain Management/Economics '16), it all began with the choice to eat fresh.
Where are you today?
We currently live in Gilbert, Arizona with our dog, Wendy. Cameron is an Assurance Senior at Ernst and Young, where he has worked for the last three years. He enjoys golfing, traveling, and cheering on the Diamondbacks, Cardinals, and Coyotes.
Savannah is an Education Coordinator at the Boys and Girls Clubs of Greater Scottsdale and works at two branches on the Salt River Pima Maricopa Indian Community. She also teaches English as a Second Language online to children in China and has a travel blog. She is a certified yoga teacher and enjoys reading, scuba diving, and traveling. Our dog Wendy doesn't currently have a job, but she was a product tester for a canine fitness tracker that will be on the market soon.
What's something special about how you started your relationship at W. P. Carey?
We met at ASU through a mutual friend one night on a stroll to buy dinner at Subway. We hung out all night and then started talking nonstop. Now we're married, so it seemed to have worked out! Eat fresh!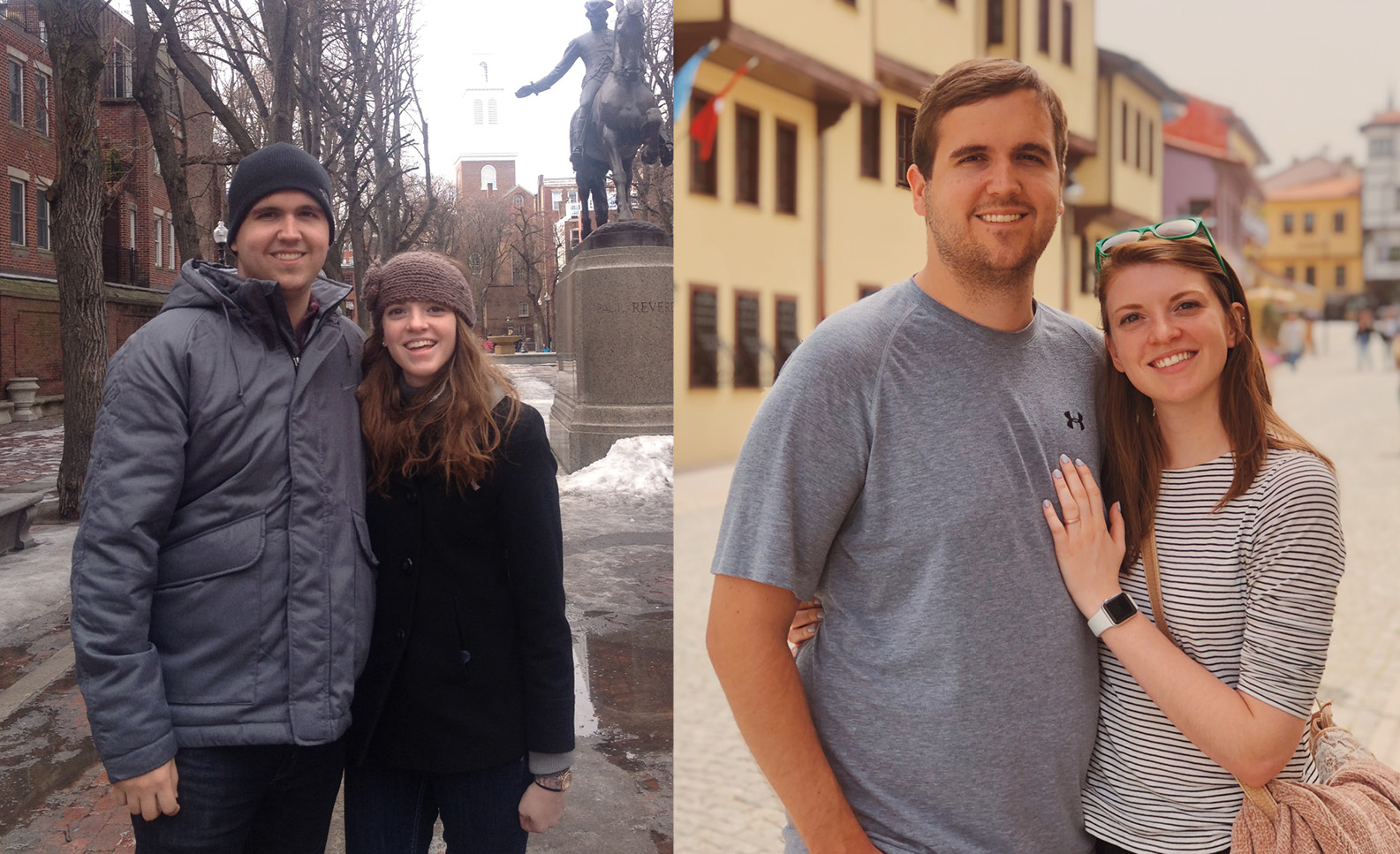 Any advice for couples who meet here and date during college?
Savannah: I think couples who are seriously dating in college tend to think they cannot follow their own dreams/goals over the summer, whether that looks like studying abroad, taking a dream internship or job, or traveling. W. P. Carey and ASU have SO MANY opportunities to take advantage of! I would encourage everyone to still follow their dreams and see where they take them.
I wish everyone was supported by their significant other to achieve their goals like Cameron supports me. If your relationship is strong and stable, pursuing your dreams will not negatively affect your relationship at all and you will support each other through everything. It might take some work if you have to be apart for a little bit, but I promise you that it is not the end of the world and you will feel more fulfilled as an individual when you are together again!
Cameron: College is four years (or more, shout out to W. P. Carey master's programs) that are unlike any in your life. With that being said, four years is a drop in the bucket if you meet the person you want to spend your life with. Don't think you need to be single or "free" during college. The only thing that can make college better is going through it with someone you love!
Favorite place to spend time on campus together?
Savannah: We were both living in Barrett, The Honors College at ASU when we met, so you could frequently find us at the Barrett Dining Hall or in the W. P. Carey Leaders Academy Lounge.
Cameron: Chick-Fil-A (even on Sundays).
What's a favorite memory you share together?
Savannah: One of my favorite memories in college happened by chance and is such a silly, little thing. As I was crossing the street by the SDFC to go back to my apartment at Vista Del Sol, I unexpectedly encountered Cameron in the crosswalk as we were both crossing in opposite directions. We gave each other a kiss right in the middle of the street as we were both walking (I don't think we ever stopped moving) and then just kept walking and didn't miss a beat.
I have always wondered if anyone saw that and was really confused about what just happened. Outside of college, our wedding and honeymoon are hard memories to beat, but another great memory was going on a celebratory trip to Australia after graduating from ASU! All of my scuba diving dreams came true when I went diving at the Great Barrier Reef with tons of sea turtles.
Cameron: On our honeymoon, there was a group of people releasing baby turtles into the ocean right outside of our hotel. We had no idea what was going on, but when we figured it out we joined in and it ended up being a highlight of our trip. We love to do grand, planned out things, but some of our best moments together are the ones we didn't see coming!
What are you looking forward to?
Savannah: Cameron continues to make all of my dreams come true by always allowing me to fulfill big goals that I have for myself. My biggest upcoming endeavor is going on a solo trip to Antarctica in March 2021. I was invited to join the cast of an unscripted travel TV show detailing what an expedition to Antarctica looks like. I am thrilled to be a part of such a fun once-in-a-lifetime opportunity. Beyond that, navigating life together is so much fun all the time and every day is better than the last.
Cameron: We have a big year planned for 2020! My dad is getting married in Italy in June and we are planning on doing a Southern road trip as well. I am also looking forward to watching ASU football in the fall as Herman Edwards continues his revitalization of the program.
When was the last time you visited campus and what did you do?
We visited campus last year on Valentine's Day when we saw Aladdin at Gammage. We haven't had a ton of opportunities to visit campus in the years since we graduated, but we still keep up with Professor John Eaton so he lets us know what's going on around W. P. Carey. We also took some engagement photos on campus shortly after we got engaged!
Stay in the loop
Keep up to date on the worldwide W. P. Carey alumni community - sign up for the digital magazine.