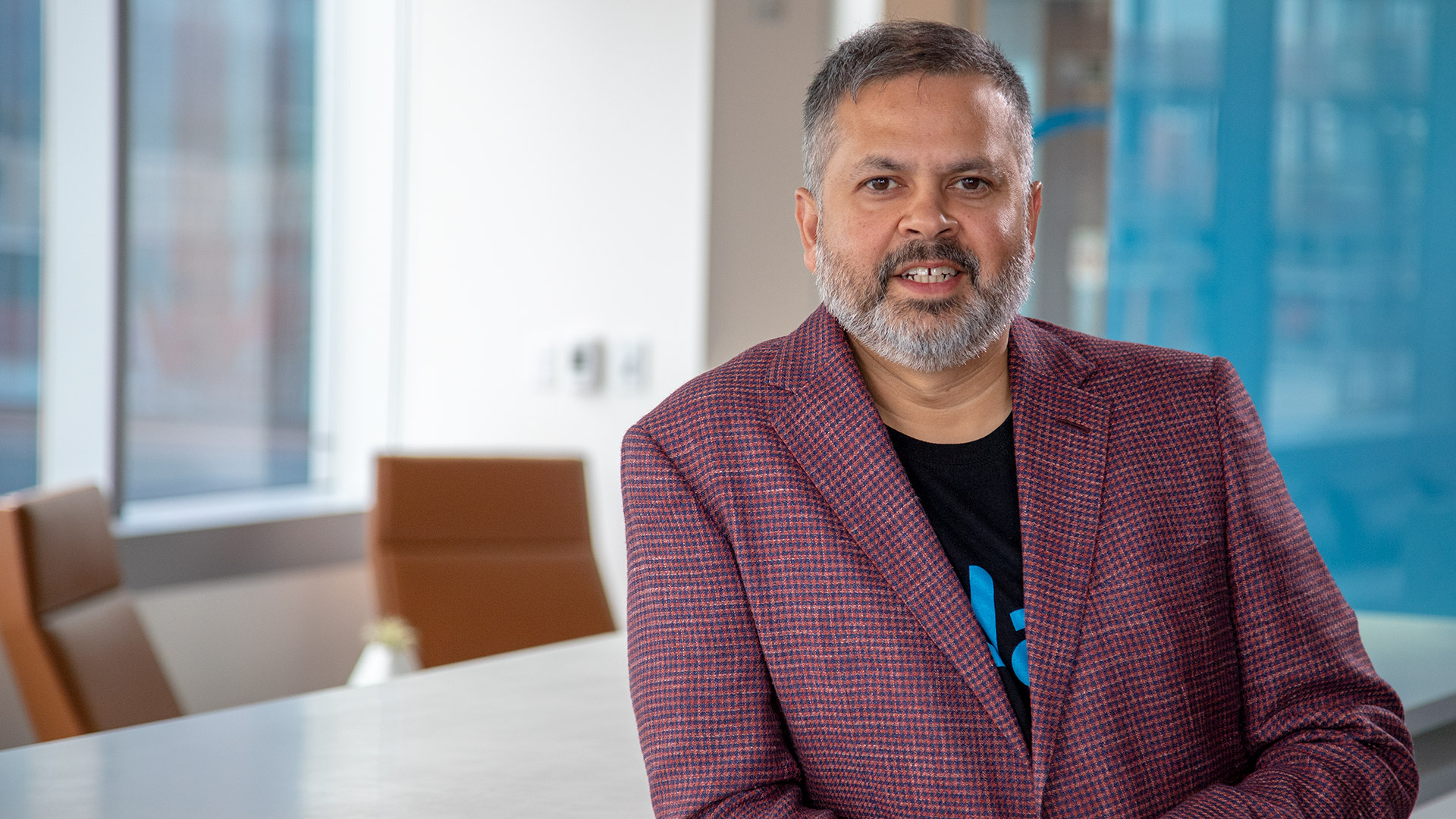 Going into the wild Blue Yonder with Girish Rishi
CEO leads traditional software company through a Copernican revolution to become the No. 1 digital supply chain platform powered by AI and ML.
Girish Rishi compared COVID-19 to a Copernican revolution during his virtual keynote presentation for the first Economic Club of Phoenix event of the 2020-21 season.
"This [COVID-19] is not only an economic, not only a social, not only a health crisis — it is all of it," said Rishi, CEO of the leading digital supply chain software provider Blue Yonder, formerly JDA. During his presentation, Rishi also described Blue Yonder's Copernican revolution.
Similar to the Copernican Revolution in astronomy that overturned the idea that the earth was the center of the universe and the sun revolved around it, Rishi said we're confronted with a similar transformation with COVID-19.
"As we're observing the world over the past seven months, we are seeing a similar dynamic play out," he said. "There's been a 75% decline in department store sales, and a huge uptick in e-commerce driven by you and me.
"Forty-one percent of workers are saying they're more productive working from home and, even at Blue Yonder, we're noticing that in our productivity metrics.
"Ninety-three percent of manufacturing and retail company executives plan to rebalance their supply chains, perhaps not depend as much on overseas production capabilities.
"We've seen more bankruptcies in the past five months than in the past eight years combined. And the interesting part about the bankruptcies is that it's not just economic challenges they're facing. It is the business model, like with department stores, that have come under challenge."
Rishi said he finds the last statistic from Zoom's second-quarter results for the fiscal year 2021 — it had approximately 370,200 customers with more than 10 employees, up approximately 458% from the same quarter last fiscal year — very interesting. "Zoom video conferencing is here to stay," he said.
Blue Yonder's Copernican revolution
Similarly, Rishi led Blue Yonder's Copernican revolution. "A little past four years ago, we endeavored to reinvent ourselves," he said. "It started with an internal team. We didn't bring on any external consultants."
After 35 years as JDA Software, and two years after acquiring the German startup Blue Yonder in 2018, the company rebranded its name and message. The change illustrates its pivot from a traditional supply chain software company into an intelligent cloud platform with artificial intelligence and machine-learning capabilities in supply chain, logistics, and retail markets.
"We focus on supply chain management, which you've heard about more in the past six months than perhaps in decades," said Rishi, adding that several Blue Yonder associates have supply chain degrees from ASU.
Rishi gave an example of how Blue Yonder helps medical device and health care solutions company Becton, Dickinson (BD) respond to COVID-19. "We began working with BD as COVID-19 emerged in January and February," he said.
Blue Yonder sources data of the increasing and changing pattern of COVID-19 through the Centers for Disease Control and Prevention and Johns Hopkins University, and then superimposes data from BD's supply chain to help it plan shipments of their medical devices and health care solutions — including COVID-19 testing kits — to medical practitioners.
"We are doing this on a cloud software-as-a-service platform, applying machine learning or artificial intelligence. This has become their [BD's] daily reporting."
From forecasting to fulfillment, other leading companies that rely on Blue Yonder's AI and ML capabilities include Kellogg's, Briston-Myers Squibb, Ikea, PetSmart, Best Western, British Airways, FedEx, and the U.S. Postal Service.
Blue Yonder is truly representative of its customer base. "With more than 5,000 employees in the company, we don't have a passport in common, an accent in common, or a single cuisine that we favor," Rishi said. "Our transformational journey over the past four years had many facets to it, but they all had to do with culture."
He explained the four values that are the foundation of the company. "Empathy: We endeavor to walk in your footsteps. We listen.
"Results: We measure by the value we have delivered to our customers. Customers like Walmart, DHL, and Michelin tires.
"Relentless: Learning is a domain that is critical within Blue Yonder, and only learning results in innovation.
"And the last and final one [Teamwork], which is very important for me, is we have a candid culture, that can respectfully disagree as we collaborate across functions. We measure our leaders, our associates off of these values. We send people to fantastic locations to recognize them. We promote them based on these values, on the practice of the values they follow."
In his talk, Rishi told the audience that Blue Yonder's annual revenue is more than $1 billion, it has 5,300 employees worldwide, it's privately held, and, "uniquely for a software company," it has more than 400 patents.
Rishi said Blue Yonder invested heavily in areas they identified as emerging, such as robotics and third-party logistics.
But the transformation hasn't been easy, he said.
"We've had to make some hard decisions. There were portfolio segments and locations that were not core to where we were headed and we had to shed those," Rishi explained. "We've had to bring in new skill sets and retrain our workforce. These hard decisions were made with great thought and with ample communication.
"We've also made bold decisions," Rishi said, naming a partnership with Microsoft, Panasonic's recent minority ownership (20%) of Blue Yonder, and sponsorship of a sports personality.
The sports personality Blue Yonder sponsors is the world's No. 1 golfer Jon Rahm (BA Communication '16). "He's our ambassador. He's tremendously humble, very engaging, and a learner, and he depicts a number of the values at Blue Yonder that we cherish. That's why we especially like him, and we wish him the best in his career."
Over the past four years, Blue Yonder's sales bookings have grown close to 20% each year, revenues have grown in the 10 to 12% range, and it's profitable. But Rishi is most proud of the company's net promoter score, or customer sentiment, of the brand. "We recorded the highest positive customer sentiment this year at 45.8."
Blue Yonder is striving on the inclusion-front like many organizations with its DIVE (diversity, inclusion, value, and equality) commitment. "One of the areas we focused on is recruitment, and new grad hires for females are up 40%," Rishi said. "We launched a Black affinity group a few months ago called Bridge, and we are actively engaged with the Thurgood Marshall College Fund. We continue to study, learn, and take a path forward where we can make progress."
While Blue Yonder is making diversity and inclusion a priority, it's launched seven new COVID-19 product offerings. And for the first time in the company's history, it's running TV commercials on the golf channel, as well as on CNBC.
"Copernican revolution, as it is said about a crisis, cannot be wasted," Rishi said. "At Blue Yonder, transparency and trust. Associate first, then customers."
Audience Q&A
Question: Can you share any of the innovative things you're doing with your clients or anything around how AI is changing our daily lives?
Answer: Our co-innovation partnership around the robotics hub is one such example. The robotics hub greatly reduces integration time and programming efforts to onboard new automation devices into DHL warehouse facilities. At the same time, it gives DHL customers more flexibility to choose the right robotics systems at the right time for their business needs. Also, as COVID-19 continues, companies are implementing our AI and ML forecasting tools to help prevent surplus inventory. These tools help identify obscure business patterns from hundreds of variables — like back-to-school shopping, the weather, social media, events — to predict sales at the most granular levels.
Question: What most excites you about Blue Yonder's next few years?
Answer: The world of supply chain will be very dynamic. From pencils and food to water and cars, we have a fantastic opportunity over the next decade for supply chains to reduce waste, to be energy efficient, to rely on local produce and local sourcing. There are so many opportunities to be figured out through software and technology that I see a fantastic potential for us.
Question: We know that the food problems of the world are complex. We have enough food, but it's not getting to the right people and some people are overconsuming. We also have food safety concerns in the supply chain. How are you pursuing this?
Answer: I've had a couple of fantastic vantage points being on the Food Security Council at Feeding America, as well as I studied for two years on the Chicago Council on Global Affairs. Through blockchain and machine learning, we can contribute significantly to a more secure food supply in urban centers and beyond.
Question: What kind of advice would you give to someone in terms of career tracks?
Answer: Balance. If you have a quantitative sciences background, I would urge you to balance it with humanities. If you are in humanities, I would urge you to take a few courses in engineering or in the sciences. I believe in being multidisciplinary. A diversity of experiences brings a degree of empathy and grows you and increases your perspective.
For more information about the Economic Club of Phoenix (ECP) or to register for an upcoming virtual event, visit econclubphx.org or call 480-727-0596.
Get updates on the latest evolving economic situations affecting Arizona and beyond from Professor of Economics Dennis Hoffman, who kicked off the virtual ECP event with Rishi.