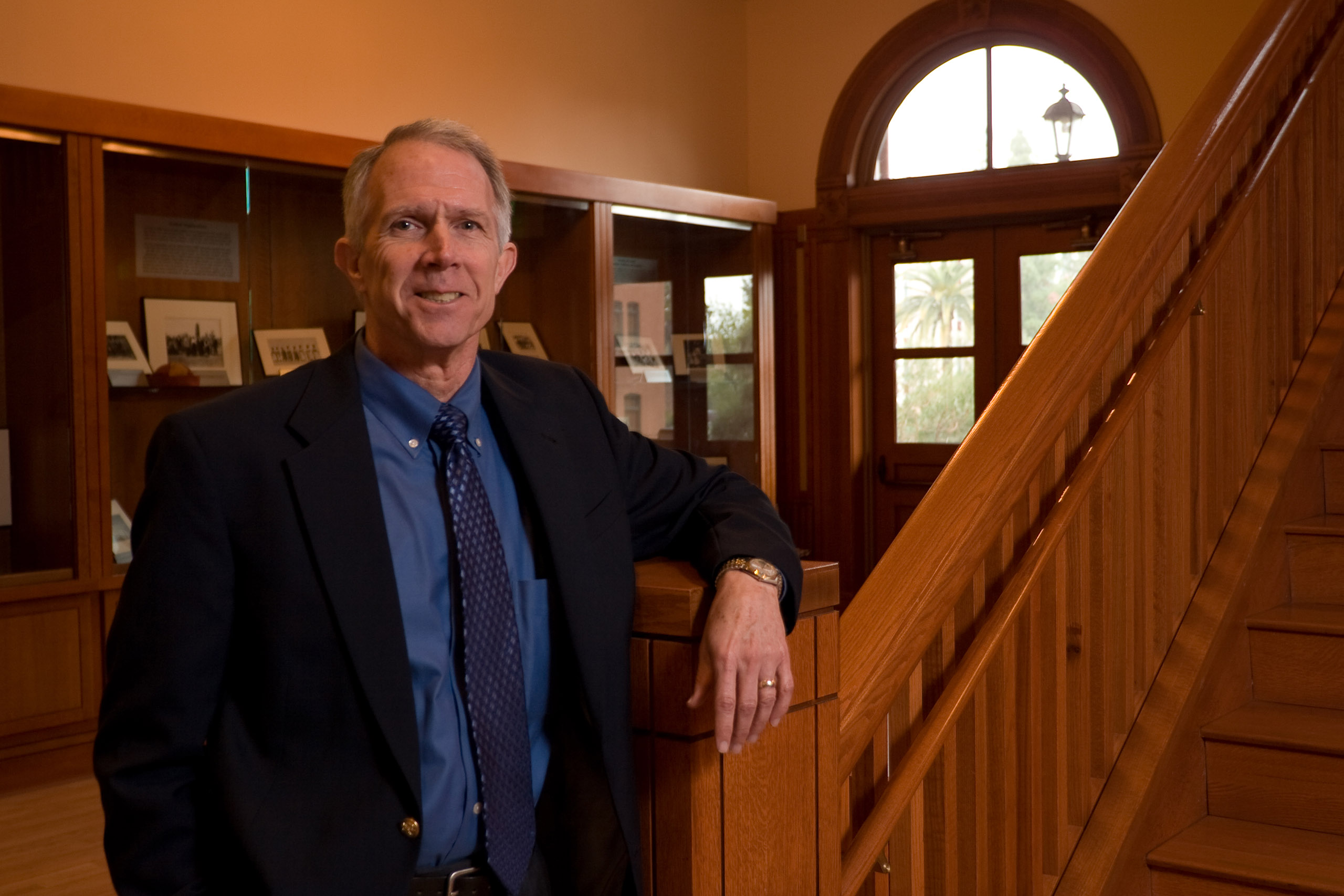 Trading academia for grandkids, sandboxes, and train sets
Heartfelt goodbyes said for Professor of Information Systems Robert St. Louis in Zoom retirement party.
By Jenny Keeler
Life in the time of COVID-19 has brought many changes to campus. Students are learning almost entirely online, professors don't gather in lunchrooms to discuss ideas over sandwiches, and staff meetings are on Zoom.
A recent Zoom call was held for the Department of Information Systems to celebrate the retirement of a longtime Professor of Information Systems Robert St. Louis.
"We would have loved to do this in person but …," said Department of Information Systems Chair Raghu Santanam.
Santanam referred to the pandemic as a "once-in-a-lifetime environment" and praised the faculty and staff for their adaptability.
St. Louis began teaching in 1969 and has seen many different environments throughout his time at ASU.
We are a much better school for your 37 years of contributions.
– Amy Hillman, W. P. Carey School of Business dean
Hillman noted the thousands of students St. Louis has impacted during his five decades of teaching. His impact reached beyond the classroom. Hillman said St. Louis' leadership helped to shape the inclusive and supportive culture of the information systems department.
Many of St. Louis' coworkers on the Zoom call commented on how much they would miss him and his thoughtful questions around the lunchroom table.
A colleague and information systems lecturer Srinivasan Radhakrishnan said the lunchtime crew solved the world's problems around that table during lunch breaks.
Radhakrishnan and fellow faculty members Tamuchin McCreless, Kathleen Moser, Elva Lin, and Daniel Mazzola shared what an overall positive influence St. Louis has been in their lives, professionally and personally.
W. P. Carey Senior Associate Dean for Students Kay Faris said she relied on St. Louis' critical thinking and eagle eye for detail.
Angelina Saric, the associate director of the IS department, gave a heartfelt goodbye to St. Louis and said she always admired his positive outlook on life.
Lecturers Linda Prince and Matt McCarthy said St. Louis was one of the primary reasons they joined the information systems department. The supportive environment he created made everyone feel valued, they said.
Professor Pei-yu Chen agreed and added that St. Louis was her go-to person. When faced with a problem, she thought:
What would Bob do?
– Pei-yu Chen, professor of information systems
Santanam took the same approach when making a difficult decision. "The first question that comes to mind is, 'What would Bob do?'" he said.
Santanam had a front-row seat as St. Louis created the information systems department from scratch. He said St. Louis' calm attitude and intentional actions were impressive and inspiring.
Professor Benjamin Shao refers to St. Louis as the "George Washington of our department," because he was the founding father of the information systems department. The two worked together for 20 years and, while attending conferences, shared many adventures, such as hiking through the rain forest in Puerto Rico and visiting the pyramids in Mexico.
Shao said St. Louis is the most altruistic person he's known. Professors Hina Arora and Kevin Hong echoed that sentiment and said they received unending support and kindness from St. Louis.
Friend and colleague Professor Uday Kulkarni said he met St. Louis during his formative years as a young assistant professor, and St. Louis became a mentor to him. Kulkarni said St. Louis is the most sincere and fair person. He said St. Louis brought simplicity and ease to every situation, making nothing complex. "The thinking he brought to committees was unparalleled," Kulkarni said.
In addition to founding the information systems department, St. Louis was also a department chair for the school of accountancy for a time. Throughout his career, St. Louis focused on his research interests and has published papers in a variety of journals, including the Academy of Management Journal, Decision Support Systems, the Journal of Econometrics, Communications in Statistics, and Communications of the ACM.
Santanam did some digging into St. Louis' early career and found a paper he wrote in the '70s about an idea for low-cost, computer-based information systems and a time-sharing transportation program.
Even in the 1970s, Bob already had an Uber-like service in mind.
– Raghu Santanam, chair and professor of information systems
St. Louis taught classes on information management and conducted research in the areas of document search, management control systems, and evidence-based decision making during the past five years of his professorship.
More coworkers and friends continued to give heartfelt farewells and share memories of St. Louis on the Zoom call.
While he would have preferred to do so in person, St. Louis gave many thanks for the kind comments and sendoff. He said he and the department had always tried to help each other and do the best they could for their students. He said he always felt good about coming into work, a feeling not many occupations can offer, he said.
"I'm incredibly blessed to have had the greatest colleagues, faculty, and staff of any workplace in the world," said St. Louis, who began teaching at ASU in 1969, but spent the period from 1976 through 1981 working full time as a researcher for state and federal agencies. He also conducted seminars for the U.S. Department of Labor on data-driven forecasts and consulted with state and federal agencies on predictive analytics.
Instead of riding off into the retirement sunset with ease, St. Louis jumped in to fill a need in the department in his last year and taught an undergraduate-level course — his first undergrad class in many years.
For his extra effort during the past year, the department awarded St. Louis with an Outstanding Service Award.
In his retirement, St. Louis will trade academia for grandkids and sandboxes and train sets — worthwhile trade-offs, he said.
"Life is good," St. Louis said.
Emeritus Professor of Information Systems Robert St. Louis jumps into the pool — and retirement — with his two youngest grandsons.