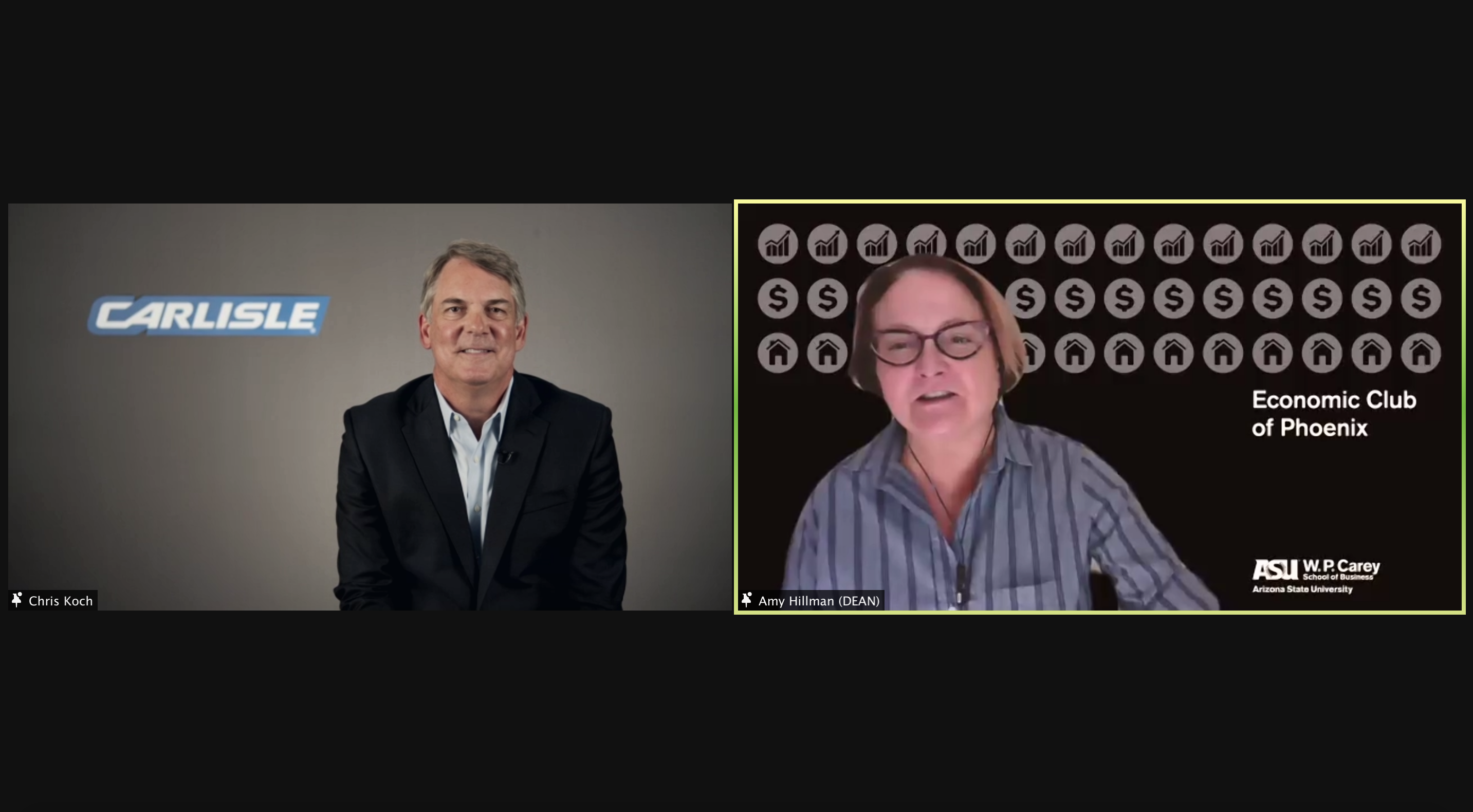 Today's leaders need clarity the most, 2020 Executive of the Year says
Chairman, President, and CEO of Carlisle Companies Incorporated D. Christian 'Chris' Koch describes the power of clarity in a crisis at the Economic Club of Phoenix event honoring him.
If there's one element to utilize as a leader in today's uncertain and turbulent times, it's clarity.
"Having clarity in our strategic plan, coupled with a fundamental understanding of how the business works, increases the likelihood of successful execution, provides comfort to our leadership team, helps smooth investor communications, and gives Carlisle's frontline workers the confidence they need to operate for success in turbulent times," said D. Christian "Chris" Koch, chairman, president, and CEO of Carlisle Companies Incorporated.
Koch, who was being honored as the 2020 Executive of the Year, gave a talk titled "The Power of Clarity in a Crisis" on Thursday at a virtual Economic Club of Phoenix event.
Earlier this year, Koch was chosen as the 37th Executive of the Year by the Dean's Council, a national group of prominent executives who advise the W. P. CareySchool. The award honors exceptional global business leaders who have created and sustained superior organizational performance and whose presence exemplifies a model for future business leaders.
Carlisle Companies Incorporated is a global portfolio of brands and businesses that manufacture highly engineered products and solutions for diverse markets, including for aerospace, medical, defense, transportation, industrial, agriculture, mining, and construction. Its worldwide team of employees generated $4.8 billion in net sales and an operating income of $654 million in 2019.
Koch joined Carlisle in 2008 and was named president and CEO in January 2016 and chairman of the board of directors in 2020. A board member of Headstrong Project, Toro Co., and the Greater Phoenix Economic Council, Koch has also held leadership positions at Graco Inc. in Shanghai and Minneapolis, and at the H.B. Fuller Company.
Sustaining business growth over time
"Driving growth and profitability consistently is very hard. Let me repeat that. It's very hard," Koch stressed at the opening of his keynote presentation.
In a recent Bain study of approximately 5,000 companies around the world over a 10-year period, fewer than one in 10 consistently grew, earned profits, and returned their cost of capital over five sequential years. That's less than 10% of the companies, he said.
"While that's a statistic that seems unbelievably low, it did confirm how difficult driving growth and profitability is," said Koch. "At Carlisle, we understand the pressure to grow by our daily interactions in the capital markets and by simply looking at our share price."
Koch said company share price is the management scorecard. If you believe this, then every day in a public company, you get feedback on how you are executing your vision, he said.
"It's important to understand how to manage the company to best optimize the chances to achieve superior performance because that performance is what drives sustained shareholder value creation over time," Koch explained.
Why is it hard to sustain business growth over time?
"In my experience, it's largely because organizations lose focus on what matters most, and waste valuable time, energy, and talent pursuing noncritical activities," Koch said.
As a senior leader, Koch said it's an essential part of his job at Carlisle to cut through the complexity and endless business jargon and to communicate a clear, direct, and simple strategic vision for the organization that informs its priorities, and educates employees on the mission and guides their everyday actions.
"As a CEO and a leader, all the work is done through others," Koch said. "I have to be sure that the strategies and actions we seek to drive aren't diluted as the message spreads through the organization. It's essential that one be clear, simple, consistent, and repetitive in communication."
Koch explained that as a leader, one gets paid to allocate talent and capital. To allocate talent and capital effectively, the organization has to understand clearly what's expected, he said. "If the message isn't incredibly clear, the business will, as I said before, waste resources as it executes on the vision, including time, which may be the most valuable resource we have."
He said organizations will get most of the answers right but not all of them despite their best intentions and with the understanding that no one in the organization seeks to fail.
Like the old game of telephone, we lose a fraction of our message. Each time it's repeated and by the time it reaches a few people down the line, it is fundamentally altered. Just from the CEO to a manager level without clarity, the message can be lost.
"At Carlisle, we found the best strategies focus on answering a few key questions to decide resource allocation and to ensure that there's clarity on those few elements of the business model," Koch said.
What and how much should you aim for?
Which business assets should be in (and out of) your portfolio?
What is your corporate target picture; and how do you adjust over time to get there?
How do you trade off business needs and shareholders' requirements, and best deploy capital across assets?
How do you add value in the development and management of the portfolio?
"It's also important to understand that strategy done well appears almost self-evident," he said. "What I mean by self-evident is that the most powerful strategies are almost always easy to understand. The hard work comes in translating those strategies into actions that employees can implement."
Despite a clear message and a solid framework, it is extremely important that the fundamental communication piece be done with clarity, Koch stressed again.
"I'll say it again. Though it's not difficult to understand this idea, it is extremely difficult to communicate clearly and to drive efficient execution completely through the organization, especially in an uncertain work environment like we're all experiencing now."
When Koch took over as CEO at Carlisle in January 2016, a few things were on his mind.
A leadership transition to a new CEO is fraught with challenges. Change is hard for everyone. "The most important thing was to have a successful transition from the previous CEO to me in the first year."
As a new CEO, there was an expectation there would be a new vision. "Investors, board members, shareholders, and employees were all asking, 'What are you going to do with this business now that you've taken the helm.'"
Koch said he wanted to take a ground floor up approach because it was important for everyone in the organization to understand where Carlisle was headed. He said it needed to have a common set of communication tools within the business from shop floor to C-suite.
"We needed to be clear on the key drivers of value that would differentiate us and to be clear on those activities and actions we were absolutely not going to pursue."
Carlisle's focus was on maximizing price, on using the Carlisle operating system to unlock value, and clarifying where it would and would not focus its M&A efforts.
"What we were concentrating on was indoctrinating the organization on clarity," he said. "Clarity was important, not just for the internal team, but we were also seeking to provide clarity to our board and the investment community to support vision 2025."
Koch said that when he presented the approach to investors, one of the first questions he got was why it took a year to develop the strategy.
"We didn't spend the year solely on strategy. We spent some of the time on strategy, but the majority of time was focused on driving clarity in the message throughout the organization."
Funding the business mission
Carlisle had clarity of the mission, but how good is that clarity of mission if it isn't funded?
In addition to strategic clarity, Koch said Carlisle focused on having clarity on its sources of liquidity, cash flow generation, and a balance sheet strength for the duration of the strategic plan.
"Even to this day, and especially after almost a year of COVID-19, I'm asked by investors and analysts whether we have enough funding to continue to execute on vision 2025 at this time of crisis, and the answer is yes.
"We have always concentrated on driving yearly margin leverage, and we avoid too much debt to maintain flexibility and liquidity, even in the toughest situations."
Koch said Carlisle's vision 2025 was delivering solid performance for Carlisle shareholders. It had excellent traction in the marketplace and shareholders rewarded Carlisle for consistent improvements in growth and profitability.
Then the pandemic hit, bringing tragic consequences to people worldwide and devastation to the global economy.
Powering through the pandemic
In the first few days of the crisis, the Carlisle leadership team focused on the health of its global team members, their families, and the communities in which they live. Once they put in place the safety and security requirements for team members, the question was whether Carlisle could continue to execute vision 2025 while facing the unprecedented market turbulence.
"When COVID-19 hit us in early January at our Chinese facilities, the initial focus was to respond to the immediate threat by protecting employees and stabilizing the business," Koch said. "Carlisle's strong balance sheet and ample liquidity ensured our focus was on the employees and serving our customers, not dealing with a financial threat to the business."
Koch credits Carlisle's long-term strategy for the company's performance during the crisis. "We looked ahead seven years to pressure-test our vision in good times and bad to understand if, even in the case of a recession or some other negative impact, we'd be able to perform," he said.
The company's long-term strategy considered what could go wrong and how to manage around it over time, opportunities that would allow the business to leverage core competencies for growth or to enter new markets, and a conservative mindset.
"Early in the crisis, we refinanced a portion of our debt, taking advantage of lower interest rates created by the downturn," Koch shared as an example the company's long-term strategy. "This has given us the ability to react quickly to new market opportunities.
Koch said they tried to treat all key constituencies Carlisle serves very well through the crisis "because people remember being treated well and that generates long-term positive growth and employee satisfaction."
Final thoughts on leadership
He offered a few thoughts on other important elements of clarity, strategy, and leadership that have been helpful throughout his career.
Great leadership enables teams to succeed and reach their full potential. It's as simple as that.
"Without leadership, even the best strategies will falter, as it is the role of the leader to both stand out in front of the organization and behind the team to push them to accomplish more than they think is possible.
Koch shared three critical elements of great leadership.
Steady, consistent focus on the goals and targets that have been agreed to. At Carlisle, that's vision 2025. "Sometimes organizations can get distracted by the latest diversions and it's the job of the leadership team to consistently reiterate the vision and hold the team accountable to the commitments they made."
Koch said you can't have clarity in the organization as a leader if you only stick to the 30,000-foot level. "You must have access to the front line workers and understand what matters to them and how the work gets done. Without a clear understanding of where and how the business adds value, it's difficult to see how a leader can drive efficiencies and effectiveness through their team."
Leaders need to be balanced. That's what brings clarity of vision. "Even in a crisis, you don't get overwhelmed or panic, people don't see tension, and anxiety. They see the leader having clarity sticking to the mission and driving an organization with purpose. When there is stable leadership in a crisis, people don't focus on the crisis, they focus on the work and on the execution of the work because they believe the execution of the common mission will get them through it together."

When Koch took over as CEO of Carlisle, he made a conscious decision to challenge everything. The former CEO was still chairman and supported the approach "because we both understood that what made Carlisle successful yesterday will work tomorrow."

He said a strategic planning process is questioning everything taken for granted. "It's always surprising to me how often people take performance for granted, and then they're surprised when the world changes unexpectedly. It's important to examine every aspect of the business and ask questions that may seem incredibly basic or fundamental. You'll often find insights as you examine the answers to those questions.

"Making tough decisions can be lonely and uncomfortable. But as a leader, there'll be times when you have to make the call. Those are decisions that define you as a leader."





For more information about the Economic Club of Phoenix or to register for an upcoming virtual event, visit econclubphx.org or call 480-727-0596.

Top photo: W. P. Carey School Dean Amy Hillman moderates the Q&A for Koch at the ECP event honoring him for the 2020 Spirit of Enterprise Award.