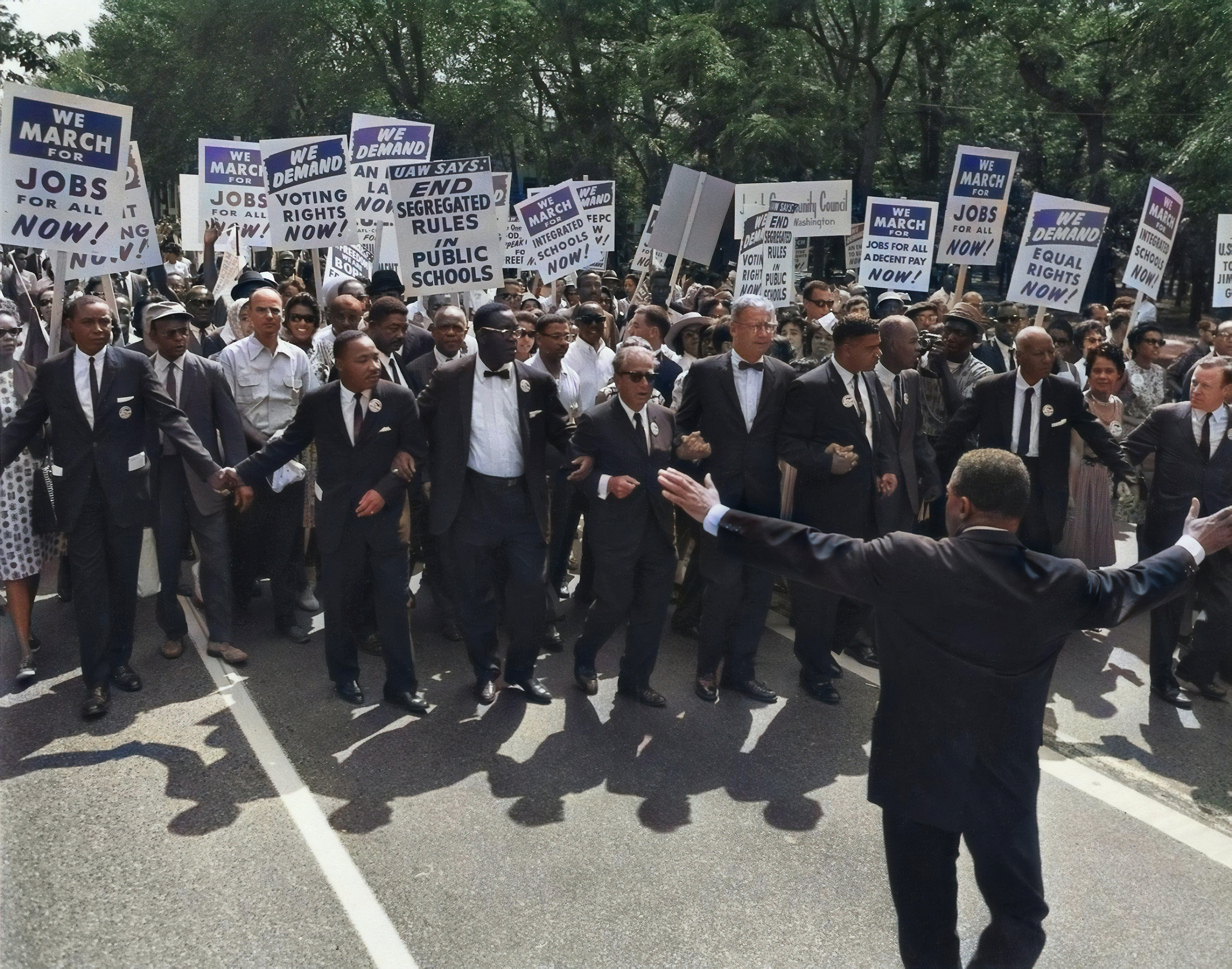 How to create and articulate your business vision like Martin Luther King Jr.
Associate Professor of Management and Entrepreneurship Christopher Neck explored MLK's 'I Have a Dream' Speech to pinpoint exactly why it was so effective. Here are three lessons.
By Andrew Clark
Nearly 50 years ago, a quarter-million people traveled to the National Mall in Washington for the March for Civil Rights. The words they heard that summer afternoon in front of the Lincoln Memorial rang across the reflecting pools, through the halls of Congress, and into the classrooms of every American.
I dream that my four children will one day live in a nation where they will not be judged by the color of their skin but by the content of their character.
– Dr. Martin Luther King Jr.
The persuasive speech that Dr. Martin Luther King Jr. delivered that day framed the fight for civil rights for his generation and countless more. Dr. King's words also defined who he was as a leader — someone with a mission, vision, and dream to transform the United States into a land where everyone was created equal.
The "I Have a Dream" speech is a truly inspiring example of how transformational leadership is defined by identifying and articulating a vision, and in Dr. King's case, a dream. In the paper, "Dr. Martin Luther King Jr.'s 'I Have a Dream' Speech as a Tool for Teaching Transformational Leadership and Vision," Associate Professor of Management and Entrepreneurship Christopher Neck explored the speech to pinpoint exactly why it was so effective. Additionally, Neck and his co-authors illuminate lessons that today's leaders in business and industry can learn from Dr. King as they bring positive change to their organizations.
From a class discussion to a scholarly work
The idea for the paper, which published in the Journal of Organizational Behavior Education in 2011, originated 15 years ago from a class exercise focused on Dr. King's "I Have a Dream" speech that was developed and used by the lead author. The speech was an ideal fit for the classroom. Historically, it helps students learn about one of the most important events of the civil rights movement. Logistically, at 17 minutes long, the speech is relatively short and can fit easily into a class period. Additionally, Dr. King was a transformational leader, and the speech is an excellent example of how to create and articulate a vision.
It was clear from the original class exercise that those students who learned more and found their ability to speak powerfully were better able to transform organizations and entire industries. Beyond a learning tool in the classroom, co-authors of the paper explored how the speech could be a lesson in transformational leadership. And as the paper illuminates, the "I Have a Dream" speech can teach several lessons for those in the business world, as learning how to speak effectively sets ordinary leaders apart from extraordinary ones.
Dr. King had a dream, a vision, and a mission
One reason that Dr. King's words are etched in the history books is that he clearly and concisely articulated his demands of the United States — equality for everyone.
Such a vision and clear understanding of mission are foundational to strategic planning in the business world. As Neck notes, by creating and articulating a compelling vision, an organization can paint a picture of where they want to be. It also helps with change management since employees can better understand the purpose of what they are doing and how it fits the organization's strategic direction. Transformational leadership that starts at the top will pass down throughout an organization, and strong leadership will ensure that everyone is on the same page.
The rhetorical tools of a leader
Not only did Dr. King have a dream that leaders could use as a model, but the rhetoric he used to convey it was tremendously useful. According to Neck, Dr. King spoke in terms and language that those listening to him could understand and relate to concretely. By talking to his audience in this style, it allowed them to both see his vision and illustrate how they could move it forward.
When it comes to dissecting the "I Have a Dream Speech" in regards to what makes it so compelling from a rhetorical perspective, the paper's co-authors highlight three elements of the speech that led to its profound and long-lasting impact:
It came at the correct place and time. With 250,000 people in attendance and millions more watching and listening on radio and TV across the country, the march was momentous — an event that Neck and his co-authors say was a "dynamic spectacle." When leaders find a transformational moment to use transformational words, it is one of the most potent rhetorical tools they have in their arsenal.
The problem was now. Not only were Dr. King's words transformational — but they were also urgent. Calling on his training as a pastor, he adopted a voice that signaled to those listening that there was a crisis, an overwhelming threat to overcome immediately.
In times of crisis, people look to strong leadership to provide direction. In business and industry, leaders that capture that same urgent rhetoric in managing organizational change find themselves able to do it faster, better, and with more support.
His words made sense. The sense of familiarity and understandable language is the final thing that leaders should learn from the "I Have a Dream" speech. It is a rhetorical quality that can be read rather than heard or watched: Plainly, the words and phrases he used as he spoke to his audience that day resonated with them. The symbols and experiences he used were ones that anyone would recognize, included vivid imagery of different places across the nation, phrases from the Bible, and national hymns.
Neck says CEO's should take the cues of being relatable. Corporate-speak has a time and a place, neither of which are when speaking to a captive audience.
It's a proven style
Dr. King's style of transformational leadership is especially crucial in the economic climate we find ourselves in, and not just because it "feels good" to have a strong leader, but also because it's proven.
For those in today's business world, Neck notes that there is much to learn from Dr. King's speech. He says that Dr. King's leadership model has robust support in empirical studies from a wide range of disciplines, and it is concise and trustworthy.
All dimensions are important. Since one can argue that people with skills (knowledge workers) are the key resource in today's environment, the dimension of 'consideration' (the care and concern for followers) is essential in creating a positive work culture.
– Associate Professor of Management and Entrepreneurship Christopher Neck
Not only does the style make better leaders, but it also makes better workers. Neck says that when there is a shared vision, it leads to a strong performance. "Vision helps a worker understand how his/her job fits into accomplishing the organization's mission," says Neck. Ultimately, when the members of an organization understand the shared mission, they also can understand how their job fits into accomplishing that mission. "Transformational leaders foster the acceptance of group goals," says Neck. "Goal setting is very robust in increasing performance. A clear vision is an important step in having followers buy into the group goals."