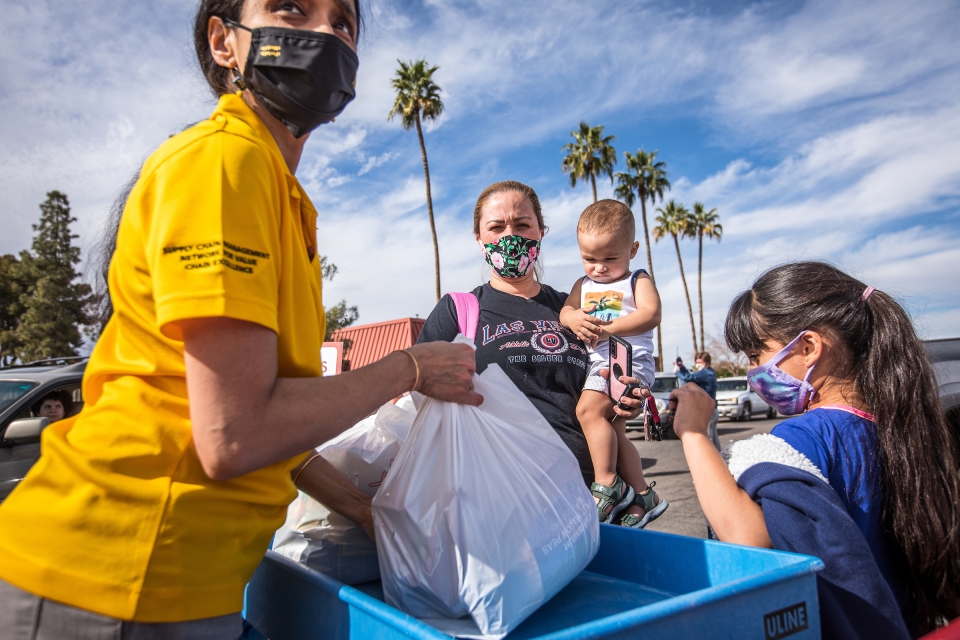 Our food pantries need an update. Here's how we can modernize them
While nonprofit Forks for Families was a success, it was also a learning experience — one that offers a playbook for how other food assistance programs can update their distribution systems and make their meals more accessible to today's working families.
By Katy Keane and Srimathy Mohan
At the start of the COVID-19 pandemic, milk was dumped at dairy farms, and fields were plowed under as our normal food supply chains broke down. Yet at the same time, an estimated 45 million people in the U.S. were experiencing food insecurity. Food pantries, normally a key resource for hungry families, were overrun by requests for assistance, hampered by disrupted transportation networks, and in short supply of volunteers.
The need for food assistance was especially high in the communities around Arizona State University, where we teach and research supply chain management. Nearly one out of eight households in our state were unable to buy enough food last year. Food pantries are meant to close this gap, but they fell far short of meeting demand during the pandemic, in part because they rely on an outdated system for distributing food. Even in the best of times, our food assistance system struggles to get meals to the right people at the right time.
That's especially true for working families, who make up half of all people accessing food assistance. In Mesa, Arizona, a city of half a million people next door to ASU's campus, only a single food pantry is open past 4 p.m. That makes it all but impossible for modern working parents to take advantage of the free food that pantries provide. In addition, food pantries are often out of the way for the families they serve, particularly those who rely on public transportation. While flexible, on-demand delivery is now the norm for restaurants and grocery stores, food-insecure families are forced to spend time, money, and effort to get the assistance they need.
To modernize food assistance in the midst of the pandemic, we launched Forks for Families, a non-profit that leveraged our experience in logistics and brought a business perspective to optimizing this important social service. From December 2020 to May 2021, we and ASU colleagues John Fowler and Brett Duarte built a local supply chain and a network of volunteers that ultimately delivered more than 900 meal kits and fed over 1,500 people in our community.
What made Forks for Families different is that we worked systematically to bring food to people where they already were and to make assistance as seamless as possible. Rather than base out of an existing food pantry, we brought meals to the local elementary school where working parents were already going to pick up their kids. To get the meals from food banks to the school, we partnered with Amazon and leveraged the company's existing network of delivery drivers.
We also created two different meal pickup times, including outside of standard work hours, to make Forks for Families more convenient for working parents. We set hours based in part on surveys that let parents tell us what times would work best for them to pick up food. We even returned unused meals to a partner food pantry, the ASU Pitchfork Pantry, to ensure that no food went to waste.
While Forks for Families was a success, it was also a learning experience — one that offers a playbook for how other food assistance programs can update their distribution systems and make their meals more accessible to today's working families.
We found that a key element of delivering meals to families in need was to make food assistance as visible as possible. For example, we saw a significant increase in the number of families who signed up for meals when we began offering pickups at the end of the school day in the same area where parents were picking up their children. Moving some food assistance from food pantries to community sites like schools, churches, and daycare centers could make meals more accessible to food-insecure families.
Accomplishing that requires setting up a distribution network to get meals from food pantries to community sites. We partnered with Amazon, but any company with a fleet of vehicles could work for this task. Other potential partners include car rental companies, ridesharing services like Uber and Lyft, delivery companies like FedEx and UPS, or even local businesses that are willing to lend a delivery truck for a few hours each week.
Finally, our experience underscored the fact that food pantries' limited hours can be a significant barrier for many working families. Going forward, food pantries should offer pickup windows throughout the morning, afternoon, and evening. Alternatively, sites across a city like Mesa could coordinate to stagger hours, so that some provide services in the mornings while others are open during evenings.
While the pandemic dramatically increased food insecurity across the US, demand for food assistance in our communities is high even in the best of times. Food pantries do admirable work, but the current system doesn't address the realities that working families face. Forks for Families demonstrated that by focusing on logistics and meeting people where they are with meals, we can significantly increase the reach of existing food assistance programs. We helped feed one Arizona community during the pandemic, and our work can serve as a model for how other communities can fight hunger going forward.
Top image: Associate Professor Srimathy Mohan (left) helps Lismeira Montero, and her children Juan David Romero, 1, and Maria Romero, 6, with two bags of nonperishable food at a Forks for Families food distribution site at Roosevelt Elementary School in Mesa on Feb. 9, 2021. Photo by Charlie Leight/ASU Now
Katy Keane, supply chain management lecturer, and Srimathy Mohan, associate professor of supply chain management and Harold E. Fearon Fellow co-founded Forks for Families with ASU colleagues John Fowler, professor of supply chain management and Motorola Professor in International Management, and Brett Duarte, clinical assistant professor of supply chain management. The food assistance program in Mesa, Arizona, fed over 1,500 people during the pandemic.