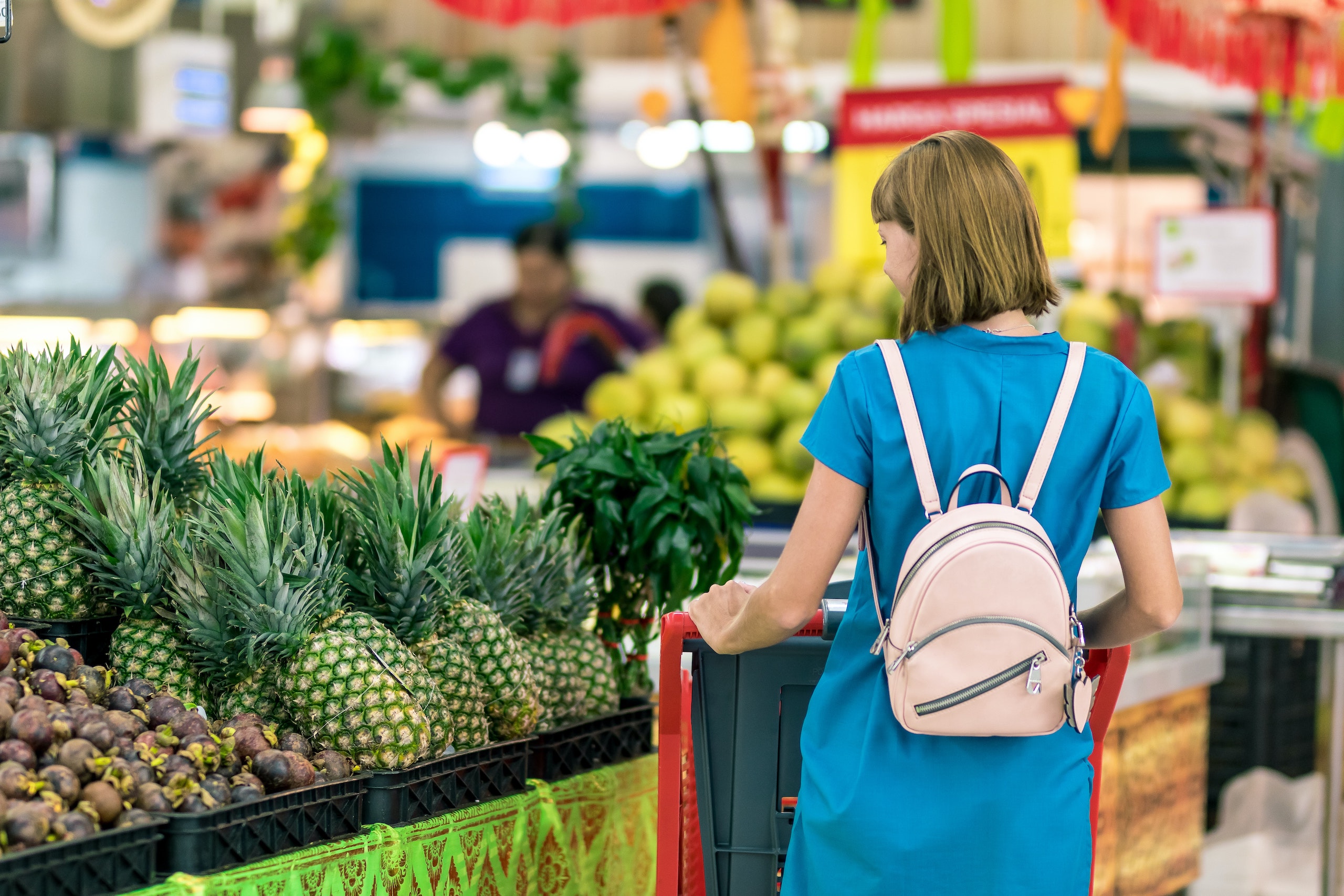 What drives consumers to purchase healthy foods?
Assistant Professor Lauren Chenarides at the Morrison School of Agribusiness, along with other agricultural economists, examined the stumbling blocks people with low incomes face when shopping for nutritious food.
By George Spencer
Searching for spinach can be a full-time job in high-poverty areas in America. Areas with people who have low incomes and low food access (once dubbed food deserts, a term that has now fallen out of fashion among experts) suffer from a shortage of grocery stores, superstores, and farmer's markets that sell a wide range of fruits, vegetables, and universally accepted healthy foods at affordable prices.
As many as 19 million people — 6% of the American population — live in such areas, according to the Department of Agriculture (USDA). It defines these places as urban locales where a grocery store is more than a mile away and rural places where food stores are more than 10 miles distant. The result? Non-processed nutritious foods that range from apples to zucchini will typically only be found, if at all, at gas stations or convenience stores. Even worse, limited shelf space at those outlets means less variety is available, and cash-strapped shoppers must pay even higher prices.
Government, activists, scholars, and the food industry have waged a two-front war to remedy this far-flung and seemingly intractable problem. First, they have sought to find ways to introduce more shopping options in these places, and second, they have worked to incentivize individuals to change shopping habits.
Assistant Professor Lauren Chenarides at the Morrison School of Agribusiness, along with other agricultural economists, examined the stumbling blocks people with low incomes face when shopping for nutritious food in their research paper, "If You Build Them … Will It Matter? Food Stores' Presence and Perceived Barriers to Purchasing Healthy Foods in the Northeastern U.S."
"What we specifically looked at was how the presence of supermarkets and supercenters was linked with how shoppers perceived the prices of nutritious foods," says Chenarides, who will begin her term on the board of the Council on Food Agricultural & Resource Economics (C-FARE), a group that translates research on agricultural policy issues to policymakers and the general public, in fall 2022. Her recent study examined consumer behavior based on surveys of nearly 2,000 shoppers at 13 food retailers in Baltimore; Pittsburgh; New York City; Charleston, West Virginia; and other major northeastern urban centers.
Food preferences vs. food options
Chenarides' research has found that when more supercenters and club stores enter a low-option area, people think more healthy food will be available at lower prices; on the other hand, if a new store is only a supermarket, shoppers will think that the prices of healthy foods will be higher, and less food of that nature will be available.
Her research — and that of other scholars — is also leading her to conclude that the behavior of food shoppers with low incomes may be less related to access to stores than was previously believed. "A major reason why there are so many variations in the nutritional quality of a food basket from one individual to the next probably has to do with whether they like such foods or not," she says.
That deeply held food preferences outweigh the significance of shopping options may come as a blow to recent government and private sector policies. One such notable strategy came into being in 2014 when the federal government enacted the Healthy Food Financing Initiative (HFFI) during the Obama administration. It enabled public-private partnerships between the USDA and non-profits, such as the Reinvestment Fund and The Food Trust, to incentivize grocery stores to open in low-income areas by offering them low-interest loans, grants, and tax credits.
"Initially, this made a lot of sense economically," says Chenarides, the former chair of the Food and Agricultural Marketing policy section of the Agriculture and Applied Economics Association. "But when you look at the viability of supermarkets that received this funding, in the long run, more likely than not they ended up failing."
Grocery shopping at dollar stores?
As enthusiasm for this government-backed strategy has waned, a new retail format is taking center stage. No-frills, limited-selection, small-format retailers like Dollar General, Family Dollar, and Dollar Tree are expanding rapidly in areas with low income and low access to food.
But there's a problem. "These stores are controversial because most of their food inventory tends to be more processed," says Chenarides, whose research also focuses on this trend. Dollar stores typically offer few, if any, fruits or vegetables, because to keep costs down they have no refrigerated food sections.
Some local governments, consequently, have implemented "dispersal" regulations. They prevent too many of these non-traditional food retailers from opening near each other. "These policies are very short-sighted," warns Chenarides. "Is nothing better than something? Isn't access important to everybody? If you're not coupling a dispersal policy with a financing initiative, you're leaving a lot of people without shopping options."
What's more, dollar stores are starting to open locations that have cold storage, according to her, because they know consumers in certain areas want healthy food. "It's a profitability game," she says. "They don't want to lose their customers. They're going to do everything they can to keep those shoppers loyal to them."
Food purchasers typically split their business between an average of four different stores, and that can favor dollar retailers, according to Chenarides. "It's not just price that drives shoppers to their preferred store. To capture a sliver more of the market, retailers choose the inventory and amenities inside a store, because those are strong predictors of whether a household will choose that store," she says.
Cutting the cost of groceries
Chenarides is a strong proponent of evidence-based policymaking. She believes that there is no one solution to the dual problems of lack of nutritious food options and deeply held consumer preferences. To resolve these issues, she would encourage lawmakers to reduce the cost of food by crafting policies to increase competition in food supply chain chokepoints.
She would also urge food industry companies — from farmers to distributors and retailers — to take the following steps: Make greater investments in technology, modify labor policies to incentivize workers, and reallocate farmland so nutritious fruits and vegetables can be grown and sold locally to cut transportation costs.
"I'd rather be alive today than at any other time in history. We have more access to things than we've ever had before and have so many more options to make better choices. I'm very optimistic," she says.