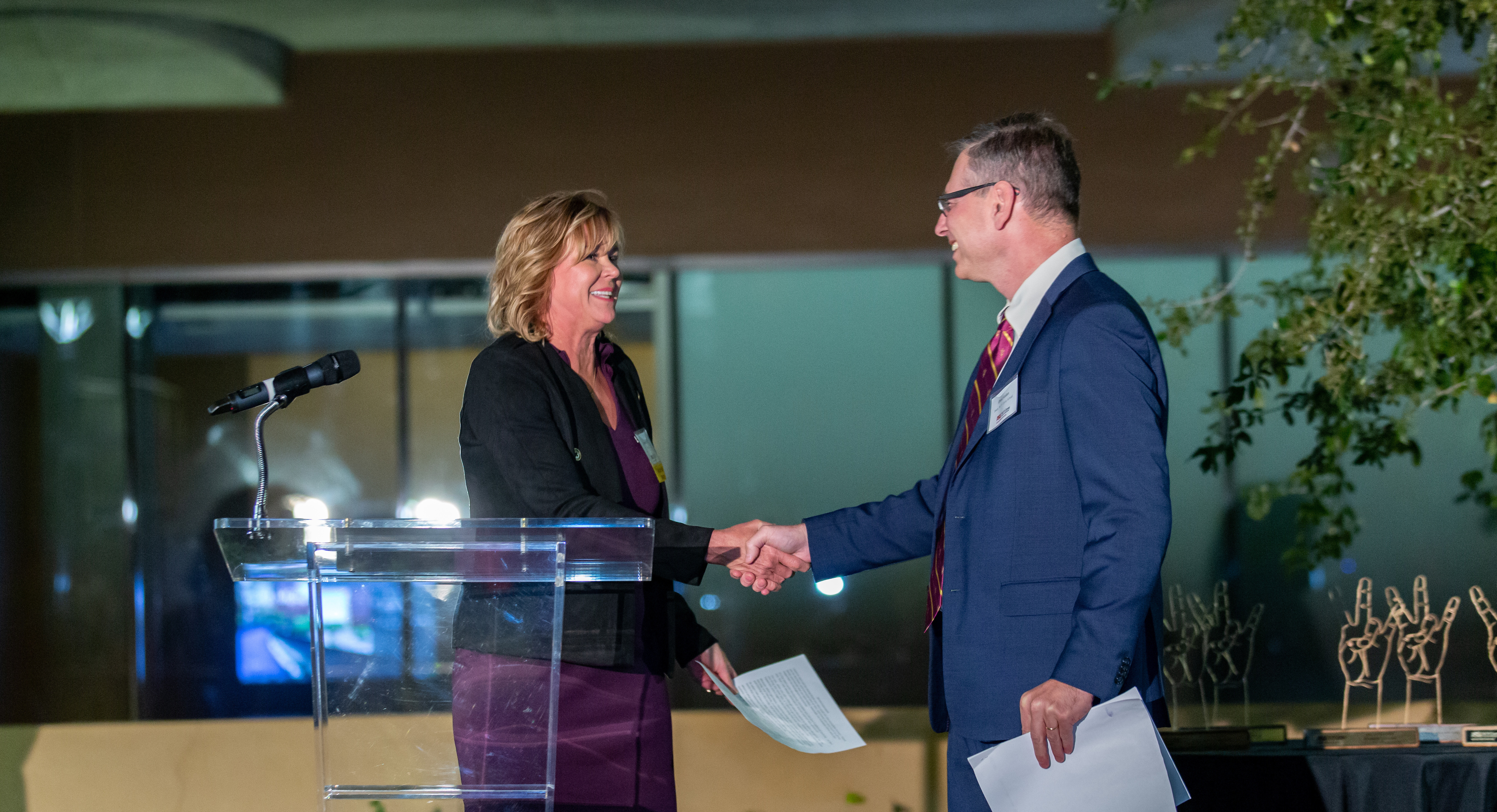 Everyone belongs in places like this
In celebration of Sun Devil Giving Day, Michelle Cirocco (MBA '08) shares her story and how the W. P. Carey difference — personal, helping, caring, transformative, and there when you need it most — has been a part of it.
After serving time in prison and being released in 2002, Michelle Cirocco (MBA '08) never imagined she'd be accepted into one of the most highly ranked universities in the country. With an associate's and bachelor's degree, a job with Televerde, a family that supported her, and a deep desire for a better life, she bravely applied to W. P. Carey's Evening MBA program.
In celebration of Sun Devil Giving Day, Arizona State University's annual day of giving, on March 16, 2023, Cirocco shares her story and how the W. P. Carey difference — personal, helping, caring, transformative, and there when you need it most — has been a part of it.
For me, the primary difference is all about access and education for everyone. It's about empowering people and encouraging them to embark on and continue their journey of success, which is how I got to ASU.
– Michelle Cirocco, Chief Social Responsibility Officer, Televerde
But it hasn't been a traditional journey to ASU for Cirocco. "It's one that I used to be deeply ashamed of, but I'm now incredibly proud to call my own," she says. "Because you see, when you ask a little girl what she wants to do when she grows up, the one thing she'll never say is, 'I want to go to prison.' That's precisely what happened to me. And it could be the best thing that ever happened. Because when I got there, I found two things: a passion for learning and a company called Televerde that provided incarcerated women with jobs and training on the inside that led to employment and careers on the outside."
Cirocco's turn with Televerde
Cirocco began her career at Televerde in 1996 when she was sentenced to prison. The company, headquartered in Phoenix, provides sales leads and market insight for high-tech companies. About 13 years ago, Televerde created four call centers in the Arizona state prison in Perryville, employing 250 inmates (out of 3,000) — and Cirocco was one of them. Cirocco and her fellow inmates overcame their difficult circumstances through immersion training, mentoring, and working with real-world clients.
When she was released in 2002, Cirocco was offered a job in sales at Televerde's corporate office. But as she networked at sales conferences, she lacked the education and experience to contribute meaningfully to conversations. Cirocco earned a bachelor's degree and didn't skip a step before heading to ASU for her MBA to level the playing field.
I knew that to succeed in business, I would need an excellent education to equalize my lack of experience," Cirocco says. "I'll never forget getting the letter. I was sure it would be a denial when I opened and read it. All I could think to myself was, 'How could this be? Women like me don't get to go to places like this.'
"But I did," she continues. "And when I got to ASU, it was hard."
Cirocco juggled her full-time career and being a mom of two. "I wasn't sure I could do it. I almost quit, but I didn't. I stayed the course. I studied, and I learned," she says. "The most important thing I learned was that getting a degree here wasn't just about getting the degree. It was about something other than having the credentials or making more money. It was about bringing what I learned back to the workplace, increasing my contribution, and contributing to the business meaningfully. That's where the magic happened."
In 2011, Cirocco was promoted to vice president of client success. "That's when our CEO told me that if it hadn't been for my education's impact on my career, he would never have considered me for that position," she says.
W. P. Carey teams up with Televerde
Besides her education, Cirocco says the most valuable thing from her time at ASU was the network of people — the relationships she developed and how she could tap into that network over the years.
"So often in my career, I would reach out to people I knew at the campus, like Amy Hillman, Professor Julia LaRosa, and lately, Dean Kadan," says Cirocco. "I would ask for advice, ideas, or assistance, and I was always met with overwhelming support that would enable me to think through and apply the concepts that others provided me and help me develop my vision and ultimately grow the business."
Just over four years ago, Cirocco was asked to take on the role of chief impact officer, specifically, she says, to raise awareness for the work that Televerde was doing, how meaningful and rewarding careers were enabling women to change the trajectory of their lives, to have a better life for themselves, for the families, and their children.
This is when I found the courage to share my story publicly. I found that when doing so, not only did I allow others to share their truth, but it also helped break down the stigma and biases associated with incarceration, which ultimately led to the opportunity for me to build the Televerde Foundation.
W. P. Carey joined forces with the Televerde Foundation to provide thousands of women with the training, education, and certification that will allow them to enter and advance in the global workforce successfully.
"Women like me belong in places like this," says Cirocco, executive director of the foundation. "And that's what my mission at the Televerde Foundation is all about: providing women with the confidence, courage, and the opportunity to come to places like this and achieve more than they ever imagined possible.
"And that's what the W. P. Carey difference is," continues Cirocco. "It's where people, regardless of who they are, have a place where they are welcome, encouraged, and empowered to pursue and achieve their journey of success."
Empowering students' success
Scholarships are one of the resources that provide opportunities for people, regardless of who they are — promising international students, underrepresented and first-generation students, and scholars whose academic excellence merits additional recognition.
When I think about the future of access, education, and innovation for ASU, I consider how many kids and adults are out there suffering because they're afraid of the costs associated with school.
Students plan, but sometimes emergencies arise, and they need help immediately. That's why W. P. Carey created a unique scholarship aimed at helping students with unexpected situations affecting their finances. The W. P. Carey School of Business Kay A. Faris Emergency Scholarship Fund is special because it isn't a loan that must be repaid and is available every semester — not just during the traditional scholarship application season.
"Financial solutions are needed to enable and empower everyone to have the tools, resources, and scholarships they need to come to a place like this and get an excellent education."
Top photo: Televerde Chief Social Responsibility Officer Michelle Cirocco (MBA '08) accepts the honor of being inducted into the W. P. Carey Alumni Hall of Fame by Dean Ohad Kadan on Thursday, Nov. 17, 2022. Established in 1977, the W. P. Carey Hall of Fame recognizes alumni who have made significant contributions to their professions, the community, and the W. P. Carey School of Business. Photo by Shelley Valdez/W. P. Carey news