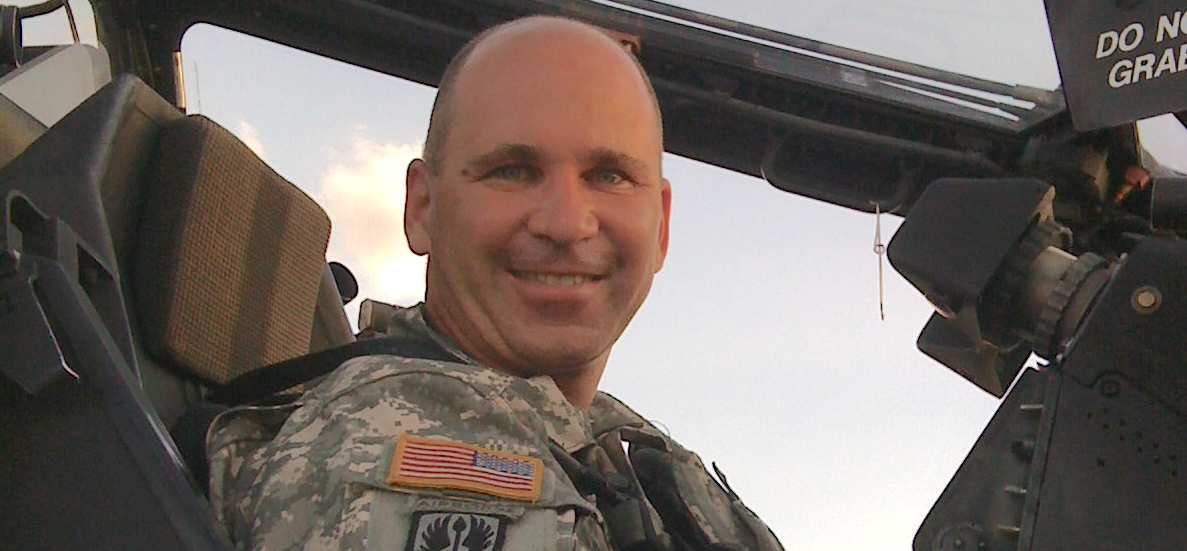 Sun Devil Giving Day: Veteran support
Kirby Gonyer (MBA '09) entered the Online MBA program to advance in his military career and left with a new skill set that has served him ever since.
A 30-year veteran, Kirby Gonyer (MBA '09) joined the Army as a private and retired as a colonel. There, he flew the AH-64 Apache helicopter, UH-60 Blackhawk helicopter, and fixed-wing aircraft. Today, he's a pilot for American Airlines and flies the Boeing 787 Dreamliner domestically and internationally. He says the quality of the MBA program — which sharpened his skills in communication, problem solving, and teamwork — is a big part of why he supports W. P. Carey and ASU today.
Question: What brought you to W. P. Carey's online MBA program?
Answer: In the military, advanced degrees are encouraged to move up from the lower ranks as an officer. It doesn't have to be any specific degree, but they want you to learn about problem solving and enhance your soft skills. ASU has a well-established business program, the W. P. Carey School of Business is excellent, and being a resident of Tempe made it easy to be a part of the program.
Q: What were your key takeaways from the program?
A: In each class, you're assigned complex problems that are designed to produce confusion and ambiguity. With those, two things stuck out: team building and time management. For team building, we didn't get to pick the people in our groups — they're assigned, and while there can be friction, there is a maturation of the team through the two-year program. You develop skills to deal with people you might not agree with but can find common ground with and build a good team that works together effectively.
And then time management is huge, especially for working professionals. Learning not just how to prioritize tasks but how to prioritize complex problems, because if you haven't built your team well, you get frustrated and argue, everything goes awry, and you can't hit specific timelines.
Having been a battalion commander, I had to learn how not to say, "It's my way or the highway," but more like, "How do I herd cats in the right direction?" and it might not be the outcome I want, but it's an outcome that works for everybody.
Q: How are programs like the online MBA or AZ Next's Business Readiness for Vets helpful for veterans transitioning into a business profession?
A: I would say to veterans, whether you're transitioning to a big corporate job or moving on and moving up, you're going to have less face-to-face contact, physical contact, with the people that you work with. So being an effective writer and communicator is important.
We're a little rough around the edges, but that's how it's meant to be [in the military]. We don't have enough time, resources, and people, so we make do with what we have. That's not unlike the business world, but we don't practice democracy [in the military]. It becomes more, "I want you to do this," and pointing the finger, which just doesn't work in the outside world.
So, these programs help you learn to listen and communicate effectively.
Q: Your kids are also Sun Devils — what brought them to ASU?
A: I told them they could go anywhere for school, but they said, "We really like ASU. And where else are you going to find such good weather?" So, the weather was one thing, but also the networking opportunities and the great programs. All that ties together and makes ASU a good place to continue to invest in the future.
My son, Matthew Gonyer (BS Computational Math Sciences '21), is an Army Ranger who got his math degree. My daughter, Grace Gonyer (BS Management '23), will be graduating from W. P. Carey this semester. So yeah, they'll probably have to name a wing after me after all that.
Q: Why is it important to you to support W. P. Carey and ASU?
A: First is a sense of community. I live here, am an Arizona resident, and I believe in giving back to the school. But more importantly, these programs need to grow and continue to grow. And the way you get that is through feedback, speaking to alumni, seeing what works, and continuing to invest in the future.