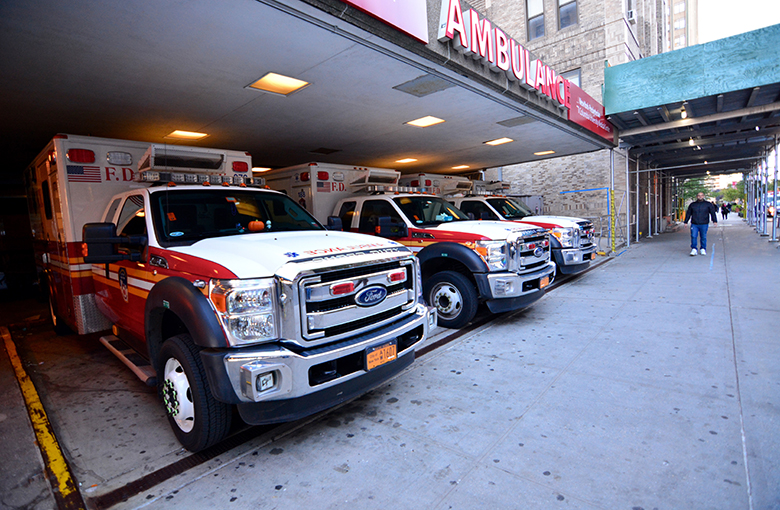 Medical devices become safer thanks to barcodes
Supply Chain Management Professor Eugene Schneller examines the immediate and long-term effects of technological asset tracking in the health care industry.
Sitting in his office, Professor of Supply Chain Management Eugene Schneller eagerly spins the yarn about the contaminated, peanut-laden power bars he purchased a few weeks ago that were still innocently sitting in his pantry at home until the mail arrived.
The notice from Costco Wholesale Corp. warned the longtime professor that the product should not be consumed. It disclosed the serial numbers that had been called into question. Bring them back to the nearest store to exchange, the company advised, or toss them in the trash.
"They knew who I was, and they knew exactly which power bars I'd bought," said Schneller, who specializes in health care supply chain issues. "The only thing they didn't know was if they had been eaten already."
Such tracking ability may be the case for retail giants with barcodes aplenty, but such technology remains an ongoing issue for the health care industry, which is now required to affix Unique Device Identification (UDI) numbers on a range of medical products implanted in patients in hospitals and surgery centers in Arizona and across the nation.
Medical industry weighs standardized inventory system
Faced with complying with new federal mandates, Schneller said hospitals and suppliers are moving ahead into what they fear is an uncertain future with an equally unknown ripple effect on their bottom line.
Schneller's latest research shows that the industry has witnessed a mixed bag of results as it continues to grapple with incorporating the new rules into its everyday business affairs.
Some suppliers are seeing unanticipated value as a result of the UDI adoption, according to an on-going analysis by Schneller and Yousef Abdulsalam, recent ASU supply chain management doctoral graduate.
Still others in the industry, the research shows, anticipate that there will be few gains in efficiency stemming from the adoption. And the financial stakes are high, especially for hospitals, where supplies represent the second-highest cost next to labor.
A history of health care asset tracking
The movement to create a unique device identification standard emerged on the medical scene in 2010, but struck full force when the Federal Drug Administration entered the picture with mandates to speed its entry.
The idea was to be a simple one: Create a system that offers the ability to identify medical devices through the distribution process and use.
Each product would bear a marking that could be monitored in human and readable form, and the information would be submitted to the agency's global database. That information would be easily available to the public.
The FDA stated that the over-arching goal was to improve patient safety, modernize surveillance of the devices post-market, and facilitate medical device innovation, according to the agency website.
A phased-in approach set out by the federal government will see the new regulatory mandates implemented for all medical devices effective in September 2018. Let the reshaping of the industry begin.
"Until recently, there was little standardization in product IDs that other industries have prided themselves on and have been able to use more efficiently to manage their supply chain," said Schneller in a recent interview. "If you ask me, that's a wildly frightening thing." While there was great progress in pharmaceuticals, he added that any previous moves for standardization on behalf of those in the medical device industry were haphazard at best.
Schneller said a new stage in this process arrived two years ago when new rules were implemented for so-called Class 3 devices — implantable devices like hip and knee replacements — putting further pressure on the health care industry to meet the challenge.
That's because those new artificial knees and hips are becoming more and more popular as the baby boomer generation ages and their once-sturdy, reliable body parts begin to wear.
These implants also come at a high price to the system being among the costliest such procedures for the health care industry to provide.
"That older population has all these devices — knees, hips — and you want them to have the confidence that they are getting is the best product, at the best price, and with an outcome that's reasonable for where they are in life," he said. "No one wants to go in and have a surgery a second time for the same thing. UDIs help prevent that."
Schneller said the industry as a whole was dragged along having been given little of any choice, but now have accepted the inevitable — that they had to adjust to the news rules of the game and play with them.
The benefits of a barcode system
The changing playing field came strewn with costs. He said suppliers wonder about their ability to capture a healthy return on their investment now after having to pump dollars into developing the codes to apply to the products, create new packaging, and revise others to meet code. But many major hospitals have yet to develop a disciplined program to fully utilize the power of UDIs.
"What the FDA has done is they forced the system to have a road that you could have a lot of different cars on," he said. "When they made the Tesla, they didn't make it four times as wide as the lane on a freeway.
"They had a standard, and you could run tractor trailers on that standard. With UDI, you have a standard, a platform now that I believe will lend itself to a lot of innovation."
His latest research on suppliers shows that a significant number of respondents surveyed indicated that they had seen positive progress in reducing the numbers of Stock Keeping Units (SKUs) on their shelves as a result.
Also, the mandated change has led to better business intelligence and supplier information flow thanks to UDI's implementation. On the flip side, respondents expressed negative feelings about its prospects. Other than improved customer information flow, "respondents did not convey high expectations about UDI positively influencing other operational areas," according to the research.
Where health care professionals gather to hack health
The research was conducted under the auspices of the Health Sector Supply Chain Research Consortium at ASU, which Schneller said grew out of a desire to bring those in the field together to look at issues that cut across the industry in a more focused, meaningful way.
The Consortium, now located within CAPS Research, also serves to bring research performed by academics to practitioners in the field for insight and real-life applications.
"When I first got involved, I found that many of the players hadn't even talked to each other, and there wasn't any place to do that," said Schneller, who started in the field about 15 years ago with the aid of a National Science Foundation grant. "Now we have that place here."
The group is composed of a range of organizations that make up the health care supply chain, including hospital administrators, medical product manufacturers, and distributors.
One of those more global issues affecting the industry is UDI, which has become an important focus of Schneller's research and teachings in recent years. While his concentration has been on the upstream effects to the supply chain, he said the impact on patients will be particularly profound.
Schneller said the new federal rules will make it possible to track and trace medical products that have been subjected to recalls long after the patient is wheeled out the hospital door and into an awaiting car.
That vital information would appear in the individual's electronic medical records, accessible with a click of the mouse on a computer.
A registry would be built to help determine problems with a particular part or device on a more far-reaching basis than was possible before. This would facilitate the ability to carry out recalls in a timely manner.
"I think that this can inform the environment for both the patient and the physician in ways that make sense," he said.
Schneller ponders how the changing regulatory environment in the health sector will sustain this progress. "We have come a great distance in solving problems surrounding safety in the device industry, and much could be lost if we do not establish a program for the meaningful use of this technology going forward."